Last updated
September 18th, 2023
Are you struggling to change the temperature of your Whirlpool dryer?
That sucks! I know how annoying it can be when your dryer is not working as it should due to temperature issues.
But don't worry; I'm here to help!
If you can't change the temperature of your Whirlpool dryer, chances are the cycle doesn't support temperature adjustments, your dryer is running or paused, or it's on a timed setting. A faulty thermostat or control board could also explain the issue.
Read on to change the temperature on your dryer today!
Can't Change the Temperature On Your Whirlpool Dryer? Here's Why
In this section, I'll guide you through why you can't change the Whirlpool dryer temperature settings and provide various solutions.
Are you ready? Let's dive in!
#1 The Cycle Doesn't Support Temperature Adjustments
When fixing a Whirlpool dryer that isn't allowing temperature adjustments, I always check the selected cycle.
You see, like most brands, Whirlpool dryers come with multiple cycles and settings to enhance their functionality.
With some of your dryer's cycles, the temperature settings, timer, and dry levels are automatically disabled. Such cycles include:
Heavy dry or heavy duty. It is the perfect cycle for drying large items such as towels and robes. Once you turn the heavy-duty cycle on, it will run for a specific time and temperature you cannot alter.
Damp dry. It is ideal for items that don't need drying completely. You can then finish them off on your radiators or the line. You cannot reduce or increase the temperature on the damp-dry cycle.
Fluff air for foam, rubber, plastic, and other heat-sensitive items. It dries without heat. Again, you cannot alter the temperature on the fluff air cycle.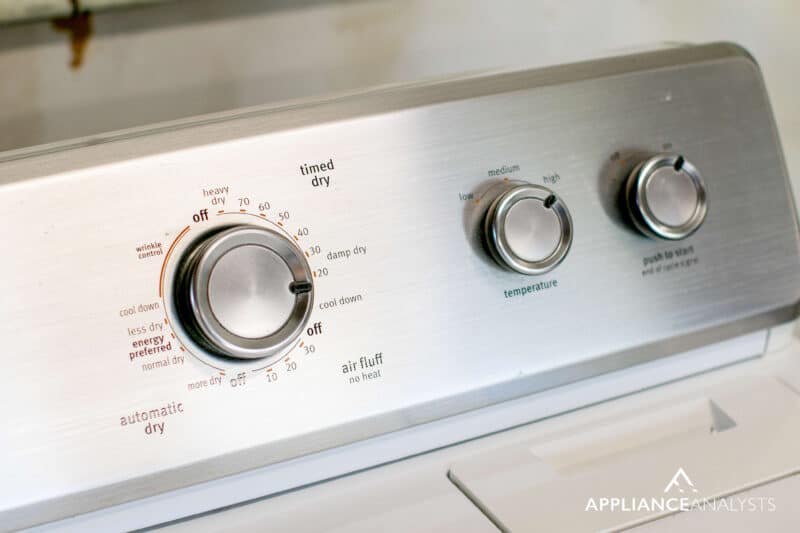 Before you put a cycle on, you should check that it's one you can alter. You can use personalized programs to create the best settings for you if your Whirlpool dryer supports them. To find out, read your user manual.
#2 Your Dryer Is Running Or Paused
In my experience, a Whirlpool dryer will not allow you to change its temperature while running or paused.
So, any changes you want to make to the Whirlpool dryer settings, such as the run time or temperature, must be programmed before you press the start button. To adjust any default settings, the dryer must be on standby.
Press and hold "DRYNESS" for 6 seconds
Select the dryness level shown on the time display
Press "START" or "PAUSE" to save the new dryness setting
NOTE: Changing the automatic dryness is not available on all Whirlpool dryers. To find out whether yours supports customized settings, see your user manual.
#3 Your Dryer Is On a Timed Setting
If you still can't adjust the Whirlpool dryer heat settings, chances are you've selected a timed cycle.
Timed settings can interfere with manual temperature adjustments. Such settings include:
Wrinkle Prevent: It can add up to 150 minutes of periodic tumbling to help reduce wrinkling. You cannot change the temperature of the Wrinkle Prevent setting.

Whirlpool steam models have a "+Steam" setting that does a similar job. It uses steam to iron the clothes for up to 60 minutes when the cycle ends. Because it runs without heat, you can't change the temperature settings on your Whirlpool dryer.

Eco Dry: It automatically adjusts the dryer temperature to reduce power consumption while effectively drying clothes. With eco dry on, the cycle begins with no heat and is on by default for regular cycles on Whirlpool dryers with the feature. If your dryer has the Eco Dry feature, turn it off to adjust the temperature.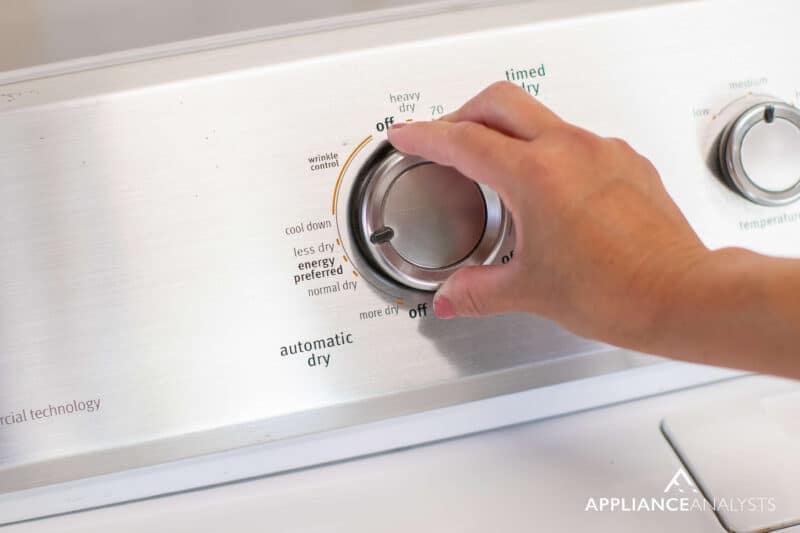 #4 The Cycling Thermostat Is Damaged
If you've tried the tips above but still can't change the temperature on your Whirlpool dryer, you'll need to check the cycling thermostat.
The cycling thermostat maintains the target drying time and temperature settings by opening and closing when the drum attains the right temperature. It's typically closed to allow electricity to flow into the unit until the dryer heats up and opens when it achieves the target temperature.
A cycling thermostat rarely fails, but if it does, the dryer heating temperature either becomes excessively high, causing a tripped thermal fuse, or too low, and you can't adjust it.
I've seen that fixing a cycling thermostat problem can sometimes be as simple as cleaning it thoroughly. In other cases, however, you need to replace it altogether.
If you do decide to replace your cycling thermostat, it is best that you call a technician to finish the job because Whirlpool has a strict policy on which repairs homeowners can undertake without invalidating their warranty.
#5 The Control Board Is Faulty
When I see a Whirlpool dryer that won't allow temperature adjustments, I always inspect the control board.
The control board is essentially the "brain" of your dryer, as it coordinates various functions. So, if it's not working correctly, you won't be able to adjust the Whirlpool dryer settings.
When the control board is the culprit, the display is typically blank, or none of the buttons seem to work.
In other instances, the control board will display an error code. In such cases, check out your manual or Whirlpool's help center to see what the error code means.
Open your control board to inspect the circuit for shorted wires or signs of burning and other damage. If you notice any damage, you must replace it to change the temperature and operate your dryer normally. Call a certified technician to replace the control board.
Wrapping Up: Adjusting Your Whirlpool Dryer's Temperature
Hopefully, now you know how to adjust your Whirlpool dryer's heat settings.
Remember that if you can't adjust the temperature, you'll need to ensure you've selected the right cycle, inspect the cycling thermostat, or check the control board. Don't forget that you won't be able to adjust the temperature if your dryer is running.
Thank you so much for reading! If you found this article helpful, please browse our website and find other informative posts. You could even sign up to our e-mail list.
Thanks for reading, and have a great day!
Cheers,
Craig