Last updated
September 14th, 2023
Reviewed for Accuracy
We've independently reviewed this article to make sure it's as accurate as we can make it.
To find out more about our article creation and review process, check out our editorial guidelines.
Stuck trying to figure out why your dryer keeps adding time?
I'm so sorry to hear that! Increased drying times can be frustrating, especially because they can result in higher energy bills.
But don't worry; I'm here to help!
If your dryer keeps adding time to the cycle, there's likely an issue with the sensor dry feature, which detects the moisture level in your clothes and adjusts the drying time accordingly. However, a clogged vent or a faulty thermostat could also be contributing factors.
Are you ready to fix the problem? Let's dive in!
Dryer Takes a Long Time to Dry? 5 Reasons Why (With Fixes)
In this section, I'll guide you through the different reasons that can explain why your dryer keeps adding time to the cycle. I'll also provide various solutions to help you forget all about the issue.
#1 Your Dryer Is Set To Automatic Cycle
When struggling with increased drying times, I always check the dryer's settings.
You see, when your dryer is set to the automatic cycle, its sensor will detect the moisture in your clothing. If the sensor detects that your clothes are still wet, your dryer will add time to the cycle.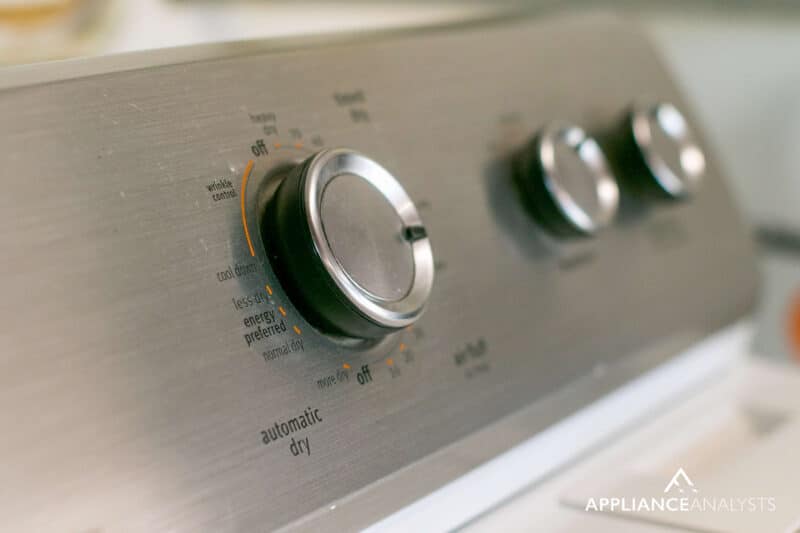 To prevent the moisture sensor from extending the drying time, simply choose a different cycle that doesn't rely on the sensor to control the drying duration, such as a time cycle.
You can also remove certain items from the load as the dryer runs. Some items are going to dry more quickly than others, so by removing them from the dryer before the timer reaches zero, your dryer will require less time to dry the rest of your clothes.
Note: Different types of fabrics have varying levels of water retention, which can affect the drying times in your dryer. So, please try drying similar types of fabrics together.
Keep in mind that overloading your dryer can also affect its drying times and efficiency. Your goal should be to load it to about 75% full.
#2 The Sensor Is Not Calibrated
If you're still struggling with increased drying times during the automatic cycle, the sensor has probably not been calibrated properly.
As mentioned above, the sensor functions by detecting the moisture that is present in your laundry. If the sensor has not been properly calibrated, it will not give appropriate readings to the main control board. As a result, the dryer will add time even when it should not.
Try cleaning the moisture sensor to see if that solves the issue. If not, unplug your dryer and test the sensor with a multimeter.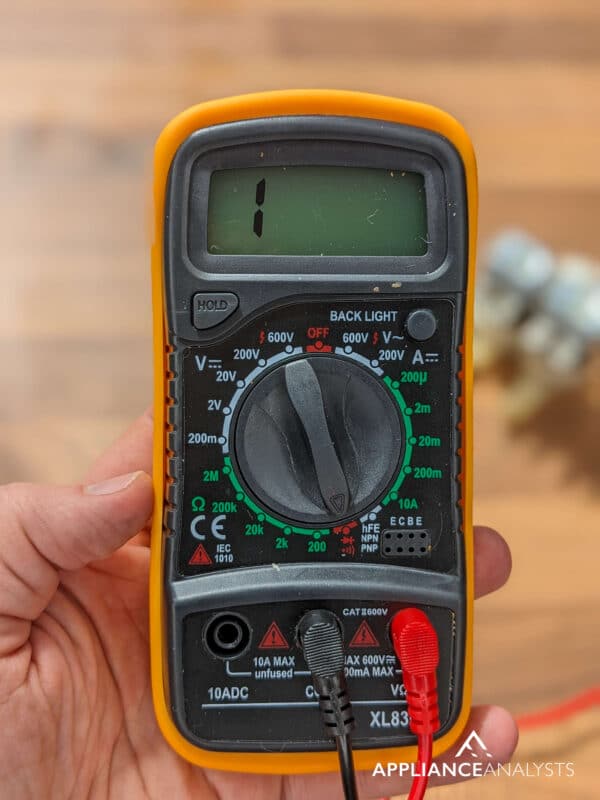 If the moisture sensor is not working, you'll need to replace it. The process of replacing the sensor typically varies a lot between different brands and models. So, my usual advice is to call a professional for assistance.
#3 The Vent Is Clogged
In my experience, a clogged vent can also explain the long drying times.
You see, if the vent is clogged, your dryer won't process air efficiently, preventing it from heating up correctly.
You can easily check if your dryer has airflow issues by holding down the door switch and starting a cycle at a low temperature. Then, place a piece of paper under the lint trap. Your dryer should suck the piece of paper out of your hand and into the lint trap. But if the paper doesn't move, it indicates you have airflow issues.
Without proper airflow and heating, your clothes will take longer to dry, increasing drying times.
To solve the problem, please inspect the vent. Look at your dryer's manual and figure out what you need to do to access your vent.
Then, clean the vent with a vacuum. Don't forget to clean out the lint trap after every load so your dryer operates properly.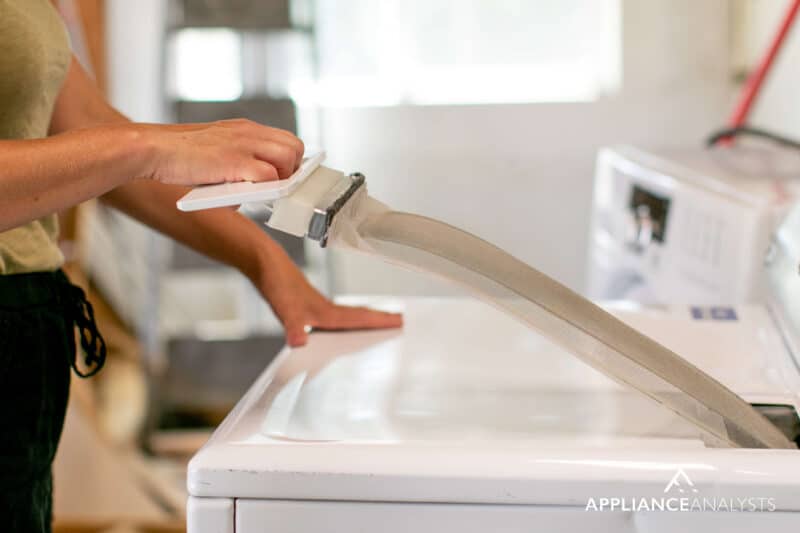 #4 The Thermostat Is Not Calibrated
I tend to find that a faulty thermostat is typically why a dryer takes a long time to dry.
The thermostat is responsible for sensing how hot the dryer is. If there is something wrong with the thermostat, your dryer can think it is hot, but it is not.
If the dryer is not getting hot enough, it will keep adding time to the cycle. In such cases, you'll need to test the thermostat for continuity with a multimeter. Check the following video to learn how to do it:
If the thermostat is faulty, replace it with a new one.
If you want to get any replacement part – or see how much one would cost – click to enter your model number in the search bar below. Our partners at AppliancePartsPros stock almost every part with free guides on how to install them.

#5 The Dryer Keeps Shutting Off
If you tried all the fixes above, but you're still struggling with long drying times, your dryer is likely shutting off.
From what I've seen, a dryer can shut off if the motor is overheating or if the door latch is not working. In such cases, the components will need to be inspected.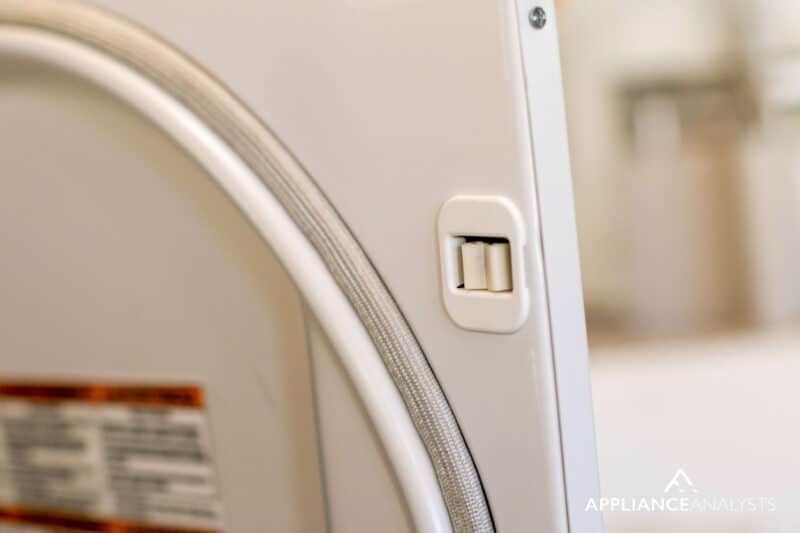 Another possible reason your dryer is shutting off is that it thinks the load is too heavy. So, please avoid overloading your dryer.
Solving Your Dryer's Slow Performance
Hopefully, now you know how to solve your increased drying times problems.
Remember that if your dryer keeps adding time to the cycle, you can avoid using the automatic cycle or inspect your moisture sensor and thermostat. Don't forget to clean the vent and lint trap.
Thank you so much for reading! If you found the tips above helpful, please check out our other related guides below.
Good luck!