Last updated
June 15th, 2023
Reviewed for Accuracy
We've independently reviewed this article to make sure it's as accurate as we can make it.
To find out more about our article creation and review process, check out our editorial guidelines.
Understanding the electricity cost in your state can help you make smart decisions about your energy usage and save some extra money on your energy bills.
The cost of electricity will vary depending on the US state you're in. However, on average, it costs around $0.1596 /kWh.
Ready to take a closer look at the electricity cost per state? Let's dive in!
The Data Behind the Calculator
To provide you with the most accurate and up-to-date information on electricity costs per state, we consulted the U.S. Energy Information Administration (EIA).
The EIA is an agency within the U.S. Department of Energy that collects and analyzes a wide range of information related to energy production & consumption, prices, forecasts, and environmental impacts.
So, if you're curious about different energy facts, you can visit their website, where all of their information is available to the public for free.
People often ask me why electricity costs vary from state to state in the US. Well, the truth is, there are many reasons for this.
Each state has different infrastructure, regulations, and policies. They also rely on different primary sources of energy.
Additionally, weather conditions can influence the demand for heating or cooling, and this can also impact energy prices.
For example, Hawaii has the highest energy rate among the US states because it has to import almost all of its energy sources. Hawaii mostly relies on oil, which can be an expensive source, resulting in higher electricity costs.
How to Lower Your Electricity Costs
With the increasing costs, it can be tough to keep up with the energy bills. In fact, about 20% of Americans are constantly missing or making late payments.
Don't worry, though! In this section, I'll give you some simple yet effective tips on how to lower your energy costs and ease the burden on your wallet.
#1 Use Your Appliances During Off-Peak Hours
If you're looking to lower your energy costs, it's important to know about peak and off-peak hours.
During peak hours, electricity demand is high, and the cost is also higher. Off-peak hours, on the other hand, are when electricity demand is lowest because people are either asleep or not at home.
To encourage people to use electricity during off-peak hours, many electric companies offer lower rates during these times. This is the perfect opportunity to use your appliances!
Try throwing a load of clothes in the washer or dryer, or running a cycle on your dishwasher.
Peak hours and off-peak hours will vary depending on the time of the year, region, and your electric company. So, if you're unsure about the off-peak hours in your area or the associated costs, please call your electric company or visit their website.
For example, if your electric company is PG&E, the peak hours are between 4 and 9 pm, while off-peak hours are before 4 pm and after 9 pm every day.
#2 Unplug Devices When Not In Use
One of the easiest and most effective ways to lower your energy consumption is by unplugging devices that you're not actively using (when possible).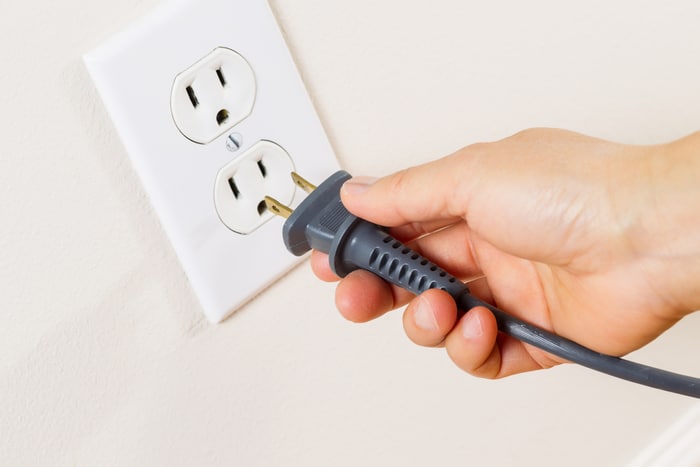 You see, even when turned off, these devices still consume a small amount of electricity (known as standby power), which can add up over time and increase your energy bill.
By unplugging them when not in use, you can also lower your carbon footprint, which is essential nowadays for taking care of our planet.
#3 Seal Windows and Doors
Air leaks can interfere with a comfortable and cozy night indoors by allowing hot or cold air to enter or escape from your home, making your HVAC system work much harder.
Unfortunately, this not only leads to frustration, but can also make your energy bills skyrocket!
This is why it's crucial to detect any air leaks and seal your windows and doors with caulk or weatherstripping.
Tip: Check your caulking and weatherstripping once a year to make sure it's still in good condition. If you notice any gaps, please seal your windows and doors again.
Don't forget to change the air filters of your HVAC system regularly, as this lower its running costs and improve the air quality of your home.
#4 Consider Energy-Efficient Appliances
Major appliances, like fridges, dishwashers, or washing machines, can last more than a decade if they're well-maintained.
Unfortunately, older appliances are often less energy-efficient and can cost you more money on your energy bills over time.
So, if your appliances are more than 10–15 years old, it's recommended to replace them with Energy Star-certified units.
Energy Star appliances come with advanced technologies and features that meet strict energy-efficiency guidelines set by the U.S. Environmental Protection Agency or the US Department of Energy. These appliances use less energy than regular ones, resulting in lower energy bills.
However, if you're not looking to replace your current appliances, you can still use them wisely to reduce energy costs. Here are some tips:
Conclusion
That about covers it! I hope that this article has helped you understand what's the electricity cost in your state and the different ways to lower your energy bills.
Remember, if you want specific information about how much it costs to run each of your appliances, feel free to check out our free calculators!
Thank you so much for taking the time to read this article. Have a great rest of your day!