Designing Modern Living Rooms from Iconic Movies
Have you ever loved the look of a movie, and wished you could create a similar feel in your home? Well, so have we. Though as appliance specialists we're about as creative as a pair of old toasters.
To bring this idea to life we've teamed up with an amazing interior designer – Melike Turkoglu – to translate these movies into real living spaces. Melike has taken influences from each movie to design six modern living rooms that we wish we could have in our own homes.
So here they are – six living room concepts inspired by our favorite movies.
(Click on the images below to see them at full size)
Lord of the Rings: A Country Hobbit Home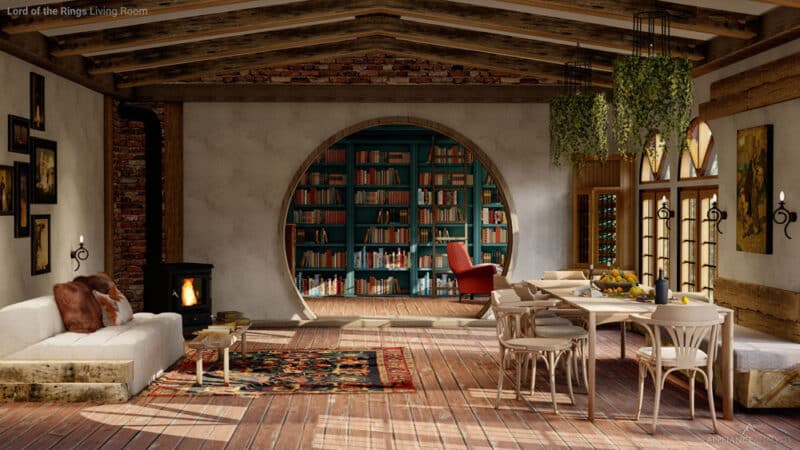 When it comes to movie sets, there aren't many cosier places than the Hobbit homes of the shire.
Inspired by their book-loving, food-loving ways, we designed a modern take on Bag End – this time made for a human. While our homes aren't designed for 4-foot tall hobbits, we can translate their wooden cottage feel into a modern country home.
As the main focus of the room, the oval opening in the interior wall transforms the rear bookcases into a hideaway writer's nook – complete with a writing table.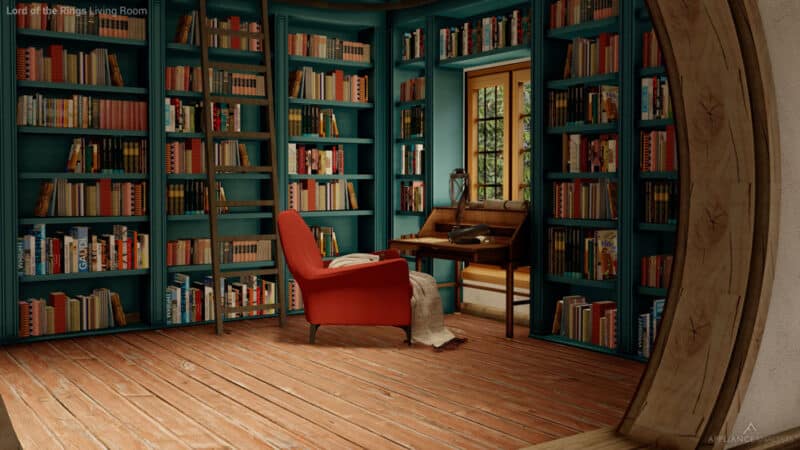 While Hobbit windows are often short and round, us humans tend to be a little taller. We had to accept that small round windows would feel more like a prison cell than a cottage, so we compromised with a taller window finished with a circular design.
Most importantly, the room has lots of space for entertaining guests visiting on party business. Even if that's a small clan of dwarves turning up uninvited and raiding your kitchenpantry.
The Matrix: A Modern City Apartment
Whether you're coming home from a long day of hacking into networks, training in multiple martial arts, or shopping for trench coats, every modern-day coder needs their own Matrix retreat.
We've translated the feel of the Matrix into a modern city apartment fit for any would-be Neo. The color scheme was our main focus – combining a mixture of dark colors with green LED lighting to match the aesthetic of the movie. The vertical and horizontal light strips are an homage to the infamous scrolling computer text.
While the apartment appears dark and atmospheric, having large windows will still allow the space to feel bright and open during the day. The LED lights would also be controllable lighting, allowing plenty of customisation to the space if you're not always feeling the green.
Moving on from the 90's, we brought Morpheus' seat into the modern day with a sleeker black chair. Though we kept the old rotary phone – leaving a touch of the movie set in the apartment (don't worry, you can get modern wireless versions of those antique phones).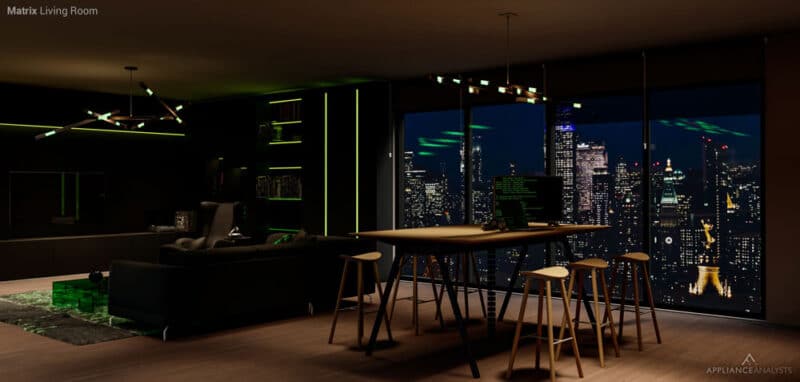 We weren't sure if a full setup of 9 screens and 3 keyboards would fit this more contemporary space, but the dining table leaves enough opportunity for any modern remote worker to get a good work shift in.
Kill Bill: A Samurai-Inspired Haven
Once you've crossed off your Death List Five and sheathed your katana, you need an inviting living room to enjoy a bowl of tea and unwind.
Combining influences from Kill Bill and other Japanese touches, we've created this hillside retreat fit for any modern samurai. We've made sure to leave plenty of space to practice your sword techniques, and great visibility to watch out for any enemies approaching your zen palace.
If you've seen the movie, you know we needed to include the yellow and black colors within the room. Acting as the centerpiece, we started with the couch and constructed the room around it.
Amelie: A Bohemian Retreat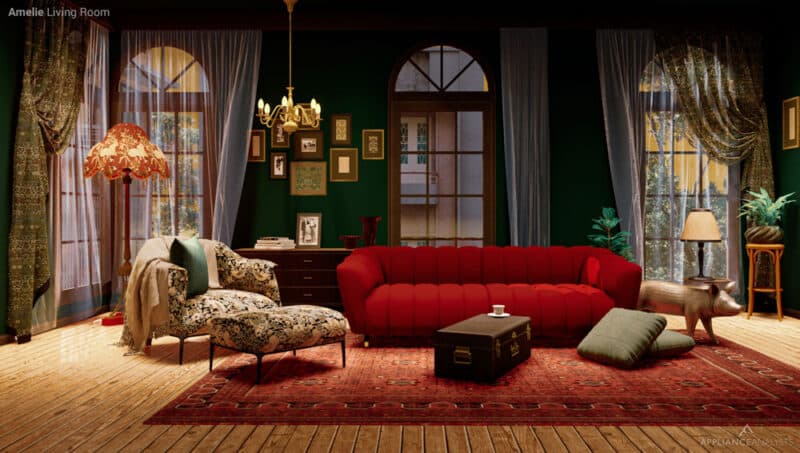 While not a blockbuster like the other movies on this list, we couldn't resist creating a modern take on Amelie's Paris apartment.
Amelie is famous within design circles for the color scheme of green and red seen throughout the movie – used to highlight parts of Amelie's personality and her feelings in scenes.
We've followed that color theme here, while adding a more modern sense of space. By preserving blank space on the walls with larger windows, we transform Amelie's small Paris apartment into a more modern, open, and breathable space.
We aimed to keep the same quirkiness of Amelie's possessions with a bohemian collection that she'd curate from Parisian thrift stores. All it needs now is a few quirky neighbors for her to lend a helping hand.
Mad Max – An Industrial Safehouse
I know – A post-apocalyptic desert isn't the most typical inspiration for a living room. I just can't help but love the raw set designs of the Mad Max universe. A world put together with sun-scorched metal leads to some unique design choices, and made us think a little differently.
One ever-present aspect of the desert is the glaring sun, which we incorporated with a large circular window and maintained throughout the color scheme.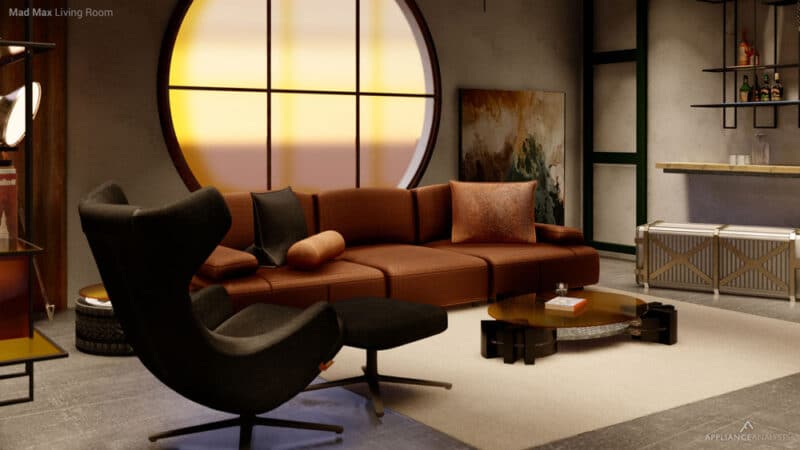 Unlike our other rooms, this industrial living room contains almost no wood – instead relying on metal for most of the elements.
My personal favorite is the jeep-wheel side table to the left of the couch.
So now if you ever move into an attic with hanging wires and a corrugated iron section of wall, I don't want to hear you complaining that you can't make it look good!
Grand Budapest Hotel – The Lobby Room
If you're a Wes Anderson fan, you'll already know how famous his films are for their cinematography. In particular for their symmetrical set designs and matching color schemes.
The Grand Budapest Hotel is a great example, with the pink monochromatic color scheme dazzling cinema goers everywhere when it released in 2014.
We've recreated this style in our 'Lobby' living room – keeping with the pink and white color scheme. The 70's inspired mirrors and tables create an open and symmetrical space, leaving all focus on the center of the room (as in Anderson's sets).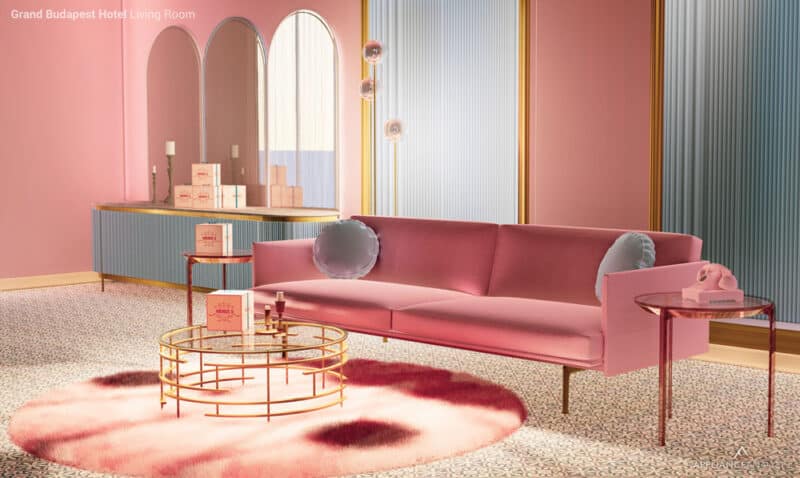 The two alcoves add a signature stamp on the room, which could also be windows if you're looking to copy traces of this design. Finished with touches of brass and gold, we think this would be a great living (or waiting) room for any lobby boy to attend to.
Wondering How We Designed These Living Rooms?
One of the greatest challenges of this work was deciding which movies to turn into living rooms. There's so many options out there with amazing potential (see below for some of the runner-ups).
Once we had a movie choice, we looked at what the most iconic elements were. Was it a color scheme, a setting, a layout? Once we had the initial concepts down, Melike worked her magic in translating those elements into the room design.
The base of the room was constructed first – reflecting the setting of the movie. The Matrix demanded a city apartment, Amelie a quirky Paris flat, and so on. While we weren't trying to recreate the movie sets exactly (instead focusing on inspirations for modern living rooms), it did help to place the room in a similar setting.
We also played with the construction (more glass in apartments, wooden ceiling beams in the Hobbit home) and size (Grand Budapest Hotel needed to be extra wide, as that's how Anderson builds his sets).
Often, a centerpiece of furniture would present itself. Whether that's the couch in Kill Bill, Morpheus' chair and phone in the Matrix, or simply all the metal and rust in Mad Max. From there we'd develop the room piece by piece, tweaking and trimming as we went to make sure everything lined up with the film.
The Movies That Didn't Make The Cut
As big movie fans, it was hard to whittle down the list of potential movies into those that were going to get reimagined as living rooms. Here's just a few of our remaining ideas and notes:
The Truman Show. Just for fun – a modern take on Truman's house, with plenty of hidden cameras and fake branded products.
Guardians of the Galaxy. A space theme room packed with purples and pinks, maybe with a lava lamp or two. Groovy.
Captain America. A blue and white modern living room with red touches, with a subtle few vintage pieces dating back to the world wars.
Legally Blonde. A fabulous pink and white room with ultra fluffy white cushions, a huge wardrobe, and a tiny dog bed.
Toy Story. A kids-paradise of a living room in pastel colors, with toy boxes and an arcade claw crane machine.
Is There A Design We Missed?
I know there's thousands of movies out there which could make for fantastic living room designs. If we missed your favorite, let us know! Depending on the popularity of this article, we may come back and take on some more movies.
If you enjoyed this article, please make sure to share it! We'd love to get these designs shared across the web, and if it's successful then we can do more versions in the future.
Fair Use License
We made these designs with the aim to make you smile, and hopefully inspire you to add a bit of movie magic to your own home. We'd love for you to share our work, please just do so fairly.
This work is licensed under the Creative Commons Attribution-Share Alike 4.0 International License. This means you're free to share and adapt this work as you see fit, you just need to give us credit as the authors. All this means is crediting us and linking back to this page if you share the images or adapt them in your own work.
Conclusion
We hope you enjoyed these living room designs as much as we enjoyed making them! These rooms make up over 100 hours of research and design work between Melike and myself, and we are immensely proud to share them with you.
We'd love to hear your feedback in the comments below – especially if you've got suggestions for future designs.