Last updated
September 18th, 2023
Wondering how to change your LG dryer temperature settings?
Understanding how to change the temperature on your LG dryer is essential, given that different types of clothing require distinct drying cycles.
Luckily, you've come to the right place for answers.
To change the temperature on your LG dryer, turn the cycle dial or press "CUSTOM PROGRAM" to run a personalized cycle. For ThinQ LG dryers, change the temperature via the ThinQ app. Please check the cycling thermostat and control board if you can't adjust the temperature.
Read on to learn how to adjust LG dryer temperature settings!
Changing the Temperature of Your LG Dryer
Is altering the temperature of your LG dryer proving to be trickier than you had imagined? You're not alone! Take a look at the following four tips to adjust the settings.
#1 Turn the Cycle Dial
From what I've seen, most LG dryers have a dial that you can twist to adjust the temperature and dry any clothing.
Here are the heat temperatures available on a standard LG dryer:
Ultra-low and low: Ideal for delicate fabrics, such as silk.
Medium and medium-high: Choose this setting for everyday fabrics, such as cotton or polyester.
High: Great for heavy fabrics, towels, or denim.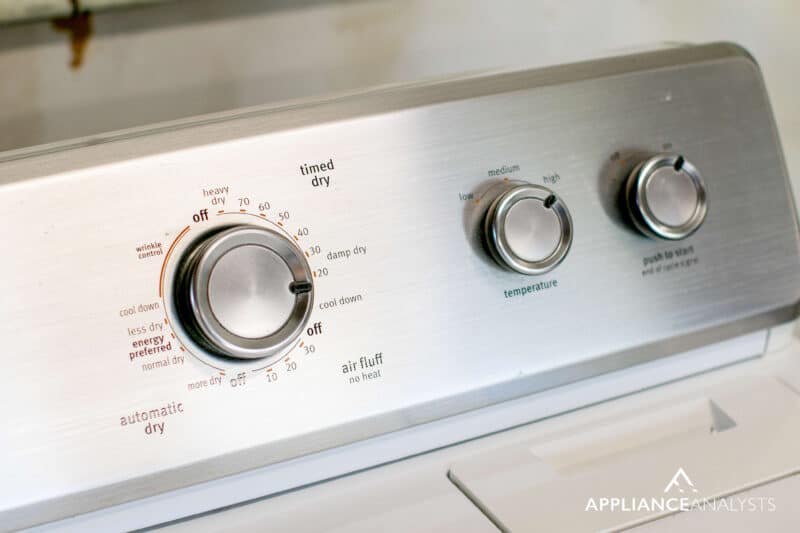 While not all LG dryers offer a temperature dial, you can still choose the right temperature by selecting a manual dry cycle. For example, choose a denim or towel cycle for a hotter cycle. For a cooler cycle, choose a lingerie or blouse setting.
Once you've selected the correct setting, please press "Start". Your LG dryer will turn off if you do not press the "START" button within a certain time. The cycle settings will be lost, and you must start over again.
#2 Choose a Custom Program
I like that some LG dryers offer a Custom Program cycle that allows you to set up your favorite combination of settings and save them.
So, if you'd like to select a specific temperature, you can use the Custom Program setting. Here's how to set it up:
Select a drying cycle.
Change the "DRY LEVEL" and "TEMP CONTROL" to suit your preferences.
Press and hold the "CUSTOM PROGRAM" button to save your custom program in the dryer's memory to be recalled in the next step.
Press the "CUSTOM PROGRAM" button.
Press the "START" button.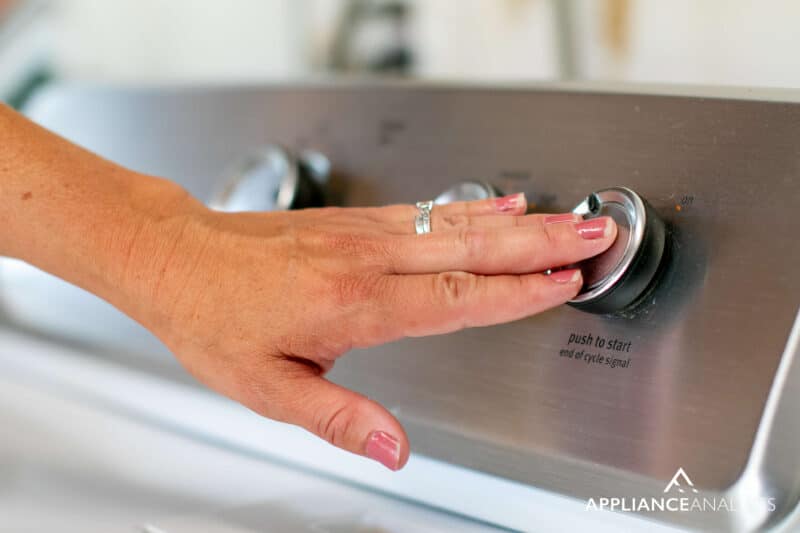 Please note that not all LG dryers support the Custom Program feature. Refer to the manufacturer's manual to determine if your dryer has the setting.
#3 Use the ThinQ App
In my experience, adjusting the temperature on an LG ThinQ dryer is very simple.
You see, LG smart dryers are Wi-Fi enabled so that you can control them via Alexa, Google Assistant, or the ThinQ app.
So, to adjust the LG ThinQ dryer settings, you can enter the app or use voice controls and choose the desired temperature or cycle. You can even monitor your dryer via your smartphone!
Reasons Why Your LG Dryer Won't Change Temperature
If you've tried the methods above but can't change the temperature on your LG dryer, there's likely an issue with some of the internal components. Read on to learn how to fix it.
#1 A Damaged Cycling Thermostat
When fixing LG dryer temperature issues, I always check the cycling thermostat.
You see, the cycling thermostat maintains the desired drying time and temperature settings by opening and closing when the drum reaches the right temperature. It's typically closed to allow electricity to flow into the unit until the dryer heats up and opens when it achieves the target temperature.
If your cycling thermostat is faulty, it won't be able to measure the temperature and control the heating element accurately. As a result, your dryer can become too hot or not hot enough, and the temperature could change even when you don't want to.
Sometimes fixing a cycling thermostat is as simple as cleaning it thoroughly. However, in some cases, it's best to replace it with a new one.
Please check if your dryer is still under warranty and call a professional to replace the faulty cycling thermostat.
#2 Faulty Control Board
If you still can't adjust your LG dryer's temperature settings, the control board is likely malfunctioning.
The control board is responsible for coordinating different functions of your dryer. So, if it's not working, you won't be able to use the buttons or adjust the temperature and select a cycle.
I tend to find that when a control board is not working, it can also display an error code. In such cases, please check your manual or LG's error code list to see what the code means.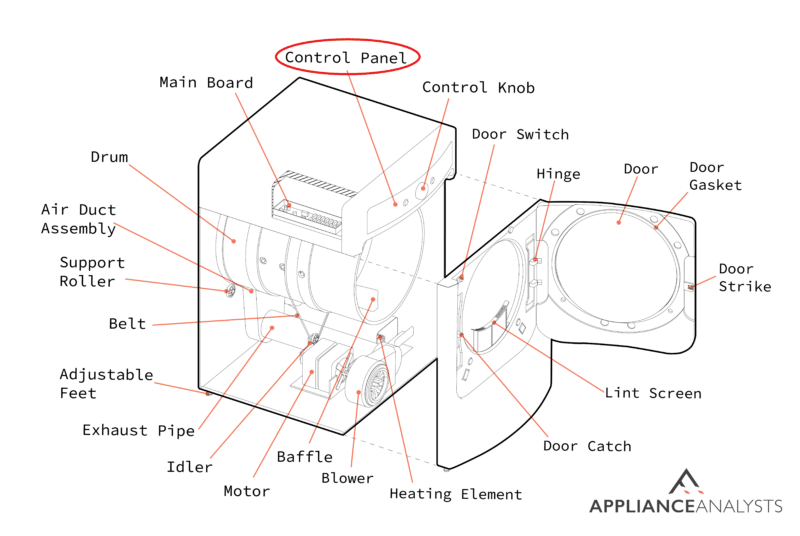 Open your control board to inspect the circuit for shorted wires or signs of burning and other damage. If you notice any damage, you must replace the control board to change the temperature and operate your dryer normally.
If you want to get any replacement part – or see how much one would cost – click to enter your model number in the search bar below. Our partners at AppliancePartsPros stock almost every part with free guides on how to install them.

Wrapping Up: Adjusting Your LG Dryer's Temperature
Hopefully, now you know how to adjust the temperature on your LG dryer.
Remember that you can use the temperature or cycle dial, the Custom Program feature, or the ThinQ app. Don't forget that if you can't change the temperature, you must inspect the cycling thermostat and control board.
If you found this article helpful, please consider supporting us by checking out some more of our free guides or signing up to our e-mail list.
Thanks for reading, and have a great day!
-Craig