Last updated
September 12th, 2023
Are you shopping for a new dishwasher but unsure where to look?
Welcome to the club! Thousands of homeowners get stuck when trying to find the best dishwasher to buy.
The market revenue for Dishwashers in America is estimated to amount to about $3.45B in 2023 alone and is expected to grow around 2.19% annually in the next 5 years. This means that hundreds of companies are trying to convince you to buy their dishwasher.
But which dishwasher is really best for you and your family?
Well, that's why I'm here to help!
For the last 7 years, I've covered many appliance-related topics. Myself and the team have covered hundreds of dishwasher topics, worked with professional dishwasher repair technicians, and even studied over 50,000 reviews from dishwasher customers.
In this guide, I'll walk you through all the different things to know when shopping for a dishwasher. My goal is to arm you with all the information you need to make the right choice.
And don't worry – I have nothing to sell you. We're not sponsored or affiliated with any dishwasher brand. We generate a small income from the ads you may see, so my goal is simply to be as helpful as possible.
If that sounds good, then let's help you find your best possible dishwasher!
Types of Dishwashers
The first thing to consider is what type of dishwasher you want. If you already know, skip this part, but if not, let's review them.
Built-in Dishwashers
Built-in dishwashers are installed flush beneath your kitchen countertop. They come in many sizes, including compact and full-sized varieties.
These models typically have decent features, are quiet while working, and integrate seamlessly into your kitchen design, making them ideal for people who value aesthetics, ease of use, and low noise levels.
That said, built-in dishwashers can't be moved, and you'll probably need to pay a professional to install them.
Depending on the model you get, you could pay anywhere between $300-2,000 for a unit like this. If you're interested in this dishwasher type, you might want to check the Bosch 300 Series or the Whirlpool WDT750SAKZ.
Portable Dishwashers
Portable dishwashers are great for people who love being on the move but also need to do their dishes. While bulky, these appliances are normally built with wheels that allow them to move around your kitchen effortlessly. They can easily be connected to any waterline and power supply (that meets their required voltage and amperage).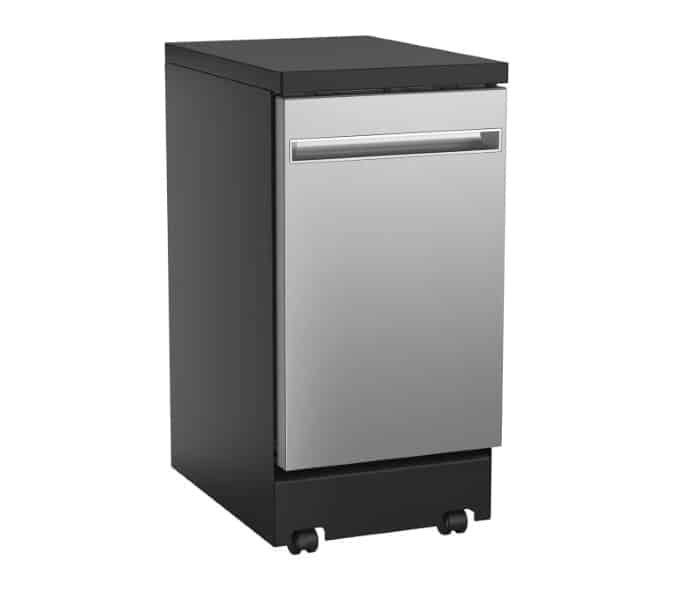 You can also get portable dishwashers in more compact sizes, which makes them even more portable.
Portable dishwashers are great if you only occasionally need a dishwasher and want to store it elsewhere when not needed.
On the other hand, this type of dishwasher can be noisier than its built-in counterpart, and some people find not having the power supply and water line out of the way, a little inconvenient. On average, you can expect to pay anywhere between $300-1,000, depending on the size and model of your choice.
Some notable mentions here are the GE GPT225SSLSS and the Whirlpool WDP370PAHB.
Countertop Dishwashers
Countertop dishwashers are great for people living in smaller spaces, or that already have their kitchen full of other appliances/cooking tools. These units are typically compact, don't require professional installation, and can be hooked up to your kitchen sink for a steady water supply. Not to mention that they're usually very affordable.
Their small size can sometimes be an obstacle, especially in households with many family members. More often than not, larger families have to unload the appliance and load it back up with a different set of dishes to complete what was used in a single meal, which can be inconvenient.
On average, you can expect to pay anywhere between $250-500 for a countertop Dishwasher. Some notable mentions are the BLACK+DECKER BCD6W and the hOmeLabs HME010033N.
Drawer Dishwashers
Drawer dishwashers, just like countertop models, are designed with smaller kitchen spaces in mind. Similar to their built-in counterparts, these units go under your kitchen countertop, except that they're a lot smaller.
These appliances are designed to be quiet, nearly independent, and quite versatile in their possible configurations. Also, they use less water and detergent than other dishwasher types, which is great for efficiency!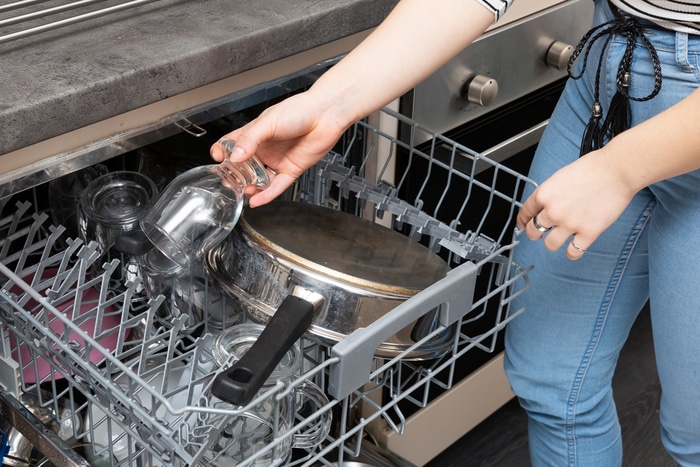 However, they can be more expensive than other dishwasher types and will struggle to meet the needs of larger families. On average, an appliance like this will cost you about $1,000-2,500, depending on the manufacturer and model you choose. Some notable mentions are the Fisher & Paykel DD24DAX9N and the Bosch SHV878ZD3N.
Integrated
Integrated dishwashers are one of the most aesthetically pleasing dishwashers on this list, as they can be installed seamlessly into your kitchen without anyone ever noticing them. They're typically concealed behind a cabinet door, which keeps them hidden until needed.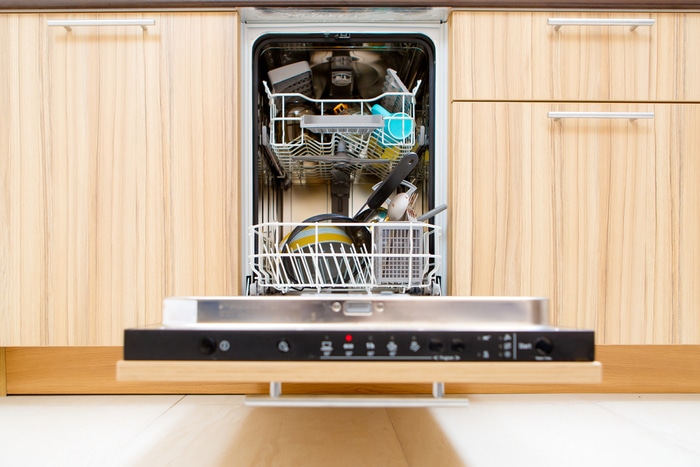 Integrated dishwashers are more expensive than other Dishwasher types, so if you're on a budget, these appliances might not be what you're looking for.
You can expect to pay anywhere between $600-2,000 for one of these units. Some notable mentions are the Miele G7106SCUSS and the KitchenAid KDTM404KPS.
Dishwasher Buying Considerations
Having covered the main dishwasher types on the market, we can now move on to the actual considerations you must consider before shopping. Using them all together as a decision-making tool can help you make the right choice and probably even save some money!
#1 Size & Capacity
Size and capacity are key elements to consider when looking to find the best dishwasher to buy.
If you have a small family and limited space, you should consider getting a compact Dishwasher. But this may not be the case if you live with several people and use your dishwasher frequently.
To find the right dishwasher size, I first recommend measuring the height, width, and depth of the area in your kitchen where the unit will be installed or placed.
A dishwasher's capacity is measured by the number of "place settings" it can hold. A place setting typically includes the items you would use in a three-course meal, such as a dinner plate, cup, saucer, bowl, drinking glass, one set of cutlery, and a salad plate. Sadly, pots and pans don't fit into this equation, so you'll likely have to wash them separately.
To make things super easy for you, I've put together a table that shows how many place settings you'll need based on your family's size:
Dishwasher Size
Family Members
Dishwasher Capacity
Compact
(18in wide, 34in tall, and 24in deep)
1-2
6-9 place settings
Standard
(24in wide, 34in tall, and 24 in deep)
3-4
9-12 place settings
Oversized
(30-40in wide, 24in tall, 24in deep)
5+
12+ place settings
You can typically check a Dishwasher's size and capacity on the manufacturer's User Manual.
The most common Dishwasher size is the "Standard" one, which consists of 9-12 place settings. However, if you have a big family, some great brands offer oversized models that you'll be more comfortable with.
Some great examples are Bosch and KitchenAid, which make units with up to 16 place settings!
Now, remember that choosing the right dishwasher involves more than just size and capacity, so please keep reading to learn more about other factors you should also consider.
#2 Price
Price is usually the first thing that comes to people's minds before shopping for a brand-new dishwasher. And in this economy, it's completely understandable.
That said, even if you're on a budget, you should not feel like all hope is lost. While it's true that in most cases, the more expensive a dishwasher is, the more capacity and features it will offer, sometimes you don't need all the extra bells and whistles.
A great way to analyze this is by looking at the table I've prepared below and determining exactly what you require.
| | | | |
| --- | --- | --- | --- |
| Dishwasher Type | Low-End | Average | High-End |
| Built-In | $300 | $1,150 | $2000 |
| Portable | $300 | $650 | $1,000 |
| Countertop | $250 | $375 | $500 |
| Drawer | $1,000 | $1,750 | $2,500 |
| Integrated | $600 | $1,300 | $2,000 |
It's also important that you consider the additional costs associated with hiring a professional to install some of these models.
Unless you have a very large family or require a Dishwasher with the latest features, you don't need to spend a lot of money on the higher-end models. An appliance near the average range of each type should be more than enough for most people.
#3 Features
Features are another critical element that must be taken into account before going shopping for a new dishwasher, as these will justify the price tag on the unit.
In most cases, the basic washing cycles on the most popular models will be more than enough to make you happy and take the nuisance of doing the dishes off your hands. However, if you're interested in the specifics, here are some of the most useful features and characteristics you should keep an eye out for:
Wash cycles: The more wash cycles a Dishwasher has, the more versatile it will be. Many modern models come with the basic normal, heavy, and sanitize cycles, but other, more expensive units also include delicate cycles to protect the Teflon of your pots and pans.
Third Rack: Some units come with this additional rack, which can maximize the number of utensils, dishes, and glasses you can wash in a single cycle.
Soil Sensor: Making the most out of your dishwasher with the least resources possible is always good, and soil sensors help a lot. This feature included in some Dishwasher models detects the amount of food residue on your dishes and adjusts the intensity of the cycle, as well as the water used during it.
Adjustable Racks: Customization is always welcome, so adjustable racks are a nice thing to have. By being able to move the racks on the appliance around, you can modify the layout depending on what you're washing during a specific cycle.
There are, of course, other features that come included within most modern Dishwashers, but in my opinion, these are the most important ones that you should look out for.
#4 Noise Level
Noise levels from your dishwasher are super important. No one wants to buy a new dishwasher only to find it rattling like crazy when you run it.
While a dead-silent Dishwasher is yet to be invented, there are some models that are designed and built to be much quieter than others. This depends greatly on a number of factors, such as the built-in insulation on the appliance, the motor type, and the overall dB (decibel) rating.
Now, as you can imagine, low operating noise levels are a feature, so, just like any other, it will likely drive up the price of the Dishwasher model you're interested in buying.
Here are some quiet Dishwasher models for your consideration:
Bosch 800 Series: This unit has a third rack, adjustability options, and is rated at a quiet 42 dB.
Miele G7000 Series: A high-end Dishwasher with a delayed start feature, and a noise rating of 38 dB.
KitchenAid KDTE334GPS: This appliance has similar features to the Bosch 800 Series and a rating of just under 39 dB.
LG LDP6797ST: Equipped with a feature called "Turbo cycle" which cuts the time it takes to wash your dishes considerably. It has a noise rating of 44 dB.
Samsung DW80R9950UT: This unit has a 39 dB noise rating and a "Zone Booster" option, which allows you to dedicate more cleaning power to a specific section within the appliance's compartment.
#5 Water Usage
Water usage is yet another thing you need to consider and explore thoroughly, not only for environmental purposes but also to avoid having to pay hundreds of dollars in utilities every year.
A little earlier, in the Dishwasher Types section, we talked about which models were more efficient with water and detergent, with drawer units being one of the best in this regard. However, this doesn't mean that other appliance types can't be efficient, as this is also determined by the design of the dishwasher.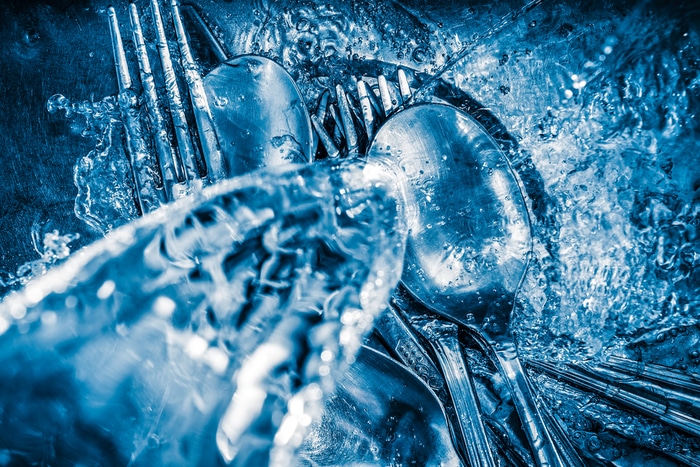 The average dishwasher uses anywhere between 3–7 gallons of water depending on the washing cycle you select, the number of place settings you're putting in, and the overall size of the appliance's compartment.
Under normal water consumption for residential use, the average cost per gallon is $0.00295, or about 3 cents per every 10 gallons (37.85 l). This rate increases if you exceed the "standard" expected water use within a specific period, so it's always a good idea to keep an eye out for any leaks in your home. And the same goes for how much water your dishwasher uses.
Granted, even if it's a water hog, the appliance alone likely won't use enough of it to cause your rate per gallon to change. However, it can drive up your monthly costs, which might add up to hundreds of extra dollars per year.
To give you a clearer idea of what you should be looking for, here are some of the most water-efficient models on the market. The units mentioned below are per standard washing cycle:
Bosch 800 Series: 2.9 gallons.
Whirlpool WDF520PADM: 4.3 gallons.
KitchenAid KDTE334GPS: 2.8 gallons.
Samsung DW80R9950UT: 2.4 gallons.
GE GDT665SSNSS: 3.5 gallons.
All these models are EnergyStar rating certified, which means that they're designed to work as efficiently as possible.
#6 Design
Design is also a key element to take into account before going shopping for a new Dishwasher, and not just because of aesthetics.
When I talk about dishwasher design, I'm not only referring to the color, shape, and size of the appliance but also to the form factor, the location of the spray arms, the detergent capacity, and other elements. These can all affect the way in which your appliance goes through washing cycles, including how long they take, and even how much water is used in the process.
While all Dishwasher designs will fulfill their purpose, it's always a good idea to ask the person selling you the appliance about the overall layout of every component within the unit.
Moreover, even when a Dishwasher is properly designed, its look and feel also matter. Kitchen aesthetics were always important to some people. But nowadays achieving a seamless, elegant look has become a mainstream goal among homeowners, so finding a unit with a design that fits in with the rest of your home is also key.
Go With A Trusted Brand
Dishwasher repairs can be costly, so you want to make sure you're going with a reliable dishwasher brand.
To help – we did a comprehensive study of over 50,000 customer reviews from people who bought dishwashers from BestBuy.
Here's the average customer review for the top brands:
It's a close race at the top, but KitchenAid and Bosch come out in front for the happiest customers.
This is backed up by our appliance expert's comments – he recommends KitchenAid as the best 'bang for your buck' brand, and Bosch as the best overall dishwasher manufacturer.
Read more details and see much more data in our full dishwasher brand comparison.
Choosing Your Dishwasher
Now that you know all there is to know about Dishwashers and the main aspects you should consider before buying one, let's answer the one question that matters.
Which one is the right one for you?
Well, the truth is, that the only person who can answer that is you. Your needs, the size of your family, the space in your kitchen, and the frequency with which you use your appliance are only known by you.
That being said, thanks to the guide above and the information provided in it, you're no longer stumbling in the dark trying to find useful data with your research.
Hopefully, what you've learned here will help you make the right choice and spend your hard-earned money on a Dishwasher you'll love for years to come!