Last updated
July 6th, 2023
Reviewed for Accuracy
We've independently reviewed this article to make sure it's as accurate as we can make it.
To find out more about our article creation and review process, check out our editorial guidelines.
Weighing up your decision between going for a Bosch or a Kitchenaid dishwasher?
They're both great companies – but they tend to have some differences. Especially when it comes to dishwashers.
In this article, I'll walk you through all their main differences. Not only from my experience but also from speaking to multiple appliance repair technicians and after our large study of the best dishwasher brands.
We'll compare Bosch and KitchenAid on price, energy efficiency, ease of use, and more.
Keep reading to discover the winner!
Why trust us? This article was written in collaboration with two appliance repair experts: James Blackford & Andy Fulencheck. We have over 25 years of combined appliance repair experience – please see our profiles to learn more about our backgrounds.
Bosch vs KitchenAid Overview
If you're in a hurry and want a general idea of this comparison, here's a quick summary of how they compare.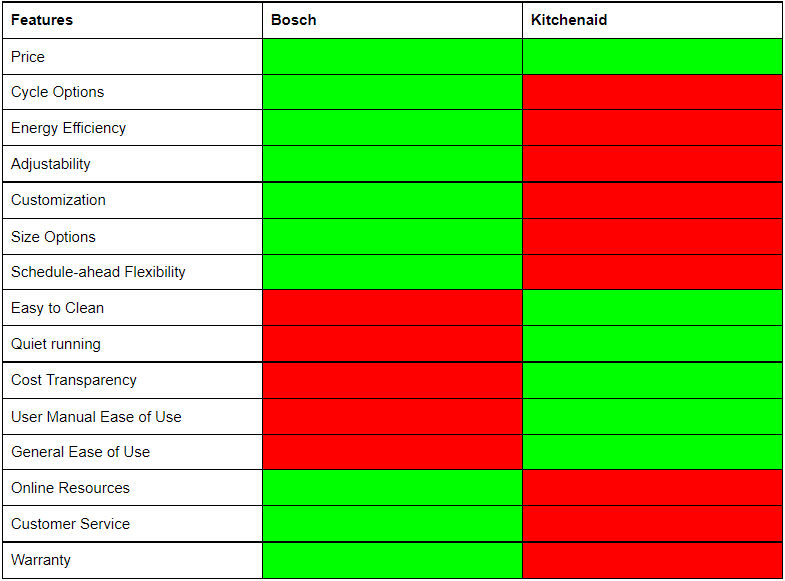 Did you know?
Kitchenaid appliances are actually owned and made by Whirlpool! Whirlpool acquired Kitchenaid for $150 million in 1986 (over $400m today).
Bosch vs KitchenAid – Compared By A Repair Expert
I've consulted with James Blackford – a veteran appliance technician – writing this article. James has repaired thousands of dishwashers and strongly believes in both Bosch and KitchenAid Dishwashers.
James on Bosch: "Everything about a Bosch dishwasher is great. Its one of the quietest on the market, it has a simple interface for a customer to use, the racks, interior, and components are great quality. It does a great job at cleaning. The only drawbacks are the price for the mid to high end units, and the availability of repair companies that actually work on the brand, if those arent a concern then its a great pick. The life expectancy on Bosch is in the top-tier of brands on a dishwasher".
James on KitchenAid: "Of the standard build of dishwashers this is near the top without over engineering. It looks good, washes good, has enough customizable wash features, and is better built than most other standard build dishwasher.It als has a better life expectancy and outperfomrs in cleaning, over its brothers and sisters of kenmore whirlpool maytag etc."

Bosch vs KitchenAid – Compared By Consumers

In our research of the best dishwasher brands, we studied over 50,000 reviews from dishwasher owners. Here's how KitchenAid and Bosch ranked for customer happiness:
As you can see from the graph, Bosch and KitchenAid are op of the pack for dishwashers!
The bottom line for me is that both of these are fantastic options. It depends on your preference over the looks, features, and price tag.
But keep reading if you'd like to compare the two brands in detail.
Detailed Comparison: Bosch vs KitchenAid Dishwashers
Alright, enough generalizations!
Let's get into the detailed comparisons between these two dishwasher brands.
Price
The wide range of options between companies offers several price point comparisons. In comparing similar features, you can see similar pricing.
Bosch third rack 800 series 24" dishwasher $1,199 vs. Kitchenaid third rack $1,199
Bosch 300 series with Precision Wash $849 vs. Kitchenaid with ProWash $809
Bosch 44dBA 800 series 17 ¾" $999 vs. Kitchenaid 39dBA $999
In this round: It's a tie!
Are Bosch Dishwashers Worth the Money?
Bosch's prices don't differ too much from other top brands. They may offer more expensive options, but that's because they provide more options in general. There are low-cost options that save you money at check-out and in the long run with their energy-efficient models.
After reading the rest of the article, I think you'll agree Bosch is worth dishwashers.
Features
Each brand emphasizes different customization options, so while each brand offers a wide array of features, not all are comparable.
Special features in Bosch washers:
CrystalDry, which gets dishes 60% drier, including plastics
EasyGlide Rack system
Energy Star Qualified, meaning it is EPA certified to save more energy and cost less per year
ExtraDry which raises the temperature and extends drying time
3rd Rack with 30% more rack space
RackMatic Adjustable racks with 9 different positions
PrecisionWash intelligent sensors scan dishes to ensure a thorough cycle
Half-Load Option which reduces wash time and energy consumption
AquaStop leak protection contains leaks through a tub and sensor system
ExtraShine ensures clean-looking dishes by raising the temperature and increasing dry time
Sanitize Option cleans dishes to National Sanitation Foundation Standards
24-Hour Delay Smart Timer enables you to plan washes during low water usage times in your household
HomeConnect App allows you to monitor and control your dishwasher when away from home
Special features in Kitchenaid Washers:
Fold-shelf with stemware holder which offers secure placement for wine glasses that you can fold up when not in use
ProWash Cycle senses how dirty the dishes are and adjusts cycle time and water usage in real-time
Printshield is a smudge-resistant exterior
SatinGlide Max for a smooth upper-rack rollout even when fully loaded
Stainless Steel interior to resist stains, streaks, and odors and facilitates drying
Heat Dry option engages recessed heating to ensure dry dishes
Filter-Based Wash system with wash arms to target high-need areas of the washer
Express Wash cycle cleans dishes in less time
SaniRinse Option cleans on high heat to eliminate 99.99% of bacteria
Extended Heat Dry Option increases dry time
2-4-8 hour delay wash that allows you to schedule optimum wash times
LED interior lighting
In this round: Bosch offers more options for dishwasher functioning, but Kitchenaid offers more options for ease of use and cosmetics.
Is Kitchenaid Considered High-End?
Kitchenaid offers a quality product, but they are not a luxury brand. One of the appeals of Kitchenaid is its simplicity. Yes, Kitchenaid is a high-quality product, but it isn't a high-end brand.
Serviceability
Since Bosch has shot ahead in terms of features, let's lay up a slam dunk for Kitchenaid.
When it comes to servicing or repairing a dishwasher, not all appliance repair companies will work on a Bosch appliance, but are happy to handle a Kitchenaid model.
This is because of Bosch's more complex setup, and the more specific parts that they use. Equally, if it's you doing a repair, Kitchenaid parts are much easier to find (especially since they're built by Whirlpool) whereas Bosch parts might take a bit more effort.
It's like trying to go to the auto parts store and buy a starter for a Ford F150. They will likely have one vs a starter for a BMW. They might be able to get one, but it might require waiting for it to arrive vs having one sitting on the shelf.
Ease of Use
To decide the dishwasher that's easiest for you, compare these ease-of-use features:
Adjustability:
Both brands offer third-rack options
Bosh's flexible tines and nine different rack positions vs. Kitchenaid's foldable stemware holder
24-hour adjustable scheduling vs. Kitchenaid's 2, 4, and 8-hour plan-ahead options
Bosch remote app operation
Bosch offers size options as thin as 17" for tight fits
Button Control:
Bosch offers front controls, top controls (on the inside face of the dishwasher when opened), and custom panels vs. Kitchenaid's front and top controls
User Manual:
Bosch offers online user manuals and how-to videos on the website
Kitchenaid offers an energy guide, Quick-Start Guide, Cycle Guide, Eco Owner's Manual, Owner's Manual, and Dimension Guide
Customer Support:
Bosch offers a 24/7 call center, text support, and email support
Kitchenaid offers limited hours of operation for Live Chat support and limited hours for call support.
Ease of maintenance:
Bosch offers online cleaning tips and stainless steel options
Kitchenaid offers stainless steel and smudge-resistant exterior
Both offer a servicer finder on their websites but Kitchenaid offers service plans
In this round: Bosch offers more customization and features, but Kitchenaid is probably much simpler and easier to use if you don't care about features.
Power
One of the primary concerns when it comes to home appliances is how much you'll spend on your energy bill per year. While both appliances offer uniquely efficient options, Bosch may take the cake on low-cost, energy-efficient options.
Both brands offer sensor-enabled washes that can tailor water and energy uses per wash
Bosch offers a half-full wash option to save water and energy
Both brands offer extra dry and sanitization features which would use more water and energy
Bosch is EPA certified for energy-efficiency
Kitchenaid offers cost estimates for energy usage per year
In this round: Bosch offers more cost and energy-efficient products.
Noise
Both brands offer low decibel options, but Bosch claims the title of "Quietest Dishwasher Brand in the US," even though Kitchenaid actually offers lower dBA options.
The lowest dBA option on Bosch's website is 44 while the lowest on Kitchenaid is 39. Anything below 45 is "virtually silent" – so there's not much difference between these quiet dishwashers.
In this round: Kitchenaid takes the prize for the quietest dishwasher options.
Did you know?
Every 6 decibels actually doubled the perceived loudness of a sound. This may not be drastic from 44DB to 50DB unless you're in a very quiet environment. But, from 39DB to 44DB, both being very quiet to begin with – may not even be perceived by the typical consumer in a normal household environment.
Warranty
In terms of warranty, Bosch offers more coverage than Kitchenaid.
Limited warranty, entire appliance, parts, and labor (1 year)
Limited warranty for microprocessor or printed circuit board; parts only (2nd to 5th year)
Limited warranty for racks (does not include rack components); parts only (2nd to 5th year)
Limited warranty for rust-through on inner tub liner; parts only (Lifetime)
ONE (1) YEAR FROM THE DATE OF ORIGINAL PURCHASE (PARTS AND LABOR
INCLUDED) will pay for factory-specified replacement parts and labor to correct defects in materials or workmanship that existed when this major appliance was purchased, or at its sole discretion, replace the product. In the event of product replacement, your appliance will be warranted for the remaining term of the original unit's warranty period.
In this round: Bosch offers more options for parts and replacement and longer-term warranties.
Customer Satisfaction
Bosch customers are very satisfied with ratings on the website ranging from 4.4 to 5 stars on different washers. Kitchenaid's reviews range from 3.7 to 5 stars on its website. It's also important to consider that Bosch's products have hundreds of reviews per washer, while reviews are as low as 11 per product on Kitchenaid's website.
In this round: Bosch customers review more frequently and are generally more satisfied.
Conclusion
Unsure about which product is for you? Then consult the list below to see which options might fit best into your routine and preferences.
Choose Bosch if you want:
Energy-efficient options
More cleaning cycle options
More than just front and top button panels
Well-reviewed dishwashers
Size options as thin as 17"
More warranty coverage
24/7 customer support
More rack adjustability
More range in schedule ahead options
If you like a wider range of options and technologically advanced features, Bosch will fit nicely into your home no matter the space availability.
Choose Kitchenaid if you want:
More cosmetic options
Quieter dishwashers
Simpler, easier to use options
Service plans
Transparency about energy costs per year
Easy to clean, smudge-resistant exterior
Easier to navigate user manual
If you'd like a dishwasher that isn't all that complicated and will look nice in your kitchen with transparent manuals and energy costs, Kitchenaid will keep it simple and do the job.
Thanks for reading and taking this dishwasher journey with us! If you're interested in more articles like this, check out your options below.