Last updated
September 12th, 2023
Reviewed for Accuracy
We've independently reviewed this article to make sure it's as accurate as we can make it.
To find out more about our article creation and review process, check out our editorial guidelines.
Did you know that Americans spend $3.4 billion on dishwashers each year? With so many brands competing for your dollars, it's no wonder that making the right choice can be a bit challenging.
In this article, we're going to look at the best dishwasher brands that are worth your money. (And those that aren't!).
This article isn't just my opinion. In writing this article, I've consulted with a veteran appliance repair technician and gathered data from over 50,000 reviews from dishwasher customers.
So you're in safe hands!
Dishwashers are a major investment lasting over 10 years, so let's ensure you get a trustworthy brand.
Why trust us? This article was written by Craig Anderson and James Blackford.

Craig has helped thousands of other homeowners repair their appliances since 2016.

James is one of our resident appliance experts, with over 16 years of experience. He currently works as a Master Technician for SquareTrade, and runs his own appliance repair business.

We also crunched the data on over 50,000 customer reviews from dishwasher owners.
The Best Dishwasher Brands Compared Using 50,000 Reviews
Getting a model from one of the highest-rated dishwasher brands can make a huge difference.
It's the difference between your dishes being sparkly clean or gritty and smelling of plastic.
I've gathered data from 50,000 customer ratings to find out which brand makes the best dishwasher. The highest-rated dishwasher brands are:
When talking about the top dishwasher brands, KitchenAid takes the top spot with an average rating of 4.5!
KitchenAid introduced its first dishwasher back in 1949. They must be doing something right, as many still prefer it in 2023.
That being said, all the brands shown on the graph have ratings above 4.2, which means that even the ones ranked lower, such as Café and Samsung, can still be great options.
This is why, when deciding, you must consider other factors besides the brand, such as the price, model, warranty, etc.
Appliance Repair Expert On Top-Rated Dishwasher Brands
As well as customer rankings, I also wanted to get a professional's opinion on different dishwasher brands to share with you.
What's the point in owning a great dishwasher if it costs you $1,000 to repair it?
We teamed up with James Blackford, who has over 16 years of experience repairing dishwashers.
After repairing thousands and thousands of dishwashers, here are the brands that our expert recommends:
Maytag, Kenmore, or Whirlpool for good value and ease of repair
For a slightly higher budget, he recommends KitchenAid and Frigidaire
Finally, for the real top end, it's got to be Bosch.
For dishwasher brands to avoid, James cautions against brands like LG or Samsung. These models look great, but they've added a lot of sensors which can cause issues, and the added complexity means a repair is much more expensive.
Are More Expensive Dishwashers Worth It?
Now that you know our expert's opinion, it's time to discuss other factors that may influence your purchase decision, such as price.
It's common to think expensive products are better quality than their cheaper counterparts.
But an expensive dishwasher isn't always a better one!
Researchers at Stanford and Caltech conducted a study where they gave 20 people three identical samples of wine but told them that they had different prices.
While the participants tasted the wine, researchers measured their brain activity using an fMRI. The participants who thought they were drinking the expensive wine felt more pleasure and enjoyment than the ones who thought they were drinking the cheaper version.
Pretty interesting, huh?
Now that you know this, try not to focus on price alone when looking for a new dishwasher, as this is not necessarily an indicator of quality.
To prove this with our data, we compared the customer ratings with dishwasher prices:
Please focus on the blue line, which is mostly straight. Contrary to popular belief, people who bought a cheaper dishwasher also had a pleasant experience.
In other words, buying an expensive dishwasher doesn't ensure a better experience.
The Brands With The Most Dishwasher Models
As you've probably noticed, most dishwasher brands offer different models, so you can choose the one that best suits your lifestyle and preferences.
For example, some brands have added portable dishwashers to their catalog, which is ideal for RVs or people with limited space.
Other brands offer some models with smart features, which are great if you're tech-savvy or busy.
Many believe that the more dishwasher models a brand offers, the better. But is this true?
Not necessarily.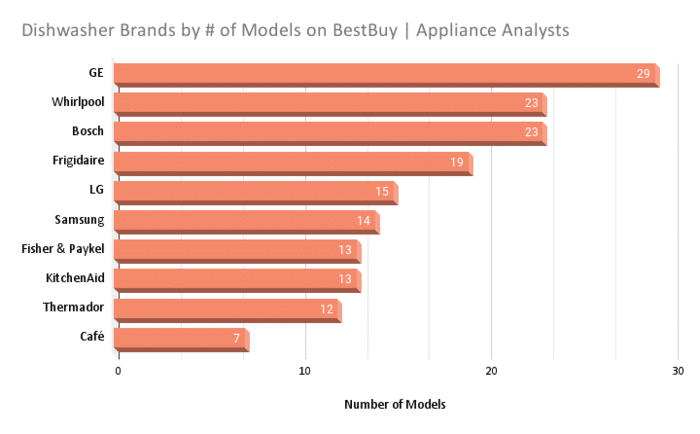 Although GE offers the most dishwasher models, it didn't even make it onto the top 10 ranked brands. And our appliance repair expert even advises against purchasing this brand!
The data suggests that a brand with many dishwasher models is not always the best.
So, when buying a new dishwasher, remember this information, and don't forget that other factors can influence your decision.
How To Find Your Perfect Dishwasher
After analyzing more than 50,000 reviews and talking to James Blackford, other things remain to remember when buying a dishwasher.
These include the type of dishwasher as well as its size and capacity. Noise level, price, features, water usage, and design are important considerations that can help you decide.
Thinking about all these factors when making a decision can feel a bit overwhelming. This is exactly why we created our comprehensive dishwasher buyer's guide.
Our guide will help you navigate these factors easily to make the right choice. So, make sure to click here to check it out!
Appliance Pro – Brand Thoughts
To close out the article, I asked our appliance repair expert's opinion on many of the big brands in this article.
Here's how he rated each of the popular brands from the perspective of an appliance technician.
KitchenAid
As mentioned before, our KitchenAid is our expert's top pick. "It's one of the best standard-built dishwasher brands, without over-engineering."
KitchenAid is considered a mid-high or high-range brand. Here's how James rated KitchenAid:
| | |
| --- | --- |
| | Rating (1-10) |
| Overall quality | 9.5 |
| Material and component quality | 9 |
| Cleaning performance | 9 |
According to our expert, KitchenAid has high-quality dishwashers.
James also recommends LG dishwashers because they look good, wash well, and have enough customizable features".
"Compared to other brands, such as Whirlpool, Kenmore, or Maytag, KitchenAid dishwashers have a better life expectancy and outperform in cleaning," he says.
In 1919, the KitchenAid became famous for its innovative stand mixers, and over the years, it continued to introduce new products to its catalog. Nowadays, KitchenAid sells dishwashers, refrigerators, blenders, microwaves, ovens, and much more.
Bosch
James rates Bosch as one of the best high-end dishwasher brands out there. Here's how he rated Bosch dishwashers:
| | |
| --- | --- |
| | Rating (1-10) |
| Overall quality | 9.5 |
| Material and component quality | 9.5 |
| Cleaning performance | 9 |
Our expert recommends Bosch dishwashers because of their high-quality components.
"Everything about a Bosch dishwasher is great. It's one of the quietest on the market, and it has a simple interface for customers to use", he says.
James also recommends Bosch because it has high-quality compartments: "The racks, interior, and components are of great quality, and it does a great job at cleaning."
However, James says that if you plan on getting a Bosch dishwasher, you must remember that it's more expensive than other brands. It can also be hard to find a local repair company to work on it (this is something you shouldn't worry about if you live in a big city).
Compared to KitchenAid, Bosch dishwashers have better performance but at a higher price point.
Bosch was founded by Robert Bosch in 1886 and has always stood out due to its innovative and high-quality products.
LG
James thinks LG is a mid-high/high-range reliable brand. "It has a lot of the benefits of Bosch and the sleek look of Samsung, but with better overall quality than Samsung," he says.
Here's how James rated LG dishwashers:
| | |
| --- | --- |
| | Rating (1-10) |
| Overall quality | 8.5 |
| Material and component quality | 9 |
| Cleaning performance | 9 |
Our expert recommends LG dishwashers because they do a great job cleaning and have many wash cycle options.
LG may be a good option if you want a quiet dishwasher that lasts a long time.
"LG dishwashers are very quiet and do a great job at cleaning, plus the direct drive motor typically has an extended warranty."
But bear in mind that this brand has certain limitations. "The only drawbacks of LG are the higher price and difficulty in finding a local repair company to work on them," our expert explains.
Despite these drawbacks, James says LG is a reliable brand that offers different wash cycles, and it is very energy and water efficient, which is great if you want to save some extra money.
Our expert would not unexpectedly recommend LG dishwashers, considering that the South Korean company is known for its innovative approach to technology.
Fisher & Paykel
While this high-end brand may not be our expert's top pick, it's not a bad choice. Here's how he rated Fisher & Paykel dishwashers:
| | |
| --- | --- |
| | Rating (1-10) |
| Overall quality | 8 |
| Material and component quality | 8 |
| Cleaning performance | 7.5 |
Our expert thinks Fisher & Paykel dishwashers have an overall good quality but may be hard to use and repair.
"These dishwashers typically come in a drawer style with both upper and lower drawers, which is great for people who don't accumulate a lot of dishes in a day, such as couples."
However, he says that selecting the right cycle on these dishwashers can be tricky due to their interface. "The interface and overall design are different from what most people are used to," he explains.
James also mentioned that repairing Fisher & Paykel dishwashers can be difficult because they lack troubleshooting information. "Finding a repair person for this brand can be challenging, especially if you live in a smaller town or city. But, if you don't use a lot of dishes, it could be a great pick".
Fisher & Paykel was founded in New Zealand by Woolf Fisher and Maurice Paykel 89 years ago. This high-end brand is known for designing innovative home appliances like dishwashers, washing machines, ovens, and refrigerators.
Whirlpool
According to our expert, Kenmore, Maytag, KitchenAid, and Whirlpool dishwashers are similar. But, there are some minor differences between each brand.
Here's how he rated the quality of Whirlpool dishwashers:
| | |
| --- | --- |
| | Rating (1-10) |
| Overall quality | 7.5 |
| Material and component quality | 8 |
| Cleaning performance | 7.5 |
Our expert says that Whirlpool is a safe pick for those on a budget.
"Whirlpool is a middle-of-the-road choice, not too expensive or fancy, but does a decent job. Like all others, its filter is removable, offering enough settings to fit any household's needs", he explains.
But bear in mind that James says that its drying cycle leaves a bit to be desired. Despite this, he still believes that Whirlpool is a safe choice for those on a tight budget.
Whirlpool has been one of the most famous home appliance brands for over 100 years. Lou Upton founded it in the United States, and since the very beginning, the company has been known for its innovative products.
Samsung
Although Samsung dishwashers are known for their sleek appearance and technology, there are other things you should consider when deciding.
Here's how James rated Samsung:
| | |
| --- | --- |
| | Rating (1-10) |
| Overall quality | 7.5 |
| Material and component quality | 7.5 |
| Cleaning performance | 7.5 |
According to our expert, Samsung dishwashers have innovative features that may fail constantly.
"Samsung dishwashers are the eye candy customers see and want to buy. Beneath the fancy innovative features, they have A LOT of sensors and components, which may have some advantages. However, this can also result in some bugs or issues", he explained.
James also says that repairing Samsung dishwashers can be complicated, so finding a qualified technician can be challenging.
But despite this, he explains that they do a decent job at cleaning and are generally quiet and energy efficient. "They also have lots of customizable features and look great."
So, if you're looking for a stylish and advanced dishwasher, Samsung may be a decent option. Remember that based on our expert analysis; you may experience performance issues due to the multiple sensors and components.
Samsung was founded by Lee Byung-Chul 85 years ago in South Korea, and since then, the company has pushed the boundaries of innovation and technology.
Frigidaire
According to our expert, Frigidaire dishwashers are easy to install and affordable; they also have extremely basic features.
Here's how James rated the brand:
| | |
| --- | --- |
| | Rating (1-10) |
| Overall quality | 6 |
| Material and component quality | 7.5 |
| Cleaning performance | 6.5 |
According to our expert, Frigidaire dishwashers are ideal for rental units, as they have low maintenance and repair costs.
"A lot of Frigidaire dishwashers have plastic tubs and fewer features. But, the money saved on materials is spent on quality. Some of their components, such as the motor, haven't changed in years, meaning that you're getting a product that has been tried and tested", he explains.
James also recommends this brand because it's extremely durable and low maintenance. So, a Frigidaire dishwasher is a smart choice if you have a tight budget, don't mind the noise, and don't need any fancy features.
You see, Frigidaire offers affordable appliances without sacrificing quality. It is an American company founded in 1918 that originally manufactured refrigerators but expanded to other home appliances, such as laundry centers, dishwashers, and more.
Café
Although Café offers high-end and stylish appliances, our expert doesn't recommend this brand.
Here's how he rated it:
| | |
| --- | --- |
| | Rating (1-10) |
| Overall quality | 6 |
| Material and component quality | 6 |
| Cleaning performance | 6 |
According to James, Café dishwashers are stylish but not very trustworthy.
"While you can customize Café dishwashers' color to match your kitchen's decor, they are still made of GE parts, which may not be of the best quality," he explains.
You see, GE Appliances owns Café. This brand was created to compete with other high-end brands and is aimed at customers who want their kitchens to look stylish and sophisticated.
James says that out of all GE brands and subdivisions, Café would be the one to get if you're stuck on GE.
GE Appliances
Now, let's talk about the least brand James recommends: GE. Here's how he rated it:
| | |
| --- | --- |
| | Rating (1-10) |
| Overall quality | 4 |
| Material and component quality | 3 |
| Cleaning performance | 5 |
Under no circumstances does our expert recommend GE dishwashers.
"In my opinion, GE is the worst brand. I wouldn't recommend anyone get their products. They're trying to match other brands' features, quality, and design but have not put enough money into refining their components and electronics", he says.
James explains that GE dishwashers have a high fail rate and overall bad build quality. "They do a decent job cleaning, and they aren't the loudest models on the market. But, their drying cycle is not the best, and they're prone to issues".
Although the American company has been on the market for over a century, manufacturing all sorts of appliances, its dishwashers have received mixed reviews in recent years due to their poor reliability and varied performance.
While some models seem to perform well, others have been criticized for not cleaning or drying effectively.
This is why; if you were thinking about getting a GE dishwasher, I'd advise thinking twice, as the repair costs can be quite high.
Dishwasher Brand Comparison Summary
When buying a new dishwasher for your kitchen, there are many factors to consider.
However, regarding brand preference, it's important to note that consumers and our expert (James Blackford) agree that KitchenAid and Bosch are the top choices.
KitchenAid dishwashers are considered one of the best standard-built units because they aren't over-engineered and have a long lifespan. They not only look great but also leave your dishes sparkling clean.
James and consumers also love Bosch dishwashers because of their quiet operation and high-quality interior compartments. They do an excellent job at cleaning your dishes and have a simple interface.
But remember, just because consumers and our expert like these brands don't necessarily mean that there aren't other great brands out there that could also meet your needs.
And don't forget that the most expensive brand or the one with the most models isn't necessarily the best option for quality.
Remember to consider other factors when buying a dishwasher, such as your budget, the size of your kitchen and family, or features.
Check out our dishwasher buyer's guide to learn more about these factors and make an informed decision!