Last updated
August 9th, 2023
Reviewed for Accuracy
We've independently reviewed this article to make sure it's as accurate as we can make it.
To find out more about our article creation and review process, check out our editorial guidelines.
Are you trying to understand the differences between Oster vs Hamilton Beach blenders?
You're not alone! Both brands have similarities, making choosing between them a bit challenging.
Luckily, you've come to the right place for answers.
When comparing Oster vs Hamilton Beach blenders, consider your preferences. Hamilton Beach typically comes with more functions and helpful details but has a smaller motor. Oster offers larger jar capacities and more powerful motors, but they have a larger footprint on your counter.
Read on to choose the best blender!
Oster vs Hamilton Beach Blenders: 4 Key Differences
To help you choose the right blender, I've prepared a quick guide that compares Hamilton Beach and Oster blenders across four categories.
For the sake of simplicity, I'll break down the brands into three tiers. Each brand will be represented by a low, mid, and high-tier option.
Read on to learn all about their differences!
#1 Price
When comparing Hamilton Beach vs Oster blenders, it's important to consider your budget.
Hamilton Beach and Oster products have a similar price range. You can buy their low-tier blenders for under $20, while the larger, more feature-packed versions cost over $300.
I tend to find that the more features a blender offers and the bigger its size, the higher the price tag will be.
Since both brands have similar prices, there are other important factors you need to keep in mind when choosing between them.
#2 Functions
In my opinion, considering the functions of Oster and Hamilton Beach blenders is crucial when choosing between them.
The number of functions will vary depending on the price of the blender you choose. Here's how their categories compare:
Low Tier
Oster and Hamilton Beach personal blenders are intended for smoothies and to serve one person, as they only have one button.
The single purpose makes the blender easy to use. The jars for each blender can also double as travel cups, so you can pop on the travel lid and be on your way.
While they have the same basic function, the wattages of Oster and Hamilton Beach personal blenders are very different. The Hamilton Beach Personal Smoothie Blender only has a 175-watt motor. Meanwhile, the Oster My Blend has a respectable 400 watts of blending power!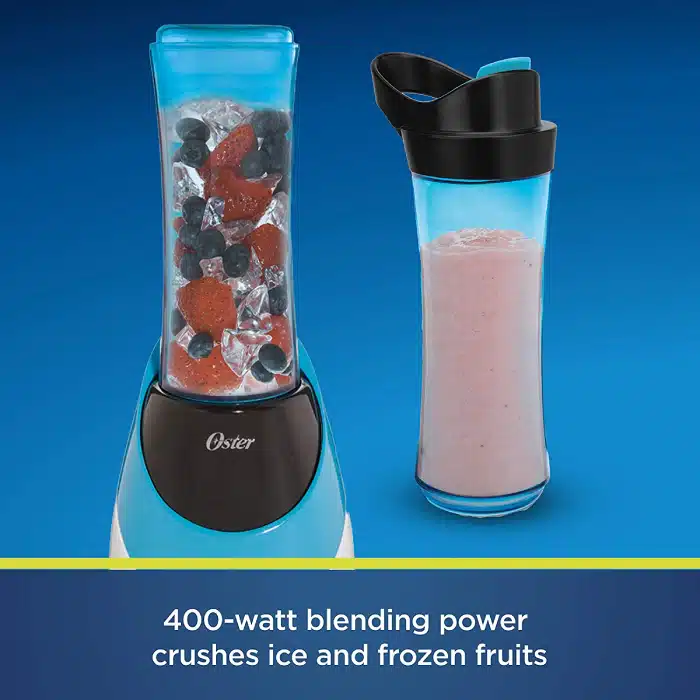 Mid-Tier
When we move up to the Oster and Hamilton Beach mid-tier blenders, we add those additional settings. These larger blenders give you more options, thanks to different speeds.
The Hamilton Beach is a 12-function blender divided into five settings. It starts with the lowest speed of Dice and ends with the high-speed Crush Ice. For ease, the settings are named for their best purpose, like "Puree Whip" or "Grind Icy Drink."
Notably, the Hamilton Beach Wave Crusher has the brand's patented Wave-Action system, which means the mixture is constantly forced downwards toward the blade for the smoothest consistency and no large chunks floating at the top.
The Oster blender has pre-programmed settings. You can select Green/Frozen Smoothies, Food Chop/Salsa, or Milkshakes. The model also has speed options, including Pulse.
Regarding wattage, the Wave Crusher has 700, while the Pro 1200 has 1200, as the name implies. Both guarantee ice-crushing power.
To choose the best mid-tier blender, you'll need to keep in mind your needs.
High-Tier
The high-tier options for Hamilton Beach and Oster Blenders are considered professional-grade, but the functions for household and commercial needs are basically the same.
The Hamilton Beach Professional Quiet Shield blender includes the expected settings of puree, crush, and smoothie. It also offers speed settings from 1 to 10 for a more customized experience.
The Oster Versa professional blender also offers smoothies, soups, and dips/spread modes. Instead of numbers, it provides different speeds from low to high.
As you noticed, both high-tier blenders have similarities, so the decision will depend entirely on your cooking needs and preferences.
#3 Size
Now, let's compare Hamilton Beach vs Oster blenders regarding their size.
Since blenders are countertop appliances, size matters. Our kitchen counters support an endless list of kitchen gadgets, so considering the size of your blender is crucial.
Here's how both brands compare:
Low-Tier
As you can imagine, Oster and Hamilton Beach personal blenders are the smaller options they sell. I like that both are small enough to be stashed away in a cabinet instead of taking up valuable counter space.
How large do you prefer your smoothies, though? The Hamilton Beach personal blender has a 14-ounce cup, while the Oster My Blend comes with a 20-ounce one.
Mid-Tier
The mid-range blenders are where space becomes more important, as they have larger jars and footprints.
In terms of dimensions, the Hamilton Beach mid-range blender measures about 7" x 9" with a height of nearly 15". The Oster Pro 1200 is 8.5" by 9.5" with a height of almost 14". Summed up, the Hamilton Beach blender is taller but has a smaller footprint.
What about the jars? The Hamilton Beach blender gives you a 40-ounce jar, while the Oster has a 24-ounce one. So if you like to prepare big smoothies and have enough countertop space, I recommend getting the Oster blender.
Note: You should never overfill your blender because it can result in different performance issues.
High-Tier
If you're looking for a high-tier or professional blender, counter space is probably not a problem, which is great because professional-grade blenders are bulky!
The bulk is necessary, though, to accommodate larger jars. The Hamilton Beach Professional Sound Shield blender has a 32-ounce jar. The Oster Versa, on the other hand, has a whopping 64-ounce one!
#4 Extras
It's also important to compare the extra features Hamilton Beach and Oster offer.
Let's start with Hamilton Beach Blenders.
Personally, I give the top marks to the Sound Shield included with the Hamilton Beach professional blender. It's a handled plastic shield that slides over the blender to dampen the sound while it's in use, which is great if you live with more people and don't want to wake them up in the morning!
For the low and mid-tier options, you can't beat the hidden cord storage the Wave Crusher has on the bottom of the base, while the personal blender comes in 5 fun colors.
| | |
| --- | --- |
| Blender (Tier) | Extra Feature |
| Hamilton Beach Personal Smoothie Blender | Comes in 5 colors |
| Hamilton Beach Wave Crusher | Cord storage |
| Hamilton Beach Professional Quiet Shield Blender | Comes with Sound Shield to quiet the noise |
While Hamilton Beach goes for the fine details, Oster decides to go with extra. Specifically, the Oster Pro 1200 comes with a smoothie jar to blend a personal beverage for one.
The Oster Versa, beyond having a large jar, has a non-slip handle so those professionals in the kitchen can avoid spills.
Meanwhile, the My Blend includes a travel lid that transforms the smoothie jar into a handy sports bottle. Additionally, the bottle is impact-resistant. Speaking from personal experience, the Hamilton Beach personal blender jar can easily crack when you drop it on the sidewalk during a stroll!
| | |
| --- | --- |
| Blender (Tier) | Extra Feature |
| Oster My Blend | Includes sports bottle lid |
| Oster Pro 1200 | Comes with an individual smoothie jar |
| Oster Versa | Non-slip grip on the jar handle |
When comparing the additional features offered by Oster and Hamilton Beach blenders, it's important to keep your needs and preferences in mind. What works for some people will not work for others (and vice-versa)!
Hamilton Beach vs. Oster Blenders – Pros and Cons
In this section, I'll summarize the pros and cons of Oster and Hamilton Beach to help you choose the blender that best fits your needs.
Hamilton Beach blenders
| Pros | Cons |
| --- | --- |
| More functions | Smaller motor and wattage |
| Helpful details | |
Oster blenders
| Pros | Cons |
| --- | --- |
| Larger jar capacities | Larger footprint |
| Larger motors | |
Final Verdict: Oster or Hamilton Beach Blenders?
Hopefully, you now know all the differences between Hamilton Beach vs Oster blenders.
Remember that when choosing a blender, there are plenty of criteria to consider, including functions, motors, and extras. With Hamilton Beach and Oster, the differences are minimal but important.
In the end, Oster blenders tend to be the better value in most categories when compared to Hamilton Beach ones. Even so, the two brands are very similar! It's best to make the decision based on your and your family's personal preferences.
If you're in the market for some appliances, why not check out another one of our guides?
Thank you so much for reading!