Last updated
July 16th, 2023
Is your kettle tripping fuses?
You're not alone! I know how annoying it can be when your kettle stops working.
Luckily, in this article, you'll learn how to fix your kettle so it doesn't leave you in the dark.
If your kettle keeps blowing a fuse, use a different electrical outlet, do not overload the kitchen circuit, allow the base to dry overnight, or replace the kettle.
Read on to stop your kettle from tripping the power!
4 Ways to Fix a Kettle That Keeps Blowing a Fuse
Different reasons could explain why your kettle keeps blowing a fuse. Luckily, there are four simple solutions you can try.
#1 Try a Different Outlet
When I see a kettle that keeps blowing a fuse, I always connect it to a different kitchen outlet.
You see, a kettle demands a lot of electricity. If something is wrong with your electrical outlet, it will not be able to supply electricity properly to your kettle, resulting in a blown fuse.
If your kettle boils properly in another outlet, you can conclude that the problem lies with your electrical outlet.
You can also plug another high-consumption electrical device into your problematic wall socket to test how it works.
Here's how to do it with a hair dryer:
Plug the hairdryer into the wall socket.
Start the hairdryer on a low heat setting, then increase the heat. Contact an electrician if you have problems getting the hairdryer to work on high.
#2 Do Not Overload the Circuit
In my experience, a kettle can blow a fuse if the circuit is overloaded.
The circuit is probably overloaded if you're using an extension lead with multiple electrical devices. However, it's important to note that the circuit can still be overloaded even without an extension lead.
You see, your kitchen is generally one big circuit. So, using high-consuming electrical devices, such as a coffee machine, microwave, or slow cooker, at the same time can trip the circuit, even if they're plugged into separate outlets.
To keep your kettle from blowing a fuse, try unplugging other kitchen appliances to see if that fixes the problem.
You can also try using your kettle in a different room completely. If it works, then the kitchen circuit is overloaded. But, if it trips again, the kettle probably has an electrical short.
#3 Allow the Base to Dry Out Overnight
When I see a kettle tripping the fuse box, I always allow the base to dry overnight.
You see, if water leaks into your kettle's base, it can cause a fuse to blow or stop your kettle from working altogether.
If you suspect that your kettle keeps blowing a fuse because of damp electrics, do the following:
Remove the kettle from its base.
Wipe under the kettle until it is thoroughly dry.
Place the base in a warm, dry room overnight, such as an airing cupboard.
In the morning, return the kettle to the base.
Test the kettle.
To keep your kettle's base from getting wet, I recommend following these tips:
Do not overfill the kettle. Water expands as it heats up. If your kettle is overfilled, it can spill water when it begins to boil. The water could drip down the kettle and end up around its base. Do not fill it past the maximum mark.
Fill the kettle carefully. When filling the kettle, ensure the water goes directly into it and does not spill down the sides. If it does, it could cause water to gather under the kettle and the pool around the base.
Do not rest the kettle on a wet surface. Ensure that your kitchen countertop is dry before you set your kettle down. Please keep it dry when you are filling it over the sink. Resist the urge to let the kettle sit inside a damp sink while you fill it up.
#4 Replace the Kettle
If you've tried the fixes above, but your kettle keeps blowing a fuse, it's probably time to replace it.
When replacing your kettle, it's important to keep the following factors in mind:
The warranty. Is your kettle still under warranty? If it is, then you'll likely be able to get a repair or a replacement free of charge. You will need to contact your supplier for more information on what you can do.
A repair. I find that repairs on old kettles are usually costly and more hassle than they're worth. It is not always very easy to find replacement parts that match your type of kettle, and it is another headache to identify the problem with the kettle to fix it. It is often easier and cheaper to buy a new kettle.
The age of your kettle. The average lifespan of a kettle is a mere four years. If you use your kettle more than five times daily, its lifespan will be even shorter. So, I recommend considering the age of your kettle and whether it is really worth repairing.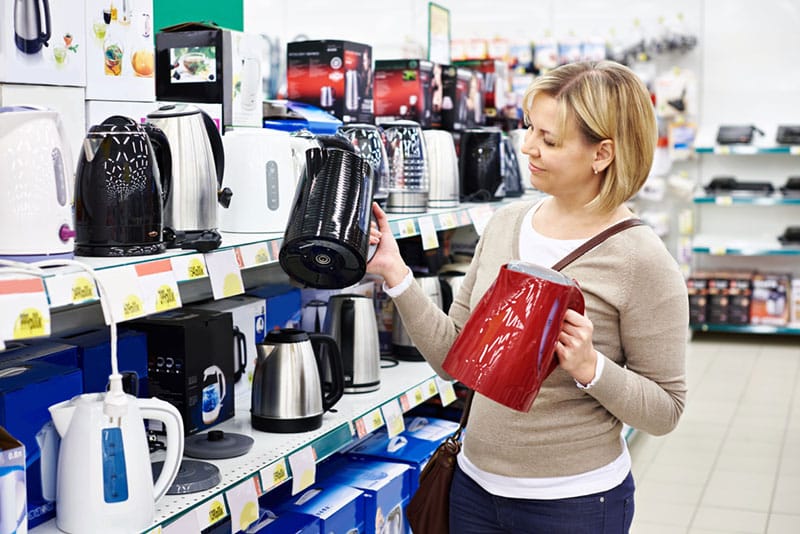 Wrapping Up: Fixing A Kettle That Keeps Blowing a Fuse
Hopefully, now you know how to fix a kettle that keeps blowing a fuse.
Remember that to fix a kettle that keeps tripping the power, you need to ensure the circuit is not overloaded, use a different electrical outlet, and allow the base to dry overnight. If the issue persists, you'll need to replace it.
Has this article been helpful to you? Then why not check out some of our other articles and free guides? You can even sign up to our email list.
Have a great day!
-Craig