Last updated
February 15th, 2023
Reviewed for Accuracy
We've independently reviewed this article to make sure it's as accurate as we can make it.
To find out more about our article creation and review process, check out our editorial guidelines.
Is the dazzling morning sun disrupting your beauty sleep? Then find 6 ways to cheaply blackout your windows in this article!
Here are 6 materials you can use to blackout your windows on a budget
Spread some aluminum foil
Cut up some black fabric
Buy easy-on window film
Block it out with cardboard
Splurge on blackout curtains
Or even blackout blinds
We all love natural light in a home, but what can you do if your windows are letting in too much of it? Check out the instructions for installing these blackout window materials coming up next!
The 6 Best Ways to Blackout Windows On a Budget
Blacking out the windows of your home does not need to be an expensive job! Take a look at some of the best materials for you to blackout yours on a shoestring budget.
#1 Aluminum Foil
Aluminum foil is probably one of the cheapest ways to blackout the windows in your home. With one roll, you should be able to cover the windows in your room and still have enough leftover to wrap the kids' sandwiches for school. The foil will reflect the light as it tries to make its way through your windows.
Here's how to cover your windows with aluminum foil.
Cut squares out of aluminum foil that are the same size as your windows
Fix the squares to the window with tape. (Masking tape is recommended as it is easy to remove. It will not strip the paint on your window frames).
Apply two layers of aluminum foil to the windows if necessary
Fancy checking out the steps in more detail? Then take a look at this helpful tutorial.
#2 Black Fabric
Another cheap and cheerful way to blackout your windows is to use black fabric. Any kind will be good for the job. If you don't have any fabric, you should be able to pick some up very cheaply by the meter at your local haberdashery shop.
Here's how you can cover your windows with fabric.
Measure your windows and cut the fabric to the size of your windows
Fix the fabric in place with heavy-duty, double-sided tape
Apply two layers of fabric to the windows if necessary. You can sew the edges of the fabric together to join them.
#3 Cardboard
Cardboard is another material you can use to blackout the windows of your home. Cardboard is inexpensive. You might even be able to pick up what you need for free by asking at your local grocery store. Most stores have cardboard food boxes that they are willing to give away.
Covering your windows with cardboard is simple. Here's how to do it.
Measure your windows and cut the cardboard to its size
Fix the cardboard to the windows using heavy-duty, double-sided tape
[Optional] Paint the cardboard with a black, opaque, water based paint like latex
#4 Window Film
Window film is a great option for giving your house more privacy. It helps to insulate your windows, lowering your energy bills in the winter. It also keeps the sun out in the summer. Not only that, but it will protect your skin from harmful UV rays.
Window film is probably the easiest to apply of all the solutions that we've seen so far. Here's what you'll need to do.
Measure your windows and cut the window film to size
Clean the window thoroughly to avoid creases and wrinkles in the film
Push the window film against the windows. It sticks on its own thanks to the static!
Push the air bubbles out from under the film with a ruler or a sturdy piece of cardboard. (Some window film applications require the use of a hairdryer. If so, use yours on a low to medium heat and keep it at least 6 inches from the film).
The nice thing about window film is that it is so personalizable. You can get window film in different shapes that darken but at the same time liven up a room.
#5 Blackout Curtains
Blackout curtains may not be the cheapest way of darkening a room, but they are effective. You should be able to pick up a pair at any good homeware store.
But what can you do if blackout curtains are slightly out of your budget?
Some homeware stores sell curtain liners. These are less expensive than blackout curtains and do the same job. In fact, curtain liners will even give you the freedom to decorate your room with the curtains of your choice on the inside and still benefit from the blackout liner.
The advantage of both blackout curtains and liners is that they are easy to install. Simply hang them up and you're good to go.
What if your blackout curtains are letting light seep behind them? Then try and find a curtain rod that sits flush to the wall. The closer the rod is to the wall then the closer your curtains will be to the window. This will stop any excess light from coming in.
#6 Blackout Blinds
Last, but definitely not least on our list are blackout blinds. These are specially made to fit snugly to the window and greatly reduce the amount of light that passes into a room.
For the best results, make sure you measure your windows well before you buy your blackout blinds. This will ensure that your windows get the best fit possible.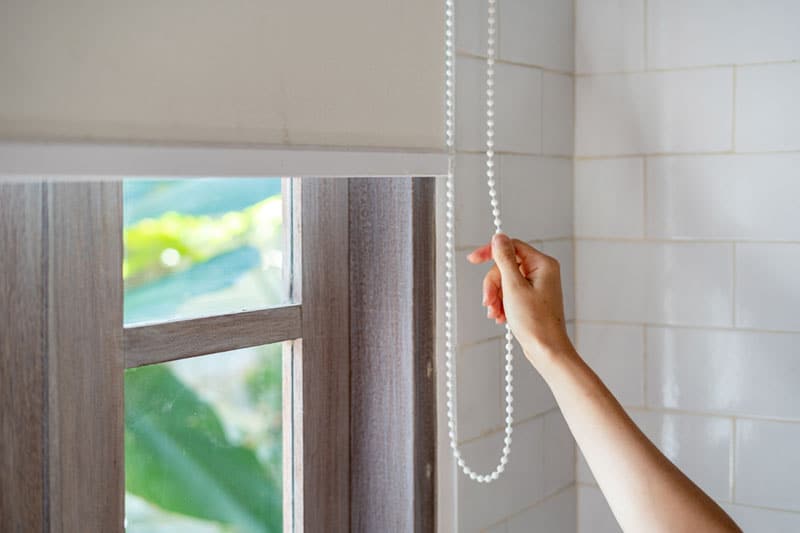 Try Acrylic Paint
Acrylic paint can be used on glass, although black primer works too. Both types stick easily to glass and can be removed later using a scraper or paint remover. This is a little bit more of a permanent fix, but it's simple enough to remove in future.
How Do You Blackout Windows Without Curtains?
Buying blackout curtains and blinds are more expensive solutions for darkening a room. But what if you are looking for a cheaper, more DIY method? Then here are a couple of things that you can try with materials you might already have around the home. And even if you don't, you can pick them up for less than $5!
Here are the materials you can use to blackout your windows without curtains or blinds.
Aluminum foil
Black fabric
Cardboard
These materials are easy to install and uninstall. They can be fixed in place with the help of double-sided tape. They are also extremely economic.
What if you're looking for something a little more decorative? Then try using window film as your room-darkening solution. But darkening the room is not all it will do. Take a look at some of the things window film achieves below.
Reduces UV exposure in your home
Gives you added privacy
Adds decor and looks professional
Provides easy installation and uninstallation. Some window films are able to stick with mere static alone!
Reduces heating bills in the winter because it insulates your windows
Keeps your room cooler in the summer
The Benefits of Blacked Out Windows
Natural light is good for us, so you may wonder, why would anyone want to blackout their windows? Actually, there are quite a few benefits that come from blacking out windows. Take a look at some of them.
Summer Sun
Do you have a room that gets uncomfortably hot in the summer? Perhaps the morning sun isn't too bad. But what if you have a west-facing room? Then come midsummer you may find blacking out the windows a good way to keep the temperature down. This is especially effective in conservatories and similar rooms.
Retractable shades can also be a good option because they can be reversed in winter, helping warm the room.
Night worker
Are you a night worker? If so, then you might find it necessary to block your windows to allow yourself to get some sleep during the day. Blocking the windows will ensure that sunlight doesn't shine through while you sleep. You will be able to create the ideal nighttime environment.
Privacy
Do your front windows sit on a busy street? Or do one of your windows directly face one of your neighbor's windows? If they do then blacking them out might be a great solution for you. Window film is a good way for you to stop onlookers from peering into your home.
Cinematic Experience
Do you have a home cinema? Or are you an avid movie-watcher? Then blacking out your windows will give you the perfect cinema experience. There is no better way to get fully engrossed in a movie than with the dark cinema-like atmosphere. Don't forget the popcorn!
Conclusion
Blacking out windows is a great way of keeping a room cool that attracts a lot of unwanted sunlight. It also boosts your privacy and is ideal for night workers. But blacking out the windows doesn't have to be expensive. I'm sure this article has shown you plenty of practical ways you can get the job done for next to nothing!
Has this article helped you? Then make sure you check out more of our free guides and articles on our website!
Have a great day!
-Craig