Last updated
November 10th, 2021
So you bought that house with the beautiful 12-foot ceilings, only to find out they are an HVAC nightmare. Now you're desperately looking for tips on cooling a room with high ceilings.
Don't worry. I've gotcha!
First, and I hate to break this to you, those high ceilings are going to cost you more in heating and cooling expenses. There's just no getting around that. But there are some inexpensive—relatively—things you can do to mitigate the issue.
I'll list as many budget-friendly ideas as I can, so read on.
Why do High Ceilings Impact Your System's Ability to Heat or Cool?
Good question! Because don't they say if your home has x number of square feet then you need a y sized air conditioning unit?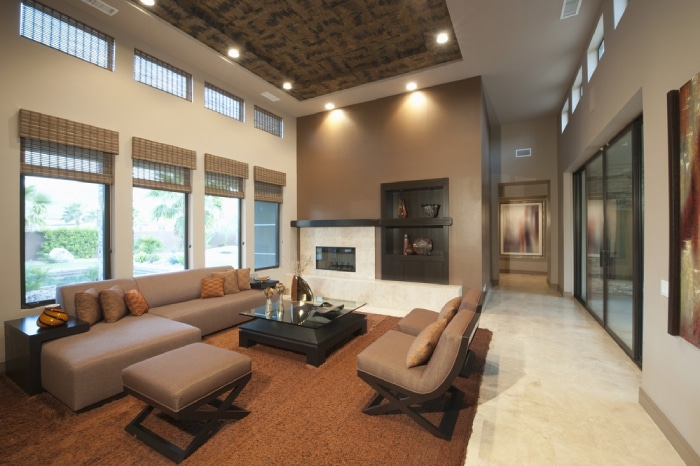 They do. But they should also warn that those numbers are just an estimate and that all homes need to be properly sized by an HVAC professional.
So what's the problem with high ceilings?
Ceiling height obviously has nothing to do with your floor space, but it does have something to do with the cubic feet or volume of air in the room. Air that needs to be heated and/or cooled. So your energy bills will be higher than the exact sized home square foot wise, but with standard 8-foot ceilings.
Whether you have high ceilings throughout your home, or just a room or two with vaulted or cathedral ceilings, you're adding volume that needs to be factored into those square foot estimates for sizing HVAC equipment.
Hotter in the Summer, Cooler in the Winter
High ceilings are beautiful. They open up a room, making it feel more spacious. But there is a cost for it. A real cost in the extra money it will cost you to heat and cool the room.
In the hot, summer months, that room with a greater volume of air is harder to keep cool. A room with a standard ceiling height allows for a sufficient amount of cool air to circulate. But with high ceilings, you need to find a way to circulate a greater amount of cool air.
In the cold, winter months, hot air still rises. But you want that heat you're paying for to be in your space—closer to the floor—not so high above your head you can't even feel it.
So what can you do to cool down your room? Here are a few tips; some of them more expensive than others.
Tips for Cooling Down a Room with High Ceilings
Before you spend any money at all, I encourage you to figure out what you're dealing with. By this, I mean make sure your air conditioner even has the capacity to cool your home properly.
Remember, air conditioners are sold based on BTUs and the square footage of a home—plus several other factors. Maybe your unit was sized based on square feet alone and those other factors were ignored.
Determine the square footage of your home and then use the chart below to see what the BTU estimate is. If your home—that has high ceilings—is using an air conditioner that matches the BTUs and square feet below, it may be too small. And any tips I mention here are only going to help you marginally. At best.
Note that the following chart doesn't take into consideration your climate, which does impact how your air conditioning unit should be sized.
Homes built in North America—the US and Canada—after 1980 are tighter built and more energy efficient. Homes built before then weren't built with energy efficiency in mind and typically need larger equipment to compensate for heat loss and gain.
Square Footage of Home
Air Conditioner Size in Tons
Homes Built After 1980
Homes Built Before 1980
up to 1300 sq ft
1.5 ton
up to 2 ton
1300 to 1700 sq ft
1.5 ton
2 ton
1700 to 2500 sq ft
2 to 2.5 ton
2.5 ton
2500 to 3500 sq ft
2.5 to 3 ton
3 to 3.5 ton
3500 to 4500 sq ft
3.5 to 4 ton
4 to 5 ton
Is your unit properly sized? Or are you creeping close to the high end of the recommendation? Or above it?
1. Condenser Location
This will require a professional, but it's cheaper than buying a new unit.
Make sure your condenser, the outdoor unit—is in an optimal spot. That would be the shadiest side of your home. If moving it isn't an option, and if you have space, consider planting some shading trees or shrubbery. But not close enough to impact airflow.
By providing shade, you can increase the efficiency of your unit by about 10 percent. That can offset the cost of whatever you need to do to cool your room.
2. Install Ceiling Fans
Even if you have a perfectly sized air conditioner, ceiling fans are a great way to improve air circulation. Make sure the blades are set to turn counterclockwise. This results in air being pushed downwards and creating a cool breeze.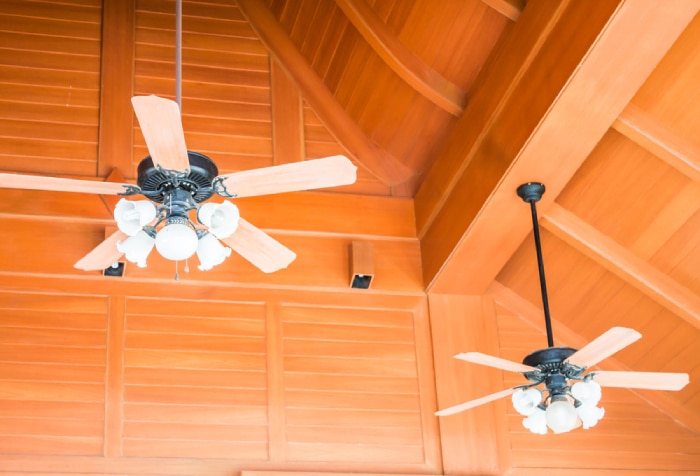 Fans should be placed in the hottest part of a room. And depending on the style, you may need to add an extension rod so that the fan isn't too close to the ceiling.
Buy a rod that will drop the fan down to about 8 or 9 feet off the floor. And buy a fan with wide blades, as they will move more air than a fan with narrow blades.
3. Window Coverings
Consider blackout shades or curtains. They are specifically designed to keep the sunlight out, but they also reduce radiant heat in the room.
Whenever the sun is shining directly against a window, make sure it's covered.
4. Open the Windows
You only want to do this if you live in a climate where the temperature drops at night. If you're fortunate enough to have cooler nights, that's the time to open the windows and circulate some hot air out and some cool air in.
5. Install a Whole House Fan
Whole house fans are installed in the attic, where heat builds up in the summer. Attics temperatures can reach 150 degrees F, but that hot air is also heating up the entire house. So vent it out.
These fans are installed with a shutter in the ceiling. When it's cooler at night, if you open the windows, the shutter will open as well and hot air is exhausted out through the roof of your home.
This type of fan can lower your temperatures by three to six degrees Fahrenheit.
Conclusion
There is no denying that high ceilings are beautiful.
If you are looking to buy a home with them, make sure the HVAC is properly sized before you do. If you already have them and are trying to deal with rooms that are uncomfortably hot, try some of the tips above.
Any of them will be cheaper than installing a new system.
Thanks for reading through. Hopefully, one of the tips will work in your situation. And why not check out the related posts below while you're here?