Last updated
April 26th, 2023
Reviewed for Accuracy
We've independently reviewed this article to make sure it's as accurate as we can make it.
To find out more about our article creation and review process, check out our editorial guidelines.
Feeling confused about the differences between a double oven vs an oven microwave combo?
Unfortunately, this is a common issue. Both appliances have similarities, which can make choosing between them a bit tricky.
But the good news is that you've come to the right place for answers.
Double-wall ovens have a larger capacity and are ideal for big families who want to save time by multitasking. Oven and microwave combos, on the other hand, reduce countertop clutter, are great for reheating food, and are ideal for smaller families.
Read on to make the right choice for your home!
Double Oven vs Oven Microwave Combo
Whether you're an avid baker, an entertainer, a busy parent, or a mix of all three, the kitchen is an important room in the home. What will make your job as head chef of the house easier? Only the best cooking appliances have been tailored to your needs!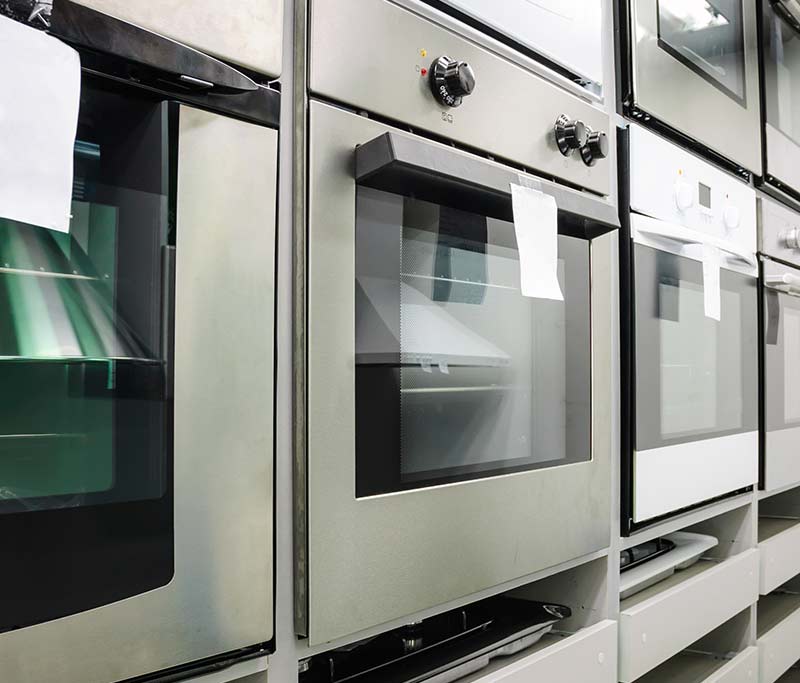 Coming up is a full comparison of double wall ovens vs oven & microwave combos. Read on to find out which is the best option for you!
#1 Needs
Different oven styles are ideal for different types of people and their circumstances. Do you:
Prefer to eat out or to cook your own meals?
Go to your family for the holidays or do they come to you?
Have a big family home or a compact, quaint kitchen?
Considering the answers to these questions will help you choose between a double wall oven and an oven and microwave combo. Here are some comparisons that will help.
| | |
| --- | --- |
| Great for those who often entertain | Oven and Microwave Combo |
| Ideal for large families | Perfect for small families |
| Great for those who entertain often | The combination of appliances helps to save space in smaller kitchens. |
| An awesome choice for those who love cooking and experimenting with different dishes | |
Are you part of a busy family that loves to cook and entertain? Then a double wall oven will be the right choice for you. It will give you the space you need to cook scrumptious meals simultaneously. Nothing will be able to slow you down this holiday season!
But don't forget, every kitchen needs a microwave! So a simple countertop microwave should be the perfect way to complete your kitchen.
Are you trying to save space in the kitchen and don't mind shelling out a few extra hundred bucks for a more expensive alternative? Then an oven and microwave combo may be the appliance for you. The ovens in oven and microwave combos are ideally sized for small families. Their design helps to keep everything in one place.
#2 Space Saving
It seems like there's never enough countertop space in the kitchen. This is especially true if you are making a large meal with a couple of side dishes. Choosing the right kitchen appliances can open up a whole world of space.
But which will help you save more space? A double wall oven or an oven and microwave combo? Take a look.
| | |
| --- | --- |
| Double Wall Oven | Oven and Microwave Combo |
| Puts the ovens in a convenient space between your cupboard units. | Takes the microwave off the countertop, freeing up space. |
| You will still need to buy a microwave separately. You will not gain any countertop space. | Puts the oven in a convenient space between your cupboard units. |
| The double oven could be a space hogger in smaller kitchens. | Keeps the oven and microwave in one area. |
Do you need more room in the kitchen? An oven and microwave combo will help you to free up more space on your countertop. This will give you more room for meal preparation.
#3 Entertaining
Hosting holiday parties is a lot of fun, but it can also be stressful if you don't have the right appliances behind you. Which appliance can make for a smoother-running Christmas? Here are a few ideas.
| | |
| --- | --- |
| Double Wall Oven | Oven and Microwave Combo |
| Gives you more space for baking and the ability to make more intricate meals. | You can cook meals in the oven and reheat simple meals at the same time in the microwave. |
| You'll have the flexibility to cook a roast in one oven and a pie in the other. | |
| You could get twice as much cooked at record speed! | |
A double wall oven is the best choice for entertainers. You can get twice as much cooked at once and cook with two temperatures.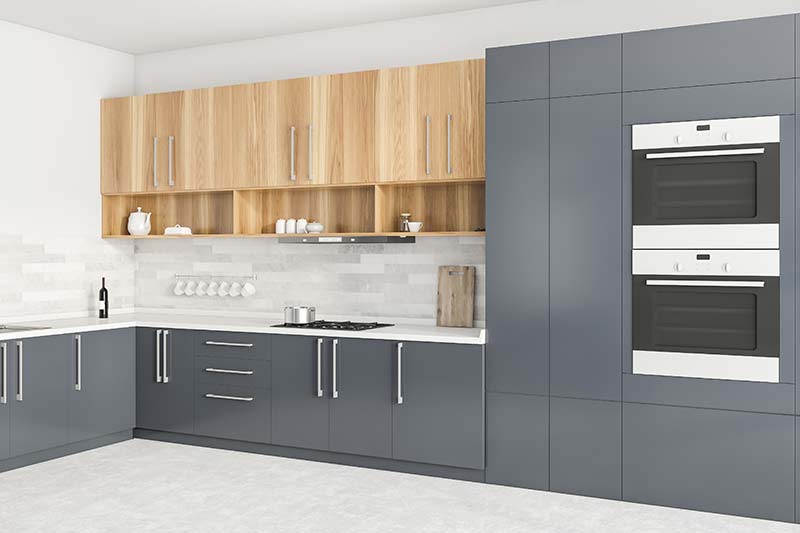 #4 Quick Food Prep
Do you have a busy family home? Then you're no doubt used to popping in and out of the kitchen preparing meals.
So which will be best for your kitchen? A double wall oven or an oven and microwave combo? Let's see.
| | |
| --- | --- |
| Double Wall Oven | Oven and Microwave Combo |
| Preheating the oven takes longer because it's larger | The ovens are more compact so they preheat quickly |
| You have to defrost or reheat your food in a separate microwave oven | You can defrost, warm, roast, and bake your meals in one place. |
| | Reheat small meals at the speed of a microwave but with the quality of an oven. |
Are you looking for one appliance that does it all? Then an oven and microwave combo is the best option for you. Save energy moving around the kitchen by having everything you need in one place.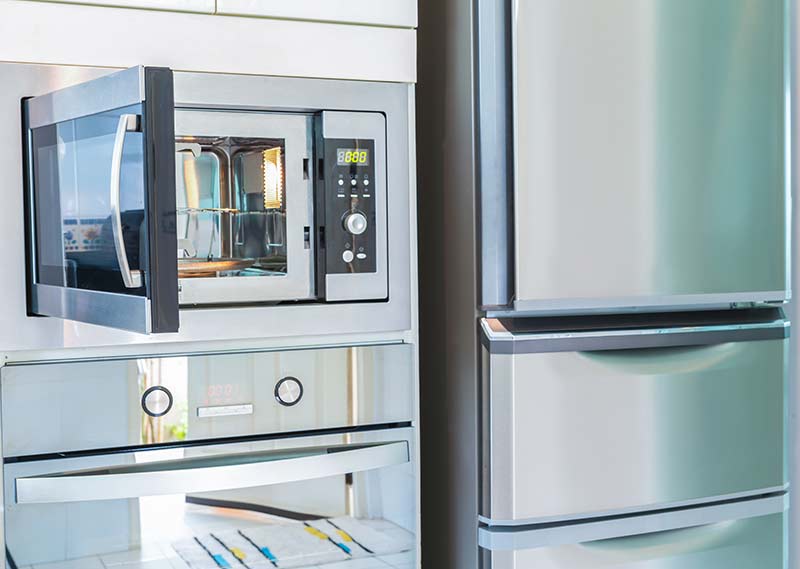 A Key Point To Consider
Now that you know all about double wall ovens and oven and microwave combo appliances, it should be noted that there's one major disadvantage for the latter.
If you buy a double wall oven, you can spend most of your budget there, and then get a cheap $50 microwave from a department store. If the microwave breaks down, you can easily replace it with another $50 and that's that.
Oven and microwave combos, on the other hand, are much more expensive to buy, and if the microwave fails, the oven can be done for too, and vice versa. This means that, in the event of anything breaking down, you'll be left ovenless, and with a high repair bill to pay.
Conclusion
That about covers it! Here's a quick summary of everything we've discussed so far:
| | |
| --- | --- |
| Double Wall Oven | Oven and Microwave Combo |
| Conveniently located | Reduce countertop clutter |
| Bigger capacity for bakers | Simplify meal prep |
| Room to cook 3-course meals | Great for reheating food |
| Ideal for the holidays | Quick to preheat |
| Save time by multitasking | Make small meals quickly |
The ultimate decision comes down to how often you'll be using the oven and how many people you usually cook for. I hope this article has helped you choose the right oven based on how you cook.
If this article has helped you, then why not check out some of our other articles and free guides? You could even sign up for our email list!
Have a great day!
—Craig.
Frequently Asked Questions
Now, let's answer the most frequently asked questions about double wall ovens and oven & microwave combos.
How Many Years Does a Double Oven Last?
Double ovens can last up to 15 years. However, keep in mind that this will vary depending on the brand and the frequency of use and maintenance.
Make sure to check out our oven maintenance & care guide to extend its life span and save up to $1700 on repairs!
How Long Do Oven & Microwave Combos Last?
A well-maintained oven & microwave combo lasts about 7 years. However, some models may last longer, while others may need to be replaced sooner.
The life span of your appliance will vary depending on its brand and model, frequency of use, and maintenance.
How Do I Know When My Oven Needs Replacing?
If your oven is more than 10–15 years old, doesn't heat evenly, takes longer to preheat, has rusted inside, or requires repairs that cost more than a new oven, it may be time to consider replacing it.
What Type of Oven Is Best for Home Baking?
When it comes to baking, a double wall oven is considered a better option compared to an oven & microwave combo, because it offers larger capacity and more precise temperature control.