The heating power you get from Vornado heaters is like nothing else on the market. Harnessing the same airflow technique they developed for their fans, there's no other way to get such an even and constant warmth flowing around your living space.
After the success of our comprehensive guide to all of Vornado's fans, I wanted to make the same helpful resource for their heaters. I've covered every type of heater – curated into bitesize sections so that it's easy to find the one that suits you best.
If you're going to be paying for a quality product, you want to make sure you're paying for the right quality product.
Note: We are not sponsored by Vornado in any way.
Vornado Heaters – An Overview
[Quick Recommendation Links Here]
How Vornado Heaters Work
You know those companies that start out with so much promise, but then sell out to the highest bidder?
Vornado are one of those companies. Except they haven't sold out.
They're the only manufacturer making fans like these. The unique method spirals the warm air – letting it 'bounce' off a wall or ceiling. This sends the heated air flowing around the whole room.
Vornado Heaters don't just warm one tiny area. They let you enjoy a continuous warmth flowing all around you.
Check out this 90-second video to see why you need one of these:
Why Vornado?
If all that Vornado did was manufacturer these unique heaters, they'd still have a product worth buying.
But they do so much more.
In my opinion, they're the best in the game at four things:
Unique Technology (that works!). No other company are making heaters as effective as these 'spiral' models.
High Build Quality. The quality of their parts is typically excellent – especially in the newer models, and even more especially in their metal cased heaters.
Unbelievable Warranties. I still can't believe a company can offer such huge warranties for a $100 product. When you buy a product that is covered for 

5-10 years

by it's maker, you know they have a product they're confident in.
Great Customer Service. It's rare to find a review that mentions customer service without a glowing response. They really back up their awesome warranties with a matching level of customer service.
One worry I had was that even if the warranty is for a long time, maybe they're being sneaky. Maybe it's only 'for the case' and not for the actual heating parts?
Thankfully, they're legit. Here's the exact warranty text:
How Vornado Started:
The ideas, and original patents, belong to the late Ralph K. Odor and Ottis A. Sutton.
Originally aeronautics engineers, they first coined Vornado fan technique back in the 1940's – while designing a new airplane. With the help of a friend, they transferred that same idea to home-fans, and later to heaters.
Yes – these heaters are based on an airplane design!
Whole Room Heaters – AVH Models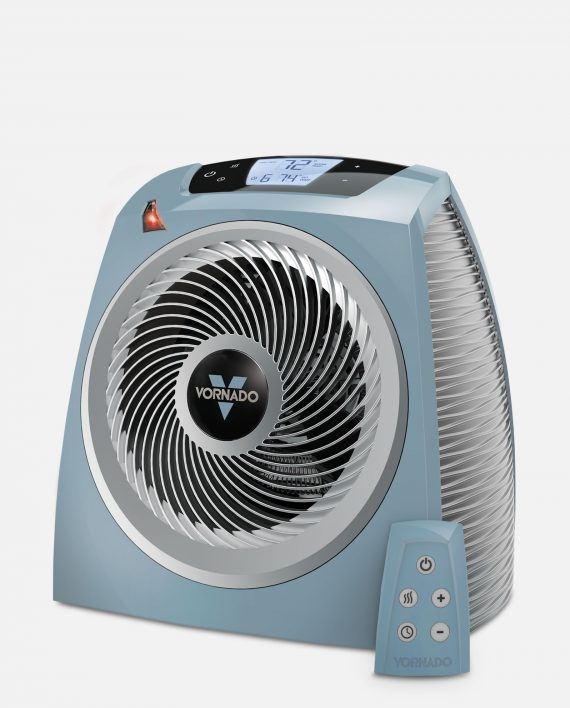 First up are Vornado's bread and butter when it comes to heaters – the 'Whole Room AVH' models. Being super-small at only a foot tall doesn't stop them from packing all the power you need to heat a good-sized space.
They also look great without the added expense of the metal models you'll see below. The modern design, while plastic, is solid quality and looks great.
These models are great if you want a leading modern looking heater that's compact and at a very fair price. The 5 year warranties on all models speak for themselves
Whole Room Heaters – VM Metal Heater Models
I can't get enough of how good these heaters look. They look like a state-of-the-art speaker, let alone an appliance which will heat your whole room. Not only are they super-stylish, but the metal doesn't even get hot! No matter how much heat is being produced, the metal case stays completely look. Curious fingers need not be held at bay.
If you don't mind paying an extra few dollars and have the type of modern space that would suit these metal heater's, they might just be the perfect addition to your home.
Whole Room Heaters – VH Older Models
These VH models are older versions of the AVH models I covered right at the top. And with one glance you can see that the design isn't quite up to the same standard. However, their heating capacities are just as good, and you get the same type of airflow as the newer models.
If you're after function over frivolity, these are a great cheaper option which still provide great heating potential.
Vornado Tower Heaters
Vornado's tower heaters act similarly to their standard models.
However, they don't quite 'spiral' the air. Instead, they focus the airflow to provide a wide current of warmth to encourage the airflow rebound to cool down the whole room.
With tall and slender designs, these sleek heaters will fit nicely into any modern living room.
Perfect in locations where having the air a bit more focused would be ideal. Like towards couches where the family sit, or over your bed.
Check out this quick video by Vornado to check out the advantages of these tower heaters.
Vornado's Infrared Heater
One very unique model from Vornado is this infrared heater. Enjoying the same quality as the other metal models, it also stays cool to the touch while looking amazing.
While this heater doesn't use Vornado's airflow technique, it does still include their great quality and huge 5 year warranty (try finding that on any other infrared heater!)
What's the difference with infrared? Instead of blowing out hot air, it heats an area directly. Just like the sun. When you stand in the heated area, you instantly get warm – it doesn't take any time to warm up. Infrared heaters are easy to maintain (no moving parts), and operate totally silently. However, they can get overly hot, only heat a smaller area, and the heat also fades as quickly as it comes.
This heater's great for a small space or particularly good outdoors to directly heat a seating area.
Click here to see it on Amazon.
Personal & Small Space Vornado Heaters
If you're looking to heat a small area like a desk, bed, or workbench, these smaller heaters might be perfect for you. They pack the same great power as the larger fans, while being small enough to sit comfortably on your desk, rest near your bed, or happily warm up your workbench.
They have a similar, but less strong, airflow bounce effect. The trick is to angle them at the wall infront of you, and enjoy the warm air flowing back towards you.
These fans are great if you're going to be in one place for a long period of time, working or reading by yourself.
Conclusion
For as long as indoor heaters have been available for mass-purchase, Vornado have always been an industry leading supplier of efficient, useful, reliable appliances. These heaters are no exception – taking full advantage of the airflow technology that has powered their unique fans for decades.
I hope that this guide has helped you to figure out the perfect Vornado heater for your living space. As unbelievable as their warranties are, if you're going to be buying an appliance with a 5 year warranty – you want to make sure you're getting the right one!