Last updated
April 5th, 2023
Reviewed for Accuracy
We've independently reviewed this article to make sure it's as accurate as we can make it.
To find out more about our article creation and review process, check out our editorial guidelines.
Stuck trying to find the best Vornado heater?
You've come to the right place.
After the success of our guide to the Best Vornado Fans, I wanted to make the same resource for their heaters.
In this article, you'll find a clear comparison between the different Vornado heaters in the market based on size, price, features, and length of warranty. We'll walk through each of the different types of heater, their pros and cons, and then any recommendations or advice to go with them.
Unlike other guides out there – we've covered Vornado's whole catalogue. I'm sure that if you're thinking about picking up a Vornado heater, then you'll find the perfect one for your home in this article.
Each of these heaters boast Vornado's build quality, silent operation features, and market-leading warranties.
If you're going to be paying for a product, you want to make sure you're paying for the right product!
If that sounds good, then let's dive in.
Note: We are not sponsored by Vornado in any way. I'm just a fan of their products and wanted to help people find the best vornado heater for their home.
Whole Room Heaters – AVH Models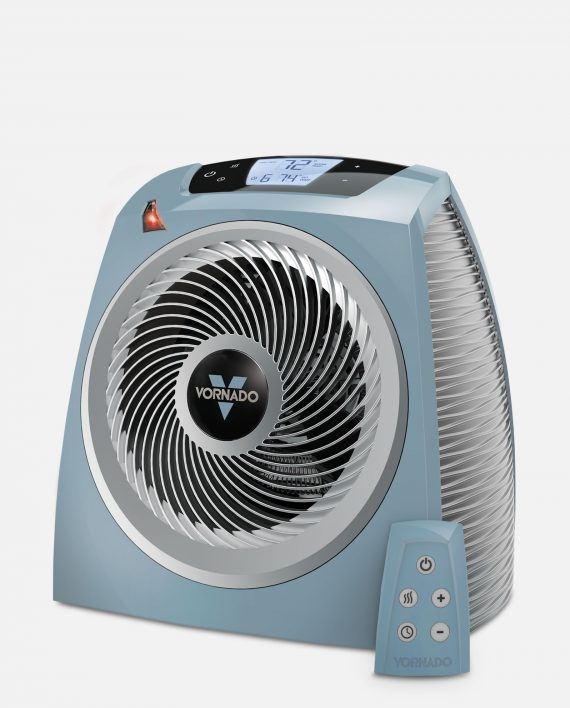 First up are Vornado's bread and butter when it comes to heaters – the 'Whole Room AVH' models.
(VH is Vortex Heater. The A is for the AutoClimate feature.)
Being small at only a foot tall doesn't stop them from packing all the power you need to heat a good-sized space.
They also look great without the added expense of the metal models you'll see below. The modern design, while plastic, is solid quality and looks great.
These models are great if you want a modern-looking, compact heater at a very fair price. The 5-year warranties speak for themselves.
Whole Room Heaters – VM Metal Heater Models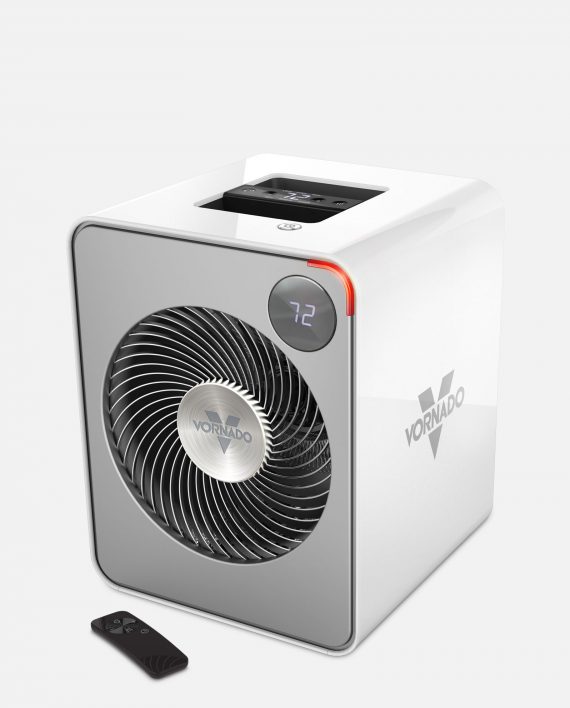 This is one of the best heaters by Vornado.
It looks like a state-of-the-art speaker, let alone an appliance that will heat the whole room.
Not only are they super-stylish, but the metal doesn't even get hot!
No matter how much heat is being produced, the metal case stays completely cool. Curious fingers need not be held at bay.
If you don't mind paying an extra few dollars and have a modern space that suits the metal, they might just be the perfect addition to your home.
Whole Room Heaters – VH Older Models
These VH models are older versions of the AVH models at the top.
Despite having an older design, their heating capacities are just as good, and you get the same type of airflow as the newer models.
If you're looking to save money, this is hands down a top Vornado heater choice. It provides the same great heating for a better price.
Vornado Tower Heaters
Vornado's tower heaters act similarly to their standard models.
However, they don't quite 'spiral' in the air. Instead, they focus the airflow to provide a broad current to encourage the airflow rebound.
With tall and slender designs, these sleek heaters will fit nicely into any modern living room.
It's perfect for locations where having the air a bit more focused is ideal.
Check out this quick video by Vornado covering the advantages:
Vornado's Infrared Heater
One very unique model from Vornado is this infrared heater.
Enjoying the same quality as the other metal models, it also stays cool to the touch. This is rare for infrared heaters, which normally get hot and are a danger to kids.
All while looking great and boasting the huge 5 year warranty. Try finding that on any other infrared heater!
What's the difference with infrared? Instead of blowing out hot air, it heats an area directly. Just like the sun. Check out our full guide to infrared heating if you want to learn more.
This is one of the best heaters by Vornado. It's great for a smaller space or an outdoor seating area.
Personal & Small Space Vornado Heaters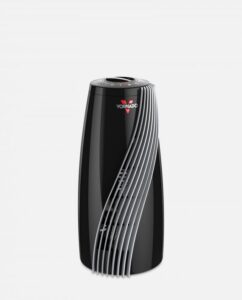 If you're looking to heat a small area like a desk, bed, or workbench, these smaller heaters are perfect.
They pack the same great power as the larger fans while being small enough to sit comfortably on your desk, rest near your bed, or warm up your workbench.
With a similar but less strong airflow bounce effect, the trick is to angle them at the wall in front of you and enjoy the warm air flowing back toward you.
These are the best Vornado heaters if you're going to be in one place for a long period of time; working or reading by yourself.
Vornado Heaters – An Overview
How Vornado Heaters Work
You know those companies that start out with so much promise, but then sell out to the highest bidder?
Vornado is one of those companies. Except they haven't sold out.
They're the only manufacturer making fans like these. The unique method spirals the warm air – letting it 'bounce' off a wall or ceiling.
Vornado Heaters let you enjoy a continuous warmth flowing all around you, instead of warming just one area.
Check out this 90-second video to see how:
Why Vornado?
The heating power you get from Vornado heaters is like nothing else in the market. There are multiple reasons why they're the best in the game.
Some of these reasons are:
Unique Technology (that works!). No other company is making heaters as effective as these 'spiral' models.
High Build Quality. The quality of their parts is excellent. Especially in the newer models, and even more so in their metal heaters.
Unbelievable Warranties. I still can't believe a company can offer such huge warranties. When you buy a product that is covered for 5-10 years, you know they have a product to be confident in.
Great Customer Service. It's rare to find a review that mentions customer service without a glowing response. They back up their awesome warranties with a matching level of customer service.
One worry I had was that even if the warranty is for a long time, maybe they're being sneaky. Maybe it's only 'for the case' and not for the actual heating parts?
Thankfully they're legit. Here's the exact warranty text:

How Vornado Started:
The ideas and original patents belong to the late Ralph K. Odor and Ottis A. Sutton.
Originally, aeronautics engineers, coined the Vornado fan technique back in the 1940s – while designing a new airplane. With the help of a friend, they transferred that same idea to home fans, and later to heaters.
Yes – these heaters are based on an airplane design!
Are Vornado Heaters Safe?
If you're in the market for a new heater from Vornado, maybe you've heard about the big recall they had to do in April 2018. (Or maybe you haven't, and are now super worried!).
As amazing as space heaters are, safety is always a concern with them. As reported by Nationwide Insurance, 2014 saw 56,400 home fires occured in the US from heating equipment – resulting in over 500 deaths and a lot of money in property damage.
As someone who is a bit of a Vornado fan (see our guide to their best heaters), I wanted to take a look into this. I've summarised everything you need to know about Vornado Heater safety below – I hope it's helpful.
The Short Answer
Yes, Vornado Heaters are safe as any other space heater on the market. Vornado has some of the best product quality, warranties, and customer support – and they instantly recall and replace anything with an issue.
For more, check out our info.
What happened in April 2018?
We saw a recall of over 350,000 Personal Space Heaters by Vornado. These were all only for 1 product – the Vornado VH101 Personal Vortex Heater.
This was in response to 15 fires caused by the small models overheating.
There were no injuries because of the fires – and Vornado provided refunds or replacements (shipping included) to every affected customer.
Is this type of recall common for Vornado Heaters?
No. It's really rare that Vornado recalls any product – though it has happened once or twice before. Particularly for a 'Sunny CS Nursery Heater' because of a broken motor mount which could cause overheating (only around 5,000 models were recalled).
If you have a certain model in mind, you can keep up to date with any product recalls Vornado does by using this link.
Why are space heaters so unsafe?
Space heaters aren't naturally unsafe. It's people that use them wrong.
All a space heater does is produce very hot air, without any use of fire or dangerous techniques.
However, if a space heater is covered up, left really close to something flammable, or left running and unattended for very long periods of time.. bad things can happen.
These are what cause 80% of fires due to space heaters. They're also why so many people end up burned by touching hot parts of the heater.
What can I do to prevent burns/fires?
Just by reading this article, you have already done the most important thing when it comes to prevention – understanding things can go wrong if you don't respect it!
Besides respecting them, the most important thing you can do is give them plenty of space and not leave them on (or unattended) for long periods of time.
Nationwide has produced a great infographic telling you everything you need to know to keep you and your family safe – check it out here.
Are Vornado Heaters Worth Buying?
Now I need to provide you with a disclaimer before answering this – I'm a pretty big fan of Vornado as a company. I've written two comprehensive guides to their fans and their heaters because I think their vortex technology is so worth it compared to normal oscillating fans and heaters.
With that said, Vornado Heaters are definitely worth buying in comparison to other models at the same price.
They don't have safety issues – despite what online blogs might say about their product recall.
They had to recall 1 main product, which they did quickly and fully compensated all their customers.
In terms of quality, they are always solid, and they provide the longest warranties on the entire market (5 years as standard).
While they can't do anything about the risk that all space heaters have, Vornado is at the front when it comes to safety and looking after their customers.
I believe Vornado Heaters are worth picking up, as a great-looking and quality solution to heating spaces in your home.
Conclusion
For as long as indoor heaters have been available for mass purchase, Vornado has been a leading supplier of efficient, useful, reliable appliances. Their heaters are no exception. Taking full advantage of the airflow technology that has powered their unique fans for decades.
I hope this guide has helped you figure out the best Vornado heater for your living space. If you're going to be buying an appliance with a 5 year warranty – you want to make sure you're getting the right one!