Last updated
March 28th, 2023
Are you looking for the best propane heater to warm up your garage this Winter?
Good call! Finding new ways to preserve heat within your living spaces is not only recommended, but necessary to withstand the freezing temperatures of this season.
In an ideal world, any patio heater should do a fantastic job at keeping you warm and cozy while you're in your garage. But in reality, finding the right appliance can be complicated.
This is why, here at ApplianceAnalysts we want to help you get the biggest bang for your buck and have done an extensive research to recommend what we think are the 8 best propane heaters out there.
In this article, you'll learn:
What the best propane heaters for a garage are
How to choose the best propane heater for your garage
How to find the right amount of power (BTU) you need
What makes a great propane heater
Without further ado, let's dive in!
---
Shortlist of the Best Models:
| Image | Garage Propane Heater | Power Range | Link |
| --- | --- | --- | --- |
| | DeWalt Propane Torpedo Heaters | 35-90k BTU | Amazon |
| | Mr Heater Propane Torpedo Heaters | 38-125k BTU | Amazon |
| | Mr Heater Propane Convection Heaters | 25-200k BTU | Amazon |
| | Mr Heater Wall-Mounted Propane Heaters | 10k-30k BTU | Amazon |
| | Little Buddy Indoor Propane Heater | 3,800BTU | Amazon |
Note: we are not sponsored by Mr Heater. They're just great at all-round, reliable heaters.
Which Type of Propane Heater Is Right for You?
Every person is different, and so are their particular needs. In this section, we'll cover the different types of propane heaters, as well as some additional information you'll find useful.
The Three Main Types of Propane Heaters
Forced-Air – iconic-shaped cannon heaters that blast out hot air.
Convection – barrel-shaped heaters that spread heat in every direction.
Wall-mounted Blue Flame – radiator heaters that save space by mounting to a wall.
For each of these three types, I've compared the models from the best companies for propane heaters. [Including DeWALT, Dyna-Glo, and Mr. Heater]
(No, we're not sponsored by them – or anyone!)
But before we take a closer look at each company's star products, it's important that you understand that all propane heaters are measured by BTU's per hour. This measuring unit stands for British Thermal Units, and the higher the number, the more heating power the propane heater has.
What Are BTUs, and How Many Do You Need?
Contrary to popular belief, a British Thermal Unit isn't how much power it takes to brew a British cup of tea…
A British Thermal Unit is:

" The amount of heat required to raise the temperature of one pound of water by one degree Fahrenheit "

From howstuffworks.com
When a heater has a rating of 14,000 BTU, that means it can heat 14,000 pounds (ca. 6,350 kg) of water by one degree Fahrenheit, per hour.
Find out how much we need for your space, by following the simple sums below:
To find the amount of BTU's you need, use the following:
1. Take the cubic feet of your space (length x breadth x height).
(say 25x25x12 = 7,500 cubic feet)
2. Estimate the coldest outside temperature, and think of your ideal room temperature
(say 30°F and 70°F)
3. Subtract the cold temperature from your goal temperature
(70°F-30°F = 40°F)
4. Multiply that by your cubic feet, and by 0.133 for Farehenheit or 0.2394 for Celsius
(40 x 7,500 x 0.133 = 40,000 BTU for a 25′ x 25′ garage with a 12′ high ceiling)
Worried about safety? Check out the 'Are Propane Heaters Safe?' section after the reviews! (Spoiler alert: Yes, they're safe. No, they're not going to explode).
Now without further ado, let's get on to the propane heaters.
Type #1: Forced-Air Propane Heaters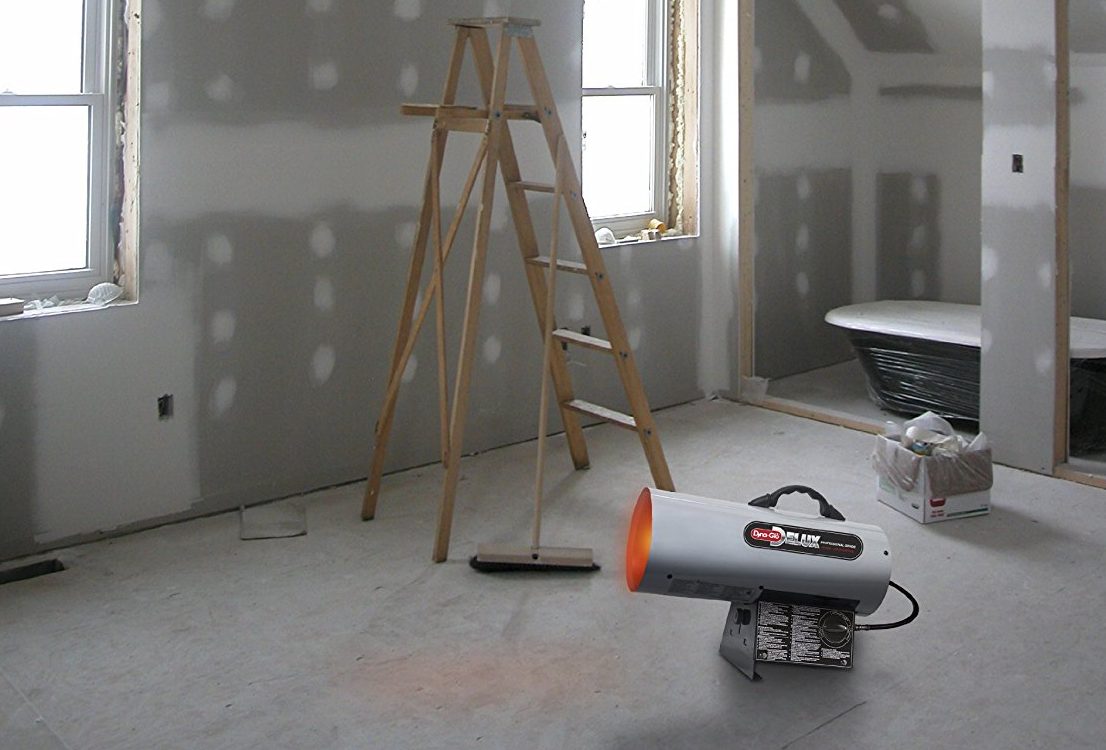 These are the propane heaters that are always such great talking points. They look more like they should be strapped to a jet fighter, not used in a garage.
One of these will give you a huge amount of direct heat – perfect for heating garages or workshops.
---
Best Forced-Air Propane Heater:
DeWALT Forced-Air Heater Range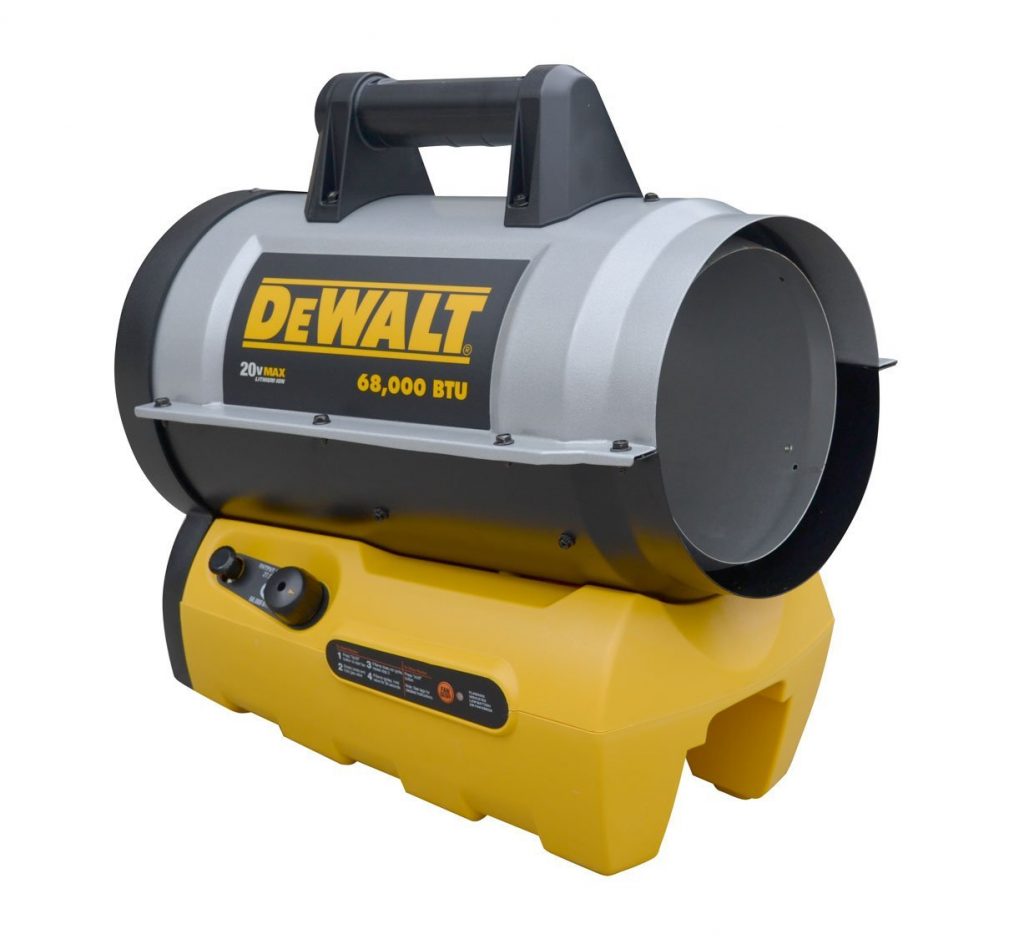 The greatest thing about these heaters is the wide range of models available. With 5 liquid propane heaters on the market, ranging from 40,000 BTU all the way up to 300,000 BTU, they can suit any size of space.
Each unit includes a 10-foot hose and regulator, and their adjustable angle means it's easy to get the airflow right where you want it.
The build quality is also solid. A 'construction grade' base keeps dust and debris out, giving the heater a longer lifespan. Safety shut-off switches come as standard, both for tip over and overheating cases. Total peace of mind in every aspect.
The downside of these heaters is that the warranty is only 1 year. However, this is standard for heating products, and you can always extend the coverage for a small extra price.
If you're looking for a forced-air propane heater, these DeWALT models are an ideal option.
---
Runner-Up: Mr. Heater Models
Another excellent choice for forced-air propane heaters are these Mr. Heater models.
The differences between these models and our first choice is the range of options and the looks. With a jet-black finish and bright decals, these heaters have a much bolder look to them.
The same great features are included – 10-foot hose and regulator, variable controls, safety shut-off in-case of overheating, and a warranty that lasts a year.
They showcase everything that's great about propane heaters.
If you prefer the sleek black finish and there's a BTU option to match your space, these are excellent heaters that are well worth the money.
Check out the Mr. Heater Models on Amazon using these links:
35,000 BTU Heater (550 sq. ft)
60,000 BTU Heater (1,000 sq. ft)
125,000 BTU Heater (2,000 sq. ft)
---
Runner-Up: ProTemp Models
I was originally going to list just two model types, but this Pro-Temp deserves a recommendation too.
At the time of writing, its price is a fair bit higher than the models above. The higher price rewards you, though. With a heater which is smaller and weighs less than the equivalent models above.
Weighing in at just 11.2 lbs – this heater is much easier to handle and move around. However, we just aren't sold on the color or extra price. Unless you've got a tightly packed garage or find that this one is on sale, it doesn't quite make our top choice. But it's still a great option.
Type #2: Convection Propane Heaters
Convection heaters are a great option for heating smaller-sized garages or workshops, as they radiate heat in a 360° radius.
If you're able to place them in the center of your space they are fantastic at quickly heating up a room. Their variable temperature gauges also make it easy to control the heat. Something you'll be thankful for once they really get going!
While they don't look as powerful, they range up to huge levels of heating power. Up to 200,000 BTU. (Enough to heat a 50' by 50' space!)
---
Best Propane Convection Heater: Dyna-Glo
For these types of heaters, Dyna-Glo has taken the top spot.
They've maintained the same level of quality that also put them top for the forced air models. The wide, sturdy base is great for stability – but the safety switches are still there (just-in-case it does get tipped over).
They offer three levels of BTU capacity:
25,000 BTU
80,000 BTU
And 200,000 BTU
---
Runner-Up: Mr Heater Convection Heater
Coming in at a close second is the Mr Heater convection heater.
These are very similar to the Dyna-Glo models, and are only in second place due to minor differences.
If you prefer the look and narrower size of these heaters, they're still fantastic products.
These propane convection heaters have the same great features – a 10ft hose and regulator included as standard, and auto shut-off safety features in the event of tipping over or loss of flame.
My one gripe with this model is that, while the base is still sturdy, it's narrower than the Dyna-Glo model. This means that the heater is easier to knock over, versus the more stable wider base of our top recommendation above.
Type #3: Wall-Mounted Propane Heaters
These wall-mounted propane heaters are a fantastic solution if you have a smaller garage.
While they aren't as powerful (typically topping out at a max of 30,000 BTU), they are incredible at saving space while offering all the benefits of a propane heater. They have all the conveniences of an electric heater – without requiring any external power. They're also ideal for strategically warming small areas, rather than trying to heat a whole space.
---
Best Wall-Mounted Propane Heater: Mr Heater
As far as wall heaters go, Mr Heater comes out blazing in first place.
They offer three models: 10,000, 20,000, and 30,000 BTU.
Each of these models have a CSA-certified auto-shut off systems in-case oxygen levels are detected to have dropped too low. They also include the legs and a wall-mounting bracket, as well an easy-to-use thermostat for temperature control.
While these models are very similar on paper to the Dyna-Glo equivalents below, the inclusion of a thermostat and better customer satisfaction rating puts these Mr Heater models up to our top spot.
Check out the Mr Heater Wall-Mounted Propane Heaters on Amazon using these links:
10,000 BTU (150 sq. ft)
20,000 BTU (310 sq. ft)
30,000 BTU (470 sq. ft)
---
Runner-Up: Dyna-Glo
Just like the Mr Heater models, Dyna-Glo also offer three models: with 10,000, 20,000, and 30,000 BTU capacities.
Similarly, they also include legs and wall-mount brackets, and CSA-certified oxygen shut-off features. While they don't include a thermostat, they do have easy-to-use manual controls to help get the perfect temperature.
Though the Mr Heater models above do have better reception with customers overall, these Dyna-Glo heaters come in at a close second. If you prefer the whiter look of them to the Mr Heater models, have no hesitation in picking one of these up.
Check out the Dyna-Glo Wall-Mounted Propane Heaters on Amazon using these links:
10,000 BTU (150 sq. ft)
20,000 BTU (310 sq. ft)
30,000 BTU (470 sq. ft)
Tiny Alternative: Little Buddy Propane Heater
It's not a conventional propane heater, but we had to include this 'little buddy' in our top list.
This small 'countertop' propane heater can put out an impressive 9,000 BTU worth of heating power. If you don't need that much, there's also a lower setting at 4,000 BTU. It won't heat a full garage, but it'll keep a small area cosy enough to work or relax in.
We like to think of this as a truly portable heater.
A fold-down handle, small cylinder, and slide-away fuel connection make it easy to fit in travel baggage. It's effortless to take this compact heater anywhere.
Fishing, hiking, camping, boating, the moon… We really do mean anywhere!
And just because it's small, doesn't mean it's not safe. The oxygen detection and tip-over detection shut off switches are built-in, just like they are in any of the larger propane heaters.
Plus, being so small it really doesn't need much ventilation. This guy even checked it all night in his RV!
We think this is a fantastic alternative model for anyone looking to prioritize the portability of their heating. While it shouldn't be your primary source of heat for a garage, it can be a great extra addition or travel companion.
Are Propane Heaters Safe?
The short answer is yes. The long answer is yes… As long as you use them correctly!
With combustible gas, there obviously comes a few dangers. Massive explosions, your home blowing up… just kidding. The actual flammable element is incredibly well protected, and also extremely easy to detect.
The biggest danger with propane heaters is the Carbon Monoxide they produce.
This gas can build up so much that it pushes out the oxygen from the air you're breathing. A situation without oxygen is not one either of us would want to be in!
Propane itself has a very strong smell – if something's leaking, you'll smell it immediately. But, carbon monoxide doesn't. It doesn't smell of anything, and it doesn't taste of anything. Not so easy to detect.
If you're using a propane heater indoors, please do yourself a favor and pick up a carbon monoxide detector. Even though you only need a bit of ventilation, these guys can really save the day.
Is It Safe to Use A Propane Heater In A Garage?
Propane Heaters are perfectly safe for garage use – provided two things are available. The first is good ventilation for the exhaust pipe. The second is enough combustible air to use as fuel. Both are very available in a garage. Other safety precautions should still apply: don't leave it unattended, place it in a place where it could get knocked, or allow children/pets anywhere near a propane heater.
While you can use a propane heater in a garage, the propane tank should be outside! As far away from the building as possible.
Is Propane Better Than Kerosene?
Both propane and kerosene are excellent fuel choices for heating. They're both readily available fuels excellent for heating appliances. Propane is typically the preferred choice, as it burns cleaner and is odorless, unlike Kerosene which is oil-based. This does mean Kerosene is less likely to leak can burn hotter, and is generally less expensive.
What to Look For In A Propane Garage Heater
All of the heaters I've recommended above are great choices – but they're also not the only ones in the world.
If you're in the market for a new heater, there's a few factors you should be looking for in any good propane heater.
With gas heaters, the overall build quality is perhaps one of the most important aspects. Check the quality of the metal, rubber tubing, valves, etc. Each should feel sturdy and high quality. Obviously if you're buying online this isn't possible, which is why we need to…
Check the reviews. Especially look at 2/3/4 star reviews, which tend to be more honest and detailed than 1 or 5 stars. Look for any downsides that come up more than once.
Check the warranty. Is it just a standard minimum of 1 year, or are they showing confidence in their product by backing it for longer?
Double check your BTU requirements. I've got all the calculations up top in the post to find the BTU you need for a new heater in your garage. Make sure you know what you need, as a heater that's too powerful can cause as many problems as one that isn't powerful enough!
Features & safety settings. Propane heaters are always fairly basic – packing tons of power but not much in terms of features. Make sure they at least have standard safety switches (tip-over,overheating). Any additional modern features (thermostat, timer, remote control) are a huge bonus – especially on a propane heater.
Safety Practices to Follow
Just to round things off, I want to quickly touch on a few safety tips.
As we've covered above – using a propane heater in an indoor garage is completely okay, provided you've got enough ventilation (either through an open garage door, windows, or an actual ventilation system.
When using the propane heater in your garage, it's important to keep these other tips in mind:
Get a Carbon Monoxide detector. The first point of action should be to get yourself a carbon monoxide detector and make sure it works! Carbon Monoxide truly is an invisible threat, and using a propane heater in a garage is a prime example of a scenario that needs a detector.
Inspect the propane tank. Just because it worked last weekend doesn't mean it's going to be fine this weekend! At least once a month, give the rank a good inspection for any dents or scratches – especially to the gas valves or rubber tubing.
Store tanks when not in use. Disconnect and store them if you're not going be using them in the next 24 hours. Ideally, these should be kept in a well ventilated garage or outdoors. Unlike most appliances, we want these outdoors to make sure there's no potential damage if there's a gas leak.
Check for leaks. Have any suspicions? The best way to check for leaks is to use a soapy lather and generously wipe it all over the tank. If you spot any bubbles sizzling away, that may be a leak.
Move them properly. If you're moving/replacing tanks, make sure to keep them upright and secure them properly if you're using a vehicle. Placing it in the car with you? Roll down those windows to prevent any chance of getting a little unconscious while behind the wheel.
Conclusion
Propane garage heaters are a fantastic way to keep your garage heated, without relying on accessing a mains connection.
With huge heating capacities and the wow-factor of combustible heat, these can be great heating solutions for your garage or workshop. The fact that you can take them anywhere, even camping, means they have an endless amount of uses. They're the ultimate in portability, which is so rare to see in an electric-appliance dominated market.
Looking for other great appliances for your home? Check out our other related posts for more inspiration – and be sure to check out the other heaters available on Amazon.com, too.
Have a wonderful week!
— Craig.