Last updated
July 3rd, 2023
It's been well over a decade since Sharp designed the first microwave drawer.
A decade since the first one was ever designed, patented, and made.
So where are we today?
After a 10-year timeline of invention, redesign, competition, and innovation – this is Sharp's latest microwave drawer model. And boy have they come a long way.

Microwave drawers have always been at the forefront of what a microwave can do. Huge sizes, easy access, top-of-the-range functionality. And a very high cost.
To justify the price tags, Sharp need to constantly make sure these microwaves are the best of the market in every category. So how are they doing with their latest model? In this review, we'll dive into the details around Sharp's latest microwave drawer. It's pros, cons, and most importantly – whether it's worth the cost.
Unsure on Microwave Drawers? Check out our full guide to them.
Quick Verdict: Sharp SMD2480cs Microwave Drawer
In short, this Sharp SMD2480cs microwave drawer embodies the quality and ease of use we expect from a high-spec appliance such as this. It takes everything negative about using a microwave, and either removes the annoyance or minimizes it.
Instead of being a space-consuming eyesore, it's a space-saving delight. Instead of worrying about how to microwave food properly, it's sensor handles everything. Instead of fighting with an awkwardly sized, awkwardly placed microwave box – you're easily placing dishes in and out of a waist-height drawer.
I personally just love the modern, minimalistic design, and the hidden digital control panel just seals the deal for me.
Those are the good parts, but there's some bad in there too.
Obviously, the price is ridiculous for a microwave. At over $1,000 – there's a real price to pay for all that ease and convenience. But for the customer that prioritizes time-saving, functionality, and incredible design? You couldn't ask for better.
My other main gripe is the standard warranty is only 1 year. Personally, I think that's unacceptable for such a high-end appliance. You can extend the warranty with Sharp (see below), but in my opinion the standard should be 2 or 3 years minimum. Thankfully Sharp are hassle-free if you get stuck with a sub-par model on delivery.
---
We've also got a full run-down of the best drawer microwaves on the market. Check it out to look at other model's too.
---
The Sharp SMD2480CS: Reviewed in Detail
Design
One of the greatest strengths of the SMD2480cS microwave drawer is it's design. I mean, just look at it!
After experimenting with different designs in the past, Sharp have whittled it down to what their customers want. Modern, contemporary, simple stainless steel design with a quality black tinted glass.
While other companies have redesigned Sharp's microwave drawers in the past, I think this is the most polished version yet. And it comes straight from the original designers.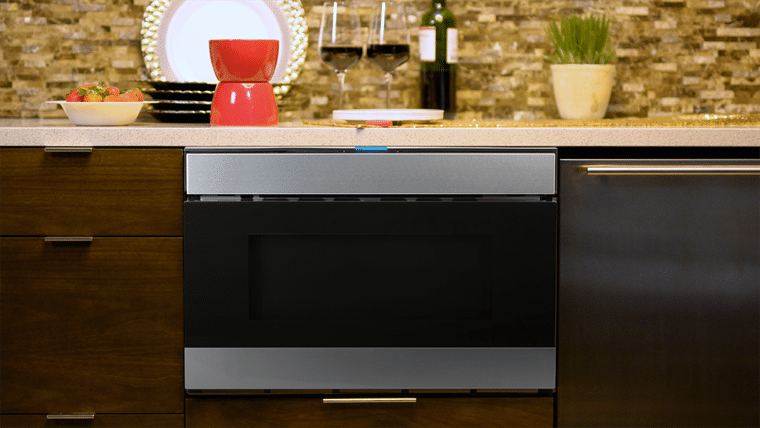 One of my favorite changes is that the black panel extends entirely to the edge of the microwave. At a glance, this makes the design consist of 3 simple lines: steel, black glass, steel. It's minimalistic yet high quality.
Another great aspect is the lack of a logo.
In sticking with the simple design, Sharp have opted to let the product speak for itself by hiding their brand name. Instead, it can only be found on the hidden control panel. This makes this microwave fit in perfectly with any modern stainless steel kitchen. You don't need to worry about brand 'clashes'.
My one objection with the design is the hand-wave sensor. If you have it enabled (more on this below), then the blue light stays always-on.
Thankfully, the light is quite subtle and does look good. It's just a shame we can't have control over it. Being able to switch it off – or even change the color – would be a welcome addition. That said, it's not the end of the world. It's also quite good to know the sensor's ready and waiting for you.
---
One final touch I love is the microwave interior.
Sharp have installed clear LED lighting on the inside, with a patterned glass floor. In my opinion, this is total overkill for a microwave, but this model isn't just any microwave!
The patterned glass base is another subtle design touch that speaks quality, without shouting it.
The nice thing about the pattern is that you'll see it every time. Unlike a countertop model, you're looking down whenever you use a drawer microwave. That means you (or your guests) will always see the lights and glass pattern.
Size
One handy advantage of their only being one manufacturer of these microwaves is the standard sizing. This microwave comes in a standard 24″ width – the same as all other models.
An optional 'extension kit' is available that extends the width to 30″ – matching the size of previous wider models. It will set you back an couple hundred dollars more, but it's especially convenient if you're installing the microwave above or below a built-in oven. I prefer to buy things from Amazon but unfortunately they don't have the kit. Instead, you can check it out at Best Buy.
In terms of front-facing space, you'll need around 16″ of clearance space.
But not really.
This is one smart microwave, and it can actually function without opening the full way. If something interrupts the opening, it'll back up a quarter-inch and hold the drawer open there. This means you don't need to worry about having the full space available (though it would always be ideal).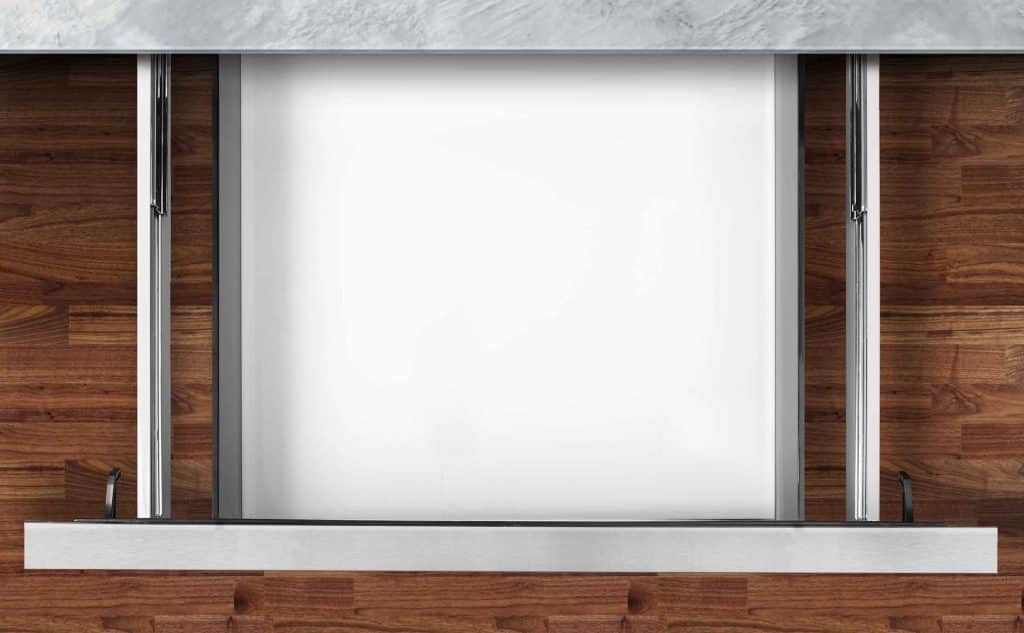 Drawer size is one of the greatest advantages of these microwaves.
Compared to a normal countertop microwave, the space you're working with is HUGE. Being able to fit entire casserole dishes or mugs up to 7″ in height makes things so easy. Especially since they don't rotate (more on this below).
The large size will give you plenty of peace of mind, and the answer to the question "Can I microwave this?" is almost always going to be "yes!".
---
'Hold on!' You may be thinking. 'There's no turntable in that drawer!'
Yep. While they're not public, I believe this may be one of the most important patents Sharp has on these appliances. They operate without a turntable.
How?
Good question! Normally a microwave uses a turntable because the magnetron and waveguide are in the side/corner of the appliance. Rotating the food helps ensure even cooking. In a microwave drawer, these elements are built in to the 'ceiling' of the product which give much better heat distribution.
Functionality
One of the trickiest parts about using a microwave is the actual cooking part.
How long do I microwave this for? When do I know it's done? Do I need to mix it? What if I cook it too long? Should I check it halfway?
The convenience of a microwave isn't worth much if your brain ends up throbbing from trying to use it properly.
Enter the sensor included in this (and other) drawer microwaves.
It's able to track how your food is cooking by measuring the moisture and humidity within the box. It then adjusts the power level and cooking time to get everything perfect, every time! It simplifies the entire cooking process for almost all foods you cook.
Here are the various foods that the sensor is pre-set for.
It's nice to know that the food cooking menu isn't just a power level, but a fully programmed, automated system.
With a massive 950 Watts of power available, this is also one of the most powerful microwaves on the market. Meaning the sensor has full access to the wide range of 11 power levels. Easily enough to handle everything on that list.
This model also comes with a programmable timer. This means you can queue up a whole meal to start cooking at a set time – say, 10 minutes before you arrive home. It won't quite replace home-cooked meal waiting for you on the table, but it's a good try!
The main downside to the functionality is the same as in most categories. The cost.
At the end of the day, almost everything a drawer microwave does can be done in a high-end countertop microwave. Maybe aside from the size of the drawer. So from a functionality point of view, do bear this in mind. A microwave is a microwave. It's not going to be turning a microwave dinner into a gourmet meal!
Ease of Use
High price tags in different categories mean different things. In cars – its power and brand. In a home – its size and design. In an appliance, it's quality and ease of use.
Nowhere is this more true than in a microwave drawer.
When you can buy a normal countertop microwave for 1/10th of the price, one that has a similar power, there's got to be some serious quality-of-life upgrades to be enjoyed at the higher price end. And that is 100% true with this model.
Let's run through the various ways that this microwave drawer blows away the competition:
The huge size means you won't worry about fitting in your dishes. Handling full-sized casserole dishes and mugs up to 7″ in height is easy. It also makes it super easy to reach in and clean!
No turntable means you can fit rectangular dishes without them scraping around the sides.
The waist-height drawer makes hot and heavy dishes 10x easier to handle. No more awkwardly trying to squeeze things in.
The automated sensor means no figuring out the best way to cook something.
The hand-wave sensor lets you open the drawer even if your hands are dirty, you've got oven gloves on, or just want to impress the kids!
The hand-wave sensor isn't just fun, you can open while wearing oven gloves or if your hands are dirty.
If I could sum-up the advantages to microwave drawers, it's that they remove or minimize every annoyance you have with a normal microwave. They just make things… easy. For most, that's priceless.
Price
Now let's talk about the elephant in the room – the price. Sharp originally released this model on their website for a whopping $1750. While I'm quite a fan of it, there's no way it's worth that much.
At the time of writing, they've reduced it down below $1,600 – but that's still a huge amount.
Amazon tend to have the best deals for these kinds of microwaves. Here's the price history of Sharp's SMD2480CS Microwave Drawer as I write this (September 2019):
As with all products on Amazon, prices are always changing. That's why I'm not allowed to list the prices on our website – incase Amazon change them. What I can say is that if you can get $1,350 or under, that's a pretty good deal. If not, I'd hang back and wait it out until the price drops back down.
Why do Drawer Microwaves Cost So Much?
I've written a full explanation on our main drawer microwaves post. In short, the main reasons for the high prices are:
Patented Design. Sharp own a whopping eleven unique patents on the drawer microwave design. Meaning they're the only manufacturers, and can set a high price. Other companies do put their own designs on Sharp's base model, but they also charge a premium.
High end, unique parts. With an appliance like these, all parts are high quality and unique. Because of the patents, it's not like competitors can source cheap parts from other countries. Especially relating to no-turntable design.
Huge space & high power. Even if these were standard microwaves, the size and power capacities alone would shoot them to the top of the range.
Quality finishes. It wouldn't make sense to finish these kinds of appliances with cheap material. Especially with this model, only high quality stainless steel and tinted glass is used for the exterior. The same quality can be felt throughout the model.
One note on this particular model is the benefits we get from it being made by Sharp. Since other manufacturers need to buy the base model from Sharp, they need to up their own prices to make a good profit. It's a jackpot when the original designers have produced (in my opinion) one of the best and most advanced models – because it's also offered for the cheapest price.
Warranty
The warranty is my real pain point with Sharp on these appliances.
They've made them incredibly high quality. We're paying out the derriere for them (excuse my French). Yet we only get a 1-year warranty on parts and labor.
Such a minimal warranty feels like a bit of an insult to me, especially given the price Sharp charge for these microwaves.
Thankfully, we can get past this by extending the warranty. (At a further cost, of course…)
Sharp offer their own warranty extensions. These get you 24/7 cover from the manufacturers themselves – covering technical support, service fees, repair fees, and part costs. They do cover everything.
At the time of writing, this costs an extra $68, $102, and $153 for 1, 2, or 3 year coverage – respectively. You can find out more here.
Normally Amazon offers their own version they call a 'Protection Plan', but after a lot of research, I don't think they're doing it for these microwaves. Be sure to check though, they might include it later for a cheaper price than what Sharp are offering. You'll see it at the top right of the page next to 'Add to Cart'.
The good news is that many customers report a hassle-free return process if their model wasn't perfect after delivery.
Bearing this in mind, I'd recommend to use your microwave as much as possible in the first few months – even if it looks perfect. Try making everything from popcorn to 3-course dinners – even cookies! Just make sure that everything is good to go while you'll still be top of the customer service priority list when you call.
Installation
The last point about this (and any) drawer microwave is the installation. With an expensive appliance made to sit flush with your cabinets, we obviously want to get it right.
If you're pretty handy around the house – you can install this yourself. If you want to gauge whether it's something you could handle, check out Sharp's Installation Guide to see all the steps.
Although I'm an engineer, I'm no craftsman and would recommend an expert installation if you're in doubt. Just to make sure it's done exactly right. Although it's another cost, there's no point spending all that money only to botch the installation.
Conclusion – Is the SMD2480CS Worth The Cost?
With an appliance priced as high as this, there's no way to argue that "it's worth every dollar". It's not.
If you're after a 'bang-for-your-buck' product, unfortunately, this just isn't one of them. The Sharp SMD2480CS Microwave Drawer is, by all means, a luxury product.
That being said, it will take your kitchen to the next level like no other microwave.
Between the design that never fails to 'Wow!', or the oohing and aahing that follows the drawer gliding open – it's truly a 'gourmet' level of product.
It's also unrivaled in ease of use. I can never get over how easy it is to work with. I could never go back to fighting with the awkward space of an over-the-range microwave. The simple opening, large space, and easy handling of a drawer microwave just makes the whole process so much easier. The huge range of sensor options that guarantee food being cooked properly also make for so much peace of mind.
In summary – the price for these microwaves is pretty crazy. It's at the level of "if you need to ask how much it is, you probably can't afford it". That said, it is guarantee to make you question how you ever lived without one.
Since Sharp first designed microwave drawers 10 years ago, they've come such a long way. This wave-open model is, in my opinion, the pinnacle of where they can get to right now. And it will be for years to come.
Time for me to 'Wave' goodbye. If this review has helped you, please consider following our links to Amazon or checking it the related posts below. Your support is how I can keep this site running without covering it in adverts. Thank you for reading – over and out!
-Craig
Resources
If you want to learn more about this product, here's some quick links to help you out:
Amazon Webpage. [Cheaper]
Sharp Documentation: