Looking to redesign your kitchen, but want to avoid a chunky countertop microwave?
These microwave drawers are the perfect solution. Not only are they unbeatable space-savers, they really add a 'WOW' factor to your kitchen. They never fail to get everyone oohing and aahing when they see it.
With an appliance like a drawer microwave, you want to make sure you're buying the perfect one for your kitchen. However, there's not a lot of information about them online. That's why I've put together this article. It covers everything from the history of microwave drawers, the best models, pros and cons, FAQ's, and more.
---
Unsure whether a microwave drawer is worth it? Check out our full guide to microwave drawer pros and cons.
---
The Best Microwave Drawers: Compared
| Image | Microwave Drawer | Dimensions | Link |
| --- | --- | --- | --- |
| | Sharp SMD2480CS Microwave Drawer | 23.44 x 23.63 x 16 | Amazon |
| | Sharp SMD2470AS Microwave Drawer | 26.2 x 23.9 x 15.9 | Amazon |
| | Sharp SMD3070AS Microwave Drawer | 30 x 23.1 x 15.9 | Amazon |
| | Sharp KB-6524PS Microwave Drawer | 26.2 x 23.9 x 15.9 | Amazon |
| | Bosch HMD8451UC Microwave Drawer | 23.9 x 23.4 x 16.3 | Amazon |
What's The Story Behind Microwave Drawers? A Quick History
Drawer microwaves were pioneered by SHARP – the first model coming out circa 2009. These types of microwaves are their 'invention': and they own 11 unique patents on the design!
What this means is that every drawer microwave in the world is made by Sharp. If you see another brand, then it's simply a Sharp microwave with a redesign from another company.
The basic timeline is:
Sharp released their first drawer microwave, circa 2009. It was a bit clunky with a big handle at the front.
In the next few years, other companies like Bosch and Thermidor released their own versions with modern designs and better controls.
Sharp hit back in 2015 with their own modern model – an even sleeker design with hidden controls.
Some more redesigns by competitors including Jenn-Air, Viking, and Wolf.
Lastly, Sharp released the latest drawer microwave in 2018 – featuring a wave-to-open sensor.
Curious to see the first ever patent for a microwave? Check it out!
Need a Quick Recommendation?
Don't have time to spare? Here are the top two recommendations in a brief summary.
---
Overall Best Microwave Drawer
My top pick is Sharp's new flagship model: SMD2480CS
Not only have they improved on all previous designs to date, they also added a great new feature – a wave-open sensor.
The world's first "micro…wave"
The sensor adds a spark of fun and lightness to the appliance. (That's not a sentence I ever thought I'd write about a microwave.)
With Sharp being the original drawer microwave creator, their models generally provide the best value. And this is their best model yet.
They've taken lessons learned from designing their previous drawer microwaves, and improved on them.
The controls are modern and easy to use – popping out from a hidden panel. The panel looks like a design trim when hidden, and is revealed with just a light push.

The controls get hidden when not in use. Talk about a sleek design.
I'll go into more detail in the reviews below. All-in-all this is the best looking, best value drawer microwave which has every bit of functionality you could ask for. 
We have a full, detailed review of this Sharp SMD2480CS microwave in a seperate post here.
---
Best Microwave Drawer for the Money
If you're after the best bang for your buck, then take a look at the Sharp KB-6524PS.
It was the drawer microwave for years until Sharp's newer models came out.
It's not fresh off the press, but you can't get a better model when it comes to value for money. It's proven from years of being the top model: reliable, and still has all the main functionality – including a keep-warm function and touch-to-open drawer.
While the design isn't as sleek as our top choice above, it's still years ahead of any countertop microwave.
It will let you enjoy all the amazing benefits of a drawer microwave, without your budget being hit as hard. 
Buying Considerations
While drawer microwaves are unbeatable in how sleek and modern they are, they are definitely not a cheap solution. For a price like this, you should make sure that the drawer microwave you buy is going be right at home in your kitchen. So, to help find the best match for you, I've outlined a few key features below.
Knowing which features are important to you makes it easier to know the right microwave for your kitchen.
Looks – Appearance is of course important, but not just these pictures. Relative to the rest of your kitchen, how will the design look? Will the colors match? Do you want the display always visible, or would you love to be able to hide it away?
Size – Will it fit inside your cabinet? Standard models typically come in 24" or 30" widths. Make sure to get the measuring tape out and do a quick check! Specific dimensions can always be found under 'Product Information' on the Amazon page.
Extra Features – Are you in the market for more than just a standard microwave? Look for features like child lock functions and warming modes to keep food warm. Not to mention the always-impressive touch-operated microwave drawers.
Ease of Use – Consider how intuitive the controls are. Will you need to bend down to see them? If there's plenty of features and modes, will they be easy to select and use? Make sure you're not paying extra for features you won't use.
Warranty – With a purchase like this, you want to be secure. Unfortunately,  most manufacturers only offer a 1-year warranty. Want more peace of mind? Consider the custom protection plans offered by Amazon. They're so worth it. You can find them just under the 'Add to Cart' button; they let you nab up to

5-years

 

of full protection 

for a great value cost.
---
Before We Get Into The Reviews
As I said in the introduction, Sharp are the original pioneers of drawer microwaves. And they still produce the best-selling models today. So I've split the reviews into two parts:
First, I've covered Sharp's range – which are typically less pricey since they're the originals.Then I've listed two of the best alternative redesigns from Bosch & Jenn-Air.
Best SHARP Drawer Microwaves
If you're after a drawer microwave, this is one of the absolute best on the market.
Newly released by the original drawer microwave designers, it's top of the range in just about every category.
The design is amazingly modern and contemporary. There isn't even a logo on it! (It's hidden with the controls). Perfect if your other appliances are from a different manufacturer.
One key design change from the models below is the glass goes edge-to-edge. This gives satisfyingly simple lines, as opposed to rectangles inside rectangles.
The hand-wave opening is a genius addition. Not only is it fun (for kids and adults!), it's functional. Got dirty hands, or wearing oven gloves? No problem. Just give it a wave!
The blue LED at the top lets you know if the wave-sensor is on. While it's a little annoying that it stays blue, it's a very subtle and high-quality light and doesn't take away from the looks at all.
The functionality is as good as it gets. The accurate sensor adjusts the power and time to get your food cooked exactly right using 11 power levels.
Our Verdict
I've left the best part of this model until last. Despite it being brand new, despite it having the new wave-sensor, and as high quality as you can get – it's in the same price range as the other drawer microwaves below.
(At least at the time of writing!)
If you're in the market for a great drawer microwave, then all arrows do seem to point to this one. Made by the original designers, absolutely top of the range, and for a similar price tag as the competition. You can't ask for better than that.
---
Honestly, there's a lot more I'd like to say about this model: I'm currently writing a full review for it! Check back later and I'll link to it here.
Before the latest model above, SHARP were frontrunning the market with a 'Triple Threat' of great microwaves.
What I mean by that is, they had three variations of one amazing design. Between the three of these, they catered to almost every need. Let's walk through them.
---
Triple Threat #1: SHARP SMD2470AS
The first 'modern' model
This microwave was the first of the new models to be released. It's been truly designed for the modern kitchen. The 'hideaway' control panel means that the entire appliance stays flush with the rest of your cabinets. It fits in so well.
That's not to say you'll lose out on any functionality. This is one of those rare products that looks stunning, while still performing at the highest level. Boasting 1000 watts of power and a huge drawer to work with (1.2 cubic feet), this sleek looking microwave is actually a real powerhouse.
Stocked full of state-of-the-art features like digital displays, control locks, touch controls and food warming, you'll wonder how your kitchen ever seemed complete without one. 
Until the latest release above, this was the best drawer microwave on the market for years.
---
Triple Threat #2: SHARP SMD3070AS
'The widescreen'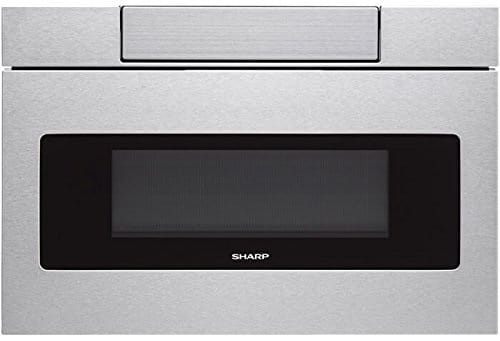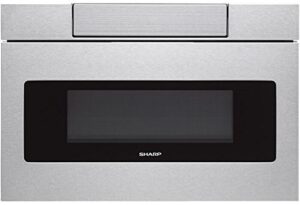 Next up, Sharp released a 30" variation on their new model (up from 24″). This features all of the same functions and capabilities, but has a wider size and shorter height – giving the same microwave drawer volume (1.2 cubic feet).
What's the difference between Sharp 24 vs Sharp 30?
When comparing the SMD3070AS to the SMD2470AS above – they're just as good as each other. It all just depends on what kind of dimensions will fit your kitchen better. If the wider 30″ version would suit your kitchen better, have no hesitation that this is just as good as our top 24″ recommendation above.
---
Triple Threat #3: SHARP SMD2470AH
The 'back in black'
This is SHARP's redesigned drawer microwave model. It comes in a super-stylish black steel, which looks far better than any microwave should be have any right to.
This newer version doesn't add anything major. In terms of functionality there's a few internal tweaks and improvements. The key selling point is the show-stopping in terms of looks. A must-have if you're in love with the color.
---
Our Verdict
These three models are the ideal options for what most consumers look for in a drawer microwave. With the two original models, you've got great functionality and capability, and a fantastically modern contemporary design. The different sizes let you make sure they will fit snugly into your kitchen.
Then there's the recolored model. The 2470AH will blow any guests away in terms of looks – it's like the Lamborghini of microwaves.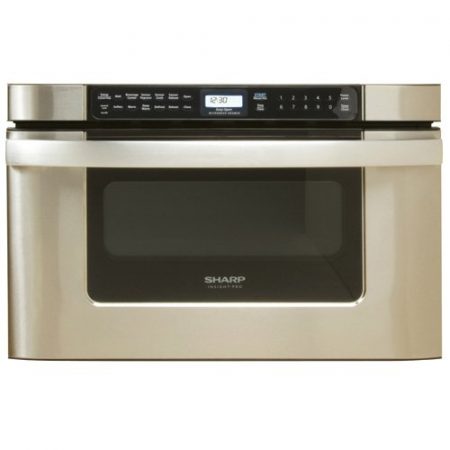 This model was Sharp's first drawer microwave that really broke through and succeeded on the market. And it's still selling strongly today.
That being said, just because it isn't fresh off the press doesn't mean it's lacking in features: The drawer opens automatically at the touch of a button, the "keep-warm" function lasts for up to 30 minutes, 11 power levels, 1.2 cubic foot capacity, and the controls are actually mounted on at a slight angle; so that they're easier to see from above.
All this with a lower price tag thanks to having been on the market for a while.
If you don't mind the slightly older looks, this model will save you hundreds of dollars without losing out on functionality.
Our Verdict
A fully stocked drawer microwave at an unbeatable price. It's got just the same functionality as the newest models, and it still looks great.
Since it's a bit older, I recommend picking up the extended protection plan from Amazon; just to make sure you're covered in the long run.
Best Redesigned Drawer Microwaves
In rolling out their own drawer microwave to compete with Sharp, Bosch have met the standards that they're known for. Providing a sleek looking, luxury, and high-quality product. Its contemporary lines and display, on design that it will let it sit flush with your cabinets, means this drawer microwave gives SHARP some serious competition.
If we're talking capability? There's plenty of points to cover:
10 varying power levels, automatic sensors to guarantee perfect cooking/defrosting, and of course an automatic drawer which slides open at the touch of a button.
Our only gripe is that, for whatever reason, the LCD display doesn't have a backlight. While it looks crisp and clear in normal lighting, it can be hard to see under strong light (or if you're doing some late-night microwaving..).
| Pros | Cons |
| --- | --- |
| Auto open/close | Display not illuminated |
| Sensors to reach exact temperatures | Can see circuity through display in strong light |
| Sits flush to cabinet, with child lock | |
| High Bosch quality | |
Our Verdict
This model is everything you'd expect from Bosch.
It looks great, it's in the top tier when it comes to functionality, and its stock full of luxury features.
If you're a fan of Bosch products and love the look, this is a fantastic inclusion to give your kitchen design a level up.
However, unless you're a huge fan of the looks, I would recommend the SHARP over this. Almost purely because you're buying direct from the manufacturer. Typically, this will mean less hassle in-case you need the warranty/repair hire.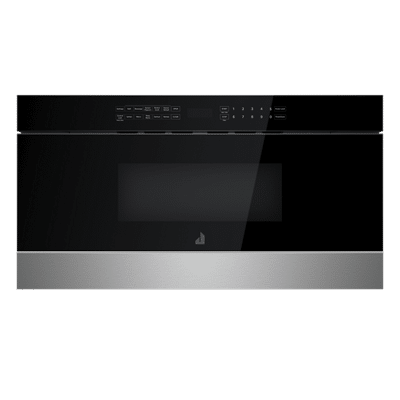 Jenn-Air have hit out with their own set of microwave drawers, and they look amazing.
While they don't have the hidden controls of the latest SHARP models, their design remains modern and contemporary.
The functionality is mostly the same as all other models – but there's one aspect that does stand out. These models come with a 2-year warranty.
For an expensive product, that's a huge amount of extra peace of mind.
| Pros | Cons |
| --- | --- |
| 2-Year Warranty | Controls hard to see if standing above |
| Fantastic Looks | |
| 30" and 24" Models | |
Our Verdict
These redesign models can't add much functionality – only serving value by providing great looks.
In this case, Jenn-Air have done a fantastic job.
They do charge for the 'make-over', but including a 2-year warranty definitely sweetens the deal.
---
Note: You can extend the 1-year warranty on this and other models, if it would help you to sleep better at night. 
Microwave Drawer Pros & Cons
Still not sure if a microwave drawer will be perfect for your kitchen? Don't worry – it's a big purchase.
What might help is to weigh up the pros and cons of getting one. Sometimes looking at things from a top-down view can really help.
Microwave Drawer Pros
Frees up a TON of counter space. More room, less stress.
Much easier to place and lift hot/heavy objects.
Super easy to access, and to clean. No swinging doors - gentle & controlled open/closing.
Control panels are lockable to prevent kids from trying to microwave the dog.
Looks are showstopper. Totally unique and high-end.
No turntable issues. Heating element rotates instead.
You don't have to mount under counter. Can be placed above a built-in oven.
HUGE space!
A 24" model can fit a whole 4-quart casserole dish in width, and up to a whole 20oz coffee cup (7") in height.
You can season and stir dishes without removing them. Just open, stir the food, and close again. Simple.
Microwave Drawer Cons
High price tag. These aren't for budget shoppers.
Heating functionality same as a normal microwave. Can't turn a frozen dinner into a gourmet meal.
The installation and removal is a few hours work, or worth calling an expert.
Models don't come with convection options (lack of ventilation)
Sizes are limited to 24" and 30" widths only.
So – Are Microwave Drawers Worth The Money?
One look at the price tag for a drawer microwave will tell you that they definitely aren't a budget option. If all you need is a microwave – even a high-spec one – then these aren't worth your money.
However. (And it's a big 'HOWEVER'!). They can be worth the money in certain ways.
If you're lucky enough to have a high budget, then microwave drawers can be worth it for you. They offer unique advantages that you can't get anywhere else. The way they make your kitchen look, their accessibility and functionality, and their ease of access are just a few stand-out points.
They're for the shopper who prioritizes making their daily life as easy and hassle-free as possible. For someone designing their dream kitchen, with the budget to afford it. If that sounds like you, then a microwave drawer can absolutely be worth the investment. There's nothing else like them on the market.
A Note on Amazon Reviews
If you've checked any microwave drawers out on the internet, you may have noticed that the average review ratings are… well, not great.
After reviewing so many products on the internet (while developing this website) I noticed this is a similar trend on big-ticket items.
Things people pay a lot of money for appear to have lower reviews, in general.
This is due to someone having a much higher chance to complain when they've paid a lot of money. They also tend to be much more critical. As we all should be! On the other hand, they're no more likely to write a positive review if they're happy with it.
In the case of drawer microwaves, the average ratings tend to be brought down by a bunch of 1-star reviews from a few years ago. Mostly these seem to be by people who have either used it incorrectly (no metal in the microwave, kids!) or been extremely unlucky with a dud – and then not updated the review when it was replaced.
Just to be safe, I recommend the protection plans offered by Amazon. These provide full cover for up to 5 years at a low cost given the value of these appliances.
That way you can enjoy these amazing products, with the complete peace of mind that you're covered entirely.
Drawer Microwaves: Frequently Asked Questions
Why Don't Microwave Drawers Rotate Food?
Microwave Drawers work in the same way as a normal microwave. BUT – there are some key differences. You may have noticed that these drawer models don't have a turntable to rotate the food. That's because the cooking elements rotate internally. They're inside the 'roof' of the microwave, and move to provide even heating without you needing to worry about your dishes rotating.
How Much Does A Microwave Drawer Cost?
Microwave drawers cost between $800 to $1,600. The cheapest model is the first microwave drawer released on the market – the KB-6524PS by SHARP. Although the design is patented, other manufacturers like Bosch and Wolff released their own redesigns – ranging from $1,000-$1,200. SHARP replied with new highly modern models. First with hidden controls ($1300/$1400) and the latest hand-wave activated models that max out at $1,600.
Why Are Microwave Drawers So Expensive?
The high cost comes from a few factors. Including:
• The patented design. Sharp own 11 unique patents on microwave drawers, meaning they're the only company which can manufacture them. This means they can set a high initial price tag.
• Alternatives are 're-designs'. Microwave drawers sold by other companies can only be the result of them putting their own design on a Sharp model. This means they also need to charge a high price to make a profit.
• The high-end moving parts. With such unique appliances, many of the working parts are completely unique. This is especially true for the moving heating element that allows the microwaves to work without a turntable, and the drawer that gently opens and closes automatically.
• The huge space and high power. To match the space of a normal drawer, these microwaves have large capacities able to handle entire casserole dishes. All that space needs high power, so they are often rated at 900-1000 watts or more.
• The modern design and controls. With such a unique, high-end product – there's no use creating budget options. This means almost all microwave drawers come with state of the art designs and functionality. They sit flush with your cabinets, often with hidden or movement-accessed digital control panels for a contemporary look without sacrificing on ease of use.
Conclusion
I've outlined the best drawer microwaves on the market today – and hope that our reviews will help you find that right model to bring your kitchen to the next level. There are few other appliances that have such a 'WOW' factor than a full-sized microwave drawer which glides out with a touch of a button.
Be sure to check out the related posts below for others you may be interested in. Also, if you're still trying to figure out the best microwave for you, check out my full 3,500 guide to buying a microwave. It's completely free!
I'd love to hear any feedback you have – shoot us a message and myself or one of the team will get back to you.
Have a great day!
-Craig