A Fast Food Map of America: The Hottest Chain In Each State
What's your favorite fast food?
Did you know that, depending on what state you're from, I might be able to guess what your favorite food chain is?
A few weeks ago I was in a drive-thru with my family, after a long hot day. As I was handed our food, it clicked just how much of a carbon-copy this franchise was to every other that I've been to. This got me wondering – who really is the kingpin of fast food in the US? Are we just a land of McDonald's lovers, or does each state have its favorite chain?
Later that night I started gathering data, and found out that it's not quite true.
While McDonalds are the most popular fast-food brand, they don't hold claim over every state.
Check out the map below to see every state's favorite fast food joint.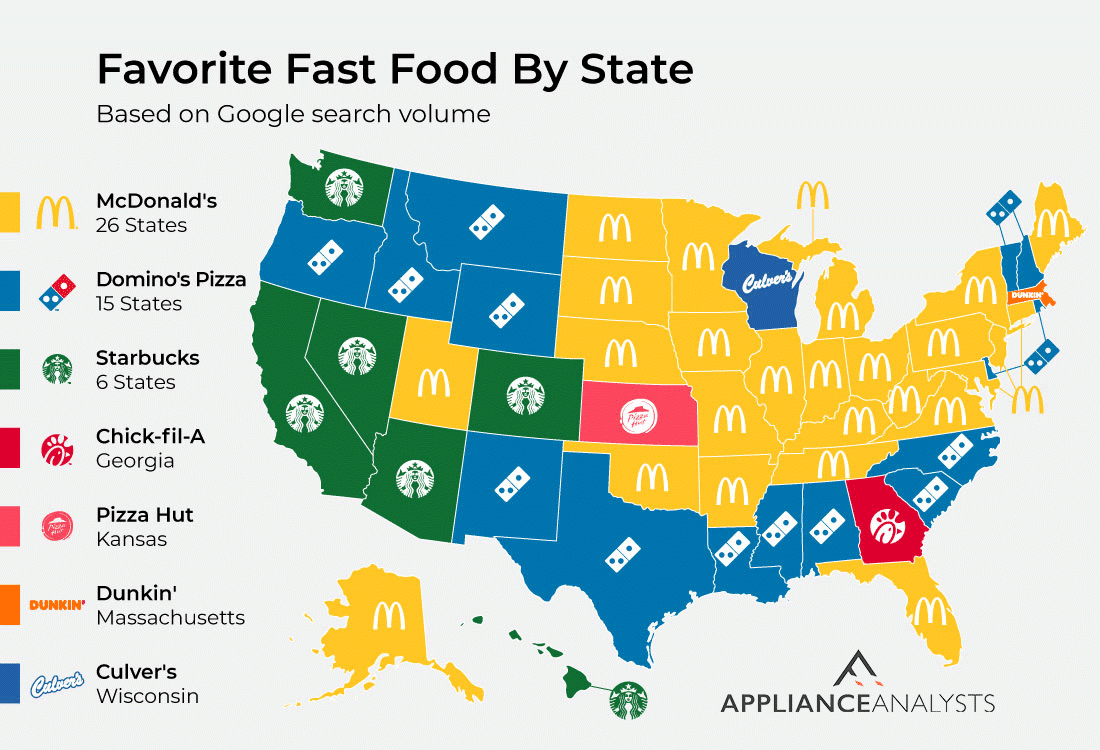 I find it interesting how different brands lay claim to different parts of the nation. The 'big 3' of McDonald's, Domino's, and Starbucks pretty much split up control of our wallets. In particular…
The West Coast Loves A Coffee
One area that struck me was how (almost) everyone on the west coast searches for coffee more than they do for a burger. This influence extends even beyond the Silicon Valley startup culture, with Nevada, Arizona, & Washington joining the Cali Club on their love for coffee.
For the west coast states, only Oregon has resisted the caffeine-craze to share their love of Domino's Pizza with Montana, Idaho, & Wyoming.
Pizza Passion's Are High In The South
While the North West loves their pizza (Wyoming are the #1 Domino's fans), their pizza passion is paralleled along the southern states.
As soon as we leave the youthful culture around California, Domino's are the fast food of choice all along the southern border. All, that is, except for Florida & Georgia (I'll touch on Georgia later). I actually found this super surprising – I thought the colder northern states would appreciate a hot pie over a relatively cooler McDonalds burger on a cold night.
Instead, it's the southerners who revel in their big pizzas – perhaps because a pizza is much more suited to delivery along the winding southern roads, as opposed to the inner city pit-stop McDonald's. My friends in the south do also tend to have huge family parties, and there's no food better for feeding the 5-thousand with than a huge pizza!
The Unique Island States
The first thing people look at on a map are landmarks and stand-out points. In this case, it's the states of Georgia, Kansas, Massachusetts, and Wisconsin – who each stand alone.
Let's look at just how much these states love their individual choices.
Georgia – Chic-Fil-A
Georgians stick to their state's own Chic-Fil-A for a whopping 56/100 on our popularity score. This is more than most other states choose the more popular McDonalds or Domino's! If it wasn't for the delicious chicken, Georgians runner up food of choice was McDonald's. They would've acted as a connecting bridge between Florida and the McDonald's loving north.
Kansas – Pizza Hut
Just like with Georgia, Kansas elected Pizza Hut with a score of 54/100 on our search metric! Pizza Hut do have a large amount of restaurants there for a smaller state (173 total pizza hut restaurants) but the choice does tend to be solely based on flavor and preference.

Kansas's second choice was also McDonald's, with a second-place score of 44/100. Just like with Georgia, this would've added to McDonald's 'empire' and creating a hard border with only the Starbucks lovers of Colorado ruining the border wall.
Wisconsin – Culver's
Moving northwards, we found Wisconsin standing alone and fighting off their McDonald's loving neighbours.
Founded back in 1984 in their very own Salk City, the Wisconsinites are fiercely loyal to Culver's creamy frozen yogurt. Ironically, one of the nations coldest states opt for the coldest food on this list! If it wasn't for Culver's, you can bet that Wisconsin would be another yellow pin on the McDonalds state map.
Massachusetts – Dunkin' Donuts
Last up on our unique state list are the Bay Staters and their famous love for Dunkin' Donuts. Not to be swayed by the sexy Venti Latte's of Starbucks, Dunkin' has a huge and loyal following in their own home. Believe it or not, Dunkin' Donuts was founded way back in 1950: they've got over 60 years experience in being the state's favorite choice.
Looking at their locations map below, you can see how Dunkin' Donuts slowly spread out from their base of Massachusetts, all the way down the east coast and across the mainland states (with a particularly strong fanbase in Chicago).
McDonald's Rules The US
Last, but definitely not least, we have the McDonald's empire of the north east. Claiming over 26 states to their name, McDonald's have an official majority and are soon to be elected into the Fast Food Senate.
Be it through their great marketing, consistent food quality, availability, or cheap prices – McDonalds are the bar that almost every fast food restaurant aspires to. Ironically, they were founded in California (1955) – which is now the Starbucks stronghold. Nowadays the Californians are much too healthy and caffeine focused, and it's the North East with a true penchant for McDonalds.
Each Company's Biggest Fans
As well as looking at each state's favorite, we can also see each fast food restaurant's biggest fans.
By that I mean, the state where the most people search for that chain by population. I included a whole bunch more companies than just those included on the map, so it's pretty interesting to see where they're loved the most.
I also included where each chain was founded. It's interesting to see how some chains became state favorites (like Wendy's, Culver's, and Chick-Fil-A – while others were adopted elsewhere).
| Fast Food Restaurant | Founded In | Most Loved In |
| --- | --- | --- |
| KFC | Utah, 1952 | Rhode Island |
| Subway | Connecticut, 1965 | Vermont |
| Arby's | Ohio, 1964 | Wyoming |
| Wendy's | Ohio, 1969 | Ohio |
| Popeyes | Louisiana, 1972 | Louisiana |
| Dunkin' | Massachussets, 1950 | Rhode Island |
| Culver's | Wisconsin, 1984 | Wisconsin |
| Jollibee | Philippines, 1978 | Hawaii |
| Pizza Hut | Kansas, 1958 | Mississippi |
| Taco Bell | California, 1962 | Michigan |
| Starbucks | Washington, 1971 | California |
| Five Guys | Virginia, 1986 | New Hampshire |
| McDonald's | California, 1955 | Vermont |
| Chick-fil-A | Georgia, 1946 | Georgia |
| Burger King | Florida, 1954 | South Dakota |
| Dairy Queen | Illinois, 1940 | North Dakota |
| Whataburger | Texas, 1950 | Texas |
| White Castle | Kansas, 1921 | Kentucky |
| Panda Express | California, 1983 | Utah |
| Domino's Pizza | Michigan, 1960 | Wyoming |
| Sonic Drive-In | Oklahoma, 1953 | Arkansas |
| In-N-Out Burger | California, 1948 | California |
| Jack in the Box | California, 1951 | California |
| Papa John's Pizza | Indiana, 1984 | Kentucky |
| Chipotle Mexican Grill | Colorado, 1993 | Washington |
The 'Wrap-Up'
It's not every day you find yourself spending an afternoon looking up fast food data, but I have to say it's been an interesting one!
I hope this quick guide has been as interesting to you as it has been to me. Map like it is above, I wonder how much change the future has in store. Could there be another company coming that will topple one of the big 3, and carve out their own area of the nation? Only time (and burger sales) will tell.
If you enjoyed this article, why not share with friends who might agree (or disagree) with the map!