The Average Weights for All 3 Types of Dishwashers
If you are looking for a new dishwasher, or if you are thinking about moving in the near future, then you may be curious how much dishwashers weigh. After all, you may need to install your new dishwasher on your own. Depending on the weight of your dishwasher, you may decide to go with a certain model. So, how much does a dishwasher weigh?
On average, a standard dishwasher weights around 77lb (35kg). This is for an average dishwasher of approximately 24 in. A compact dishwasher is approximately 18 in wide and weighs 60lb (27kg)
Obviously, the average weight of a dishwasher can vary tremendously depending on its size and components. Some dishwashers may weigh as little as 35 lb while other dishwashers can weigh over a hundred pounds.
We have done a significant amount of research to figure out how much the average dishwasher weighs. Take a look at a few important points below, and learn more about how you can safely and effectively move a dishwasher.
Breaking Up the Weight of Dishwashers By Type: 3 Examples
In general, there are three broad categories when it comes to dishwashers. These include built-in dishwashers, portable dishwashers, and countertop dishwashers. Learn more about the categories below, and discover how much they weigh.
1. Built-In Dishwashers
Built-in dishwashers are the most common examples. When you think of the dishwasher that has been installed under a counter, this is usually what people imagine. Built-in dishwashers are connected to the plumbing system and are permanently installed underneath the countertop, typically next to the sink in the kitchen.
Built-in dishwashers usually come in two separate sizes. The first is the standard size in the second size is compact. A few important points to keep in mind include:
A standard built-in dishwasher is usually 24 in deep, 24 in wide, and 35 in tall. They usually weigh approximately 77 pounds, or 35 kg. Standard built-in dishwashers can range from 50 lb to 125 lb.
A compact built-in dishwasher is usually 24 in deep, 18 in wide, and 35 in tall. Typically, a compact built-in dishwasher weighs approximately 60 pounds, or 27 kilograms. Compact dishwashers can range from 50 lb to 75 lb.
In addition to these categories, built-in dishwashers also fall into top control dishwashers or front control dishwashers. With a top control dishwasher, you cannot see the control panel when the door is closed, leading to a sleek look. A front control dishwasher has the controls on the front of the door. This means you can access them even when the door is closed, but it may lead to a slightly different appearance.
2. Portable Dishwashers
Portable dishwashers temporarily connect to the faucet when they are doing their job. This is a dishwasher that sits on the floor. It usually has wheels, making it easy for you to roll into place when you need it. Then, when you no longer need it, you can simply roll it away and store it in the closet.
If you do not have a dishwasher in your home, and you are renting (which may prevent you from buying a new appliance), then a portable dishwasher is a great option for you. Furthermore, if you do not have enough space for a built-in unit, then a portable dishwasher can be helpful.
There are many portable dishwashers that are the same size as permanent, built-in ones. Therefore, a portable dishwasher is usually large enough to accommodate pots and pans.
It may come as a surprise to hear that a portable dishwasher is actually the heaviest option. On average, a portable dishwasher is heavier than a permanent, built-in one. There are some compact portable dishwashers that way as little as 50 lb. On the other hand, there are also portable dishwashers that weigh 150 lb. On average, a portable dishwasher weighs approximately 180 lb, or 49 kg. Clearly, portable dishwashers can range widely in terms of their size.
3. Countertop Dishwashers
Finally, there are also countertop dishwashers. As the name suggests, these are portable units that sit on top of the countertop near the sink. There is a faucet connection that joins the countertop dishwasher to the water flow. Because of the way the unit is designed, you cannot use the dishwasher and the sink at the same time, which can be a problem for some homeowners.
On the other hand, this type of dishwasher is relatively light. Therefore, is easy to store and move. Furthermore, because it is so small, it also limits the number of dishes you can wash at the same time. Of note, this type of dishwasher usually cannot fit any pots and pans.
If you have a limited amount of space, then this dishwasher could be right for you. In contrast, it is definitely not going to be suitable for large families because it will not hold enough dishes to officially take care of the cleaning. If you live on your own, or if you are renting, then this could be a convenient appliance for you to have.
In general, countertop dishwashers weigh approximately 47 pounds, or 21 kg. Some countertop dishwashers way as low as 35 lb while other countertop dishwashers are as heavy as 60 lb.
A Few Examples of Popular Dishwashers with Dimensions and Weights
Now that we are familiar with the three separate categories of dishwashers, it may be helpful to take a look at a few examples, along with their dimensions. That way, you can see how this plays out.
A few examples of popular dishwashers you may want to consider include:
When you are trying to find the right dishwasher for your home, there is a lot for you to think about. Of course, you need to make sure the dishwasher will fit, but you also need to think about the features that come with the dishwasher. That way, you can figure out if this is right for you.
How Can You Make it Easier To Move a Dishwasher?
Clearly, the weight of your dishwasher can range widely depending on the type of dishwasher you have. Therefore, you have to make sure you can move your dishwasher safely. First, if you have any questions or concerns about your safety or the safety of your dishwasher, you may want to reach out to a professional service that can help you.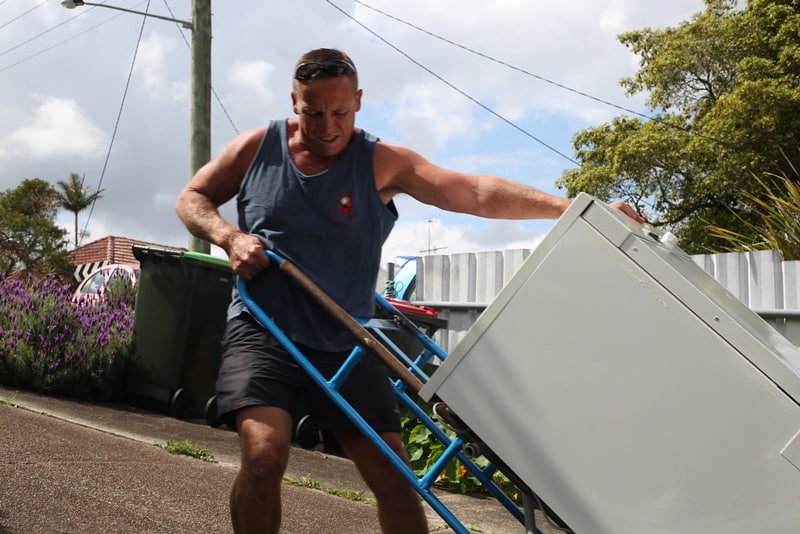 If you are planning on moving your dishwasher on your own, there are a few tips you need to follow. These include:
Always unplug your dishwasher from its power source before you start to move it. Even though this may sound obvious, a lot of people forget to disconnect a dishwasher from the water and power source before moving it. This could lead to disaster.
If you have to dry your dishwasher somewhere, you should make sure it is secure in your vehicle before you pull away. It is a good idea to use tie-down straps that will ratchet the appliance into place. It can go a long way toward making sure you do not damage your dishwasher during the move.
If you do need to move your dishwasher to a new building, you should try to use a truck that has a ramp. That way, you do not have to worry about lifting the dishwasher onto the bed of the truck. This is one of the most common locations where people get hurt, and this is one of the most common situations where the dishwasher itself might get damaged.
Instead of having to carry the dishwasher from the kitchen to the moving vehicle, try to use a dolly. That way, you can put the dishwasher on some wheels and safely move it to the vehicle.
When you are moving the dishwasher, try to cover it with some bed sheets or a comforter. This is important for making sure you do not ding the walls on your way out of the room.
These are just a few of the most important points you should keep in mind if you are moving your dishwasher. Even though it can be a large and clunky appliance, there are ways you can make it easier.
Make Sure You Move Your Dishwasher Safely
In the end, if you are looking for a new dishwasher, you should think about how much it weighs. This is going to play a major role in how difficult the dishwasher is to move. If you have any questions or concerns about the features of the dishwasher, you should reach out to a professional before you make a decision.
Finally, when you are moving a dishwasher, you should always place safety first. If you have questions or concerns about moving your dishwasher, you should trust a professional who can help you. I hope you have enjoyed this guide, so take a look at a few related articles below and learn more about appliances!