Best Times to Buy a Refrigerator: Don't Throw Away Money!
A few months back my old refrigerator gave upon us. While looking for a new one I realized the process can be really tiresome.
And I came across a lot of invaluable information that I thought I'd share with you. One big revelation was that refrigerator prices vary throughout the year!
That's right. You can save a fair amount of money depending on when you buy your refrigerator. I'd suggest you wait around for such times (if possible).
Don't Throw Away Cash
The first thing you should know is what type of refrigerator will suit your needs. Then you need to know the times when sales and offers go up. I always thought that the prices would drop during winter. Spoiler alert: that's not the case!
You can also check out this clearance calendar we put together. It shows you the best times of the year to buy appliances at low prices.
When to Buy a Refrigerator
Once you've decided which refrigerator you want, the next big question is when is the ideal time to buy it.
A lot of times you end up paying full price for it. To avoid such pitfalls, find out in advance when you can save money or get a better value from it.
In my experience, most stores and companies tend to offer clearance sales at the end of every other month. This simply means that since summer starts in May you can expect a sale in August.
But what if you have a particularly expensive model on your wishlist and are looking for the best sales? I noticed that those happen around the holidays and the weekend before the holidays.
Gadget stores like Lowe's, BestBuy, and other of the sort have particularly good sales around the following holidays:
Cyber Monday
Black Friday
President's Day
Fourth of July
Labor Day
Memorial day
Some stores offer 3-day weekend sales around these holidays, with up to 50% off on appliances, including refrigerators.
Other seasonal sales include back-to-school sales. These sometimes have surprisingly great deals on electrical appliances including refrigerators.
Apart from the holidays, other significant sales happen around the time a company is launching a newer model of their refrigerator. Most stores then put up the older models on clearance sales to clear their inventory.
Besides these two scenarios keep your eyes open for any special off-season sales, we suggest checking out the clearance calendar routinely so you don't miss out on any great deals.
Quick Refrigerator's Buyer's Guide
Before we jump into when to buy a refrigerator, let's quickly review some important factors you should keep in mind when refrigerator shopping.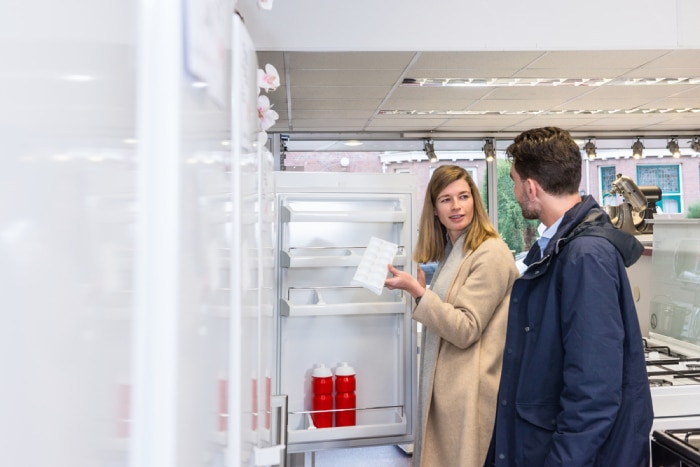 Style
Apart from how they look, refrigerators also differ in some aspects of functionality. Common types include:
The traditional Top Freezer style: These offer great storage capacity without taking much space.
Bottom Freezer Refrigerator: If you don't use the freezer often, this model might be more suitable for you. It brings the refrigerator at eye-level while keeping the freezer below for occasional use.
French Door Refrigerator: Here you get two side-by-side doors for the refrigerator, while the freezer is at the bottom. They're fancier and great for anyone that doesn't need storage for bulky items.
Side-By-Side Refrigerators: These models have both the fridge and the freezer side by side.
Whilst they look great, they are best suited for small kitchens. And for people who don't need to store large items like cartons of fish or pizza boxes since the narrow doors aren't very accommodating.
Mini Fridge: These are smaller-than-average refrigerators, some without a freezer. They're great for in-room usage to store limited items like water and snacks.
Energy Expenditure
Some models of refrigerators tend to use more electricity than others, which obviously translates into bigger bills.
When considering a refrigerator, make sure its electricity requirements are in line with your local energy provider. And that it's efficient enough.
Additional Features
Nowadays there's a new upgrade on every appliance, redefining its functionality completely. From smart operation to self-adjusting thermostats, refrigerators now have additional features that you might want in your new fridge.
Some of these include:
Built-in water dispenser
In-door storage
Humidity regulators
Temperature control for specific item type
Touch-screen control panels
If any of these sound interesting, see if your shortlisted refrigerator has that feature.
How Long Should a Refrigerator Last?
Depending on who you ask, the answer is anywhere between 10 and 20 years. The US Department of Energy puts the average life of a refrigerator at approximately 12 years.
Of course that's assuming you're at least a little serious about its care and maintenance. Otherwise you could be replacing your refrigerator much sooner.
No matter after how many years you're buying a new fridge, why pay more when you can save good money?
How Much Does a Refrigerator Weigh?
It's good to know about the product that best matches your use. This includes the space you have for it. There's no point in getting an outrageously lavish refrigerator, only to find out you don't have anywhere to put it.
The following list will help you understand the different types of refrigerators you can choose from, and how much they weigh on average, depending on the type of model.
Side By Side Fridge: 290lbs
French Door Fridge: 305lbs
Bottom Freezer Style: 214lbs
Top Freezer Style: 171lbs
Mini Fridge: 62lb
For more details, check out the table here.
An important point to note here is that the weight of a refrigerator is based on its capacity and not the dimensions. So, while you're choosing the right one for yourself, make sure of the space available as well as the capacity that suits your day-to-day requirements.
Conclusion
Even if you're not particularly tight on the budget, there's no harm in looking for ways to save you some money.
The key when buying refrigerators, or any other big appliance, is to know what you need, and if you can, wait for a better time to buy it.
A little bit of planning and research can help you save both time and money- something we're usually often short on.
I hope you found this info helpful. Feel free to check out our other helpful articles on buying and troubleshooting appliances.
Thanks for reading, and all the best for your next refrigerator!
-Craig