Last updated
September 12th, 2023
Did your trusty refrigerator just give out, and you're running to the store for ice bags?
I'm sorry to hear that! Having an appliance as essential as this fail on you when you need it most can be very inconvenient. Especially if you just went shopping for groceries or have a ton of frozen goods.
You're probably currently looking for a replacement to get everything back to normal, but all options cost an arm and a leg. Is there any way around this?
Absolutely.
Believe it or not, refrigerator prices fluctuate significantly throughout the year, and you're likely to find a great deal if you shop for one during the right period. Below, you'll find some useful information about when's the best time to shop for a new appliance, and what you should look out for.
Keep reading to get the best bang for your buck!
When to Buy a Refrigerator
The first thing you should know is what type of refrigerator will suit your needs. Then you need to know the periods during which sales and offers will appear. I always thought that prices dropped during the winter, but as it turns out, they don't!
To help illustrate this, we've put together a small clearance calendar that shows the best times to buy appliances depending on the month.
If your refrigerator breaks down during a month with not-so-great deals, don't worry. Preserving your food can't wait, and I'm sure you can still find great deals if you look carefully.
More Seasons to Look Out For
In my experience, most stores and companies tend to offer clearance sales at the end of every other month. So, if Summer starts in May, you can expect items from that month to be on sale in August.
But what if you're looking for a specific top-of-the-line model that won't be on clearance any time soon? Well… in that case, your best bet will be to keep your peepers open during the holidays and a couple of weekends prior to them.
Gadget stores like Lowe's, Best Buy, and others of the sort have particularly good sales around the following holidays:
Cyber Monday
Black Friday
President's Day
Fourth of July
Labor Day
Memorial Day
Some stores offer 3-day weekend sales around these holidays, with up to 50% off on appliances, including refrigerators.
Other seasonalities, such as back-to-school periods also offer great deals on electrical appliances of all kinds. And even when it's not the holiday season, you can also find great deals when new products are released to the market, as older models are typically put on clearance to make room for additional inventory.
This happens all year round and can save you a fortune.
If you're interested in keeping tabs on all the potential savings out there, please do not hesitate to check our clearance calendar routinely, so you don't miss out on any deals.
Quick Refrigerator's Buyer's Guide
Now that you know when's the best time to buy a refrigerator, let's quickly review some important factors you should keep in mind when you're ready to shop for your new appliance.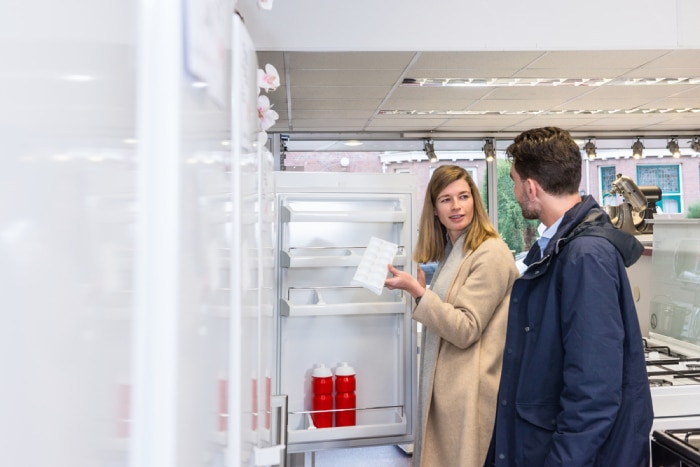 Style
Although it might seem that all refrigerators are created equal, this is not the case. In fact, there are tens of different models and designs at your disposal. Just to name a few, there are:
The traditional Top Freezer style: These offer great storage capacity without taking up much space.
Bottom Freezer Refrigerator: If you don't use the freezer often, this model might be more suitable for you. It brings the refrigerator to eye level while keeping the freezer below for occasional use.
French Door Refrigerator: Here you get two side-by-side doors for the refrigerator, while the freezer is at the bottom. They're fancier and great for anyone that doesn't need storage for bulky items.
Side-By-Side Refrigerators: These models have both the fridge and the freezer side by side.
Whilst they look great, they are best suited for small kitchens or for people who don't need to store large items like cartons of fish or pizza boxes.
Mini Fridge: These are smaller-than-average refrigerators, and some come without a freezer. They're great for in-room usage to store limited items like water and snacks.
Energy Expenditure
Some models of refrigerators tend to use more electricity than others, which obviously translates into bigger bills.
When considering a refrigerator to buy, make sure its electricity requirements are in line with your local energy provider, and that it's efficient enough to keep the utility bills under control.
Additional Features
From smart operation to self-adjusting thermostats, refrigerators these days have a wide range of additional features that you might want in your home.
Some of these include:
Built-in water dispenser
In-door storage
Humidity regulators
Temperature control for specific items
Touch-screen control panels
If any of these sound interesting, please check whether your shortlisted refrigerator has that feature.
How Long Should a Refrigerator Last?
Depending on who you ask, the answer is anywhere between 10 and 20 years. For instance, the US Department of Energy puts the average life of a refrigerator at approximately 12 years, which is not too shabby.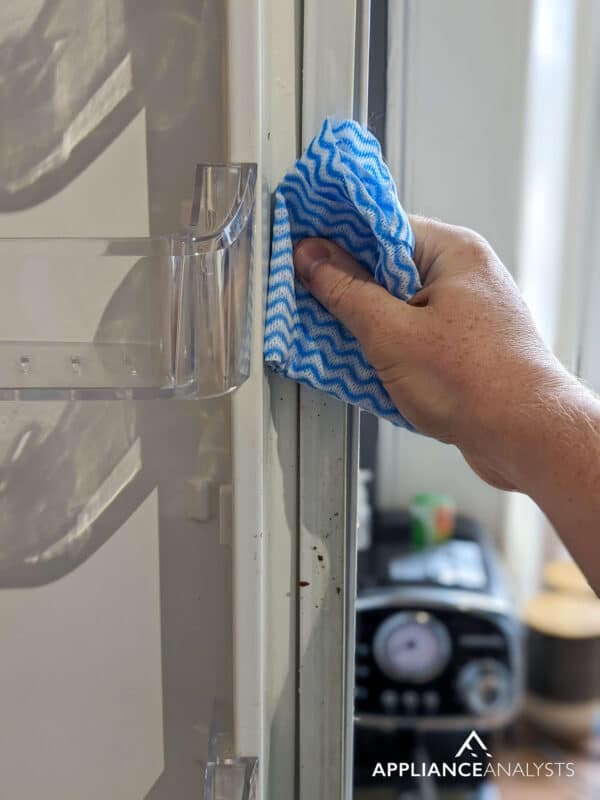 Of course, that's assuming you're serious about care and maintenance. Otherwise, you could be replacing your appliance much sooner.
It's always best to have your fridge last as long as possible, even if you already have the money to buy a new model.
How Much Does a Refrigerator Weigh?
Last, but not least, your refrigerator's dimensions should also be taken into account, and this includes not only its size and weight but also the space you have for it. There's no point in getting an outrageously lavish refrigerator, only to find out you have nowhere to put it.
The following list will help you understand the different types of refrigerators you can choose from, and how much they weigh on average, depending on the model.
Side By Side Fridge: 290lbs
French Door Fridge: 305lbs
Bottom Freezer Style: 214lbs
Top Freezer Style: 171lbs
Mini Fridge: 62lb
For more details, check out our table here.
Furthermore, an important point to note here is that the weight of a refrigerator is based on its capacity and not its dimensions. So, while you're picking the right one for you, be mindful of the space available as well as the capacity that suits your day-to-day needs.
Conclusion
Deciding the best time to buy a refrigerator can be challenging, since, even if you're not particularly tight budget-wise, it's always a good idea to look for ways to save some money.
The key when buying refrigerators, or any other large appliance, is to know what you require, and whether you can wait for a better time to buy it.
A bit of planning and research can help you save both time and money – something we're all usually often short on.
I hope you found this information helpful. Feel free to check out our other wonderful articles below to learn more about the right times to buy appliances and some easy steps to troubleshoot them when they fail.
Thanks for reading. I wish you the best on your next refrigerator purchase!
-Craig