Last updated
September 14th, 2023
Is your Whirlpool refrigerator behaving like the arctic circle?
Frosty cold bread with icy marmalade is no way to start the day. Then find out 5 reasons why it's freezing up and how you can get it back to normal in this article.
If your Whirlpool refrigerator keeps freezing up it could be because the temperature settings are wrong or the sensor is faulty. It could also be because the vents are obstructed or the door seals are dirty. You should also try turning off your icemaker if it is disconnected.
Are you ready to repair your Whirlpool refrigerator that keeps icing up? Then make sure you check out the next section of this article where you'll find 5 ways to fix this problem.
5 Reasons Why Your Whirlpool Refrigerator Freezes Up
Are you frustrated that your Whirlpool refrigerator keeps freezing up? Don't worry, it's quite a common issue. The vast majority of people rely on their refrigerators every day. You need this to keep your food and drinks fresh so you do not have to go to the grocery store constantly. At the same time, if the refrigerator keeps freezing up, this could slow down your routine in the kitchen.
So, why does your refrigerator keep freezing up, and what do you need to do to fix this? It is important to figure out what part of your refrigerator is freezing up. This could include the ice maker, the vents or even the door seals. Then, we will discuss how to fix it.
#1 The Temperature Settings Are Wrong
What temperature is your Whirlpool thermostat set to? Experts agree that a good temperature is around 36 to 38 degrees Fahrenheit. (2 to 3 degrees Celsius).
It might sound a little obvious, but it is good to check the settings of your thermostat if you're having problems with your fridge. It is all too easy to brush past the thermostat and turn up the temperature by mistake. If your thermostat is set lower than it needs to be, it will begin to ice up the food inside it.
Smart home apps are great. They are awesome at helping you keep control of your thermostat at your fingertips. But you should also revise your smart app. If you accidentally enter the app and alter the temperature, the thermal reading in your fridge could plummet.
Here's what you should do if your thermostat is set too low:
Revise the temperature that your thermostat is set to
Turn your thermostat to around 36 to 38 degrees Fahrenheit
Revise your smart fridge's app
Set and lock the app at 36 to 38 degrees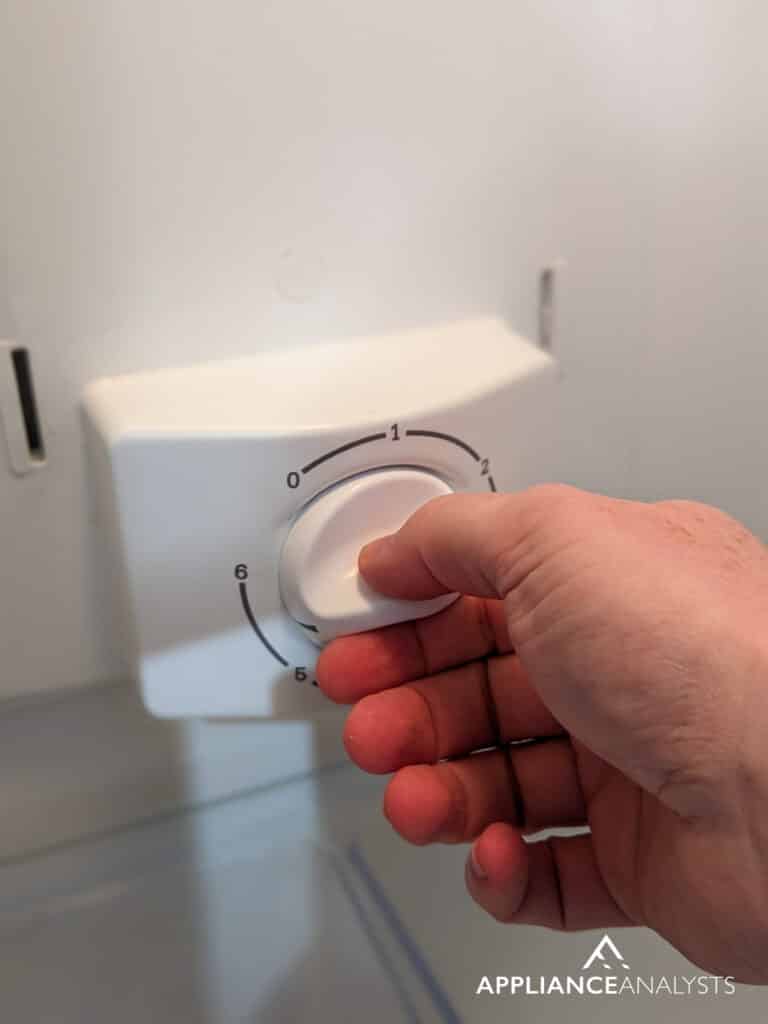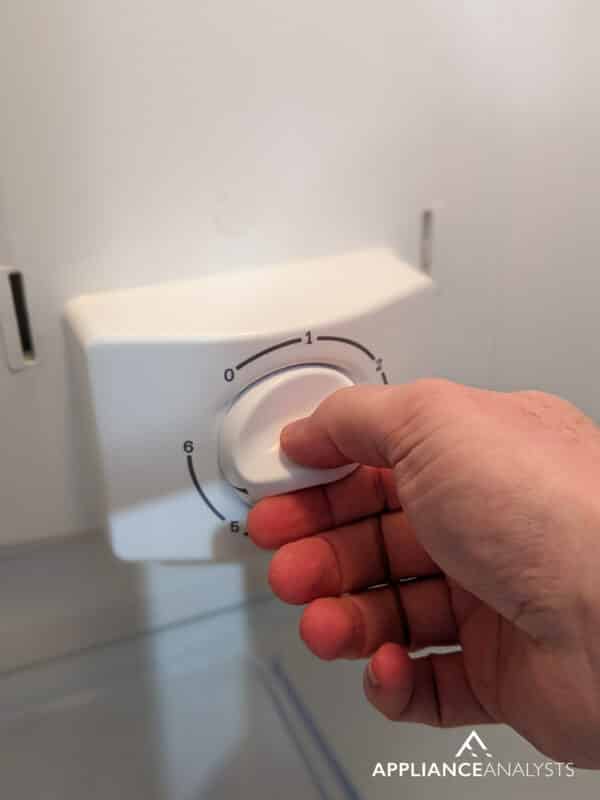 #2 The Temperature Sensor Is Faulty
What if your refrigerator's thermostat seems to be reading well but the temperature inside the fridge doesn't match what's on the dial? The dial says 37 degrees but the frosty food inside the fridge tells you that the temperature is a lot cooler.
You could, in this instance, be dealing with a faulty temperature sensor. Here's one surefire way to sniff one out.
Set the refrigerator to 37 degrees
Place a glass of tap water in the fridge and leave it there for 24 hours
After 24 hours remove the glass of water and test its temperature with a thermometer. The thermometer should read between 35 and 39 degrees. If it doesn't the temperature sensor might be faulty.
So what should you do if it's your temperature sensor that's on its last legs? The only way to fix it is to replace it. After you replace the sensor, the refrigerator should gauge temperatures properly. This should put an end to the ice problem inside your refrigerator.
#3 The Vents Are Obstructed
Your refrigerator has vents underneath it and behind it that need to remain clear of obstructions in order for it to work properly. If there is dust, dirt, or other objects blocking the vents it will begin to freeze. Obstructions will affect its ability to cool down and could make your food freeze over.
Here are a couple of ways that you can clean your refrigerator's vents:
Run a dry cloth over the vents to remove excess dust from them
Use the brush attachment on the vacuum cleaner to clean around the vents
Move the refrigerator 5-8 cm from neighboring appliances so that it has room to ventilate
Clean the refrigerator periodically and ensure that you clean under the unit as necessary
#4 The Door Seals Are Dirty
Your Whirlpool refrigerator doors are the barrier between the warm environment outside and the fresh and cool air inside. If your door gaskets are loose, they will begin to let in warm air. If the door gaskets are dirty, they will also begin to filtrate warm air into your fridge.
When warm air filtrates inside your fridge it will be forced to work harder. Most modern fridges can put up with this. But if you have a slightly older Whirlpool fridge it might struggle to maintain a good temperature and begin icing up instead.
To stop this from happening, do the following:
Replace loose gaskets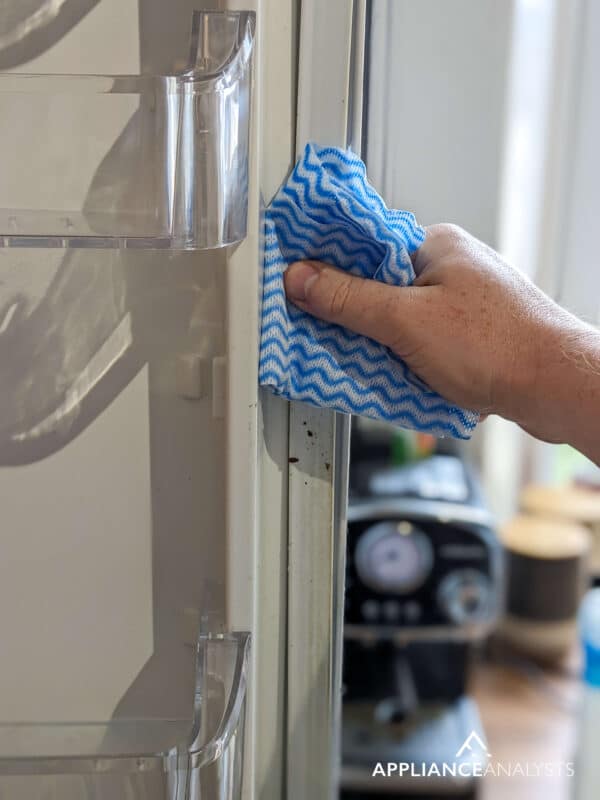 If you want to get any replacement part – or see how much one would cost – click to enter your model number in the search bar below. Our partners at AppliancePartsPros stock almost every part with free guides on how to install them.

#5 The Icemaker Is Disconnected
If you are having a problem with your ice maker, the first thing you should do is look for signs of a leak. There should be a dispenser bucket in the refrigerator door. Keep the door open, and take a look at the exit of a dispenser on the outside of the refrigerator. If you notice water coming from the other side, then there might be a leak in your ice maker.
To double-check your work, you may want to use a flashlight to see if there is light coming out the other side. If you can shine a light on the dispenser and see it coming out of the other side of the refrigerator, you have confirmed there is a leak present. Even though you might be able to repair this on your own, you are better off replacing your ice maker.
As a temporary fix, you may want to use silicone to seal the ice maker. This is not going to be a permanent solution, as the silicone will eventually develop a hole or peel off. On the other hand, this should be a temporary solution that will give you time to find a new ice maker.
But what about if your icemaker is disconnected from your fridge's water supply? If it is left on but disconnected from the water supply the ice compartment could continue to cool to freezing. This is a bit of a glitch on some Whirlpool refrigerators as the ice makers don't know how to stop making ice.
So how can you fix this? The best way to go about it is to turn the ice maker off. You can do this by turning the switch off or by navigating the options on the control panel in front of the fridge.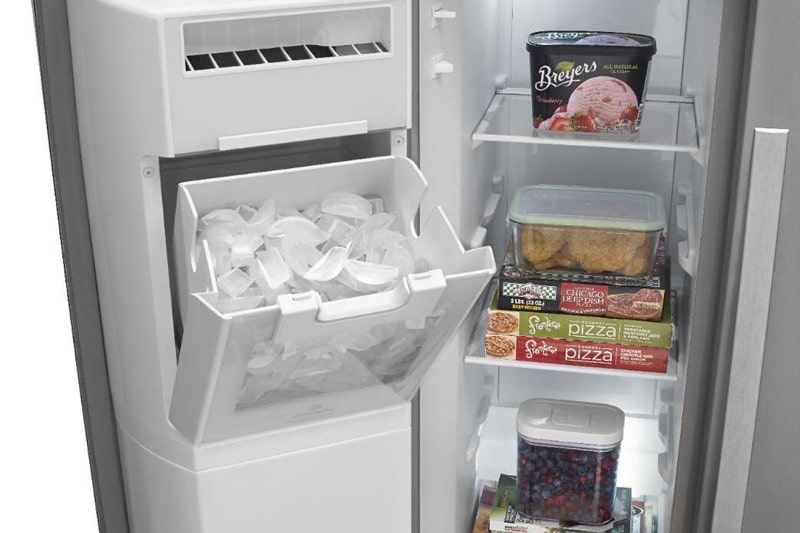 Still Stuck?
You've cleaned the refrigerator gaskets and cleared the vents of obstructions. You've even disconnected your ice maker. But no matter what you try, you cannot seem to get it to stop icing up. Now, what should you do?
There are a couple of other issues that your refrigerator could have. There could be a problem with the thermostat or a technical issue with the ice maker. But unfortunately, these are a little trickier to fix.
If you have tried all of the other steps in this article but haven't managed to repair your refrigerator, you should call an electrician as there seems to be a more complex issue at hand. The technician should be able to pinpoint the problem and repair it for you.
Conclusion
Is the food in your refrigerator always freezing up? Having to thaw out your bread and jam every time you want a sandwich is not much fun.
That's why I've listed 5 reasons why this happens to Whirlpool refrigerators and what you can do to fix yours.
Have you found this article helpful? Then feel free to browse our website and find other informative articles. You could even sign up to our e-mail list.
Thanks for reading, and have a great day!
Cheers,
Craig