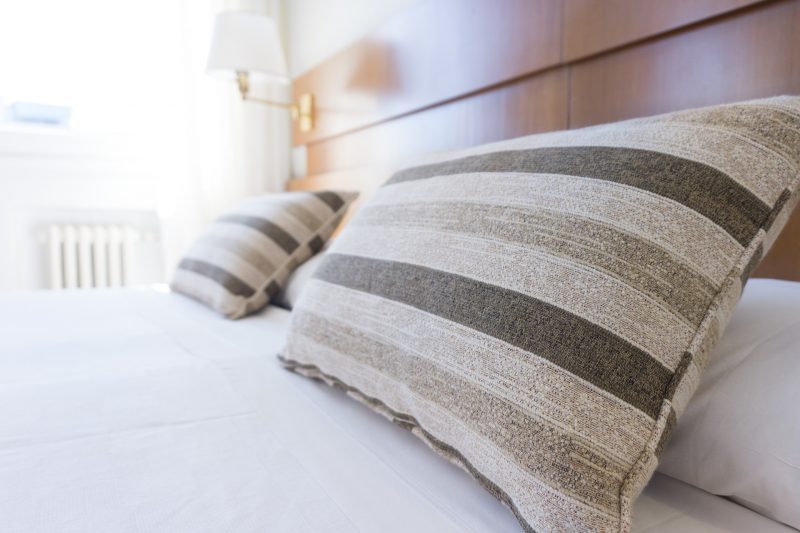 The 6 Quietest Fans For Sleeping With A Silent Breeze
There's got to be some advantages to being a light sleeper. Right?
Maybe it's that we'd always hear a break-in? Being the first one to help the kids if they wake up? Never sleeping through an appointment?
These are all handy. But come on. We all know being a light sleeper is a massive pain in the rear!
Especially when it's hot out:
You're lying in bed. You're sweating, tossing, turning.. and that old rickety fan is singing WHIRRR CLAK CLAK CLAK. WHIRRR CLAK CLAK CLAK. WHIRRR CLAK CLAK CLAK.
Finding a quiet fan for sleeping is a must for any light sleeper. It's a gamechanger to have silent airflow blowing a cool breeze on a hot summer night. These fans can make the difference between a restless night and an incredible sleep. But it's important to find the right one.
As a fellow light sleeper, I've reviewed dozens of fans to put together this list of the quietest options. Read on to find out more.
The Quietest Fans for Sleeping
I've spent a lot of time on this article… but maybe you're in a rush. If so? No problem – we all have busy lives.
Here are the quietest five fans in a quick table.
Read on for full reviews of each and more options.
However, there's one of these fans that I can't help but single out…
Need a Quick Recommendation?
Above all the others, this 'Turbo-Silence' fan by Rowenta really blew my mind.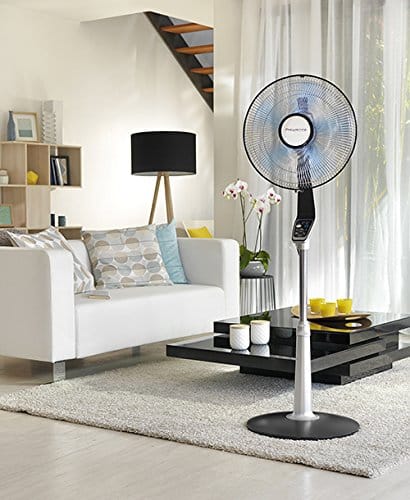 It's a little pricey, but for good reason. The fan is entirely designed and built to be as quiet as possible.
The 5 wide-blades provide a ton of airflow. Over 2,400 ft/minute. No, I don't quite know what is either. What I can tell you is that it's powerful!
It's almost strange. Having that much power but without the noise. There's a video showing the fan at all speeds in the detailed review below.
One of my favorite parts is the matching blue tint on the fan blades and remote control. It's subtle, but visual enough that anyone can see this isn't your normal fan. This is the kind of model that will always get your friends asking "wow, what's that?!"
For more detail, read on below. I just had to highlight this fan as a top recommendation.
There's no better model for quiet airflow to sleep next to. It's an amazing package, and worth every cent.
Scoring Process
Before we dive into the reviews, I want to be transparent.
There are a lot of fans on the market, and many of them are very similar. So how do you know what's best?
I selected these top fans based on the following criteria. In approximate order:
Quietness. If you're sleeping next to something, it needs to be whisper-quiet.
Power. There's no point in a quiet fan if it gives less air than Grandma trying to play the saxophone.
Build Quality. Even the wortld's best fan isn't worth anything if it's gonna break within a month.
Customer Satisfaction. One of the best parts of the internet is seeing how many customers end up happy, or with a dud/broken product.
Ease of Use. Extra features (remote control, timer, sleep modes) make the fan more effortless to use.
Energy Efficiency. Lastly, I checked for EnergyStar certificates to help keep any electric bills down.
Taking all these into account, let's dive into the detailed reviews.
Here are the best quiet fans for sleeping next to.
Best Quiet Fans For Sleeping - Our Top Picks
What Decibel Rating Is Worth It?
Not sure what decibel rating to shoot for?
Don't worry, I know how you feel.
These ratings can be confusing. Especially since they're not even on a normal scale! They change exponentially as they increase.
Here's a great graphic from ResearchGate that gives us a great idea.
Generally, a 'quiet' appliance is rated at 55dB or below. This is for air conditioners, heaters, etc. These fans have quiet settings at around 40dB – the level of a quiet library!
Buyers Guide - Key Points
There are a ton of fans out there, and most of them are practically the same. So how do you know which one to buy? One helpful tip is to consider fan aspects one by one. Which is most important to you? By knowing what you value most, it can make it easier to find a fan that suits you best.
(In this guide, it's highly been focused on fan quietness. But there are other factors, too.)
In this section we'll be going over the most important features and key points you should be looking out for when purchasing a quiet fan to keep you cool while sleeping.
You should ask yourself what you want most out of a quiet fan for sleeping. Is it to cool down the entire room for a while before bedtime, or does it need to be very quiet as the heat is unbearable that you need it switched on all night?
Fans, even quiet ones, are very similar. How do you know which one to choose? Knowing what type of fan you're looking for can help you decide which model is the right one for you.
Type of Fan
To make sure you purchase the correct type of fan, you should think about what size the room is and how much space you have available. There are a decent amount of different fan types in this guide for you to take a look at, it depends on your own personal situation and your preference.
Build Quality
Making sure the quiet fan is built out of a sturdy material is important, as you don't want any rattling of parts to make any extra unnecessary noise. A heavier base makes for a silent fan because it's less likely to rock and rattle.
Additional Features
Here are some additional features to look out for that make the quiet fan much better. These often come with a bit of a price increase, but the added quality of life can be so worth it
Remote control
Oscillation
Multiple speed/quiet settings
Auto shut-off feature
Timer
Adjustable height
Warranty
This is a really important one to look out for since you're using a fan to keep you cool throughout the night or day. It's going to be constantly left on for many hours at a time, possibly every day throughout the warmer nights. So make sure it comes with at least some kind of warranty to keep you covered since it will be getting a lot of usage.
Energy Efficiency
With some of the more pricey quiet fans it can be well worth the investment in the long run. The longer you are using one of these energy efficient fans instead of a maybe more costly air conditioning unit, overtime the higher price value and pay for itself in energy savings.
Conclusion
After reviewing each of these quiet fans each one has their own different perks and features which would suit a wide range of different people. It's just down to you to choose the perfect one for you.
Each one of these fans will ensure a peaceful sleep which will leave you waking up refreshed and ready for the day ahead. We hope you have managed to find one suitable for you but if not don't worry, here is a bestseller list from Amazon.com which will have a much wider range of quiet fans for you to choose from.
I hope this article has helped you figure out your potential new sleeping partner. A quiet fan really can improve your sleep and well-being. I sincerely hope you'll be resting well again soon!
Thanks for reading, and have a great day.
-Craig