Last updated
April 13th, 2023
Hart vs Hyper Tough. When it comes to reliable and affordable tools, both are great.
With so many DIY jobs needing to be completed around the house, you need a drill that can get things done, and quickly if possible. Hart, or Hyper Tough, which one should you go for?
In an ideal world, there would be a cookie-cutter type of answer that would save you a lot of time and trouble, but in reality, things are a little more complex. Both manufacturers offer great products and each has its own set of advantages and areas of opportunity.
Below, you'll find an article comparing both brands in-depth, so that you have all the information you need and can make the right choice when the time comes to buy either one.
Keep reading to get all the answers you've been looking for!
Comparing Hart vs Hyper Tough
Before diving into the specifics, I'd like to give you a quick run-through of the main characteristics of each brand's products. As you'll learn, they both offer great features and check most of the boxes you'd want to be checked in a tool like this.
| | | |
| --- | --- | --- |
| Specifications | Hart 20V Impact Driver | Hyper Tough 20V Impact Driver |
| Cordless | ✓ | ✓ |
| LED Work Light | ✓ | ✓ |
| Torque | Up to 1,800 ln-lbs | Up to 1,320 In-lbs |
| Onboard Bit Storage | ✓ | ✓ |
| Battery | 1.5 Ah Lithium-Ion | 1.5 Ah Lithium-Ion |
| Variable Speed Trigger | ✓ | ✓ |
| Weight | 2.55 lb | 2.78 lb |
While they're both remarkable and almost exactly the same, there are some key differences in weight and torque
Choosing a drill is like choosing an employee, you want to hire someone that is reliable, hard-working, and will get the job done quickly. So which drill should you pick to be the employee of the month? The answer lies in the details.
Now that you know the broad strokes, let's get a little more specific.
Brand Overview
Hart and Hyper Tough are both fantastic companies that make powerful drills. Hart, for example, has a great selection of 20V and brushless power tools to offer. You can choose to purchase these tools come as a kit (with the battery and the charger) or on their own. Here is a list of some of the most popular power drills you can purchase from Hart.
Hammer drills
Impact drivers
Brushless drills/drivers
Impact wrenches
Combo kits
Hyper Tough also has a great selection of power tools that will blitz any DIY project. Their tools are lightweight and easy to use. They come with a powerful battery that will keep you working for hours on end. Here is a list of some of the most popular drills for sale right now from Hyper Tough:
Drills
Hammer drills
Combo kits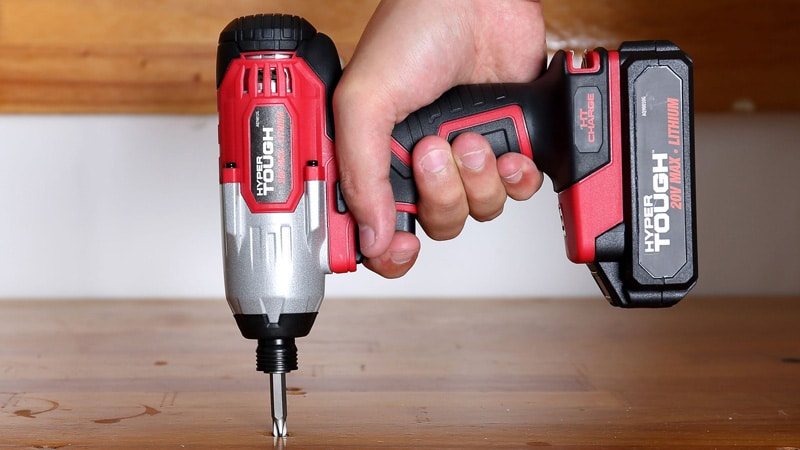 Cordless Features
When you are working on a job up high or in the yard, the last thing you want is to have to fiddle about with extension power cords. That is why Hart impact drivers are a great solution for awkward jobs as they are cordless. This makes it easier for you to work anywhere you need to. Working with cordless drills is also safer as you do not need to worry about tripping over the cable.
The Hyper Tough impact driver is also cordless. This feature helps you work in tight spaces without having to worry about the charging cable.
So, if you are looking for a convenient, cordless drill, both Hart and Hyper Tough drills will be right up your alley.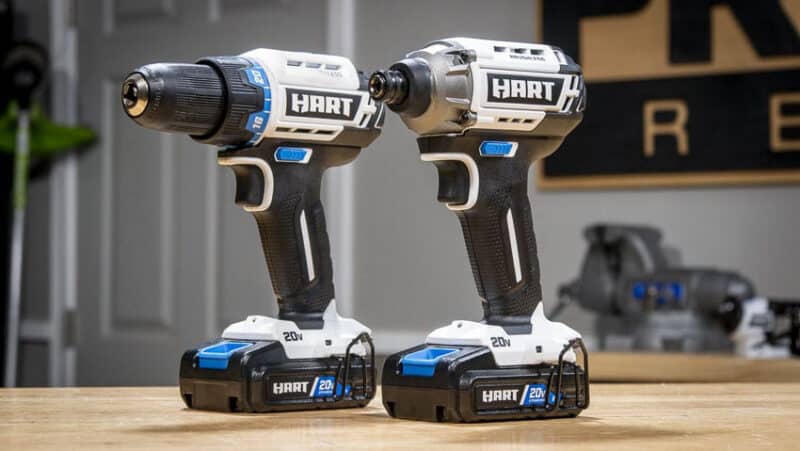 LED Work Light
Are you trying to complete a job in the attic, basement, garage, or somewhere else where the light is poor? Working with a torch in one hand and a drill in the other is not an easy job. That's why Hart impact drivers come with an LED light for enhanced visibility. Simply turn on the light and continue working no matter the hour.
Hyper Tough impact drivers also include a handy work light that will help to illuminate your workspace. The tool comes with a high-output LED light that is brilliant for working in dark spaces.
Do you find yourself doing DIY jobs at all hours? Then a Hart or a Hyper Tough impact driver will be great for you as they both have an LED work light.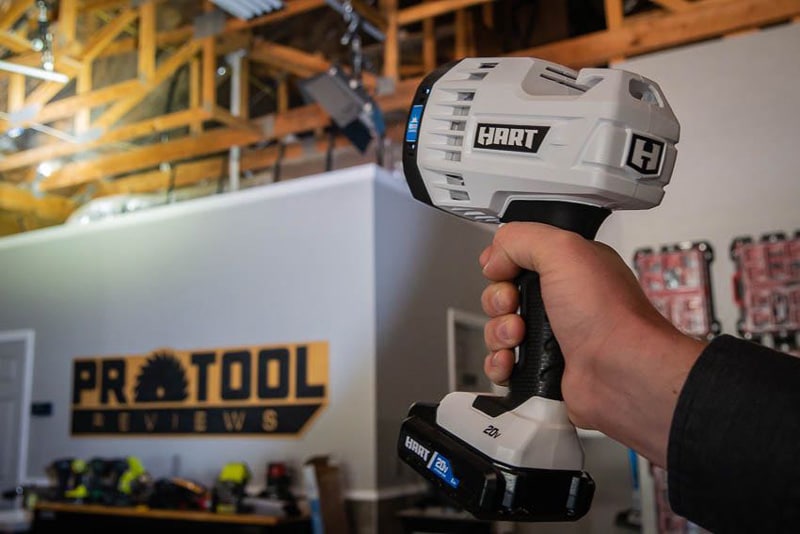 Torque
Torque is the force the impact drill produces to turn the bit. You will need 1500 to 1800 in-lbs of torque for your average DIY job. But if you are doing any bigger projects with larger screws, you will need a bit more than that to complete the job. That is why Hart impact drivers are a great option as they work with up to 1,700 in-lbs.
What about Hyper Tough impact drills? Well, they don't quite match up to the Hart standard as they have a torque rating of up to 1,320 in-lbs. They are still a great choice though for small to medium-sized DIY jobs.
If you require an impact driver with the best torque ratings, you should choose Hart.
Onboard Bit Storage
Here is one of the handiest features for an impact driver – the onboard bit storage. This bit holder will help you to keep a selection of bits to hand while you work. This will stop you from running back and forth to your toolbox in between jobs. Hart impact drivers include this feature so that you're prepared for anything.
Hyper Tough impact drivers also include onboard bit storage so that you can change bits without leaving your workspace. This feature will help you to get jobs done faster.
For an impact driver with onboard bit storage, you can choose from either Hart or Hyper Tough.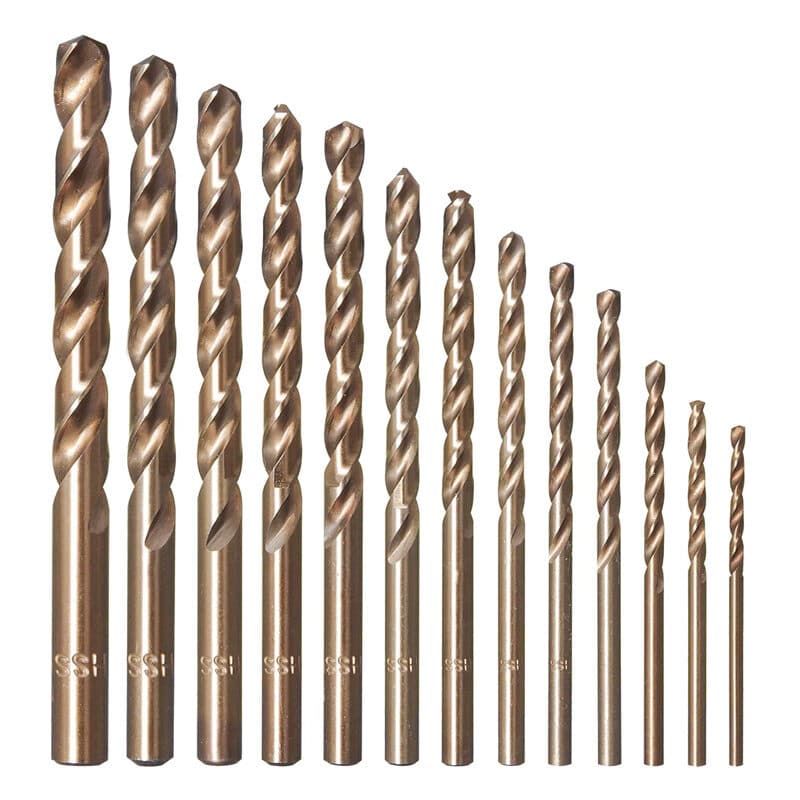 Battery
One of the most important features to consider when choosing an impact driver is its battery. We all want to make sure that we choose a battery that will last us as long as possible. It is also important to have a battery that does not need much charging so that you can get back to work as quickly as possible.
Here are some of the differences in specifications between Hart and Hyper Tough impact drivers:
| | | |
| --- | --- | --- |
| Specifications | Hart Impact Driver | Hyper Tough Impact Driver |
| Voltage | 20 | 20 |
| Battery type | Lithium-ion | Max Lithium-ion |
| Battery system | One battery system allows you to interchange the battery on all 20V Hart products. | None |
| Battery charger | 20V Max 1.5Ah | 20V 1.5Ah |
| Charge time | 3-4 hours from flat | 3-4 hours from flat |
If you are looking for a powerful battery and charger that you can use with all of your tools, you should choose a Hart impact driver.
Variable Speed Trigger
When working with an impact drill, it is critical to be able to switch speeds quickly. The Hart impact driver comes with a 0-2500 RPM variable speed trigger that helps you to stay in control and work precisely.
The Hyper Tough also comes with a variable speed trigger.
For an impact driver with a variable speed trigger, choose either Hart or Hyper Tough.
Weight
Having a lightweight tool to hand allows you to work for longer as it helps to reduce wrist fatigue. The Hart impact driver weighs in at a very lightweight 2.5 lbs.
What about the Hyper Tough? Well, that is a fraction heavier as it weighs 2.78 lbs. The difference is small, but fractions of a lb can make a big difference when you are completing lengthy DIY projects. The Hyper Tough does though have the added bonus of a soft over-mold grip that makes it easier to hold on to.
For the most lightweight impact driver, choose Hart.
Recapping
Phew… that was a lot of information!
Getting so much data all at once can be a little overwhelming, but when it comes to technical stuff like drills and other tools for DIY projects, diving into the most intricate details is necessary.
Worry not, though, here are a couple of Pros and Cons tables to recap things in a simpler way.
Hart
| | |
| --- | --- |
| Pros | Cons |
| Over 25% more torque than a Hyper Tough drill | Slightly more expensive |
| Lighter weight | |
| Improved battery system | |
Hyper Tough
| | |
| --- | --- |
| Pros | Cons |
| A little cheaper than Hart | Heavier |
| | Not enough torque for larger DIY projects |
Conclusion
That about sums it up!
When looking into which impact drill to buy for your next DIY project, considering all aspects of the tool you're interested in is crucial to make the right choice.
As I hope this article has helped you see, both Hart and Hyper Tough impact drills can deliver great results and do an amazing job. Choose the one that makes you feel more comfortable and meets all your needs best.
Thank you very much for reading. If you liked the information you found here and would like to know more, please check out our other incredible resources below. And if you fall in love with the content, maybe consider joining our Newsletter.
Have a great day!
— Craig.
Frequently Asked Questions
What's the Difference Between an Impact Drill and a Regular One?
While both are designed for practically the same purpose, the way in which they approach things is very different.
Impact drills are typically much more powerful than their regular counterparts, in terms of torque and overall force. This allows them to drive screws and bolts into hard surfaces, like concrete with much less effort.
Are There Any Safety Precautions to Consider While Using an Impact Drill?
Absolutely.
As with any other power tool, safety should always come first. You should read your User Manual and follow the instructions printed in it prior to operating your drill.
It's also always recommended to wear PPE (Personal Protective Equipment), which includes safety glasses, gloves, construction boots, and more.
What's the Average Lifespan of an Impact Drill?
The answer to this question depends on several factors, such as maintenance, proper use, and repairs.
A power tool from a reputable brand that is maintained well and used often should last anywhere between 3–5 years. There are, of course, some exceptions where the tools might last a little longer or a little less, but that's the average lifespan.