Last updated
April 14th, 2023
Reviewed for Accuracy
We've independently reviewed this article to make sure it's as accurate as we can make it.
To find out more about our article creation and review process, check out our editorial guidelines.
Struggling to compare the Rainbow vacuum vs Dyson?
Don't worry, this is a common issue. Considering the price tag on both brands, I'm sure you want to be confident you're making the right choice.
Luckily, you've come to the right place for answers!
When deciding between Rainbow vs Dyson vacuum cleaners, you need to consider your needs and preferences. Dyson is less expensive and known for their upright and stick models, while Rainbow excels in canister vacuum cleaners, but it's pricier and harder to buy.
Read on to choose the right vacuum for your needs!
Dyson vs Rainbow Vacuum Cleaner
We understand that it can be challenging to choose the right vacuum cleaner, especially when these brands are very popular.
But, don't worry. In this section, we'll break down the key differences to help you make an informed decision:
#1 Format
When choosing between Rainbow vs Dyson, you need to keep in mind the vacuum format you'd like to have.
The format of a vacuum is simply just the type of vacuum it is. There are five basic vacuum types: upright, stick, canister, handheld, and robot. The last two mostly speak for themselves, so let's describe the first three.
Upright vacuums – This is what probably comes to mind when you think about vacuums. It stands upright but leans when you're pushing it. It's a one-piece appliance and usually plugs in for power.
Canister vacuums – This model is a two-parter. It includes a wand and canister. The pull-along canister allows for a larger motor. These are great for hardwood floors, but they are heavy.
Stick vacuums – These are gaining popularity quickly. They're lightweight and easy to fit in tight spaces. They often need to charge for power.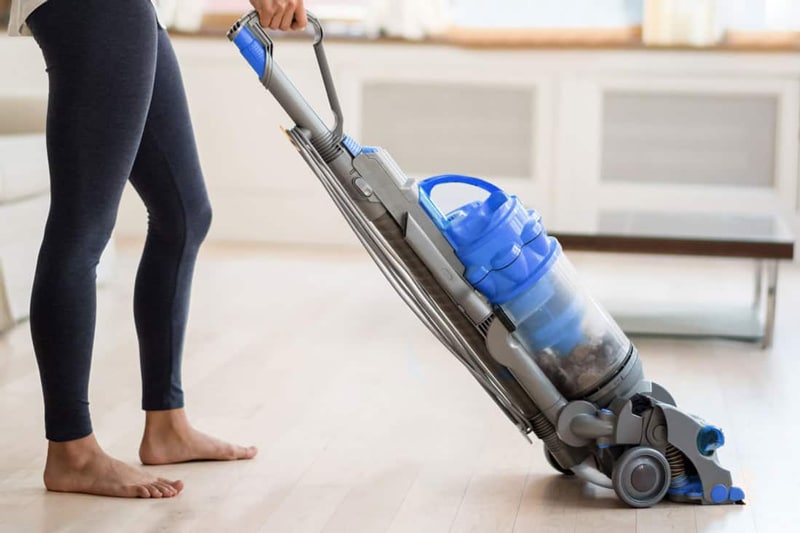 Dyson is most well-known for its upright and stick models, while Rainbow is known for its canister vacuum cleaners.
So, if you'd prefer a lightweight and convenient vacuum, Dyson might be the way to go.
Bear in mind that most Dyson vacuums typically serve a single purpose. For instance, if you buy an upright vacuum, it's likely that you won't be able to use it as a handheld vacuum.
#2 Price
Neither of these brand's vacuums can be classified as budget buys. For top-dollar brands like these, expect to pay top dollar.
For Dyson, you won't find a vacuum for less than $400. That lower end price covers more simple upright models. If you want something fancier, the high-end Dyson choices include $800 stick models.
Rainbow, however, may cause a case of sticker shock. A Rainbow vacuum will cost anywhere between $1,300 to $3,000. To save some money, you can buy a refurbished model – but it will still cost more than $1,000. The deep cleaning of Rainbow vacuums comes at a cost!
#3 Availability
Availability is an issue as well. If you are willing to pay for the Rainbow brand, you might have difficulty finding it first.
While you can buy seemingly anything on the internet, Rainbow vacuums may be the exception. If you search the web, you'll find refurbished and reconditioned models on sites like Amazon, Home Depot, and Overstock.
For a brand-new Rainbow vacuum, though, you're going to have to schedule an in-home demonstration. Just like in the days of the door-to-door salesman, a representative will come to your home to show you the cleaning power of a Rainbow vacuum right on your own floor.
On the other hand, Dyson vacuums are much more common. You can find Dyson selections at most major retailers (assuming they sell vacuums, of course). These include Walmart, Target, Lowe's, and more.
#4 Performance
Price and availability are nice, but in the end, it's about buying a vacuum that gets the job done. Often, we will be willing to pay more if the product is worth it.
Dyson is a solid choice. More than solid, actually, because Dyson sticks and uprights are the highest performing vacuums in their categories.
Plus, with so many models of Dyson vacuums, there is one out there that is perfect for your home. The Dyson v8 cordless stick vacuum, for instance, is lightweight and perfect for quick daily cleans.
The Dyson Cinetic Big Ball upright vacuum is also a great option because it features the signature Dyson ball and is designed to combat animal hair.
However, longevity may be an issue. Namely, in 2019, Consumer Reports dropped all Dyson stick vacuums from their recommendation lists. It was discovered that many Dyson stick vacuums develop issues within the first five years. Fortunately, the same does not happen to the brand's upright models and they still have the CR stamp of approval.
Meanwhile, Rainbow vacuums are an entirely different type of appliance. Unlike other vacuums, Rainbows are water-based. Straight from the company website itself: "The Rainbow uses Mother Nature's most powerful element, water, to trap dirt and odors, returning only naturally clean, water-washed air to your home environment."
In fact, Rainbow vacuums have a HEPA Neutralizer Filtration System. Simply put, dirt and microscopic particles aren't leaving that vacuum, making your house cleaner. It also has a powerful motor. So powerful, Rainbow dubbed it a Hurricane motor and it lasts indefinitely.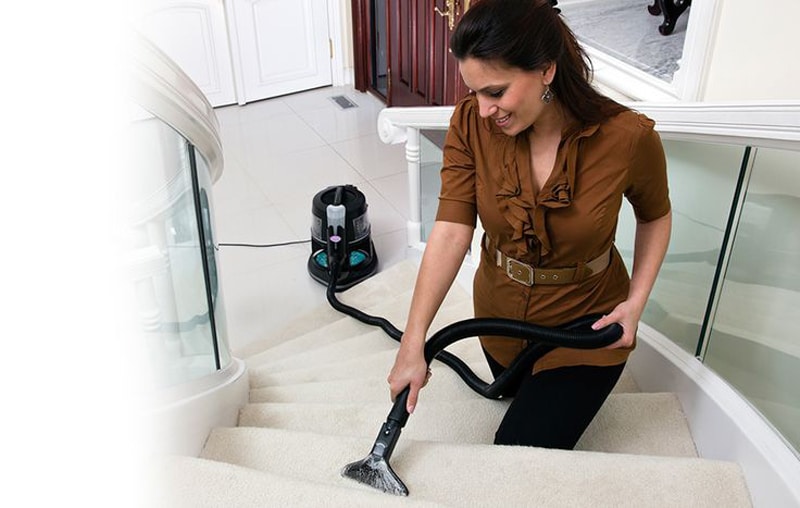 If you're wondering how long a Rainbow vacuum will last, prepare yourself. It has been found that most Rainbow vacuums can last up to 20 years or more. One of these heavy-duty vacuums will last decades without a repair, making the brand's high price point rather reasonable.
#5 Features and Accessories
With any vacuum, you expect some accessories to be included (or available). Both Dyson and Rainbow have accessory collections to fit your needs.
Dyson Accessories (dependent on model):

Stick Vacuums:
Light-pipe crevice tool
Low-reach adaptor
Dirt brush
Vacuum stands
Upright Accessories:
Pet groom tool
Flexi-crevice tool
Mattress tool
Rainbow Accessories:
LED-lighted Power Nozzle
AquaMate carpet cleaner attachment
RainJet spray squeegee
RainbowMate motor-powered brush
MiniJet upholstery brush
JetPad attachment with microfiber pads
#6 Customer Satisfaction
Numbers and facts can only go so far. What do real customers think of these vacuums?
One customer, known only as Econowife, found her Dyson Ball Multi Floor Origin vacuum to be a game changer in her home with 3 kids and 3 dogs. "I think I vacuumed for three days straight, I loved it so much! The suction is amazing. With the ball, it maneuvers so easily, and I can't believe how much better the carpets! I no longer want to replace them."
There are givers of constructive criticism as well. For instance, several customers criticized the lackluster battery power of the cordless stick vacuum, the Dyson Cyclone V10.
Rainbow vacuums are well-reviewed as well. Carol of Lake City, Florida bought her Rainbow vacuum back in 1986 and is still using it today. "I know there have been a lot of improvements made since 1986, but I can't justify buying another one when this still performs like it's new…I would give this company and vacuum 10 stars if I could!"
Rainbow vacuums aren't without faults, however. After purchasing, one customer decided to leave a review warning others that it didn't perform well on hardwood and it was too heavy to carry up and down stairs.
Despite a few negative reviews, both Dyson and Rainbow have received mostly positive feedback, indicating that they're reliable choices.
Pros and Cons
I know that was a lot! This is why I've created a table summarizing all the pros and cons of each brand we've discussed so far.
Dyson Vacuums
| Pros | Cons |
| --- | --- |
| More affordable of the two options | Shorter lifespan |
| Powerful suction | Limited accessories |
| Lightweight | |
| Can be purchased from most retailers | |
Rainbow Vacuums
| Pros | Cons |
| --- | --- |
| Provides a deep clean with water-based filtration | Expensive |
| Built to last | Have to buy directly from distributor |
| Multiple accessories | Bulky |
Conclusion
Listen, both Dyson and Rainbow are solid brands. A vacuum from either will give you the sparkling clean floors of your dreams.
If money were no object, I'd like to think we'd all have a Rainbow vacuum in our homes. They're versatile, built to last, and provide a deep clean.
Still, money is an important factor and, as such, makes the pricey Rainbow an unattainable option for many.
In the end, Rainbow vacuums win in performance, but Dyson beats the competition in the other categories, especially price.
Do you need any more help around the house? Check out our other guides!