Last updated
April 29th, 2023
Your AC is supposed to provide you with a pleasant environment. And it may, to some extent. But if you have to listen to your window air conditioner rattling all the time, that's just going to annoy you to the point of wanting to chuck it out the window.
Don't do that! Because now you'll have peace, but it will be hot. And besides, there is a better alternative.
Your window air conditioner is rattling because there is something wrong with it. It may be clogged with debris—leaves, dirt, etc.—and need a good cleaning. It could be vibrations. Or it could be something more serious, like failing or worn-out parts.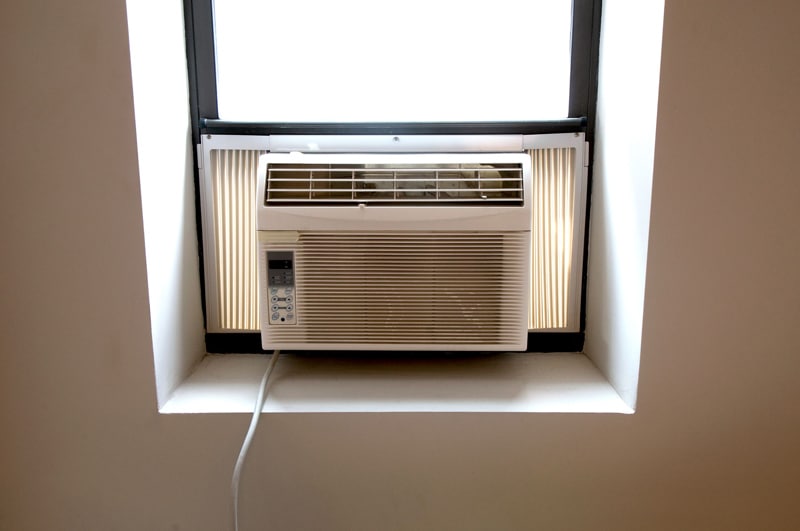 So keep reading to find out what to do to fix your rattling window air conditioner.
What You'll Need
Depending on the issue, you might not need anything more than your hands and a bit of strength. Everything on the list isn't necessary. What you need will depend on your job—which may end up being all of them.
Screwdriver
Shop vac or vacuum cleaner (optional)
Hand broom
Bristle brush
Fixing a Vibrating Window Air Conditioner
If your window air conditioner is rattling, it might be due to vibrations.
Has it been rattling since you installed it or is this a new thing? Since issues are often obvious and simple to fix, let's cross this one off the list first.
While your AC is running, do a visual inspection. Can you see where something might be causing a vibration and thus a rattling sound? Or can you hear where the rattle might be originating from?
Step 1
Shift the unit just a tiny amount. You don't want to move it, just slightly adjust where it's sitting.
Step 2
If the rattling stopped, you're done. If the rattling sound changed, repeat the process again.
Step 3
Continue to slightly shift and listen until the rattling stops completely.
Step 4
Finally, make use of the 3 holes drilled into the top track of the AC unit. Use 3 screws to better secure it to the window.
Fixing a Dirty Window Air Conditioner
Dirt will eventually collect in your window air conditioner since part of it is exposed to the elements. So, you can expect things like dead leaves, twigs, pebbles, and more, depending on how far it is off the ground.
Don't assume that since you're on the whatever floor of an apartment building or condo, you're spared from debris. If the wind can carry it, it can be in your window unit.
The best way to clean your window air conditioner is to remove it and take it outside, so if you have a balcony, deck, driveway, or any outdoor space, please do that.
While you can do a partial cleaning while the unit is still in the window, you'll only be able to remove the front panel. Leaves and other debris need to be accessed when the entire casing is removed. And the cleaner your it is, the more efficiently your air conditioner will run.
For a thorough, deep clean that will remove debris and get rid of that terrible rattle, do the following.
Step 1
Unplug your AC, take it outside, and sit it on a stable, flat surface.
Step 2
Remove the screws that hold the case in place. They're typically close to the bottom frame.
Step 3
Remove the front panel and pull the case up and off.
Step 4
Remove any debris with a shop vac, hand broom, bristle brush, or whatever you have on hand. Be sure the look for anything in or around the condenser that could/would rattle around while the AC was running.
Step 5
Since you have it open, why not clean the coils and fins too? It will save you from doing the job at a later date.
Step 6
Reassemble your AC. Before putting it back in the window, plug it in and turn it on. If your rattling is gone, you've solved the problem. If not, you may have issues with one of the components.
Fixing a Loose Fan
Loose fans will typically cause more of a banging noise, but since some might interpret that as rattling, we'll cover it too.
Step 1
Unplug your AC, take it outside, and sit it on a stable, flat surface.
Step 2
Remove the screws that hold the case in place. They're typically close to the bottom frame.
Step 3
Remove the front panel and pull the case up and off.
Step 4
Vacuum the inside of the fan motor housing with a wand attachment—this will help you reach tight spots. Fans will build up dust and debris, and should be cleaned regularly.
Step 5
Clean the blades and ensure they spin easily by hand. If not, check to see if they rub against the housing when they spin—this could be the cause of your noise.
Step 6
Fan bearings can be noisy. Take a blade in your hand and see if the shaft wobbles from side to side. Any significant movement indicates bad bearings, meaning you may need a new motor.
Step 7
Reassemble, then plug it back in and test for noise.
Conclusion
If your window air conditioner is rattling, there are a few things you can do to regain your peace.
We've discussed:
Checking for and fixing potential vibrations
Cleaning and removing any debris inside the unit
Inspecting and cleaning the fan and bearings
There's no guarantee one of the above is your issue, but it's a good place to start. If none of the above worked, you may need to call a pro for maintenance and repair. Or it may be cheaper to buy a new one. There are lots of great window air conditioners available!
Thanks for sticking it out to the end. Why not check below to see if there's anything one of our related articles could help you with?