Last updated
January 7th, 2023
There are heater manufacturers, and then there are heater manufacturers.
And then there's Infratech.
The quality of products these guys are putting out is unreal.
Top-of-the-market stainless steel build quality, 3-year warranties, adjustable mounting, and controller options… they're doing everything right.
The question is – which is the best Infratech heater for your home or patio?
With such high-end products, knowing which to invest in can seem daunting. Thankfully, Infratech's products are a lot simpler to use than the advanced technology they use lets on.
In this guide, I'll walk you through the best infrared heaters made by Infratech. Giving recommendations for which one will suit your needs best depending on your available space and conditions.
Then, I'll answer some common questions people have. Including:
How many Watts do I need? How much is too much?
What's a good mounting height?
What's a quartz-type heater?
How are the controls set up?
Infratech's Best Heaters
Let's get started. When looking at the company as a whole, these advanced heaters can be pretty intimidating. Thankfully, Infratech's range is split into just three different types.
The letters simply refer to their design. We have:
SL Series. Otherwise known as 'slimline',
W-Series. A thicker mount made to be integrated and sit flush in a ceiling,
C-Series. A stylish mount made to be hidden when mounted to a wall or ceiling. It's so subtle the heaters look like they're floating.
The best way to go through these heaters is to walk through which would suit your patio most.
The first step?
Work Out Your Area
This doesn't have to be exact – just an approximate area in square feet.
If you have a large area (> 10' by 10') or a complex shape, try splitting it up into smaller sections.
It doesn't just look aesthetic. Spreading out multiple smaller heaters provides more comfortable warmth than the heat from one super-powerful heater.
Slimline or Full Size?
If your area is less than 8' by 8', you should choose whether you want a slimline model or not.
Both full-size and slimline work incredibly well – it's a matter of design preference. Try to picture what would suit your space more.
Bear in mind that slimline models can't be installed flush to a ceiling.
Best Infratech Slimline Heaters
For those that love the minimalistic slimline design, here's the details of Infratech's slimline range.
| Slimline Heater | Power (W) | Length (") | Area (sq.ft) | Min H (ft) | Max H (ft) |
| --- | --- | --- | --- | --- | --- |
| SL-16 | 1,600 W | 29.5" | 5 x 5 | 6 | 8 |
| SL-24 | 2,400 W | 42.5" | 7 x 7 | 7 | 9 |
| SL-30 | 3,000 W | 63.5" | 8 x 8 | 7 | 9 |
| SL-40 | 4,000 W | 63.5" | 10 x 10 | 8 | 11 |
Considering a full-size model? Then let's move on to the next question…
Flush or Mounted?
The major design choice is whether to install your heaters flush, or mounted to your wall/ceiling.
(Alternatively, either model can be mounted to a standing pole.)
Let's compare the two ceiling mount types.
A flush installation looks much better, and will never fail to get ooh's and aah's from friends. They're more costly to install and maintain, but are so unique they can also add value to your home. Bear in mind that your 'mount height' will be limited to your ceiling height.
A mounted installation is much simpler and quicker to install. As well as ceilings, it's a cinch to mount these heaters to a wall or pillar. Not to mention access and maintenance is easier, too. While these aren't quite as aesthetic, you can take them with you if you move in the future.
Power-wise there's no difference between these two options. However, each heater has a certain 'height' it should sit above you. While ceiling-mounted heaters can be made to hang lower, a heater installed into the ceiling will be fixed to that height.
Single or Dual Power?
A final decision is whether to opt for a dual-powered heater. That is, a model with two quartz tubes instead of one – doubling the heating it gives you.
Dual models are much more powerful. Often they can pack too much heat!
Choose a dual model only for a large area with a high mount height, or if you're in a windy climate.
If you have an average mounting height (10' or below) and a mild climate, a dual heater will probably be too powerful. I'd recommend getting multiple smaller heaters for more comfortable warmth over your whole area. That said, you can just use only 1 of the dual model's heaters if you don't need both.
That's all of the factors covered. So let's take a look at both types of heaters.
By knowing your area, mount preference, and ceiling height, it should be much simpler to narrow down your options.
Best Infratech Heaters: Full-Sized Models
Single Element Heaters
| Single Heater | Power (W) | Length (") | Area (sq.ft) | Min H (ft) | Max H (ft) |
| --- | --- | --- | --- | --- | --- |
| C-15 | 1,500 W | 33" | 5 x 5 | 6 | 8 |
| W-15 | 1,500 W | 33" | 5 x 5 | 6 | 8 |
| C-20 | 2,000 W | 39" | 6 x 6 | 7 | 9 |
| W-20 | 2,000 W | 39" | 6 x 6 | 7 | 9 |
| C-25 | 2,500 W | 39" | 7 x 7 | 7 | 9 |
| W-25 | 2,500 W | 39" | 7 x 7 | 7 | 9 |
| C-30 | 3,000 W | 61.3" | 8 x 8 | 7 | 9 |
| W-30 | 3,000 W | 61.3" | 8 x 8 | 7 | 9 |
| C-40 | 4,000 W | 61.3" | 10 x 10 | 8 | 11 |
| W-40 | 4,000 W | 61.3" | 10 x 10 | 8 | 11 |
Dual Element Heaters (double the power)
| Dual Heater | Power (W) | Length (") | Area (sq.ft) | Min H (ft) | Max H (ft) |
| --- | --- | --- | --- | --- | --- |
| CD-30 | 3,000 W | 33" | 7 x 7 | 7 | 9 |
| WD-30 | 3,000 W | 33" | 7 x 7 | 7 | 9 |
| CD-40 | 4,000 W | 39" | 8 x 10 | 8 | 12 |
| WD-40 | 4,000 W | 39" | 8 x 10 | 8 | 12 |
| CD-50 | 5,000 W | 39" | 8 x 12 | 9 | 10 |
| WD-50 | 5,000 W | 39" | 8 x 12 | 9 | 10 |
| CD-60 | 6,000 W | 61.3" | 11 x 11 | 10 | 14 |
| WD-60 | 6,000 W | 61.3" | 11 x 11 | 10 | 14 |
Controls
Now that we've gone through the different heating options, let's draw a quick line in the sand.
There's a bunch to consider for control options, too! Infratech produce their own high-end controls, with options to suit any home.
As with the heaters, all control options come with 3 year warranties as standard.
They come in three main types:
'Value' Controls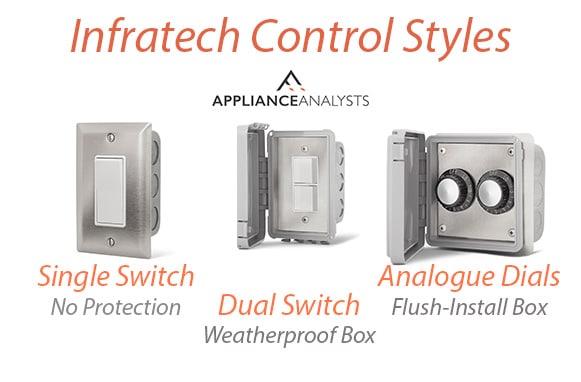 The three types of 'value' controls.While anything from cheap, these simple controls are basic on/off switches or input regulator dials. They come as either single switches for each single element heater, dual switches for dual element heaters, or a variable dial for single elements up to 3,000 watts.
Each heater type can then be installed with an optional cover if you're putting them outside, or a flush surface mount.
Control Hubs
Each of the following control options is installed with their own relay panel. Again, this needs a licensed electrician to wire up. Each panel relays the signals from your controls to each individual Infratech heater.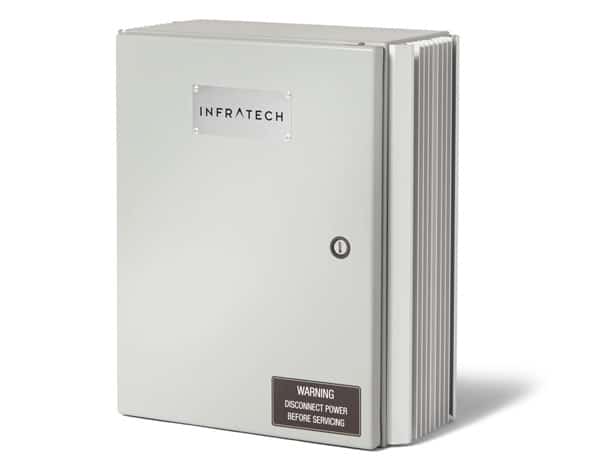 As well as reliable controls, each of these sets come with digital timers. These let you set an 'off' time between 15 minutes and 4 hours – so you don't need to worry about accidentally leaving the heaters on!
Solid State Controls
Solid state controls for 2 heaters – plus a timer.Next up are the most popular (by far) control options. This is a hub of 'solid state' control – which are simply dials to allow for zone heating. You get a dial for each heater: each dial has an on/off switch then a dial for controlling the intensity.
This is the best value option for multiple zone control.
Universal Controls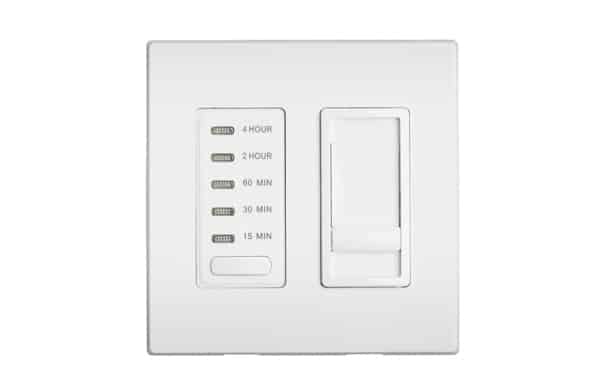 Already have a style of light/heating controls? This package is made to work with any 120V lighting dimmer you can get. It's essentially the same as solid state controls, but you can easily customise it to work with any standard style. Perfect if there's a certain dimmer or timer dial you've already used throughout your home.
Home Management Systems
Last up is the latest and greatest. Full home management systems.
These are like having a smart home heating system – except with amazing infrared patio heaters.
Controlled via a panel and/or your mobile phone, this set up unlocks a wide range of programming options as well as total freedom.
What better way to adjust to the perfect heater settings, than when you're already sitting in the seat!
Benefits of Infrared Patio Heaters
With infrared heaters still being (relatively) new for residential purposes, having them installed in our own home can be a strange prospect.
That said, there's a ton of reason why infrared is the best option for patio heating.
Here's a few:
The Heat Stays. Unlike convection heaters that try to heat the surrounding air (before it gets blown away), infrared heat stays around. It heats objects, not air. That means that you, your seat, and that cozy jumper of yours, will all stay warm. Even while there's a wind picking up.
Infrared is one of the most efficient types of heat available. This, again, is due to how they work. The electricity they use gets converted directly to heat. Which is targeted at you, not at the air.
Running Costs. Thanks to their lower electricity use, infrared heaters are the cheapest type of electric heater to run.
There's no fans, and no gas or flames. Just silent, direct heat.
Propane heaters are amazing at producing tons of heat. But don't we all have to huddle so close to them? It's a huge pain for a group, and what an eyesore! Because they can heat from a distance, we can mount infrared heaters – even flush against the ceiling. Perfect for any modern patio.
Frequently Asked Questions
For those who have only enjoyed infrared heaters in commercial patios, the prospect of owning one can be a little strange!
With a new type of appliance comes plenty of questions. I hope to answer your main ones below. If I've missed any, feel free to shoot me a question via our contact page.
How many Watts do I need? How much is too much?
Watts represent the amount of heat the unit can put out.
The greater the watts, the more direct heat you'll be getting. This, combined with the mounting height (since the heat 'shoots' outwards) is how we figure out which model would be best for your patio.
You can only find out how many watts you need by knowing your area and mounting height. Then take into account your general climate. By comparing these with the tables above, it should be fairly straightforward to narrow down your options.
Note: Watts also indicate how much the heater will cost to run. Your electricity is normally charged in kilowatt hours (kWh). This is how much it would cost to run a 1000W heater for 1 hour.
What's a good mounting height?
A standard ceiling mounting height is around 7-9 feet. Beyond that and you'll need an extra powerful heater to make sure the heat travels the distance to you.
Bear in mind that, while flush mounted heaters are fixed, a mounted heater can be hung down from extra-tall ceilings. Mounting on a wall, or even a portable pole mount, are other great options.
What's a quartz type heater?
All heaters in this guide are quartz type heaters. This refers to the quartz tube which holds the heating element. This element is what produces heat at the right infrared wavelength, and is directed forward (or down) by the heater.
How are the controls set up?
The controls offered by Infratech all need to be installed by a licensed electrician. Each heater needs to be hardwired into your mains system, often via a new dedicated 220/240V socket, and the controls set up accordingly.
Infratech offers a range of great control options – from on/off switches to variable dials and zones that can be controlled from your mobile phone or even by Alexa.
Is infrared heating efficient?
Through a long review, we found infrared heating to be the most efficient, cheapest form of heat available. This is because it heats objects, not air. The objects don't get blown away by a breeze, so the heat sticks around.
Not to mention that, without needing a fan, the energy is all created into heat. On average, infrared heaters are about 90% energy efficient – the highest of all heater types.
They're also fantastic for the environment, with zero emissions or noise. Not to mention that these models are all made entirely from recyclable materials!
How long will these heaters last?
Though they come with a large price tag, these heaters more than match that with their quality.
All made from stainless steel, proper care and maintenance would see them easily last 5 years. While the heating element may degrade after that point (around 5,000 hours of use), it's fairly simple to replace the element itself and keep the heater operating for decades.
Conclusion
Infratech heaters are truly world class. It's no wonder why they're so trusted by Architects and Designers. They're a league ahead of almost every other manufacturer out there.
While they charge a pretty penny, you do get a clear conscience in return. Combining recyclable materials with the most efficient form of heat and zero-emissions – you can fight off winter's cold without feeling guilty.
I hope this quick guide has helped you figure out which model is perfect for your patio. If you still have any questions, just shoot me a message via our contact page and I'll get back to you. Or, give Infratech a call – you can find their details here.
If this content's helped you, please consider supporting us by checking out some more of our articles! Instead of charging for our content, we're only supported by minimal ads and small commissions.
Thanks for reading. I hope you have a great day!