Last updated
May 1st, 2023
Are you trying to figure out how to throw away your dishwasher?
Don't worry, you've come to the right place for answers.
Disposing of your dishwasher in the right way, can prevent environmental degradation and will help you avoid hefty fines.
You can easily dispose of your dishwasher by searching for recycling programs near you, selling it, or donating it to someone who needs it. You can also hire a junk removal company.
Keep reading to learn more about these tips!
Disposing or Recycling Your Dishwasher: 4 Ways to Do it Right
With appliance waste on the rise, the last thing you want to do is add one more dishwasher to a landfill. Luckily, it doesn't have to come to that because, as shown below, there are plenty of practical and eco-friendly ways to dispose of your dishwasher:
#1 Recycle
If you're searching for how to throw away your dishwasher, you should definitely consider recycling it.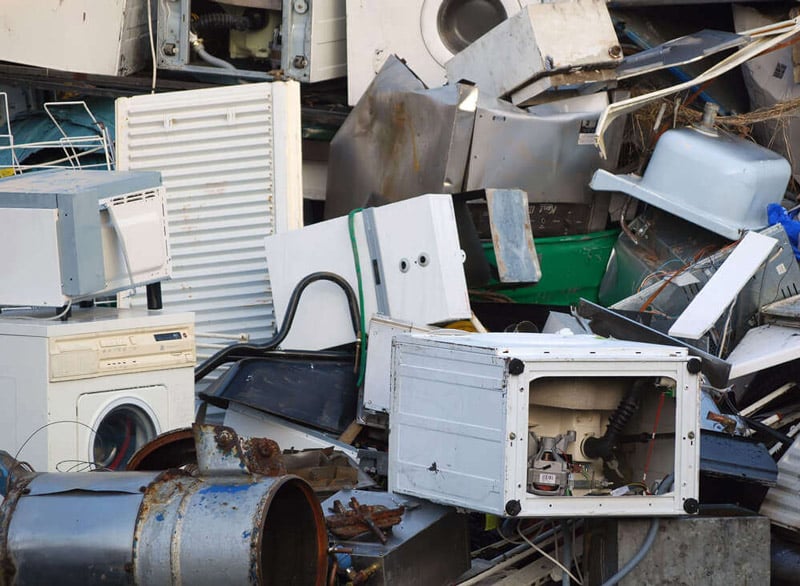 This is one of the most eco-friendly methods. If you've never had any appliance recycled before, here is how to find recycling programs near you.
Ask Your Appliance Retailer
Some appliance retailers may uninstall your old dishwasher, install the new one and haul off the old one as an incentive for buying. Other retailers offer the service at an extra cost, while others even offer stand-alone recycling programs for old appliances.
So, if you're in the market for a dishwasher, shop from retailers who offer similar options.
For instance, Best Buy will pick up and recycle your old appliances for about $59 while Home Depot will deliver and set up your new dishwasher for an additional $50 bucks.
This will significantly streamline your disposal process and leave you with a guilt-free conscience since the dishwasher will be responsibly recycled.
Most local energy providers offer recycling programs as a way to encourage sustainability among consumers.
Some utility companies even partner with the Appliance Recycling Centers of America(ARCA), renowned for its stellar appliance recycling programs and credited with the proper recycling and reuse of up to 95% of old appliance materials.
Check whether your utility provider offers such programs or is a participant in such programs. Note, as an incentive, some utility providers will even offer cash rebates when you turn in your old dishwasher.
Check with Your Municipality
As part of their sustainability efforts, most local governments offer waste disposal services that include appliance and waste recycling programs.
Such programs often include curbside pickup of appliances and other large items on specific days of the month at either no cost or a small fee. Others don't offer such services, but will typically recommend the best recycling programs in your locality.
If your retailer or utility provider doesn't offer to recycle, contact your local municipality for information on such programs.
The Responsible Disposal Program, famously known as RAD, is a voluntary EPA program geared towards reducing emissions and protecting the ozone layer through proper disposal and recycling of old appliances.
RAD works with local governments, utility providers, manufacturers, and many other interested organizations to collect and recycle old appliances and share information about the program. In return, partners enjoy recognition as champions against environmental pollution and reduced energy consumption.
Thanks to these partnerships, RAD has successfully recycled about 196 million pounds of plastic and prevented the landfill dumping of about 1.06 billion pounds of metals. Find a RAD partner near you to dispose of your dishwasher the right way.
If none of the options above are viable in your case, look for companies that offer the service in your area.
A simple Google search for "recycling companies near me" should give you plenty of options. But, for an even more straightforward search, check online listings such as Earth911.org or RecycleFinder.com.
These sites feature a countrywide database of companies that recycle almost everything.
Handy Recycling Preparation Tips
If you choose to recycle your old dishwasher through any of the options listed above, ensure you:
Unplug your dishwasher a day or two before, so it can cool down.
Deep clean it. I recommend mixing equal parts of vinegar and warm water to do it.
Tape the dishwasher door, so it's easier for the recycler to transport.
#2 Sell Your Dishwasher
If recycling is not an option, and you're still looking for how to throw away your dishwasher, you might want to keep reading.
Your old dishwasher could be an upgrade for someone else. So, if it's still in good shape, selling it is also an excellent way to dispose of it.
List it on sites like eBay or Craigslist, post it on Facebook marketplaces, or if you have a bunch of other things you'd also like to dispose of, try a garage sale.
Note, if your dishwasher is too old or no longer functional, you could also sell it for parts. Some businesses will buy your dishwasher, repair it, and resell it. Others will buy, dismantle and resell the parts for reuse.
Alternatively, if you are naturally curious, you could scrap the dishwasher yourself and resell individual parts on the earlier-mentioned sites, or specific appliance parts reuse businesses.
#3 Donate It
You may no longer fancy your old dishwasher, but it could make all the difference in someone else's household.
If you're upgrading or need to get rid of your dishwasher because you're moving or remodeling, consider donating it to a charity or non-profit organization.
These organizations will either gift it to a household in need for free or resell it at a low fee to raise money for other courses.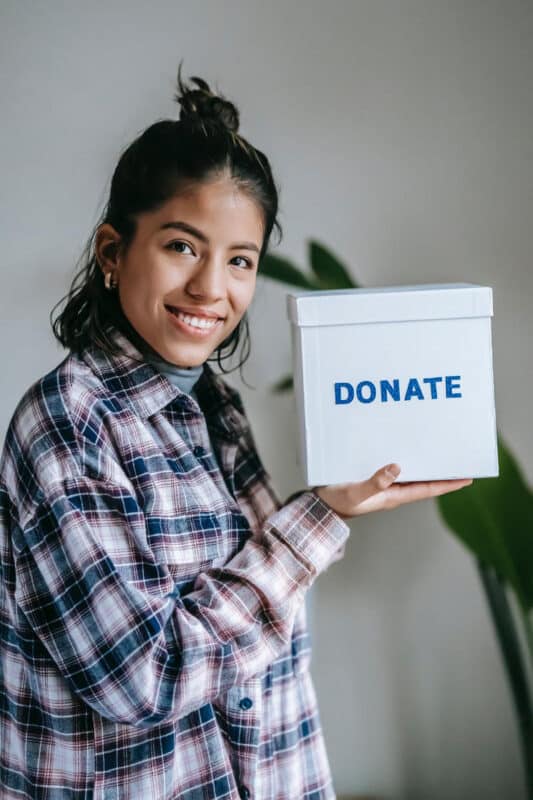 While the goal is to dispose of it, donating your old dishwasher allows you to help a person in need and might even earn you some tax deductions.
If you choose to donate your old dishwasher, ensure it's in proper shape, as donating one that's too old beats the purpose of reusing and recycling.
These are some organizations that can help you donate your dishwasher:
Habitat for Humanity ReStore
Salvation Army
Goodwill Industries
Community Thrift Stores
Responsible Appliance Disposal(RAD)
American Kidney Services
You could also donate your old dishwasher to churches and other places of worship.
#4 Hire a Junk Removal Company
If you're still looking for how to throw away your dishwasher, you might want to hire a junk removal service company.
These companies will typically pick your dishwasher and anything else you want to get rid of for a fee.
Renting a dumpster is also an excellent alternative to junk removal companies, especially if you need to dispose of multiple items.
Why Not Just Trash Your Dishwasher?
Wondering why you should go through the trouble of properly disposing or recycling when you can trash it? Here are two good reasons:
#1 Prevents Environmental Degradation
As you may already know, most dishwashers are made up of steel and other plastic parts.
Recycling, donating, or selling it for parts instead of trashing it means these parts are salvaged and reused, conversely preventing environmental degradation and saving on landfill space.
These quick actions can make a huge difference. It's crucial to take care of our environment.
#2 Saves You from Hefty Fines
The US is a massive waste appliance producer. To change this and curb their waste appliance production, over 20 states have implemented laws that ban appliance dumping in landfills.
While these laws mean, it's easier to find recycling programs, violating them and trashing your dishwasher could see you pay hefty fines. Recycling or any of the disposal tips above saves you from such fines.
Conclusion
Upgrading your dishwasher to an energy-efficient model will cut your energy costs and reduce your carbon footprint. But with the increasing volume of appliance waste, how you dispose of the old one is even more critical.
Remember, if you want to dispose of your dishwasher, you'll need to recycle it, sell it, donate it, or hire a junk removal company.
Thank you so much for reading this article. If you found it helpful, please check out our related posts below.
Good luck!