Last updated
September 14th, 2023
The refrigerator industry is enormous, as it generates over $125B in annual market revenue.
With newer technology being installed into these appliances every single year, it can be hard to keep track of who are the big players on the market. These appliances are expensive and are typically designed to last anywhere between 10–20 years, so they're definitely a long-term commitment.
With so many options out there, and new competitors entering the ring each year, the surge of information can be overwhelming. This is why here at ApplianceAnalysts, we want to use our +7 years of experience to provide you with all the relevant knowledge you need.
To help, we've studied a huge public database of appliance reviews and data – including over 257,000 reviews on refrigerators alone!
Ready to find out the best refrigerator brands? Then let's dive in!
The Best Refrigerator Brands Compared Using Customer Data
They say the best way to tell whether an appliance is right for you is to try it. However, with return policies getting increasingly complex by the day, it can be scary to venture alone in the journey of finding the perfect refrigerator.
Luckily, you don't have to, as we've already gathered hundreds of thousands of opinions and ratings that should prove helpful in this quest.
The Highest Rated Refrigerator Brands From 257,000 Customer Ratings
With several hundreds of different brands on the market, refrigerators are one of the most popular appliances out there. This might seem like a good thing since there are many options to choose from, but when it comes to picking the one you'll buy, having such a wide catalog to browse can also be confusing.
There are many elements that make a certain brand better than others, such as warranty period, cooling capacities, model variety, energy efficiency, and much more.
Here's a chart to give you a clearer idea of how different refrigerator brands fare against each other.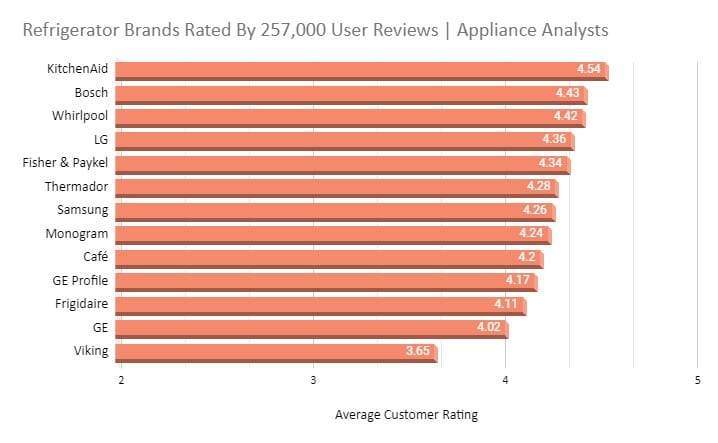 You might find this hard to believe, but the brand at the very bottom, "Viking" is known for selling some of the most expensive refrigerators out there. Just to give you an idea of the price tag on these units, the cheapest models go for a little over $3,000, whereas their flagship alternatives cost over $10,000.
Now, KitchenAid does not fall behind, as it could also be considered a luxury brand that offers refrigerators in a similar price range, so does it mean that it's all around better given it's in the first place?
Well… yes and no.
While a higher rating does mean more customers were satisfied with their KitchenAid refrigerators than any other brand, there could also be other factors at play, such as familiarity. While Viking only makes refrigerators and freezers, KitchenAid offers a wide range of household appliances, such as mixers, range hoods, ice makers, compactors, and much more.
Consumers tend to feel more satisfied when they buy a brand they already know is good. So, if many of our reviewers already own a KitchenAid product they're satisfied with, they're a lot more likely to be more forgiving when it comes to rating their new refrigerator. Even if it costs a fortune.
The same happens with other brands topping this chart, such as LG or Whirlpool, as they're also known for having other appliances in the market. Moreover, refrigerators from these manufacturers tend to be a lot cheaper than luxury alternatives (with some models coming in as cheap as $600), which can also result in kinder reviews from buyers.
After all, the more you pay for an appliance, the higher you'll set the bar for it.
Are More Expensive Refrigerators Better?
In many cases, a bigger price tag means better performance, and overall superior results. But is this always the case?
Absolutely not!
Now, answering this question might be a little more complicated than you think, as everyone has different standards and expectations when it comes to their appliances. However, hard facts and statistics can help shed a light on this and reach valuable conclusions.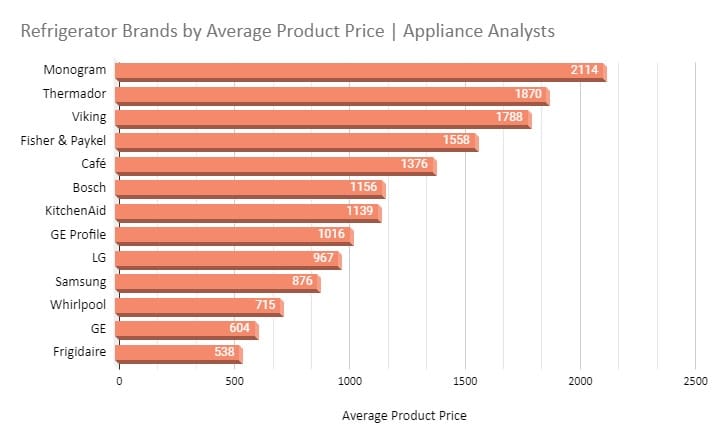 If you look back at the chart from the previous section you can see that Monogram, which leads the price race in this case, was actually rated in 8th place by reviewers. The same goes for Thermador and Viking, which landed in 6th and 13th place (dead last) respectively.
On the other hand, brands like Bosch, Whirlpool, and LG, topped the review charts while being among the cheapest manufacturers on our database.
Now, how come +$4,000 top-of-the-line refrigerator models from luxury manufacturers are rated so poorly? Well, the simplest answer is that we've been programmed to believe that the more expensive something is, the better it will be.
Ever since Marketing was invented, global and local companies selling various products have sold us the idea that the best course of action is always breaking the bank and buying their flagship models. This is a quick and easy way to increase their profits while keeping us as their customers for years to come.
However, as you can see in the hard data presented above, shelling out one or more monthly paychecks on a state-of-the-art refrigerator will not always give you the most satisfaction.
Also, as I mentioned earlier, there's a psychological effect that affects several reviews, which consists of holding expensive things to higher standards. This means that, even if a Monogram refrigerator works well, buyers are a lot more likely to give the product a bad review if it's not outstanding in every way.
So, in summary – no. The most expensive brands and models won't always be the best options in the market. In many cases, you can get all you need from a refrigerator without spending enormous amounts of money!
The Brands With The Most Refrigerator Models
They say when it comes to major household appliances, there's no one-size-fits-all option, as people are very different from one another, and thus look for different things.
Just as it happens with other luxury products on the market, premium refrigerator manufacturers tend to focus more on personalization than on any other aspect. You've probably noticed this in other categories, such as Smartphones, where brands like Apple, release a handful of products each year, as opposed to cheaper alternatives that might release 10 or more models within the same period.
Now, does this mean that the brands with fewer models are always better? Not at all, and the chart below is proof.
It's no coincidence that many of the brands with the best reviews are also those with wider product catalogs. By offering tens of different products in all shapes, sizes, and price ranges, these manufacturers increase the odds of having a refrigerator that meets the needs of a larger group of people.
Now, what does this mean for the chart above?
Well, for one, there will be fewer reviews for premium models than for other non-premium brands, which can in and of itself affect the results.
Moreover, since luxury refrigerators are designed to adapt to the buyer and not the other way around, people are more likely to rate them poorly if their experience with the appliance is less than perfect.
That being said, having too many models can also be a bad thing, as it's easier to overlook design flaws. Take GE, for example. They're the manufacturer with the most models on the market, yet the second-worst-rated brand on the charts.
In conclusion, the brands with the most models are not always the best, and while personalization and niche markets can be a great source of profit, they're often hit or miss.
I have a lot more charts and data coming up later in this article – but I know that not everyone loves tons of charts.
Instead, I want to share the thoughts of one of our resident appliance repair experts on what they think of these most popular brands, after repairing thousands of them.
How To Find Your Perfect Refrigerator
A lot has been said about the different price ranges, reviews, and the number of models of every one of the most popular refrigerator manufacturers out there. And now that you've read what our resident expert had to say, it's time to answer the age-old question.
What refrigerator is right for you?
While there's no cookie-cutter answer to this, there are some elements that you can take into consideration along with the information already provided above to make an informed decision.
#1 Price
Price always tends to be the most important thing in people's minds when looking into the right refrigerator to buy, and it's understandable. Modern marketing has led us to believe that the more we pay for an appliance, the more satisfied we'll be.
But this isn't always true.
Yes, typically a higher price translates into higher quality materials and more features, but sometimes, you might just be paying for extra bells and whistles you don't really need.
As you've seen in the charts above, there are refrigerators in all price ranges, with options with affordable price tags of $500, to luxurious alternatives that can go beyond the $10,000 mark.
Monogram, Thermador, and Viking lead the price charts as the top 3 most expensive refrigerator brands, whereas Whirlpool, GE, and Frigidaire hold the title of affordability. Now, the manufacturer you should look into will depend greatly on what you want.
If you want an appliance you can use for all intents and purposes and that includes several features, going for a Premium option might be a good idea. Premium manufacturers like the ones mentioned above offer things like ice dispensers, innovative designs, independent sections, and temperature controls, as well as larger storage compartments.
Granted, you can get many of these things with higher-end models from other manufacturers for a fraction of the price. But Premium brands offer superior build quality and novelty features that might make them worth the price for some people.
#2 Size
Size is also another element that should be considered carefully, as it can determine whether a refrigerator works within a kitchen, or ends up becoming an expensive mistake.
Ideally, everyone should measure their refrigerator spaces carefully before going shopping. But sadly, this isn't always the case. A lot of people seem to think that, as long as their appliance fits into the space they've designated for it, they're in the clear.
However, breathing room is necessary for the refrigerator to not only work normally, but also save power and last longer. It's recommended that you leave between 3–4 inches between the edges of your new unit and the surrounding walls. So, if the space for your refrigerator is 34 inches (0.86 m) wide, the appliance itself should be no wider than 30–31 inches.
Taking this into account can make your job of choosing what model and brand to buy a lot easier, as any options larger than your required dimensions are out of the question.
Many manufacturers offer refrigerators in small and large sizes of up to 48 inches (1.22 m); however, these are not very common. In fact, the standard "Large" size for the industry is still 36 inches (0.91 m).
A good way to save time while browsing for the perfect refrigerator is to measure your available space, write it down somewhere, and then go to the manufacturers' websites to look at their products while applying a size filter.
#3 Storage Capacity
Storage capacity can be the make or break of your refrigerator experience, especially if you're buying a really expensive model.
Refrigerators come in different shapes, form factors, and sizes, and some of them can hold a lot more food than others. Now, the average family of 3–4 people can typically get away with a standard-sized appliance to store their groceries. But if you live with more people or like storing several pounds of frozen meat at a time, you might need something larger.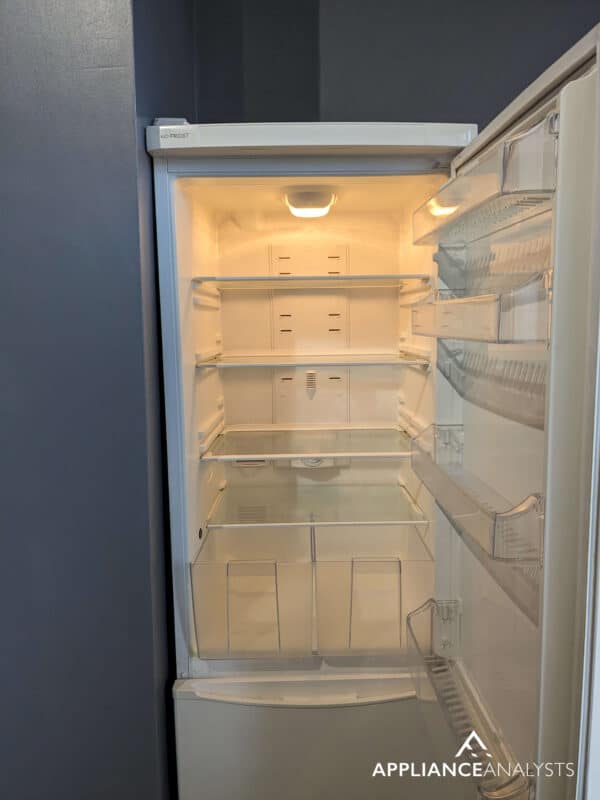 As you can imagine, larger storage capacities typically mean a higher price tag. Additional features always drive up the cost of household appliances, especially one as important as this.
To give you a better idea of the storage capacity you might need, here's a simple table:
| | |
| --- | --- |
| Number of Family Members | Recommended Refrigerator Capacity |
| 1-2 People | 5-14 cubic ft. |
| 3-4 People | 15-25 cubic ft. |
| 5+ People | +25 cubic ft. |
You can easily find the cubic ft. storage capacity of any refrigerator on the market through a quick Google search
Premium brands, like Thermador, Viking, KitchenAid, and Monogram all have options of refrigerators with a capacity of up to 29 cubic ft (0.82 m³). LG also deserves an honorable mention, as it has "super capacity" models with up to 31 cubic ft (0.88 m³).
So, if you're looking for a large appliance that can store all your groceries with room to spare, make sure to check any of these brands first!
#4 Energy Efficiency
Energy efficiency is also extremely important when looking into buying a new refrigerator. People tend to focus solely on the price tag of an appliance without also considering how much they'll be paying to run it every month.
Modern Refrigerators are built to work well while drawing as little power as possible from the wall outlet. However, the larger the capacity and the more features a unit has, the more electricity it will use. Moreover, inappropriate placement of the appliance (not giving it enough breathing room) can also contribute to excessive power draw.
Now, if you're looking into buying a +$10,000 refrigerator, you're likely not too worried about monthly utility bills, but still… why waste money necessarily?
Out of all the models analyzed in the charts above, those from manufacturers like Fisher & Paykel, Viking, Samsung, and Frigidaire appear to be the most energy-efficient models. On the other hand, brands like GE, KitchenAid, and Café seem to make the most power-hungry units.
That being said, you might be surprised by the yearly difference in running costs between all the brands, as it's, surprisingly, not that significant.
#5 Features
Features are one of the most relevant elements to consider when pricing a refrigerator, as the more there are and the more complex they get, the more customers are expected to pay to get them.
You might not be surprised when I tell you that, the most feature-packed models on the market are those sold by Premium brands like Viking, Thermador, Monogram, KitchenAid, etc. After all, offering so many things is one of the main reasons why they're at the price point they're at.
Now, this is not to say that more "affordable" brands, like Frigidaire, Whirlpool, GE, and LG are nothing but bulky blocks of cold air. These brands, also offer higher-end models with tons of features that make them great candidates for buying!
In fact, you can likely find about 85% of the features from a Premium brand on a higher-end model from a cheaper manufacturer. So, if you want most of the bells and whistles found on luxury units, I'd start by checking LG's or GE's website and inspecting their refrigerators in the +$3,000 range.
#6 Noise Levels
This might or might not be a problem for you depending on a number of factors, such as the distance between your kitchen and the rest of your home, or your tolerance for annoying noises. If refrigerator hum doesn't bother you, feel free to move on to the next section, but if it does, please read on.
While there's no such thing as a dead silent refrigerator, there are many manufacturers and models out there with quiet operating abilities. The noise level of an appliance of this kind can be determined by things like isolation, the quality of the compressor, as well as many other elements.
Some of the best quiet refrigerators out there are:
Bosch B36CT80SNS 800 Series 36 Inch Smart Freestanding Counter Depth French Door Refrigerator ($3,499): This appliance has state-of-the-art insulation technology, which combined with a 36 dB (decibel) rating, makes it a very quiet model.
Samsung RF24R7201SR 24 cubic ft. 3-Door French Door Refrigerator ($3,299): One of the quietest models from Samsung. This refrigerator has a 39 dB noise rating.
LG LMXS28596S 28 cubic ft. 4-Door French Door Smart Refrigerator ($3,299): Thanks to its linear compressor, this refrigerator is rated at only 40 dB of operating noise.
GE Profile PVD28BYNFS 36 Inch Smart French Door Refrigerator ($3,554): While it's the loudest of this lot, at only 42 dB, this is one of the manufacturer's quietest models and one of the quietest on the market as well.
I understand it can be disappointing that the quietest appliances out there are priced at the high-end level, but sadly, as it's been mentioned earlier, the more features a refrigerator has, the more expensive it will be.
There's no two ways about it.
Now, this doesn't mean that you're out of luck. In most cases, you won't need a super quiet refrigerator to keep the peace and quiet in your home. Over time, you'll both get accustomed to the humming noise, and likely won't hear it unless you're close to the kitchen anyway.
Unless quiet operating noise levels are super important to you, I'd recommend spending that extra money on a different model that offers more features.
#7 Ratings & Reviews
Ratings & reviews are the last thing I think is worth considering when looking into buying the ideal refrigerator for your home.
A couple of decades ago, getting honest opinions about appliances from people was very difficult, as we could only rely on word of mouth from acquaintances, family, and friends that owned them. Luckily, these days, having access to this information is a lot easier, so there's no reason not to use it to your advantage.
We've gathered and boiled down hard data from over 257,000 reviews to present you with this guide, but you shouldn't stop there.
Going to online marketplaces like Amazon, looking up the refrigerator you're interested in, and reading what people have to say is also recommended. Ideally, you want to check out the 20 best and worst reviews, take some notes about people's comments, and try to avoid bias as much as possible.
Another great way of determining whether a product is good is by checking if its 5-star reviews are 80% or higher. If so, you've likely stumbled upon gold!
Frequently Asked Questions About Refrigerator Brands
Which Refrigerator Brand Lasts the Longest?
Believe it or not, unless you're buying an off-brand or second-hand model, and barring any factory defects, most refrigerators should last over a decade.
There are, of course, some expectations in the Premium appliance Tier, where brands, such as Viking claim that their professional-grade models can last up to 40 years. That being said, the lifespan of your refrigerator will depend much more on proper maintenance and care over the years than anything else.
What Temperature Setting Should Refrigerators Be At?
It depends on the make and model of the unit. Every refrigerator is built differently, and as such, they have specific requirements.
To find out what the settings recommended by your manufacturer are, simply check your User Manual or go to Google and search for "<Your Refrigerator's Make And Model> User Manual. "
This should bring up several results including your manufacturer's official website, where you'll likely find this information.
How Much Is the Average Refrigerator Repair?
Depending on the make and model you own, the costs can range between $200-1,000, or more if you have a luxury model from brands like Thermador, Monogram, Viking, KitchenAid, and all those Premium alternatives.
These can be much more expensive due to the fact that many of them have proprietary components and high-quality materials that require a certified professional and the right parts for the repairs.
How Often Should I Defrost My Refrigerator?
At least 1–2 times per year. Although refrigerators and freezers are meant to operate and remain at cold temperatures, excessive frost can cause many issues, including malfunction and leaking.
Making sure to let the appliance thaw out a couple of times per year will not only help it run more efficiently and last longer, but also save you the trouble of having to call technicians and mop up the kitchen floor every other day.
What's the Best Refrigerator Type?
This depends on what you need. There are 6 main refrigerator types on the market, each with its own Pros and Cons.
To pick the best one for you and your family, make sure to take into account how much food you store regularly, your budget, and the space in your kitchen to place the appliance and let it breathe.