How To Winterize a Trampoline & Protect It From Winter
During the warmer months, a trampoline can provide hours of fun for the whole family.
But when the temperature drops and everyone retreats indoors?
It can lie abandoned in your back yard, exposed to rain, frost, and heavy snow.
In some cases, it may even be swept away or damaged by winds or storms.
Whether you've just bought a trampoline or you want to look after the one you've got, we'll show you how to winterize it – using anchors, covers, and disassembly – to ensure its safety and longevity for years to come.
The process is easier than you think. And it'll save you thousands of dollars in the long run.
Ready? Let's jump in!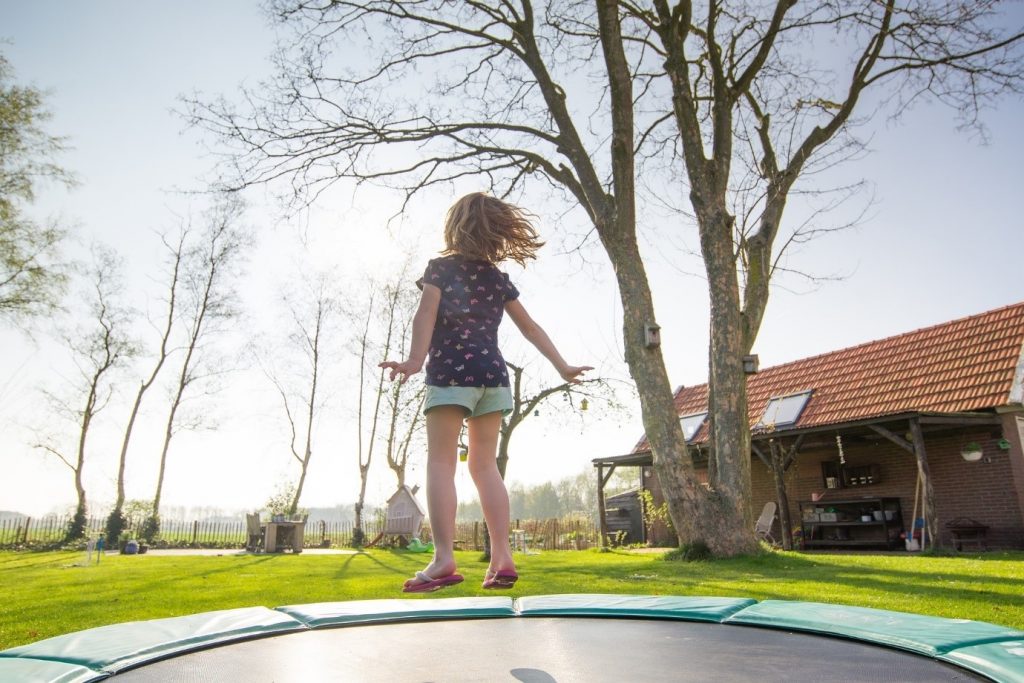 What is Winterization?
Winterizing is the process of protecting your home or garden during the cooler months.
You've probably heard about people winterizing their in-ground pools or their cars, but cold temperatures can affect play equipment too. That's why winterizing your trampoline should be part of your cold-weather preparation.
Not only will it extend the life of your trampoline, but it'll also keep it clean and jump-ready when the weather warms up again. Below are three ways you can safely winterize your trampoline.
Anchor it the ground
Most trampolines are heavy enough to stay put. But during high winds or storms, they can move or become airborne, particularly if they're small or located in an exposed area.
The base of the trampoline provides wind resistance and the netting acts like a sail, which means it can fly through the air and wind up in someone else's back yard.
Not only does this damage your trampoline, but it can also ruin property and injure people. The best way to avoid this scenario is to anchor the trampoline using a tie-down kit. These are often sold with the trampoline, but you can also buy them separately.
The kit includes straps and stakes that allow you to anchor the trampoline to the ground. It can also come in different sizes to cater for low, medium, and high wind levels.
While ties are an effective way of securing your trampoline, snow and rain can soften the soil and loosen the stakes. To avoid runaway trampolines, check these regularly to make sure they are firmly attached.
If your soil is sandy, it may be difficult to anchor your trampoline effectively. In this case, you might want to use sandbags. Make sure you've got enough to hold down the trampoline. If you don't want to use anchors, or you live in a high-wind area, it might be better to store the trampoline in a shed until the wild weather passes.
Use a cover
In addition to securing your trampoline to the ground, it's important to cover it.
This keeps the surface clean and moisture-free. Some covers will only fit the jumping mat, which means you'll need to remove the pads and netting. Make sure these are clean before you store them in a cool, dry place.
When protecting your trampoline with this kind of cover, make sure it fits snugly and securely. Many will have a hole for drainage so the surface doesn't get weighed down by pools of water.
If you have heavy snowfalls, sweep the snow off regularly with a soft brush or broom. The weight of the snow can overstretch the springs and affect the bounce – and no one likes a saggy trampoline!
If you don't want to remove the pads and netting, there are larger covers that can provide full protection. These cost more than basic covers, but they prevent the jump pads from cracking and keep bird droppings or sap off your equipment. What's more, they minimise moisture, which can prematurely rust your springs and affect the appearance and performance of your trampoline.
Disassemble and store
If you have space in your shed or garage, you might consider disassembling your trampoline. It'll save you the trouble of anchoring and covering it, not to mention sweeping off the snow and leaves.
Every trampoline will have instructions for disassembly, so consult your manual. Whatever you do, make sure the trampoline is clean and dry before you store it. This'll prevent the growth of mould or mildew.
While you might find it time-consuming to dismantle the trampoline, at least you'll know that it'll be free of dirt, moisture, and damage during the winter months. And once you've assembled and disassembled your trampoline a few times, it'll get easier and become part of your yearly routine.
On the other hand, if you're lucky enough to have a large garage or storage area, you could store the trampoline without having to dismantle it. Make sure you cover it with a tarp or sheet to keep out dust and bugs.
Can you leave a trampoline out in winter?
Trampolines can be kept outside in winter as long as you protect them with anchors and a cover. But if you live in a warm climate and the trampoline is used all the time, you probably don't need them.
However, if you're expecting an extreme weather event, or you're going away on holidays, consider protecting your trampoline with one of the methods above.
If you do experience cold winters and don't want to cover or store your trampoline, you might want to buy a spring-free trampoline. Made from galvanised steel, they have rust-free rods and UV-resistant mats, which means they won't weather as quickly as other trampolines. Take this into account if you're buying one for the first time or replacing an old model.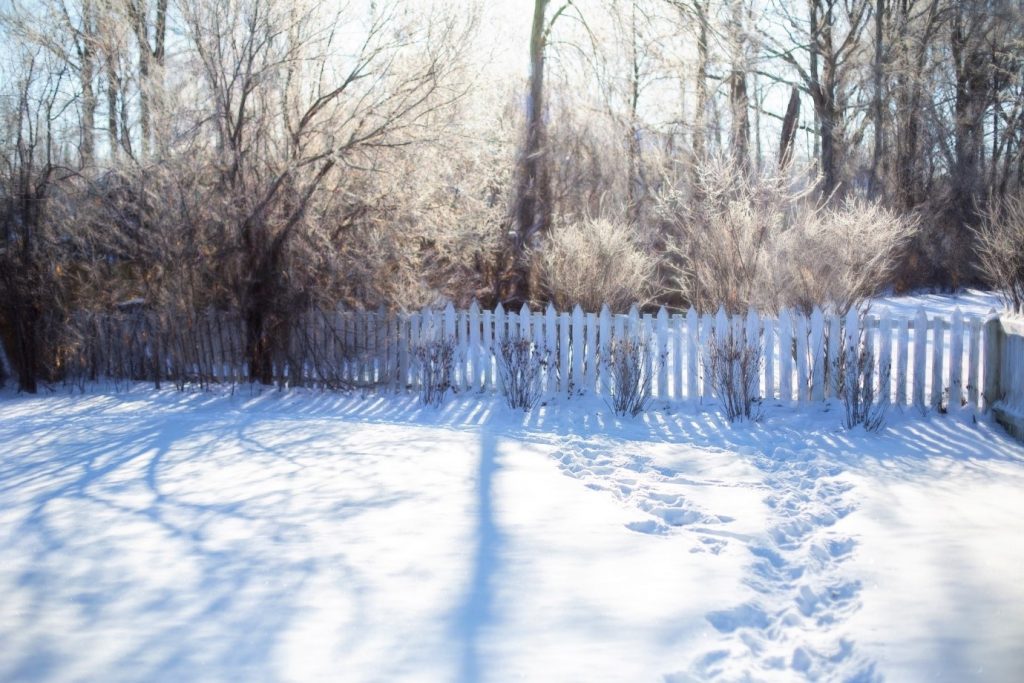 Is it okay to jump on a trampoline when it's wet?
It doesn't matter where you live or what season it is, your trampoline is going to get wet. It might be the result of dew, rain or running a sprinkler on your lawn. Either way, it can be tempting – and even fun – to jump on a wet trampoline.
In theory, jumping on a wet trampoline shouldn't be a problem. After all, the net and pads should cushion the fall. But jumping in these conditions isn't risk-free. Falling frequently or at odd angles, which is common on slippery surfaces, can result in neck and head injuries, particularly if you've got more than one person or child on the trampoline.
This is why jumping on a wet trampoline is discouraged by many trampoline manufacturers.
However, you might have across trampoline sprinklers that can be attached around the trampoline's netting to provide a cooling mist. Popular with families during the hotter months, they're designed to reduce the temperature inside and make the black jumping pad cooler. While these sound like fun, make sure you supervise children carefully when this feature is activated, and only allow one child at a time on the trampoline.
If you don't have netting or padding on your trampoline, it's best to wait until the trampoline is completely dry before anyone jumps on it. If your kids are impatient, use an absorbent towel to dry the surface thoroughly. And remember, trampolines – either with or without netting – are not recommended for children under six years old.
Why does my trampoline squeak?
If your trampoline is left outside without protection, it's springs or joints will become exposed to moisture. Over time, the combination of iron, oxygen, and water will cause rust. That's why you hear a squeaking sound when someone jumps on the trampoline – the rusty springs are rubbing against each other.
To remove the rust (and the squeak), spray a rust remover and follow the instructions on the label. If you prefer a natural approach, try mixing the juice of two limes and half a cup of salt. Apply the paste to the rusty springs, leave for a few hours, then scrub with a small brush.
Once you've removed the rust, apply WD-40 to the springs. This acts as a lubricant and inhibits corrosion. If the squeak is still there, check other parts of the trampoline for damage. You might need to replace a spring or grease the joints.
To prevent squeaks from happening in the first place, use a water-repellent spray on the springs and frame to stop moisture from causing rust. Alternatively, store your trampoline in the garage or winterize it according to the recommendations above.
Conclusion
Winterizing a trampoline should be part of your yearly routine.
By using an anchor and cover, you can avoid runaway trampolines, unsightly stains, and overstretched springs. For a more secure solution, you could dismantle the trampoline altogether and keep it in your garage until you're ready to use it again.
These simple steps will ensure that your trampoline stays clean, safe, and damage-free during the winter months. While these measures take a little time, it's a small price to pay when you consider the cost of repairing or replacing your trampoline – or paying damages when it blows into your neighbour's window!
To learn more about the ways you can winterize your home and garden, check out the articles below.