Where to Buy Coravin: How to Find the Best Deal
Were you one of those people hoping to buy dad a Coravin system for Father's Day this year? Or maybe there's another holiday on the horizon and you're wondering where to buy Coravin, and who would be offering the best deal.
Well, if you're a savvy shopper, you've come to the right place.
The best place to buy Coravin is often directly from the manufacturer. You're assured excellent customer service, so you know any issues that might arise will be handled. Not to mention they often have deals and bundling options.
Of course, there are other reputable places to purchase as well, so doing your due diligence is a good idea.
Or let me do the due diligence for you, while you just sit back and read the findings of my research.
Note: this post may contain affiliate links, meaning when you click the links and make a purchase, we receive a small commission.
Where to Buy Coravin
Clearly, the manufacturer isn't the only place to make this purchase.
Here is a list of some of the major retailers that carry Coravin products:
Amazon
Bed Bath & Beyond
Best Buy
Instead of providing prices for each retailer—which we don't do since prices change regularly—I'll discuss the advantages or disadvantages of buying from each. As for pricing, I encourage you to check current pricing at each retailer.
Let's progress through this alphabetically, but start with Coravin themselves.
But first . . .
What is Coravin?
I know there may be readers who have stumbled on this article and they're wondering what Coravin is, so I'll give you the highlights here. If you want to dig a bit deeper, please check out this detailed article on the different Coravin systems.
Coravin helps you preserve the life of a bottle of wine by allowing you to pour it without removing the cork. This is especially great for those times you want a glass of wine, but you don't want to open a bottle knowing you'll never drink it all.
A Coravin system gives you the freedom to drink whatever wine you want whenever you want it. Leaving you with the rest of the bottle to enjoy at another time.
If you're interested in the other accessories they carry, please visit Coravin directly.
Now, for the retailers who carry it.
Coravin
As mentioned above, the best place to buy an item—especially an item that may cost you a few hundred dollars—is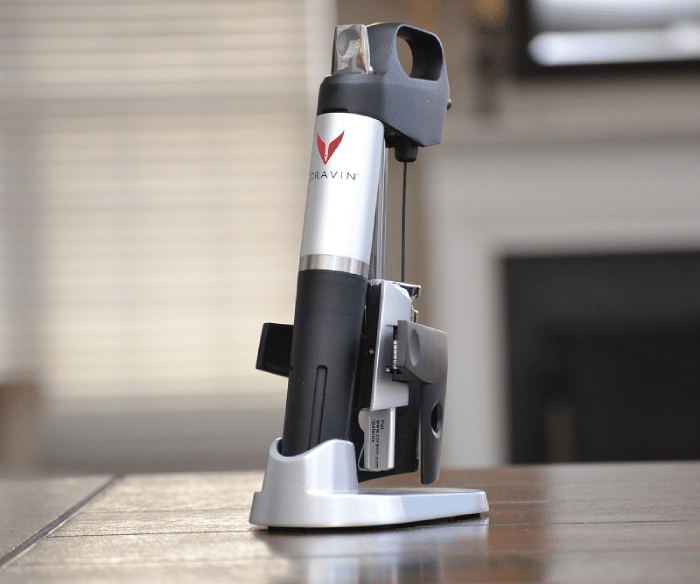 Coravin also offers seasonal deals. So if you're shopping for Mother's or Father's Day, Valentines, Christmas, whatever, it's good to check to see what deals they may have on at any given time.

Finally, if sending the product as a gift, you'll end up with better quality packaging.
Amazon.com
At the time of writing this, Amazon lists nearly the entire Coravin lineup including Model Six, which many claim to be the best all-round choice.

Do I really need to discuss the pros and cons of Amazon as a vendor? Haven't we all at times over 2020 and 2021 been locked in our homes and doing most of our online shopping there?

Well, yes. But you're probably not as concerned about your toilet paper—okay, bad example. There was great concern for toilet paper, but typically speaking, when buying a higher end product, we want some assurances.

So, is Amazon trustworthy?

There is no denying Amazon has a problem with fakes and knockoffs in the store. Off the top of my head, there are two brands that pulled direct distribution from Amazon because of counterfeiting and knockoffs. Birkenstock and Nike.

Is this a problem with Coravin products? A Google search says no, so you shouldn't be worried. If at the time of your research, Amazon has the best deal on Coravin, feel confident about your purchase.
Amazon: Third-Party Sellers
This touches on the counterfeit problem mentioned above. When buying anything from Amazon it's usually best to look for products that indicate they are shipped and sold by Amazon. If not, you are buying from a third-party seller who could be shipping anything from anywhere.
Amazon: Return Policy
Counterfeit issues aside, Amazon is a very customer-centric retailer and will do the best they can to work with their customers.

They also have an excellent 30-day free return policy. In most cases, you can return anything, at their expense, for any reason.

Not sure which Coravin system you want? Want to try out a few of them? Shopping at Amazon means you can buy and try. Either all at once or individually.
Amazon: Free Shipping
If you have Amazon Prime you really don't need to worry about shipping. If you don't, as long as you're ordering over $25 of eligible items, you'll get your shipping free.
Amazon: Will They Have the Best Deals on Coravin?
In the world of retail, Amazon is a powerhouse. Meaning they have the buying power to demand discounts they can pass onto their customers.

So it's always a good idea to check for deals there. And I'll let you in on a secret. There is a way to check the price history on items that Amazon sells.

CamelCamelCamel.com is an Amazon price tracker. It tracks price history, but you can also watch prices and be alerted to drops in price. As an example, the following URL will take you to a Coravin product. https://camelcamelcamel.com/product/B0843QNLWY you can see that in the last six months the price has fluctuated between $250 and $400.
Bed Bath & Beyond
At the time of writing, Bed Bath & Beyond carried four of the Coravin systems and an assortment of their accessories.

Bed Bath & Beyond has a membership program that costs US$29 per year. Unlike Amazon Prime which gives its buyers free shipping and other non-shopping related perks, a Bed Bath & Beyond membership offers free shipping plus 20% off every purchase, every year.
Bed Bath & Beyond: Return Policy
Since they are a brick and mortar store that also offers online shopping, how you purchased your item will depend on how you return it.

Like Amazon, they do offer free returns for online orders in most cases, but there are exceptions.
Bed Bath & Beyond: Free Shipping
If you're a member, you get free shipping. If not, they offer free standard shipping on orders over $39.
Bed Bath & Beyond: Will They Have the Best Deals on Coravin?
If shopping for Coravin, or anything for that matter, be sure to calculate how much you would save against Bed Bath & Beyond's $29 membership fee.

Here's an example. The Coravin Model Six system is $60 cheaper if you have a membership that costs $29 annually and you can cancel at any time. So if any other retailer is offering the Model Six at the same retail price, be sure to consider getting the membership.

Retailers often have sale prices on items at the same time, so even if you know Amazon, Coravin, or anyone else has an item on sale, check Bed Bath & Beyond Pricing with the membership deal to see who really has the best deal—because this might be it.
Best Buy
At the time of writing, Best Buy stocked four Coravin systems plus accessories.

Best Buy also has a membership program, but it's points-based. You can collect points on eligible purchases, as well as get exclusive and early access deals. It's free for the first tier, and you won't get blanket discounts like you would with a paid Bed Bath & Beyond membership.
Best Buy: Third-Party Sellers
Like Amazon, there are third-party sellers on Best Buy, called Marketplace sellers. As with Amazon, a degree of caution might be a good idea with buying from them.
Best Buy: Return Policy
Their policy states that most items can be returned for refund or exchange either 14 or 30 days depending on the product.

Best Buy does not offer free returns, the cost of the return is your responsibility.
Best Buy: Free Shipping
If you're a member of the entry-level tier membership program, you're eligible for free shipping. Otherwise, free shipping is offered on orders over $35.
Best Buy: Will They Have the Best Deals on Coravin?
Just from this research, I can tell you that unless Best Buy has an exclusive offer running on Coravin, they won't have the best deal.

If they do have an offer running, be sure to check if Bed Bath & Beyond has the same sale price. If they do, it might still be cheaper to make your purchase there, after purchasing the membership.
Conclusion
There are at least two important takeaways here if you're looking for a good deal on a Coravin system. Okay, three.
First, check the Coravin website for any deals they may be offering. If they are, there's a good chance other retailers are as well.
Second, check the camelcamelcamel.com website along with Amazon's ASIN number to find out price history and get price alerts. ASIN numbers of each product are available in the product information section on Amazon product pages.
Third, always check the price at Bed Bath & Beyond and see if the $29 fee for an annual membership—which gives you a 20% on everything—will save you money.
Hopefully, you've found enough info to help you here, so thanks for sticking it out to the end. Why not check below and see if there's anything else we can help you with.