Last updated
January 6th, 2023
Why be forced to serve the wine that's aleady open when you could serve whichever one you want? But which wine preserver is better, Pungo or Coravin? Raise a glass and keep reading to find out.
Pungo
Coravin
A sealing pin or cap preserves the wine
No free shipping
5-year warranty
Cheaper argon
Fewer color options
The cork reseals to preserve the wine
Free shipping over $751-year warranty
More expensive argon
More color options
Now, we've covered some of the basic differences between Pungo and Coravin. But if you're a real wine enthusiast, you'll know that there is a lot more to it than that. So, let's crack on with some additional differences between these two brands by means of the comparison below.
The Differences Between Pungo and Coravin
Pungo is a fantastic wine preserver. It allows you to pour wine without removing the cork. It does this through a double-chambered needle which aerates the wine as it falls into the glass without bringing the wine into any contact with oxygen. Because of this, the wine stays fresh for months or even years.
Coravin is also a brilliant wine preserver which gives you the ability to pour wine without removing the cork. All you will need to do is to push the needle through the cork and pour. The Timeless Coravin systems work on all cork-sealed wines. They keep wine fresh for months or even years after you have first opened them.
The Pungo vs Coravin debate is one that wine connoisseurs across the nation as involved in. So, which comes out on top? Pungo or Coravin? You'll find out the differences between the two and which is best for you coming up next.
The Wine Preservation System
What is one of the biggest topics for deliberation against Pungo and Coravin wine preservation systems? The method that the preserver uses to keep the wine fresh. Both Pungo and Coravin kits claim to keep wines fresh for weeks, months, and even years after their first opening. What is surprising about that though is that they use very different methods to achieve this.
Pungo wine preservation kits allow you to pour the wine through a double-chambered needle. This needle pierces through your cork and displaces the wine using inert gas. You can leave the Pungo on the bottle and store it on its side or upright.
You can also remove the Pungo to store the wine. This is handy as you can continue to use the Pungo to pour other wines. When you remove the Pungo, you will need to seal up the hole in the cork using a sealing pin. The sealing pin helps to compress the entire cork and keeps the wine fresh.
Not sure about the capability of the Pungo's sealing pin? Then here are a few facts about it that will help to put you at ease:
The sealing pin will not wear on the cork as it is covered in a non-stick coating. You can insert it and remove it into the same cork indefinitely without doing any damage to it.
The sealing pin helps to provide a tighter seal than a cork would on its own
The pin slides through the cork with little effort
The pin compresses the cork
The team down at Pungo also has another trick up its sleeve that helps your wines to stay fresher for longer. As well as a sealing pin, you can also use a sealing cap. This cap has a tri-seal that helps to further preserve your wine.
Coravin uses an entirely different method to preserve their wine. It serves wine using a needle through the cork. But when you remove the needle, Coravin relies on the self-sealing properties of cork to preserve the wine and keep it fresh.
But, does it work? Homeowners across the globe choose Coravin for their wine preservers. They all state that their wine is able to stay fresh for months or even years using this method.
For the freshest wine, choose Pungo's sealing pin and cap.
Argon Prices
When you buy a wine preserver, you might get some free inert gas included in the kit. But once those pressurized capsules run out, you will have to buy your own. So which set of capsules will be easier on the purse strings?
Pungo argon cartridges are cheaper than Coravin argon capsules. A box of 10 Pungo argon cartridges will cost about $50. Pungo has some money-saving deals when you buy a box of 100 cartridges.
One Pungo cartridge will give you the following:
25 to 30 Pungo glasses
Threaded cartridges
18.1 cent price per glass
100% pure food grade argon gas
Coravin argon capsules are more expensive than Pungo's. Although they are delivering practically the same product, it is a lot dearer. But you can save a lot of money on their capsules if you subscribe or become a club member.
Coravin sells its argon capsules in boxes of 3, 6, 12, and 24. The more capsules you purchase, the more money you will get off of the overall price. A box of 12 will come to you at just under $100. But as I said earlier, you can save a lot by subscribing. A subscriber will pay just under $60 for that same box. The membership is truly worth it!
One Coravin capsule will give you the following:
15 glasses of wine with the Timeless system or 20 glasses of wine with their Pivot system
High level of preservation without altering the taste of your wine
100% pure medical grade 5.0 argon gas
For the most economical argon cartridges, you should choose Pungo.
Shipping
Pungo does change its offers from time to time but doesn't currently have a free shipping offer. If you are going to purchase a wine preserver from them, bear in mind that you will need to calculate the additional price of the shipping. Thankfully though, their website has a shipping cost calculator. You can use this to estimate the final cost of delivery before you purchase.
Coravin, on the other hand, offers free delivery on orders over $75. This is great news as all of their wine preservers top this price so you can be sure that you'll bag free delivery. You must be aware that this offer is only valid for ground shipping.
To save money on delivery costs, choose Coravin.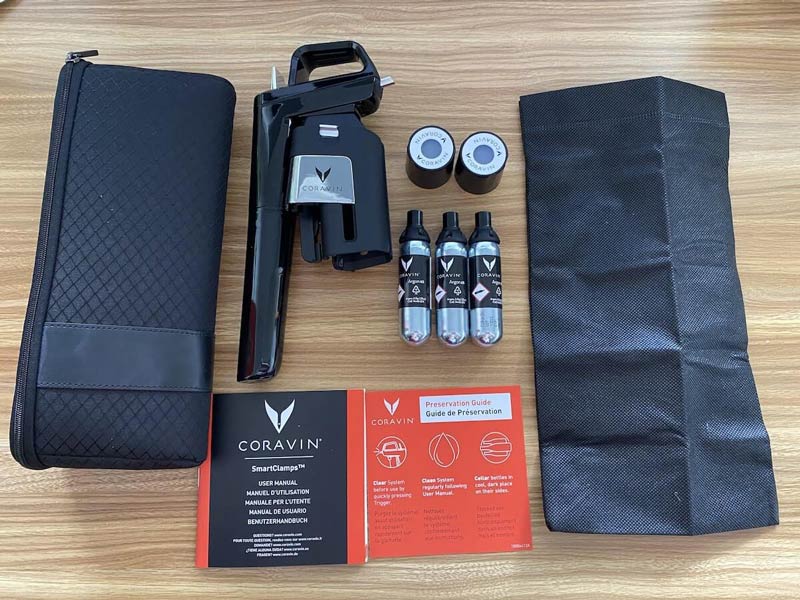 Warranty
Would you like to purchase a wine preserver that gives you real peace of mind? Then allow Pungo to help you to do that. Your purchase with Pungo will give you a 5-year warranty effective from the day you buy the system. Now, nothing says stress-free purchase better than a 5-year warranty, right?
It is important to remember though, that Pungo's warranty only covers use in the United States.
Coravin will also give you a warranty with the purchase of wine preservers, but theirs is not as generous in comparison to Pungo's. A Coravin warranty will last you just one year. But they also offer you a 30-day risk-free trial. This allows you to test the product with a 30-day money-back guarantee. There's nothing to lose!
For the longest warranty, you should choose Pungo.
Color Options
Your choice of wine preserver says a lot about your style, and so does the color you choose to buy it in. Pungo wine preservers come in a choice of three main colors. They are:
Coravin wine preservers are available in more color options than Pungo's. This helps you to choose a kit that suits your style and even the design and colors of your kitchen or dining room. The Coravin Pungo collection is available in:
The Coravin Timeless collection comes with different sleeves that bring life to a bottle of wine and also help you to protect it. You can purchase the Timeless collection kit in the following colors:
Piano black
Silver
Midnight blue
Burgundy
Artist Edition
If you'd like to add a splash of color to your wine bottle, you should choose Coravin.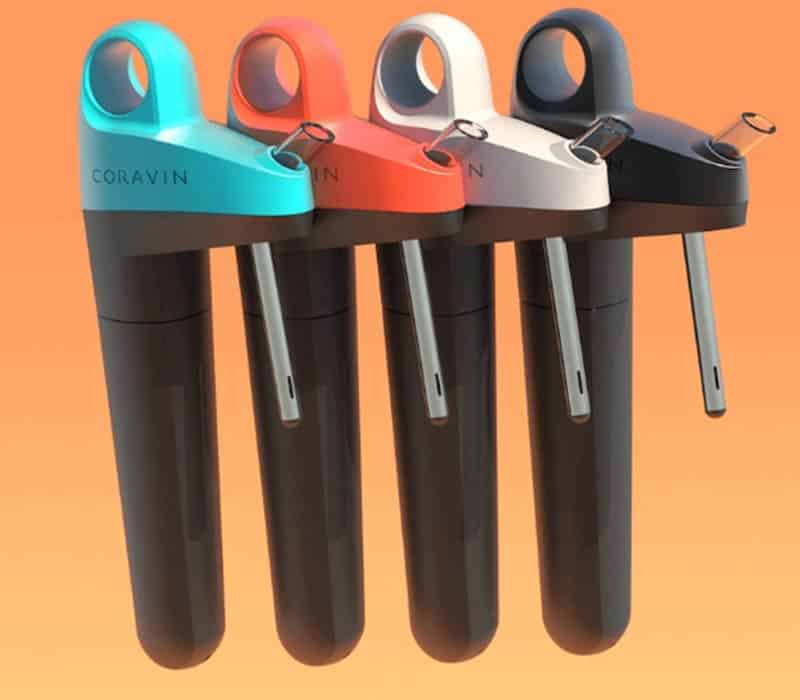 The Ultimate Pungo Review
Pungo has created a system that helps you to pour wine without removing the cork. Why? To displace wine using inert gas through a double-chambered needle and prevent its contact with oxygen. This helps to keep your wine as fresh as it was on the day you opened it years later.
The innovative technology that Pungo uses stops you from having to serve wine that is already open. It gives you the freedom to open as many bottles of wine as you would like. It gives you tonnes of options and provides you and your guests with the best wine and dining experience.
Verdict
Pungo is a great wine preserver for those that are keen on using top-quality tools to keep their wine fresh. Pungo uses a sealing pin and sealing cap to help keep your wines like-new for months and even years. They sell high-quality inert gas that will help you to displace your wine economically. The company also offers a 5-year warranty for worry-free purchases.
Pros and Cons
Pros
Cons
Use of a sealing pin or sealing cap to help keep your wine fresher for longer
5-year limited warranty
Economic
100% argon capsules
No deals on shipping costs
Limited color options (only silver, burgundy, and black)
The Ultimate Coravin Review
Coravin has designed a system that helps you to pour wine without removing the cork. Their mechanism relies on the natural ability of cork to reseal and preserve the freshness of the wine.
Coravin wine preserver kits are modern in design and come with handy features that any wine enthusiast will love. The kits come with many accessories that will ensure your wine stays in the best condition for years on end.
Verdict
Coravin is an excellent wine preserver that is great for those that are looking to add a personal touch to their wine. Their kits are available in an array of colors that will help you add a touch of pizazz to your dining experience. The kits come with some great money-saving deals such as economical shipping.
Pros and Cons
Pros
Cons
Keeps wine fresh using the natural resealing capability of cork
Great money-saving shipping deals on large orders
Kits come in a variety of colors that help you personalize your wine
Pricier argon cartridge prices
Only comes with a 1-year warranty
Conclusion
So which wine preserver is the best of the two? Pungo or Coravin? You should choose Pungo if:
You would like your wine to stay fresh using a sealing pin or sealing cap
You want the protection of a lengthy 5-year warranty
You are looking for the most economic argon capsules
You should choose Coravin if:
You would like your wine to stay fresh using the natural reseal of a cork
You want to save money on ground shipping
You like to personalize your wine collection with different colors
If this article has helped you, please consider supporting us by checking out some more of our free guides or signing up to our e-mail list.
Thanks for reading, and have a great day!
Cheers,
Craig