Last updated
February 21st, 2023
Plywood is a type of wood you would use for kitchen cabinets and shelves if you're planning on doing some renovations for your kitchen. It gives off a stylish look for your kitchen and is cheaper than some of the alternatives.
Cabinets are an important part of your kitchen. They can come in a variety of sizes, styles and designs and can be stock fitted or custom fitted.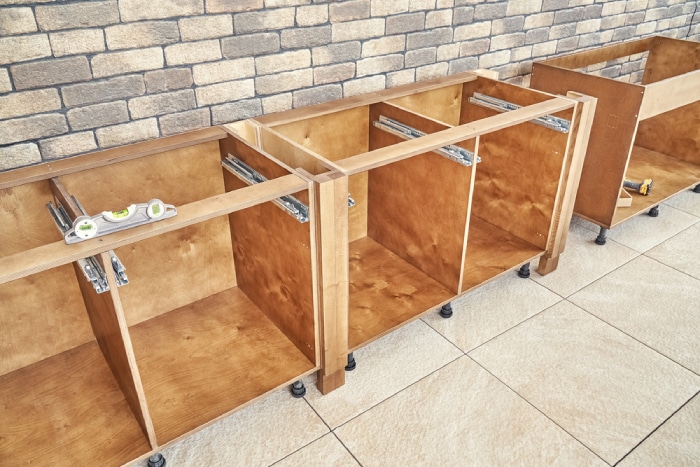 With so many options to choose from, it's easy to feel overwhelmed. Lucky for you I have researched plywood kitchen cabinets so that you don't have to! This guide should help you make your pick for the right plywood option for your kitchen!
A small detail to note before we get started is that this guide will only be covering plywood options for kitchen cabinets. Other options are still available to you and some are, in fact, fantastic options. If plywood is not your cup of tea, then I would highly recommend checking out some of the other options.
Alright, without any further delay let's get into it!
What Is Plywood?
Plywood is an engineered wood which is manufactured by gluing together thin layers of veneer wood. These layers are glued 90° adjacent to each other to prevent the wood from shrinking or swelling.
Plywood has been an industry staple for furniture for nearly 2 centuries. Over the years, many improvements have been made to how plywood is manufactured which is why modern plywood is very strong and durable.
Types Of Plywood
Since plywood comes in many different forms this guide will only be covering the different types of hardwood plywood which is used specifically for furniture and other projects that require strong frames.
The six main types of hardwood plywood used for kitchen cabinets and other similar projects are:
Birch plywood
Bamboo plywood
Oak plywood
Maple plywood
Walnut plywood
Poplar plywood
Why Would You Pick Plywood Over Other Options?
Plywood is a sustainable option when it comes to kitchen cabinets.
Out of all of the options available, Birch is probably the most popular choice for choosing plywood when it comes to kitchen cabinets.
Birch is a fast-growing tree which adds a level of sustainability not seen on other options. Bamboo on the other hand is also a good alternative as it's eco-friendly.
Plywood is manufactured using minimal chemical materials and adhesives. This adds to its sustainability and eco-friendliness.
Another reason to pick plywood over other options is due to the fact that it's a very strong material. Using Birch as the plywood material, not only do you get a strong finish, but this also means the wood is resistant to rot and will last many years.
It may not be the cheapest option available, but it's still more inexpensive when compared to options like oak wood.
MDF is a cheaper alternative to plywood however it is not as sustainable. When compared to MDF what plywood lacks in cost effectiveness it more than makes up for in its quality and toughness of materials.
Plywood is also a great option if you're going for a stylistic and minimalist approach towards your kitchen. It's a simple yet modern look that will leave your guests impressed.
Options For Applying Finishing Paint To Your Plywood Cabinets
Plywood on kitchen cabinets are usually painted in different colors depending on the theme you're going for.
Many people choose white for a contemporary look. On the other hand, many people go for bright colors for a more fun and livelier look.
The most common look for plywood kitchen cabinets is a blend of bold colors such as teal or orange. This can provide a wonderful mid-century style look to your kitchen.
There's a whole plethora of styles to choose from when it comes to painting your kitchen cabinets. I would highly recommend looking at different styles and seeing what works for you the most.
How Thick Should Plywood Be For Cabinets?
When you're making the decision you also must take into account how thick the plywood for your kitchen cabinets should be. But why is thickness so important?
Well, the thickness of plywood determines whether or not your cabinets will be structurally sound and durable.
This means that the thickness of plywood is directly related to how long your kitchen cabinets last.
For the sides of the cabinet, I would suggest using 3/4-inch, 5/8-inch, or 1/2-inch plywood. The first two options mentioned are well complemented with European style hinges. The third option will help you save on cost and weight.
You can also use 3/8-inch plywood to construct the kitchen cabinet front doors. If you're not looking for such an intricate design, then you can use 1/4-inch plywood panels instead for simple frame and panel doors.
How Thick Should Plywood Be for Shelves?
When it comes to the shelves for the cabinets, I would recommend going for a 3/4-inch plywood sheet. The standard sizes of plywood available are 1/4-inch, 3/8-inch, 1/2-inch, 5/8 inch and 3/4 inch.
You would definitely want the thickest available plywood size. This is mainly due to the fact that you will be putting a lot of weight on these shelves. So you would want them to be as sturdy as possible and not collapse due to the weight.
Plywood sheets thicker than 3/4 inches can only be made through special orders. Therefore, going with the 3/4-inch thick size is your best option.
Of course, if you're handy with tools then you can glue together thinner sheets of plywood to make thicker sturdier shelves.
Pricing of Plywood for Kitchen Cabinets
The price of plywood varies depending on a number of factors. Most of them have been mentioned previously in this guide.
These factors include the thickness of plywood sheets used for the cabinets as well as the different types of paint finishes That you chose to apply based on your personal preference.
Conclusion
Renovating your kitchen can be tricky for most people. Choosing the right kind of materials can be tough, especially if you don't have enough information on said materials.
Plywood for kitchens is not something the average person has enough knowledge about. The right decision here can last you for more than a decade or two.
That is why I hope this guide has helped you in making that decision.
From the different thickness, to the various paint finishes available at your disposal, to why plywood is such a great option for kitchen cabinets over some of the other alternatives available, I hope you have found this guide to be both informational and educational.
If you found this to be an interesting read, make sure to check out some of our other articles!
Thanks for stopping by and enjoy the rest of your day!
– Craig