The Best Design Ideas for Outdoor Fireplaces with Pizza Ovens
In the whole world, there's two things that bring people together the most:
Fireplaces
Pizza
Combine the two of these in a stunning outdoor fireplace with a built-in pizza oven? And you have a recipe for the most memorable gatherings with family and friends.
Getting yourself an outdoor fireplace with a pizza oven is no easy feat. It's not like you can simply buy one from the supermarket and drive it home!
If you're looking to build or buy a pizza oven fireplace, I've covered all the different options below.
But first, I've collected a whole bunch of amazing ovens to get the design ideas flowing. Which do you think will look best in your garden?
Design Ideas for Outdoor Fireplaces with Pizza Ovens
In the market for an outdoor fireplace or pizza oven? Here's some amazing design to whet your appetite.
First up is this basic model offered by FireSpeaking.
I say basic, as it's simply a patio woodfire pizza oven and barbecue setup.
Still – I almost feel wrong using 'basic' as a word here. This is still a dream setup! Pizza and BBQ in a covered patio? Perfection.
The one issue is the slight lack of space and older design. Let's crank it up a notch…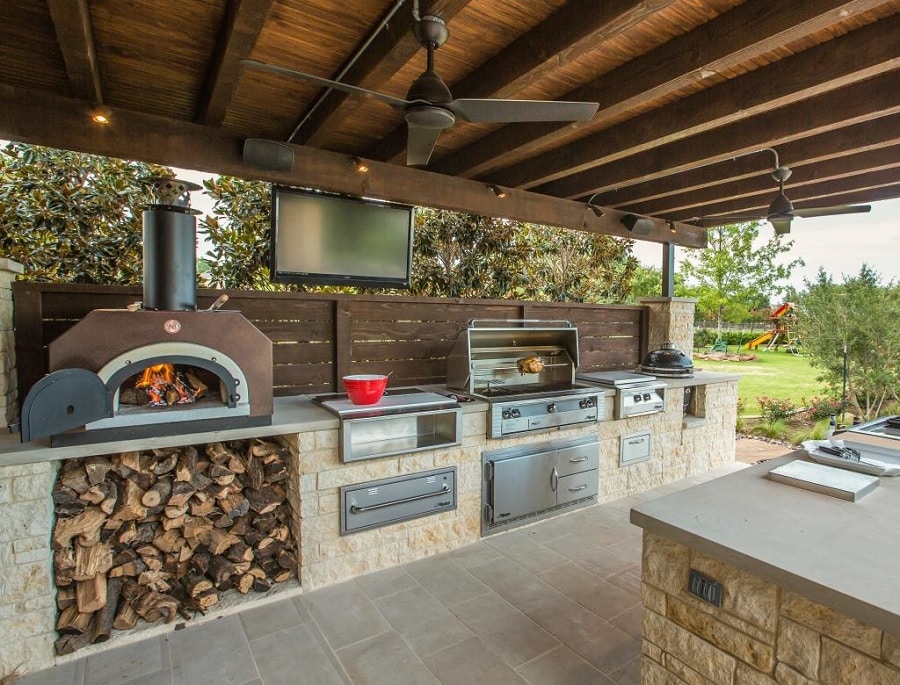 How about this incredible outdoor kitchen design featured on Livabl?
It's literally a dream kitchen. Wood-fired pizza oven, multiple BBQ options, warming trays, standard ovens, and plenty of counter space. Maybe this is all too much, though.
Maybe you just want to focus on the fireplace and pizza oven.
Well..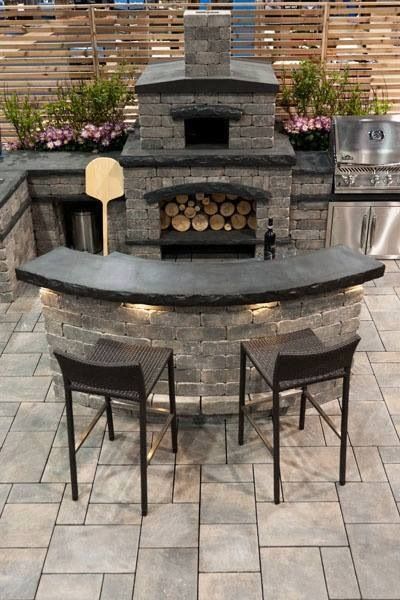 How about a pizza oven, barbecue, AND a small island to serve on?
Treat your friends to the most amazing homemade pizza with this design found on Pinterest.
But back to the main point.
We're looking for pizza ovens which are also outdoor fireplaces.
As I'll explain in the section below, this isn't exactly possible as the pizza needs to be cooked next to the flame. The solution? Choose both.
A stunning fireplace, and a pizza oven.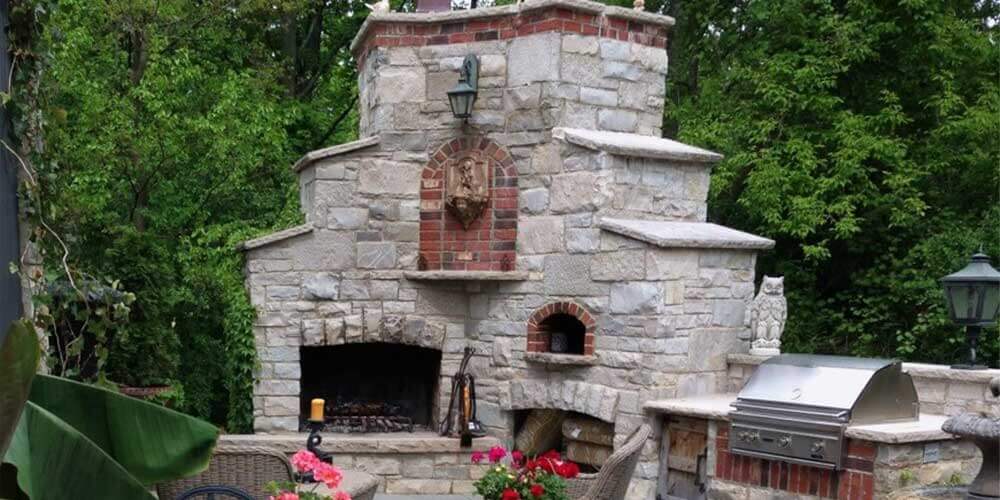 As you can see by this design featured on Piaci, these lucky homeowners have a beautiful large fireplace in combination with a pizza oven.
Bear in mind – this will take quite a lot of work. You'll need to light and manage both ovens seperately. But it's the only way to get truly amazing pizza in addition to a roaring fireplace.
The other way is to use the fireplace to actually heat your food. This won't get it hot enough to properly cook a traditional pizza, but that doesn't mean it doesn't work: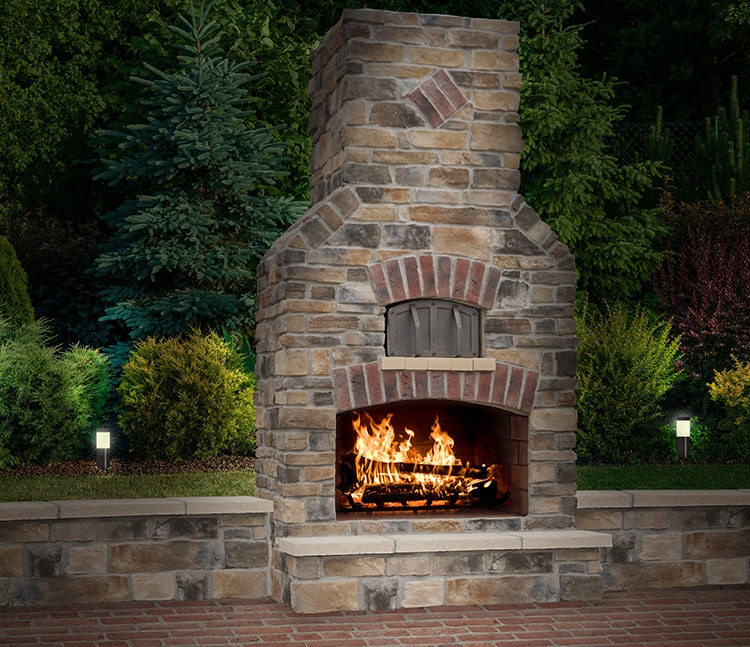 This incredible fireplace/oven setup can be purchased from RoundGrove Products.
The fireplace speaks for itself, and the oven will still get hot enough for most dishes – especially good for roasting meat or potatoes. It just won't quite reach the sky-high temperatures for a truly classic pizza.
Let me explain..
Can You Get A Fireplace Which Is Also A Pizza Oven?
This is honestly a good question.
If you're looking for a beautiful fireplace with a pizza oven on top – I've got bad news for you. It doesn't quite work.
Reason being that pizza ovens – especially wood fired ones – need the pizza to be cooked with the fire. The oven needs to get so unbearably hot to get a perfect Neapolitan pizza – over 400C / 800F!
This means that you would need two fireplaces. The atmospheric fireplace below, and the pizza oven fire above. One fire can't do both.
That said, there are some beautiful outdoor fire-based pizza ovens, and there are also outdoor fireplaces combined with a normal oven. This won't get hot enough to cook a pizza, but it'd be more than hot enough to cook most roasts and other dishes.
Options to Buy or Build an Outdoor Fireplace with a Pizza Oven
You may know someone with a great outdoor fireplace. And you may have a friend who has an outdoor pizza oven. But having both combined into one is a rare thing.
It's rare for a reason – generally you need to involve a contractor or be ready to really roll your sleeves up yourself. To help make things simpler, I've collated the different options below.
Option 1: DIY!
The first (and most daunting) option is to get your hands dirty and build an oven yourself.
Don't take this for granted – these are big undertakings. It's a lot of work requiring different materials (including forming cement around a mold). However, it's also the cheapest option to get a fully custom job, and can be a fantastic summer project to do with the kids.
Now, there's no official guide to this. I'd recommend starting off by watching a few videos on YouTube to give yourself an idea of the steps you'd need to follow.
Here's a very popular one which is straight to the point:
Once you understand the basics, consider finding an actual step by step guide online. These can be found for free, but some more professional grade guides are available at a small cost. However, most of these guides are for standalone ovens. You'd need to adapt it yourself to combine with an outdoor fireplace.
Note: some 'DIY Kits' are available for a few hundred bucks. These come with basic tools and molds you can use to make the building process much easier. However, be aware that the really expensive ones are actually…
Modular / Pre-Cut Oven Kits
The most popular way to construct a custom pizza oven is through pre-cut modular kits. These are like a much more simplified DIY version.
Essentially, pizza oven companies assemble the oven in 'parts'. These parts are assembled into a 'kit', which is sent in a huge box straight to your door.
Then, all you need to do is follow the detailed instructions they provide you. Here's an example of from the founder of a top modular pizza oven company – Flamesmiths.
Compared to DIY, modular kits are much quicker and with a (let's be honest) better end product. However, they're much more expensive and your design options are limited to what the company sell.
Full Build Outdoor Pizza Oven
The biggest option in this list is to hire someone to fully build an outdoor pizza oven.
The scale here is endless – you can ask them to put together a premade design, or work with you to create the fireplace of your dreams.
While it's obviously the most expensive, this is the only option which will give you the truly amazing pizza ovens you see in the gallery above.
The other advantage is that a custom build can add it's value (and more) to your home. A fireplace like that will be such a strong reason for buyers to want your home, and massively increase the chance you get higher bids should you ever choose to sell.
Do note that these can be time consuming, especially if you're looking to draw up a bespoke design.
Portable Pizza Ovens
Are these grand designs seeming a bit daunting? Don't forget you can still have incredible backyard pizzas with a portable oven. While they're not built-in or remotely aesthetic, they are fully capable of producing stunning Neapolitan pizzas that can rival even the best local pizza restaurant.
As an appliance expert, I've written thousands of words around the various portable ovens. I'd recommend checking out our run-down of the best three in this comparison post.
Alternatively, Ooni pizza ovens are so good they also warranted their own comparison post.
These ovens have the added advantage of being truly portable. Meaning you can take them camping, take them to a friends, or simply keep them at home and take your friends to pizza paradise!
Wood vs Gas Pizza Ovens
When it comes to pizza, there's two types of fuel you can use to cook it.
The first is traditional – mainly wood, but also charcoal.
The second is modern – gas (propane or natural).
When creating your own oven, you may be posed with the question of which fuel type to choose. Smaller ovens can be made to run off gas, but maybe won't suit wood. Alternatively, combining an oven with a fireplace may mean you can't get a gas line in there.
In short, wood/charcoal is the more authentic option. It gives you the most flavor, and is the real pizza experience. However, it also takes much longer to heat up, needs more care and maintenance (not to mention a supply of firewood), and is more challenging to learn.
Gas heats up much quicker, and is more reliable at producing a steady temperature. However, you won't get the added flavor from cooking with traditional fire.
That's essentially all there is to it. The choice between flavor and convenience is up to you! Personally, I'm a sucker for tradition and would opt for a traditional oven. If I'm in the mood for a quick pizza (and only for myself), I'd likely end up ordering takeout. Pizza ovens are amazing, but you really need to be cooking 3 or more pizzas to make the effort worth it.
Conclusion
There's nothing more amazing to have in your garden than a fireplace that also produces amazing pizza.
I hope this guide has helped inspire you with a few ideas of designs, and armed you with knowledge about which option you want to use to get one of these amazing ovens.
As a die-hard pizza fan I've got plenty of content and guides on these ovens. Please feel free to check them out using the links below.
Thanks for reading. Happy eating!