Last updated
February 16th, 2023
Reviewed for Accuracy
We've independently reviewed this article to make sure it's as accurate as we can make it.
To find out more about our article creation and review process, check out our editorial guidelines.
Are you finding it tricky to keep a house tidy that doesn't have any storage facilities? Then you'll love this article as it is jam-packed full of ideas that will help you organize a small house. So, let's dive straight in!
To organize a small house with no storage, try the following:
Declutter often
Install shelves
Choose furniture with storage
Optimize the backs of doors
Place hooks inside cabinets
Buy hanging storage baskets
Add risers to your bed
Use stackable chairs
Buy a storage table
Perhaps you're now wondering, how do these storage solutions work? Are you ready to see just how you can maximize a small space? Then take a look at the extended storage guide below:
How to Organize a Small House With No Storage
Organizing a small house with limited storage may seem like an impossible feat. But there are tonnes of great storage ideas out there to help you. Take a look at some of the ideas listed below:
Declutter Often
This first idea may seem pretty basic. But I'm sure you would agree that decluttering is hard for most of us to do.
Why is it so hard? We are all sentimental about something and love to hang onto things such as:
Old CDs and vinyls that we don't use anymore but that remind us of good times.
The kids' first baby clothes.
Old books.
But of course, not all the clutter is logical. Most of us are also hanging onto some nonsensical items such as these:
Clothes that we know we'll never fit into again.
Old chargers and cables that belong to electronics that we're not sure we still own.
Christmas and birthday presents that we pretended to act excited about and then shoved into a drawer.
Decluttering is something that we should be doing frequently. That means more than just a spring clean once a year. Why? Take a look at just two reasons:
We can hoard so many things in a short amount of time! If you leave it too long between decluttering sessions the task will be overwhelming.
The longer you put off decluttering, the harder it is to remember why you're holding onto things. Then you end up keeping rubbish just because you can't remember why it even came into the house in the first place.
Are you ready to start decluttering but are not sure how to? Then here are some tips that will help:
Ask yourself, have you used this item in the last 6 months? (Except seasonal items such as Christmas decorations.) If it hasn't been used, toss it!
When decluttering old DVDs, CDs, and the like, toss or donate anything you haven't watched/listened to in the last 12 months.
Throw away clothes that are no longer your size.
Get rid of old boxes, bottles, plastic bags, and other clutter.
Use this as an opportunity to donate your old things!
When you're done selecting things you can no longer use, please always put aside anything that other people might like in a charity donation bag. Most charity shops will have a large bin to leave donations, and they'll sort through them to share with those in need.
Install Shelves
Ok, so here comes our first storage idea that is guaranteed to help you maximize space around the home. Installing shelves. There are so many innovative places to store shelves that will help you get the most out of a small space.
Here is a list of just some of the places you could add a shelf:
Above bedroom doors. The space between the doorframe and the ceiling is never in use. Make the most of it to add a shelf or two that can be accessed with a step ladder. Use the shelves to store things you don't use often.
Between the joists in your garage or basement. Screw wire shelves underneath the joists for extra storage spaces.
Along the perimeter of walls. Use this space to store books or bits and bobs that you do not need often.
Choose Furniture With Storage
When updating the furniture in your home, choose furniture with built-in storage. You can use the extra space to store spare linens, towels, books, and other things you want to keep to hand.
There are lots of creative storage ideas for homes with limited space. Take a look at some of them below:
Beds with storage headboards.
Built-in under the bed drawers.
Platform or Murphy storage beds with mattresses that lift up.
Radiator covers with shelves along the sides.
Storage stools.
Storage coffee tables.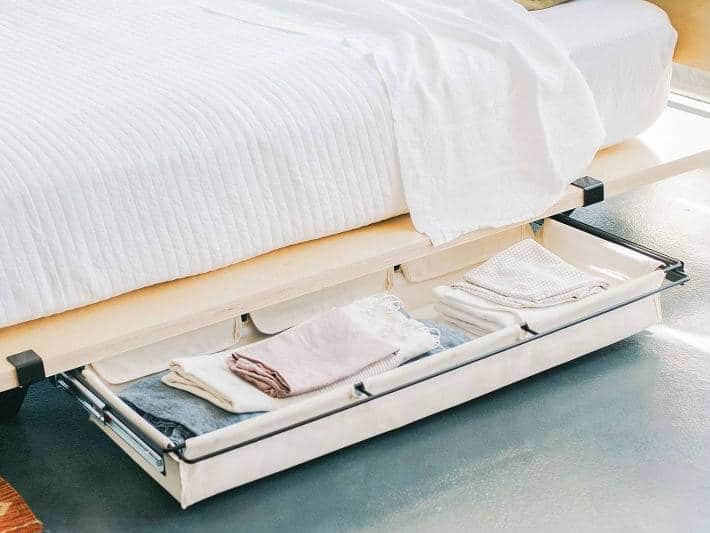 Optimize the Backs of Doors
The backs of doors are prime storage areas that most of us are not taking advantage of. The storage behind your doors can go far beyond a simple coat rack for a couple of scarves and winter jackets. There are so many awesome storage ideas for the backs of doors. Take a look:
Laundry hamper. A laundry hamper on the back of the door will free up space in your utility room.
Bags hooks. Long hooks can be added to the backs of doors to hang bags. Screw the hooks strategically across the door to create a bag display.
Shoe pegs. Shoe pegs can be purchased and then nailed to the back of the door to accommodate your shoes.
Bathroom pouches. These pouches can be purchased and then hung on the back of the bathroom door. These can be used to house face creams, shampoos, and other items that are crowding out the bathroom.
Place Hooks Inside Cabinets
Ok, so everyone has storage inside their cabinets. But why not amplify that by placing hooks on the inside door of your cabinets? This way, you'll be able to fit loads more into your cabinet without having to put up extra shelves.
The great thing about storage hooks is that they are relatively inexpensive and are easy to put up. They come in both adhesive and screw varieties. You can use your hooks to hang the following:
Tea towels and cleaning cloths
Chopping boards
Cooking utensils
Another great storage idea is to place storage hooks underneath cabinets. These can be screwed under your cabinets or against the wall to give you more storage in the kitchen. You can use these hooks to hang the following: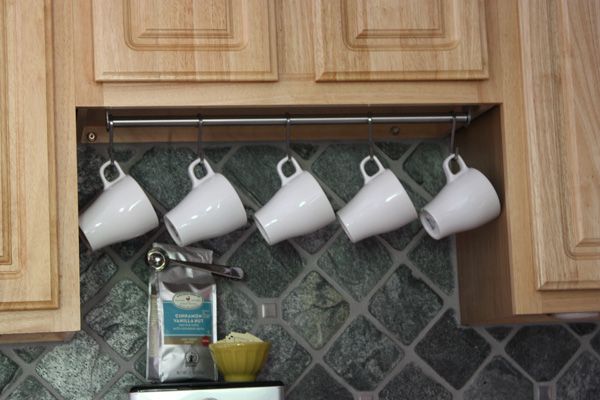 Buy Hanging Storage Baskets
Hanging storage baskets is a great way to take your storage off of the floor and give you more room to move about. The great thing about them is that they are easy to put up and they make the home look cozy.
Not sure what to put in your hanging storage baskets? Then why not use them to store some of the following:
Kids toys
Small items of clothing
Bath towels
Kitchen towels
Linens
Add Risers to Your Bed
There's nothing more frustrating than a low bed. A low bed can't be used to store suitcases, drawers, or anything bulky underneath it. Or can it?
Under the bed storage is awesome. So, if you're having trouble storing things under yours because it's too low, you'll need to get hold of some bed risers.
Bed risers are attached to the legs of your bed to give it an extra lift. Bed risers are kind of like a bed's version of stilts. They come in all shapes and sizes so that you can choose ones that will fit in well with the style of your bed.
Use Stackable Chairs
Do you have a small dining room? Then you need stackable chairs! They're great because they can be placed one on top of the other and then shoved into a cupboard. Out of sight, out of mind!
Stackable chairs are also great for those that simply don't need to have 6 chairs around a dining table every day. This makes them the ideal solution for those who live alone and for couples. They're easy to get out of the way when you don't need them but are on hand for when guests come over.
Buy a Storage Table
Now there's nothing I love more than a good old storage table. They are super practical. They are great at housing everything you need to set the table for guests. Why not use your storage table to hold some of the following:
Table cloths and runners
Guest knives and forks
Mats and coasters
Heat mats
Napkins
Are you looking for more innovative ideas for organizing and tidying your home? Then make sure you check out Marie Kondo on Netflix! She's got a wealth of awesome ideas that I'm sure you'll love!
Conclusion
Living in a small house can be frustrating. It could seem like anything you bring through the front door instantly makes the whole place feel cluttered. But with the right storage ideas, you can make the most of even the smallest of spaces.
I hope this article has shown you some of the space-saving ideas you could implicate in your home.
If this article has been useful to you, then why not consider checking out some of our other articles and free guides?
Have a great day!
-Craig