The Best Ways to Keep Wine Fresh for Longer
There's nothing worse than throwing away good wine.
Especially good wine that's gone off because it's been left open.
I hate to wonder how much money has been poured down the sink. It may not be much per bottle, but it'll sure total up to a lot.
What if, instead, we could save that wine?
Keep it fresh and drinkable. Save ourselves us from the heartbreak of tossing it out, and from needing to buy another bottle quicker?
Well, it turns out we can.
There's a whole selection of different ways to keep your wine fresh – and I've covered all of them in this quick guide. I've put a quick infographic together to do my part in preventing wasted wine around the world. Now it's your turn to help the cause.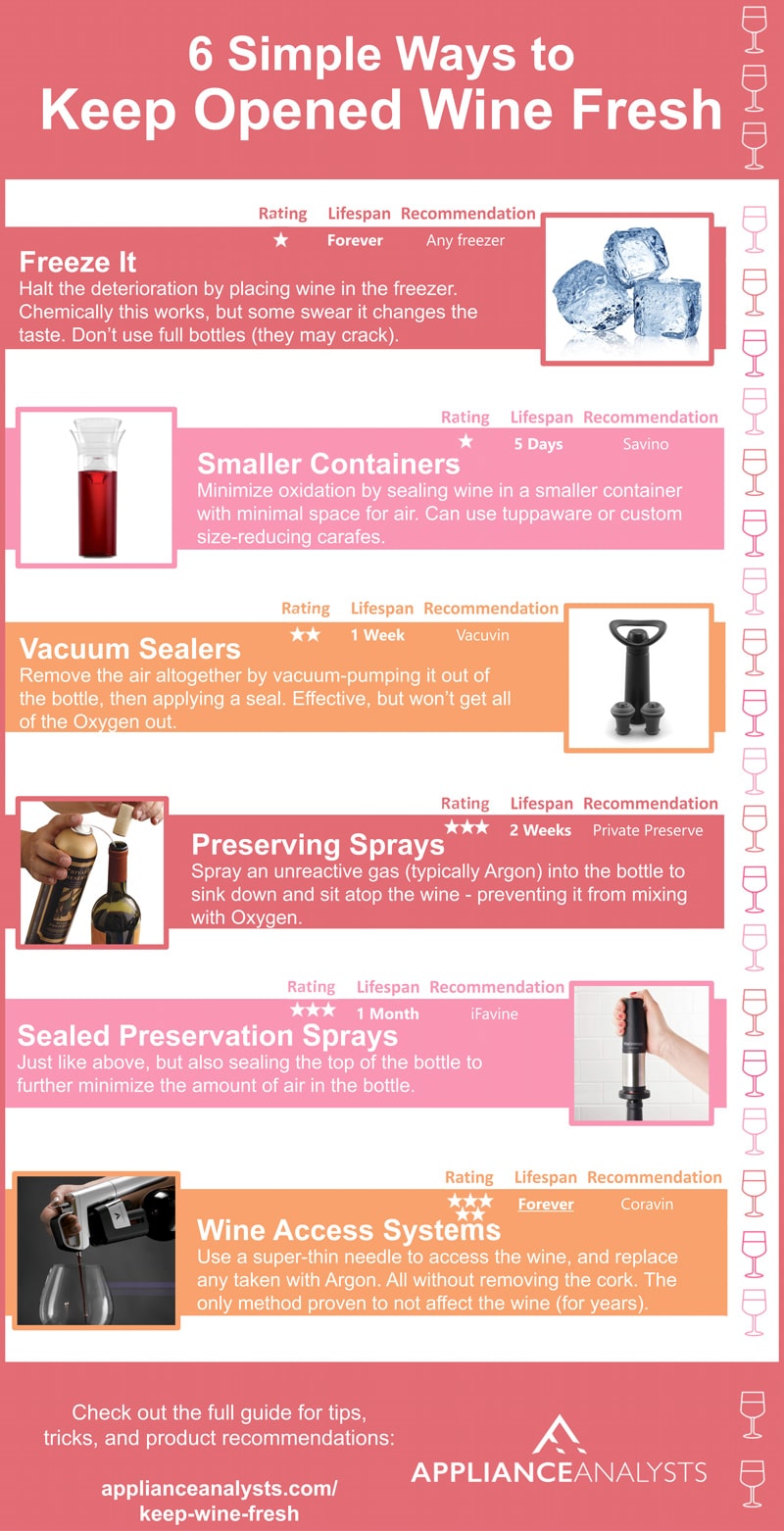 Of course, we need specialized tools to achieve each of these methods. Unless you happen to have cans of injectable argon gas and ways to seal opened bottles lying around.
Below I've covered each option in detail – including a recommendation for the best tools for the job.
Note: Understanding how these methods work requires understanding how wine evolves with Oxygen. Don't worry, it's a simple explanation. I've covered it in a section after the methods below, but you can skip right to it below.
Best Tools for Keeping Wine Fresh
If All Else Fails
If all else fails, there's one final solution you can try.
It can be expensive – even doubling the cost of your original purchase. But it's a sure thing, and is guaranteed to give you full glasses of more fresh, tasty wine.
I like to call it BAB. Which stands for Buying Another Bottle.
Unfortunately, BAB is an incredibly easy habit to fall into. Providing a guarantee of great taste, a way to relax, and an added connection with friends. I have to say, I do recommend it!
Why Wine Deteriorates
It's important for any wine lover to understand how wine evolves (and declines).
The bottom line is that Oxygen causes wine to change. It chemically reacts with the wine, which results in a sort of 'ripening' of it.
In stored bottles this happens very slowly. There's a little bit of Oxygen left in the top of the bottle, and tiny amounts also make their way in and out of the cork. This is why wines continue to evolve inside their bottles, and what makes wine such a unique experience. Every bottle is uniquely different.
Once the bottle is opened, this evolution becomes rapid.
When in contact with a lot of fresh air, wine quickly starts to evolve. At first this is a positive thing. The reactions 'open up' the wine and allow for some final development which softens and reveals the true flavor of the wine.
It's why many wines (especially older ones) serve best after they've been 'allowed to breathe'. Hence the creation and popularity of wine carafes.
Of course, this a balancing act. Once the wine's 'evolved' too far, it starts to ruin the taste. Suddenly it can change from drinking absolute perfection, to tasting a seriously over-ripened fruit.
Think of biting into a half-eaten apple that's been left out overnight. That's essentially what over-evolved wine is – an over-ripened fruit.
All of the methods and tools above are to help pause this process. To keep opened wine in the 'fresh and delicious' state, and delaying it from continuing to evolve for as long as possible.
The Last Drop
There's few things better in the world than a fantastic bottle of wine. And having to throw out wasted wine is always a heartbreak.
I hope this quick guide has given you an idea or two about how you can keep your opened wine fresher for longer. Whether that's a $10 Vacuvin or a $300 Coravin model, I hope I've helped you find the right tool for you.
If this article's helped you, please consider supporting us by checking out some more of our free guides or signing up to our e-mail list.
Thanks for reading, and have a great day!
Cheers,
Craig