Horizontal vs Vertical Fences for Design, Privacy, & More
Installing a fence around your home can help ensure that your pets and kids are safe. The design of the fence you plan to have around your home can also help improve your curb appeal, just like landscaping or wall cladding.
Home Improvement Research Labs indicates a 21% increase in the number of people undertaking home improvement projects, including fencing and decking, between 2019 and 2020. This trend is set to increase even further in 2021.
So, if you've been planning to have a wooden fence around your home, horizontal or vertical fences are the two options worth considering. To build a horizontal fence, you need to place a wooden board lengthwise then anchor them to vertical posts on the ground. You can take the same approach with vertical fences, but your board will be of different styles.
This detailed guide will compare horizontal vs vertical fences to help you make an informed choice.
Distinct Differentiators Between Vertical vs Horizontal Fences
Besides offering privacy and security to your home, horizontal and vertical fences can help define your property's border. This is regardless of whether you have a commercial or residential property. Here are a few distinct differences between the two fences you should know.
Privacy of Your Home
Horizontal fences guarantee the privacy of your home because of their construction design. This fence design has the panels designed closer to each other so that they block any external viewing. In vertical fences, the panels are more spaced than the horizontal counterpart.
If you're concerned about privacy and thinking of installing a vertical fence, use a chain-link instead of wood during your construction. However, ensure that you outfit it with mesh fabric screens to keep nosy prowlers and neighbors at bay.
The Openness of Your Backyard
If you're looking to have an open space for your backyard, horizontal fences may not be the best pick. This is because they can reduce the visibility of your backyard. This is unlike the vertical counterparts that have boards with spaces that are far apart.
Length of Use
Most horizontal fences are durable than their vertical counterpart. This is the case because vertical fences are prone to weather damage on the top and wood rot at their base.
The Ease of Installation
If you're considering a DIY approach to constructing horizontal or vertical fences, you will not face significant challenges, especially on a flat surface. If your commercial or residential plot has uneven ground, you may want to consider vertical fencing. It's not easy keeping your horizontal boards on the same level if you have irregular or bumpy terrain.
Regardless of the type of fence you decide to consider, you should have a retaining wall to ensure the stability of your fence.
Horizontal Fences: Advantages and Disadvantages
One of the outstanding features of horizontal fences is that they're modern and complement the overall look of your home. While this is the case, they have their advantages and disadvantages.
Advantages
These Fences Are Contemporary
Whether you're renovating an old home or owning a minimalist home, horizontal fences can easily complement your home. So, if you want to emphasize the modern style of your horizontal fence, select cleanly painted vinyl siding, wide steel beams, or wood in trending colors. You should know that your horizontal fence can even make your property appear wider or longer than it is.
Can Be Easily Customized
There are plenty of horizontal fence styles you can consider for the privacy of your fence. You can have a closed fence if you're concerned about your security. Consider a fence design with spacing between the planks if you wish to have a more open look.
Additionally, you have the option to choose the plank size you want and the stain or paint that will match your property.
Improved Safety and Security
Your wooden fence helps to create a secure and safe area around your home. If you have children, you'll never have to worry about whether they'll wander away from your yard. These fences also keep off any unwanted visitors from your property.
Disadvantages
Can Be Costly to Install
Unlike vertical fences, this fence type can be expensive to construct. Most horizontal fences require less support at the center of the fence board. Therefore, if you don't use high-quality materials, which are sometimes expensive, your fence will sag. Additionally, this job requires the services of a professional.
Vertical Fences: Advantages and Disadvantages
Just like the horizontal fence, vertical fencing has its pros and cons. Here are a few you may want to consider.
Advantages
Simplicity Leads to better security
Given the simplistic nature and gaps between the fence, it's easy to notice intruders and trespassers. However, if you have concerns about added security but want to keep the visibility, you can add a wire mesh.
Can Follow Your Land Curve
Unlike the horizontal fence, which is best constructed on straight lines, the vertical fencing follows your land curves. This means that you can twist and turn your fence to match the design of your property.
Disadvantages
They Look Dated and Can Deteriorate Fast
If you have a modern house design, building a vertical fence around your home may look old as per today's standards. Unlike horizontal fences, vertical options are prone to weather damage. This is because the ends of the boards face upwards and receive a heavy hit from rain.
If not properly sealed, the boards will begin to deteriorate, and you may soon have to replace them.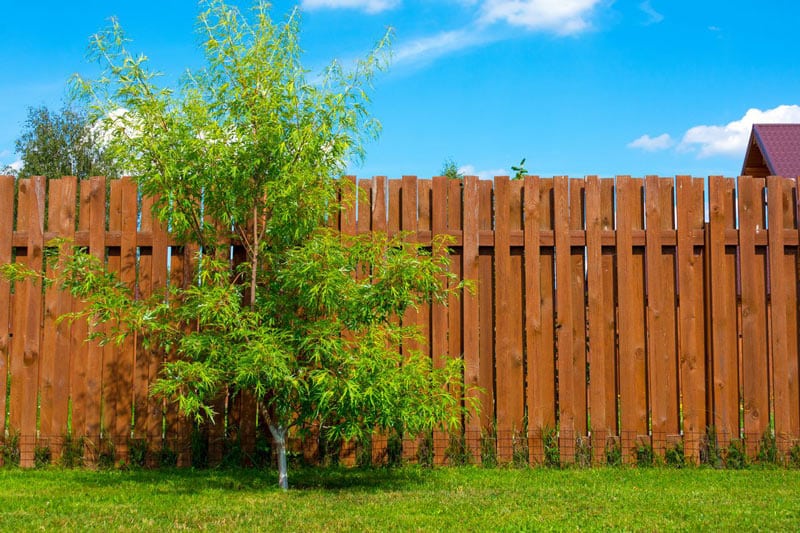 Building Your Fence the Right Way
If you're planning to construct a horizontal or vertical fence around your home, you could take a DIY approach, as this will help you save on your labor costs. If you don't want to take any chances, it's best to seek the help of a professional fencing contractor.
It's also worth noting that the residential areas take up a considerable part of the fencing market. Additionally, there's also a growing demand for composite and plastic fencing options. These are great options if you want your fence to appear like it is constructed of wood.
Steps To Follow When Constructing Your Horizontal Fence
Constructing your horizontal fence without the help of a professional can pose significant challenges. However, you can overcome any obstacle you can face with proper planning. Here are a few critical steps to remember.
1. Settle On Your Preferred Style
DIY fence construction can be demanding, which is why you should make early preparations. You can do this by watching advice videos or tutorials from home improvement experts. This will provide you with great ideas on the design to construct. It's also an excellent approach when you are unsure which of the two fencing styles to choose.
2. Map Out Your Boundaries
Once you settle on your preferred style, measure and mark the distance, you plan to install your fence post. This helps you to determine the materials you can purchase.
3. Place Your Posts
The next important step is to dig holes in the sections you previously marked. You should then place your post in the holes and support them with dry concrete. Your posts must be level, and this is possible if you use a string or other mechanism to check on a consistent level.
4. Fix Your Boards
Beginning from the bottom up, drill or nail your boards to the post. Be sure to use a second pair of eyes or a leveler to ensure your slant is installed correctly. A spacer can also come in handy, especially when you don't want the boards to sit snugly on top of each other. After your installation, decide whether to add post caps, paint or leave it at that.
Steps To Follow When Constructing Your Vertical Fence
If you are new to fencing, the vertical fencing option is an excellent choice. Here are the steps to help you effectively install your vertical fence.
1. Decide On a Plan
A typical design among most homeowners is the "estate plan." This is where you have solid boards with the same width and no gap. You can even use boards that are taller than others or add space between the boards. There are a lot of places you can seek inspiration for such a design, including Pinterest or checking other fences around your neighborhood.
2. Mark the Appropriate Height of Your Rail
The next crucial step is to mark the height of your rails on the post. You'll need to make two marks, one that's a few inches from the ground and the other a few inches from the top of the post.
3. Cut Your Post to the Appropriate Length
You need to measure at the middle of your post to the height you marked, then cut your rails to the measurement that slips between your posts. If you're using fence clips, you'll need to cut the rails shorter than when using screws or nails.
4. Fix the Rails to Your Post
Once you cut your rails to the desired length, ensure that you fix it to the post using fence clips, screws, and nails. When using screws or nails, drive them through the rail at an angle. Fence clips are the other great alternative. These are metal brackets fixed to your post to hold the fence in place. Most people prefer using fence clips because it makes fence construction easier.
5. Attach Your Boards to the Rails
Once you have your fence rails running between your posts, ensure that you attach the boards. For a stunning look, it's best to mix up one by four with one by two boards. However, it's recommended that you leave a gap that's a quarter-inch between the boards.
Additionally, you should leave space between the ground and the bottom of your fence. Any contact between the ground and wood can promote rot. Don't forget to begin by railing the one by four wood next to your post. This is necessary as it helps to hide the fence clip from the side of your fence.
Additionally, use the one by two wood as your space before adding the other one by four wood in place. Use this as the pattern for the fence around your home.
Wrapping Up
Whether you plan to install a vertical or horizontal fence, one of the things you should be sure of is that both fences will provide you with a sense of style and security. Regardless of the fence type you wish to install, it all comes down to your lifestyle needs, budget, and taste.
It's also worth pointing out that vertical fences are a perfect option if you have sloping ground. This is because they can follow the contour and appear smooth at the bottom and top of your fence. Horizontal fences are best suited if you're searching for a contemporary look.