Finding the Perfect Underlayment for Hardwood Floors [Guide]
Hardwood floors can be fantastic.
There's no other floor type that looks as good, and it can really tie a room together. But it needs to be level.
Making sure you have the right underlayment is key to getting the most out of a hardwood floor. There's a few common mistakes people make, though.
Before we get started – do you really need an underlayment under hardwood floors? If conditions are already perfect—you have a plywood subfloor that's smooth and level—there's a chance you might not need to put an underlayment beneath the hardwood.
Let's dive into more detail.
What's the Best Underlayment for Hardwood Floors?
Okay, know that you understand when and why to install underlayment under your hardwood, let's talk about your options. Here's a quick list, then I'll dive a bit deeper into each.
Foam. This may be one of your cheapest options, but don't let that fool you. Foam offers great sound reduction, is very versatile, and easy to install. There are even options that have a built-in vapor barrier.
Rubber. This option will offer protection from mold and mildew. It also does away with the hollow sound of hardwood flooring, thanks to its absorbing and insulating properties.
Cork. This is the choice to make if you live in an apartment or condo. There is no better choice when it comes to sound absorption. It's also a great insulator. However, you don't want to use cork anywhere where flooding could happen, since water is cork's enemy.
Rubber cork. Exactly what it sounds like—it's made from a combination of rubber and cork. Which means you get the best that both options have to offer.
Felt. This is a higher density than foam, so it's a great choice when sound is an issue since it will absorb more. It's also a great choice for insulation and cushion.
Match Your Underlayment with Your Flooring
One often missed aspect is how your underlayment pairs with the hardwood floor. While all of the underlayment options listed above are great choices, some may be better than others when it comes to the species of your hardwood.
Check below so you can better match your underlayment to your flooring.
Cherry: This is a softwood, so you want to use something supportive like cork or rubber
Hickory: This is an extremely hardwood, so foam is a good choice
Maple: This is another hardwood, and either foam or rubber will work well
Oak: Either red or white, these are softer woods so go with rubber
Walnut: As one of the softest woods there is, you need something like cork for extra support
What Happens If You Don't Use Underlayment Under Hardwood Floors?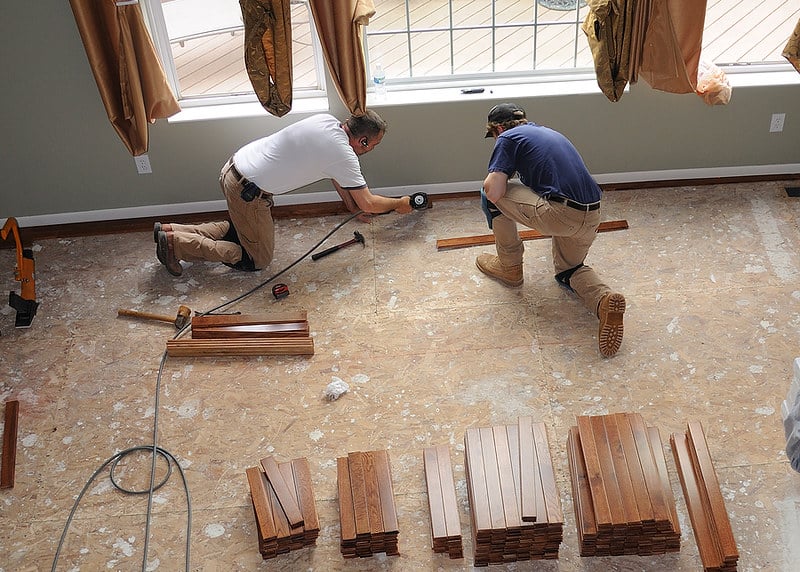 While underlayment's aren't a must, they do come with a ton of benefits.
For hardwood floors especially, missing out on the underlayment means:
Major and minor imperfections in the subfloor are visible
Increased noise with each footfall
Cold floors
Moisture can destroy your hardwood
Hard flooring can be hard on your back
If you are laying hardwood, an even subfloor is a must. Not only does it provide greater stability, but it also gives you the finished look you want in your new flooring. And while any major flaws in the subfloor will be addressed, a good underlayment will not only add to stability, but it will also hide any minor flaws not found or dealt with.
Noisy floors. It's bad enough having to listen to the sound you're making yourself, just think of how others in the house feel listening to you clomp around. The simple addition of a good underlayment means a quieter house.
Cold floors, equal cold feet. I love walking around my house in my socks or bare feet. That's not so much fun if the floors are freezing cold. The addition of underlayment helps to warm up your floors. Damp, cold air won't penetrate through the underlayment and through your hardwood or laminate.
Moisture resistance. If you are putting down hardwood over concrete, this is a must. You should be investing in an underlayment that also has a vapor barrier. You need to do everything possible to keep moisture away from hardwood, wherever you're installing it.
What a pain. Standing on hard floors for any length of time can be hard on the body, especially the lower back. Whether ceramic tiles or hardwood, a lot of people suffer. Having a good underlayment also acts as a layer of cushion, making your floors much more comfortable to walk on.
Can You Use Plywood as an Underlayment?
In a word, yes. But you know there will be a but, right?
You can use plywood as an underlayment, but you need to make sure it is perfect. Perfectly level. Perfectly without dips and bumps. Because every one of those dips and bumps will show through to your expensive new floor. And even worse than that, potentially cause your expensive new floor to break.
Your plywood subfloor also needs to be properly installed.
And of course, if your hardwood manufacturer states that a plywood subfloor is acceptable, you know it's okay. And you always read all the directions and instructions, don't you? Of course you do.
Can Roofing Felt Be Used Under Hardwood Flooring?
Yes.
In fact, for solid strip and plank installations, the National Wood Flooring Association recommends:
"Asphalt-saturated kraft paper or #15 or #30 felt that meets ASTM Standard D-4869 or UU-B-790, Grade D."
The product mentioned there is a roofing underlayment that is used between the roof deck and shingles.
Roofing felt can be used as a layer of moisture protection as well as a layer to help dampen sound. Talk about a contradiction. It protects against moisture and dampens all at the same time!
How Thick Should Your Underlayment Be?
First, you should find out what the manufacturer recommends. Don't just take a thicker choice because a salesperson recommended it. And if they tell you that double the thickness means double the sound absorption, that's just a big fat lie. Their aim could be a higher commission, not what's best for you.
Frankly, the thickness of your underlayment isn't necessarily that relevant. Your important considerations should be things like density and sound ratings, not thickness.
Conclusion
Choosing the right underlayment doesn't need to be as intimidating as you might think. Once you understand if, when, and why you should use it, and what your best options might be, you are well on your way to protecting your investment in hardwood floors.
You even know what the best options are depending on the type of wood you chose!
Well, thanks for reading this through. Hopefully, I've provided all the info you need. Why not check out the articles below and see if there's anything else we can help you with?