The 5 Best Travel Irons To Stay Sharp Without The Bag Space
Do you love travelling, but hate having your confidence spoiled by wrinkled clothes?
Do you need to guarantee that you'll be looking your best when you travel for business?
I know the feeling.
Wrinkled clothes may seem like a small problem, but they can really knock your confidence and ruin a good photo. Thankfully, there is a solution. We've researched the best travel irons to bring with you on your travels. And curated them down to this shortlist.
Let's get those wrinkles dealt with.
Need a Quick Recommendation?
If we could only recommend one product to you, it would be the Steamfast SF-717 Mini Steam Iron.
You can't believe the size of this thing – it's tiny! An iron so small it almost fits inside the palm of your hand. It's an absolute cinch to take this with you on any kind of trip; no matter your luggage space.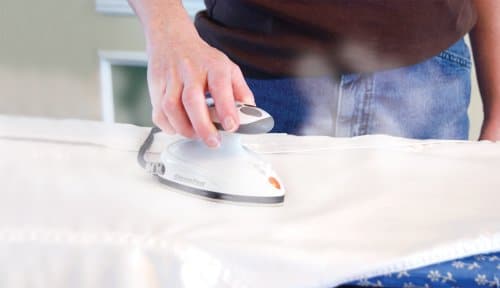 The Steamfast SF-717 in action.
The non-stick soleplate is nice and smooth. It heats up quickly, and you can effortlessly glide it using the palm rest. The extra-long 7.5-foot cable is the icing on the cake. You'll never have to worry about awkward hotel outlets. And with an anti-drip protector, it won't leave water marks on your clothes.
We think it's the perfect companion for any smart traveller.
The Best Travel Irons - Analysed
Quick Buyer's Guide - Travel Irons
When it comes to spending your hard earned cash on a product, we think it's important to know exactly what you're looking for. When it comes to travel irons, there's a few different features that can change from one model to the next – making them better or worse for different tasks. In this section, we've covered the most important of these to keep track of. By understanding all the different aspects that your future product could potentially have, we think it's much easier to know for sure when you've found the right model for you.
General Aspects
Product Weight & Dimensions: Consider how easy the iron will be to pack into your suitcase, and whether you'll notice the weight difference.
Cord Length: Whether you'll be able to plug into even the most awkwardly placed hotel power sockets without having to MacGyver together some kind of DIY ironing board on the floor next to it.
Warranty & Customer Service: While most appliance warranties are 1 year, it's also worth checking customer reviews to see whether they had a pleasant experience if they had to contact the company. We try to highlight this about a company if we see reoccurring good or bad things about them in our research.
Technical Features
Dual Voltage: Will you be able to plug it into power sockets outside of the US?
Steam Functionality: Can the iron produce steam – and if so, whether it's in bursts, or act as a continuous steamer.
Temperature Settings: Consider how easy it'd be to switch from ironing out a heavy pair of jeans to a delicate summer dress.
Anti-Drip Protection: Look for a guard around the base of the iron that helps stop the hot water staining your clothes, or even burning your hand.
Soleplate: Is the plate of the iron non-stick or ceramic, and is there any mention of it rusting or causing issue with certain fabrics?
While each of the aspects above are important to look out for, you don't typically need to worry about them so much when choosing one of the models we recommend on this list. We've vetted each one and curated the market's best to this list, so they all typically tick the boxes above. If they miss out on anything, we'll highlight it in our review.
Conclusion
Travel irons are one of those great little appliances that make you wonder how you ever functioned without them. It sounds silly, but being able to make sure you're going to be looking your best while on holiday can be a really grounding feeling – something that you really can't put a price on when you're in a strange place. Not to mention all the other uses possible for them – especially loved by sewers – these mini little irons are a great solution to creased up travel worries.
If you've gone through our list and not found a model you love, then try heading over to Amazon's bestselling list for irons, and see what else is out there. Just be sure to keep the factors outlined in our little guide above in mind – and make sure that you'll find yourself a very hot little travel companion!
Found your ideal iron? Then complete your travel set with an on-the-go iron proof mat to make ironing on tables or desks even easier.