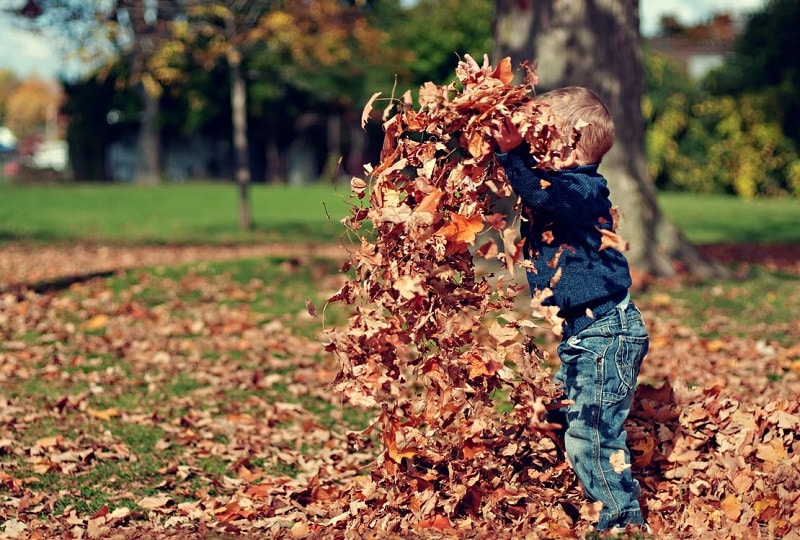 The 5 Best Leaf Mulchers To Reclaim Your Yard
If you're lucky enough to own a large and leafy yard, then you'll know how much of a burden trying to compete with the fall can be. It's hard just trying to keep your lawn looking like a lawn!
Leaf mulching is one of the best ways to make your life easier when it comes to the clean-up of layers of leaves. They can also provide you with a fantastic natural fertilizer, to really make the grass bloom come springtime.  Below, we've brought together the best leaf mulchers on the market.
Ranging from the more classic stand-alone leaf mulchers for big jobs, to all-in-one blower and vacuum systems for smaller yards – we've aimed to include a mulcher to suit every need.
Looking for a Quick Recommendation?
If we could only make one recommendation, it would have to be the WORX WG505 All-in-One.
While it's not the most powerful of our selections, it's fantastically capable of dealing with all kinds of tasks.
The all-in-one system provides you with a strong blower to gather up all the leaves, and a powerful vacuum and mulching system to scoop up and shred down the aftermath of the fall season.
Want to see this mulcher shown off in an 80's action movie style trailer? Well, neither did I – but apparently it's a thing!
I feel like I should be TYPING IN ALL CAPITALS AFTER WATCHING THAT. WOW!
But seriously, this is a great leaf mulcher which also gives you a great leaf blower and vacuum at the same time. Check it out via the link below, and see for yourself.
If you're looking to take care of huge amounts of leaves, read on to our recommendations. The first three are all powerful stand-alone leaf mulchers, built to take on as much as you can throw at them.
Best Leaf Mulchers - Analyzed
Leaf Mulcher's - Buying Considerations
It's important to take a quick second and consider what your ideal model would be.
The best leaf mulcher for you will depend on your yard size and the type of leaves you'll be looking to shred. Consider each of the four aspects below, and keep them in mind when looking over the best leaf mulchers below.
Power & Versatility
Light, and especially dry, leaves can be shredded by any half-decent leaf mulcher.
However, if you live in a climate that often gets wet in the autumn, or if you'll likely be shredding up small twigs and pine cones, you may want to consider going for a more powerful model.
Portability
It's important to consider whether you need your leaf mulcher to be easily portable or not. For large yards, stand-alone mulchers – like our first three recommendations – are ideal for big volumes of leaves.
If you've got a smaller yard, all-in-one systems can be a fantastic overall solution. With models like the WORX WG505, you can have a quality leaf blower and vacuum/mulcher in one package. With these systems, it's important to make sure you're getting one with good quality, as some sacrifice a lot of power in order to get that extra functionality.
Bag Volume
With the above in mind, it's important to keep the collection bag size in mind. Portable systems often sacrifice bag-size for their portability and may need multiple stops to empty or change the collection bags. Stand-alone mulchers can easily fit much larger collection bags and are much more suited to bigger jobs.
Storage
Leaf mulchers are extremely useful – but you'll only ever really need them once or twice a year.
It's important to make sure there's somewhere out of the way you can store it throughout the other seasons. So with that in mind, it's equally important that the product itself folds down to a compact size.
All of our top recommendations fold down for easy storage, but if you're also looking elsewhere, it's worth keeping storage in mind.
Alternative Solutions
If none of these mulchers are hitting the spot, you can always consider rolling up the sleeves for a bit of DIY.
Check out this great video by 'GrowVeg' on how to create your own leaf molds using basic household tools!
Conclusion
Leaf Mulchers can be an invaluable way of turning a yard-covering layer of leaves into just one bag's worth. Or even providing you with some amazing natural fertilizer; giving your lawn an amazing extra burst of life come springtime.
The products we've presented in this article are some of the best leaf mulchers available on the market. However, we can't cover them all – there's plenty of other good options out there.
If you're still looking, check out this list of bestselling leaf blowers and mulchers on Amazon for more inspiration. Or for more information, check out this great overall guide to mulch.
Just remember to keep our buyer's considerations in mind – there's also a lot of products out there which aren't worth your money. And that's where we aim to help.
If you've got any feedback, we'd love to hear it in the comments below, or shoot us a message over at our contact page.