The 8 Best Garage Fans To Keep Cool Without The Cost
The conditions of your garage or workshop can make all the difference when you're trying to get work done.
We all know how frustrating it is to try and concentrate in a hot and stuffy garage.
So don't let that get in the way your productivity.
Keep your space freshly ventilated with the best garage fans – ensuring the only thing you have to worry about is remembering to stop for dinner.
---
Looking for powerful airflow for your workshop? Make sure you consider a blower fan or a swamp cooler.
Looking for a Quick Recommendation?
We have no hesitation in saying that our #1 recommendation is the Vornado 293.
This heavy-duty air circulator has everything you can ask for in a good workshop fan:
Sturdy, durable exterior
Dust-resistant motor
10-foot long power cord
5-year warranty
On top of all that, it's made in the USA – and the 5-year warranty isn't just a sales point. Vornado is well known for their fantastic customer service – and their products are made to last.
The only issue is that the fan isn't made to directly blow air at you. It cools the entire room down through rebounding the air so that it flows around the whole space. See our dedicated Vornado guide for more info on how they work.
As long as you don't need a specifically direct airflow, however, this is undoubtedly the best garage fan on the market – in our opinion.
Check out the Vornado 293 on Amazon here.
Which Type of Garage Fan Do You Need?
Before we dive into the full reviews, I want to touch on fan types.
Garage fans are mainly floor fans with added levels of durability and power. These smaller floor fans are perfect for portability and getting air where you need it.
For that reason – the fans recommended in this guide are garage-specific floor fans.
But there could be a better option for you.
Instead of floor fans, consider the following types:
Now without further ado, let's review the best garage fans available today.
Best Garage Fans - Analyzed>
Garage Fans vs Blower Fans - Which To Buy?
As I mentioned previously, garage fans and blower fans are very different.
But both are incredibly important in a garage or workshop.
Blower fans provide fast, direct airflow. They're great for keeping a work area clear, dry, and ventilated.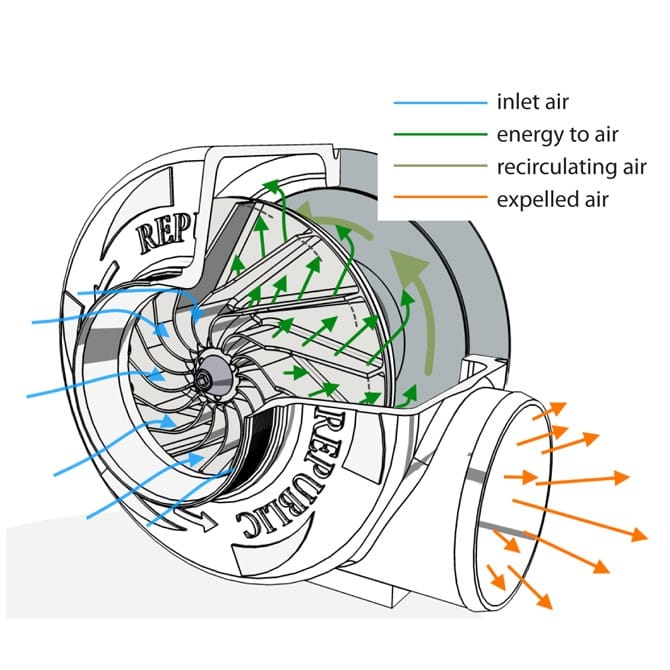 Garage fans provide powerful, wide airflow. They're great for keeping an area cool, fresh, and ventilated.
The option you choose should be based on what function you need.
If you're simply looking to keep cool in your garage while you work – choose a standard garage fan.
However, if you need to keep a flat surface dry, a workspace clear, or exhaust fumes from a tool, then a blower fan may serve you much better.
For more, check out our full guide on the traditional fans vs blower fans.
Garage Fan Frequently Asked Questions
Garage fans may seem to be a secondary appliance, but there's a lot of questions surrounding them. Here's our answers to a few.
Are Garage Fans Noisy?
Well – it depends! Like many fans, the more powerful garage fans will create a good amount of wind noise when blowing a gale. However, the fans themselves are quiet. Often more so than household fans, since a good garage fan will be encased in a thick protective frame.
What CFM Do I Need For A Garage Fan?
Like many other types, there's a wide range of garage fans. All the way from sawdust clearers to near-jet engine levels of gust.
The CFM you need depends on how you intend to use the fan. If you're looking to keep an entire large garage ventilated, you'll want to consider fans pushing 5000 CFM and above. However, if you're looking for a bit of cool air on your face in a small area, even the lowest power fan will suffice.
What Can Garage Fans Be Used For?
A strong flow of air can have endless uses – especially in a garage that's being used as a workshop. Here's a few of the most common reasons for purchase:
1. Stay Cool. Trying to do manual labor in a hot garage can get sweltering. Enjoying a cool breeze and can be a real gamechanger to how far you get in your projects each day.
2. Keep workspace free. Especially when working with wood, a powerful airflow can help make sure any small particles get cleared away from your work surface.
3. Encourage good airflow. No one wants to be working in a garage smelling of strange odors or stale sweat. A good fan will keep air flowing around your garage and in from other rooms or the outside.
4. Exhaust fumes/smells. Working with paint, petrol, or other products with fumes? Keeping these diluted is a must, and a garage fan is the easiest way to do it.
Garage Fans - Important Aspects to Consider
In this section, we cover the most important things to consider when searching for which product to buy.
---
Especially when shopping online, it can be hard to know which product is worth your money.
---
With that in mind, we've provided a quick run-down of what changes from model to model. Have a read, and try to see what's most important to you. Then, look for a garage fan that has the best of those qualities.
Power
Starting with the obvious – consider how much power you're looking for. Will you be regularly ventilating out fumes, or just need a bit of extra airflow/cooling? There are fans for every purpose – with the OEMTOOLS model (at our #2 spot) being the most powerful of the lot.
Build Quality
The exterior of a good garage fan should be unquestionably durable. You should have no qualms about hauling the fan around in order to place it where you need it, and not worry about accidentally knocking it against things. Look for as much metal or heavily durable plastic as possible.
Warranty
A good warranty is extra-important for products that get used in workshop environments. Unlike indoor fans, these models need often endure dust, cold and hot temperatures, and meet higher demands for power and functionality. Not to mention all the bangs and knocks they can take.
It's always worth a quick check to see exactly what is covered under a warranty, and how long it lasts for. In fact, our first and last product recommendations got their places based on their warranty lengths. As well as giving you peace of mind, a good warranty is a statement by the company – showing their commitment to us, the customers.
Brand
Top brands often have the best customer service and warranties, since they have a reputation to uphold. If the product is coming from a smaller company, make sure to understand the terms fully. They might not be such a 'well-oiled machine' when it comes to product returns and customer support.
Cord Length
Often overlooked, the length of a fan's power cord can play a huge role in how easy it is to use. You don't want to set the fan up, only to find that you can't position it where you want due to a short power cord and an awkwardly placed power socket.
Look for cord length in the product specifications, and have a quick double check to make sure it won't be an issue. Where notable, we've made sure to touch on cord length in our reviews.
Motor Protection
This is the reason you shouldn't be using just any old fan in a garage or workshop. Dust, water, and contaminants can quickly wear a fan's motor down. Look for fans that have some form of protection to shield their motor.
Ease of Use
How simple is the fan to use? Check how many speed settings it has and if the fan can rotate to open up more positional options.
Portability
If you'll regularly be re-positioning the fan, it's important to consider it's portability. While these fans will never be feather-light, look for models that have grips or handles to help you lift them.
After some serious maneuverability? Check out the Ryobi fan in the reviews below. It can be operated using just batteries alone, making it ideal for travel or just shifting it around the garage.
Conclusion
With quality fans like these, there's no reason to ever be stuck sweating in your garage or workshop again.
If we've not managed to help you find your new garage fan here, we hope we've at least made you more certain of exactly what kind of fan you're after. When continuing your search, be sure to keep our buyer's guide in mind when deciding which fan will be ideal for your home.
If you have any feedback, we'd love to hear it. Get in touch the via the comments at the bottom of the page, or shoot us a message via the contact page.
Thanks for reading! Check out other great ways to keep cool in our related posts below.