The Best Commercial Microwaves for Quality & Reliability
Microwaves have become an almost indispensable appliance in every home and commercial kitchen over the last four decades. Commercial microwaves do everything that a home microwave can do, but they do it faster and more efficiently. In any catering business you need your appliances to be durable, as any downtime can be inconvenient and lead to a severe loss of income.
Choosing the right commercial microwave can be one more headache that you don't need in your busy life. There are many options out there, and researching which features you need might not be a priority right now. Nevertheless, finding the correct commercial microwave that fits your purposes can be instrumental to your business's success.
Luckily, we have done the lion's share of the research for you and compiled it into one handy guide with all you need to know about commercial microwaves to feed the five thousand.
Have a look through our top choices for the best light, medium, and heavy-duty commercial microwaves on the market.
Benefits of Commercial Microwaves
Commercial microwaves are integral to keeping up the face pace of a busy restaurant or catering kitchen. In an environment where time is money, a commercial microwave can make the difference between customers twiddling their thumbs and giving your business a bad review or a delighted table of guests that all receive their meals simultaneously. Below are some of the big benefits of having a commercial microwave:
Insurance Policies – Be sure to check the fine print on your restaurant's insurance policy. You might find that appliances that aren't intended for commercial use would not be covered.
Health Inspection – Commercial microwaves are built to tick all of the boxes that come with a health and safety inspection. This includes being easily cleaned and sanitized. Anyone in the food industry understands how critical it is to pass every check and your microwave is part of this protocol.
Defrosting – If you use frozen foods in your kitchen, whether they be prepared items or ingredients, you want to do so as safely as possible. Microwave defrosting means that food has less time for bacteria to grow, which can potentially make your customers sick. Moreover, using frozen food items can help with inventory control and manage your kitchen waste, leading to better profits.
Reheating – We can't think of any commercial kitchen that will cook every item to order from scratch. A commercial microwave will allow you to heat premade items faster than using an oven or steamer.
Faster Service – If you ask anyone why they use a microwave, the likely answer will be because it is quick. Menus that incorporate the usage of a microwave can mean your guests get their food quicker, hotter, and at the same time. You can turn over tables faster and create more opportunities for increasing revenue.
Kitchen Temperature – Commercial kitchens are built to vent out heat since they can become stiflingly hot with oven, fires, hot oil, and gas ranges continuously increasing the temperature. A commercial microwave does not increase the ambient temperature as it will only heat or warm the food inside.
Utility Bills – Commercial microwaves, even those with higher wattages, are relatively cheap to operate compared to electric or gas ranges. They also don't need to pre-heat, meaning that you are only using electricity when operational.
Ease of Installation and Use – Microwaves need to be plugged in, but that is about it. Unlike ovens or ranges that might need access to gas lines or have special safety equipment, a microwave can be put in just about anywhere. They are also straightforward to use so that tasks can be delegated to less experienced staff.
Detailed Reviews of the Best Commercial Microwaves
A home-use microwave isn't going to cut it for most environments outside of the home, regardless of justifying that the microwave won't get constant use or that the cooking time isn't essential. It's a fact that people don't treat appliances with the required care if they aren't their own.
A light-duty microwave is ideal for offices or break rooms, concession stands, wait stations, and other places where the microwave is likely to be used 50 or fewer times per day. It won't be as fast as a heavy-duty microwave, but it will be much more durable than a home-use model.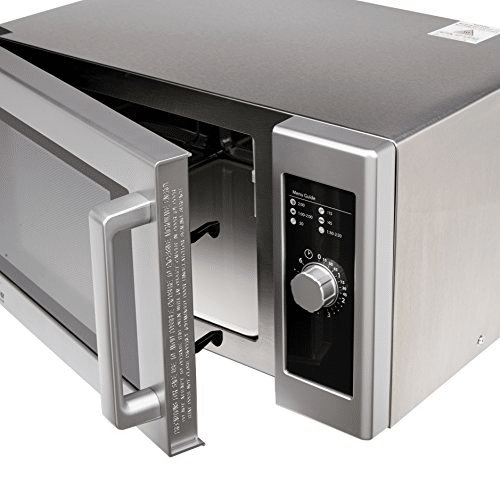 The Amana RMS10DS Light-Duty Commercial Microwave Oven is a no-frills, easy to use, and easy to clean light-duty microwave. It is constructed of stainless steel, bar the knob and handle, and built to last consistent use. The rotating knob is simply for adjusting the time as there is no way to amend the power level for defrosting or the like.
This machine tends to run hot, particularly at the top, so we wouldn't want to store anything directly on top of the microwave.
The biggest annoyance is the fan. It automatically turns on when the door is opened and remains on for one minute after cooking is complete. As such, we pity the new employee that has their cubicle across from the break room.
| Pros | Cons |
| --- | --- |
| Reputable commercial name brand | The dial is only for time, not power setting |
| 1000-watts | The fan comes on when you open the door |
| Stainless steel construction | The fan continues to run for 1 minute after cooking |
| Incredibly reliable | The handle and knob are plastic |
| Very easy to use | |
| Easy to clean | |
Our Verdict
If you are trying to find a commercial microwave that is relatively indestructible, and can hold up to consistent use by your employees, then the Amana RMS10DS Light-Duty Commercial Microwave is the answer.
It is a basic machine that doesn't have any frills, which means less that can go wrong. We wouldn't want to place it anywhere where people would have to listen to the annoying fan continuously, but that is the only fault.
Take a moment and visualize what you want out of a microwave. Are you picturing flashing lights, clocks, and dozens of confusing buttons that you never know what they do? We doubt it. More than likely, you want to open the door, put your food in, and wait a few seconds (or minutes) for a beep. Done.
The Sharp R-21LCFS Medium-Duty Commercial Microwave Oven is everything you want in a microwave with none of the added features you don't need. It's a bit retro by design in that the rotary dial is the only thing you'll need to fiddle with besides opening and closing the door.
We are serious; there isn't even a Start/Stop button. This machine works so well that you'll never miss any of the confusing options of previous microwaves you've used.
The stainless-steel construction is incredibly robust, and the latch is stronger than we have found on any other commercial microwave model. Honestly, we are trying to find fault with this commercial microwave, as even the price is incredible. The fact that you have to reset the dial every time you open the door is about the only gripe.
| Pros | Cons |
| --- | --- |
| Simple to use | The dial is only for time, with no power settings |
| 1000-watts | The time resets every time you open the door |
| Stainless steel body construction | |
| Large interior space | |
| Easy to clean and use | |
| Heating guide for common foods | |
Our Verdict
The Sharp R-21LCFS Medium-Duty Commercial Microwave Oven is a winner. The industrial designer at Sharp should get a big pat on the back since they have shaved down a microwave to simply remaining with the essentials. It's robust, easy to use, easy to clean, and comes at a fantastic price. What more do you want?
Heavy-duty commercial microwave ovens are built to be quick, durable, and easy to use. They are meant for face-paced environments where shaving off seconds in cooking time can add to the business's bottom line. In high-volume, quick-turnover restaurants or cafeterias where large portions are being defrosted or heated, a heavy-duty commercial microwave is indispensable.
The Amana Commercial HDC212 Heavy Duty Compact Commercial Microwave Oven has ample features. There are 11 different power levels, and buttons that can be programmed to accommodate up to 100 different menu options. The 2100 watts of power will have food zapped and heated consistently in a flash.
The buttons have Braille-integration, and the programmable menu items will make the cooking process straightforward. The maximum cooking time is a whopping sixty minutes which we don't think anyone has ever maxed out in the history of microwaves, though do please tell us the results if you did. This machine is compact, stackable, and built to last the constant and consistent use required of a heavy-duty commercial microwave.
| Pros | Cons |
| --- | --- |
| Reputable commercial brand | Expensive |
| 2100-watts | |
| USB port on the front | |
| Incredibly powerful | |
| Stackable | |
| Compact design | |
| Programmable menu options | |
| 11 power levels | |
| Digital Display | |
Our Verdict
Busy restaurants and large catering operations know that having a reliable commercial microwave is essential.
The Amana Commercial HDC212 Heavy Duty Compact Commercial Microwave Oven takes away the guesswork by having more programmable button options than we can ever imagine needing. It has all of the features that you could want in a commercial microwave in one compact package. If time is money in your kitchen, then the HDC212 will help you get well on your way to achieving your goals.
Commercial Microwave Ovens: A Quick Buyer's Guide
When you boil it down, a microwave is all about convenience and time-saving. No cook would ever say that a microwave can master a task better than another kitchen appliance, but we all know that they can do it faster. When looking for a commercial microwave oven, note the following items before making your choice:
Wattage – Higher wattage commercial microwaves will inevitably cook faster. The difference might only be a few seconds at a time, but any busy kitchen staffer knows that these seconds add up quickly during the lunch or dinner rush.
Durability – Consider how frequently the commercial microwave is likely to be used. Microwaves intended for home use are nowhere near as durable as commercial microwaves since they are not built to withstand constant and consistent usage. Likewise, a heavy-duty commercial microwave is built to be more durable than light-use ones.
Size – The general rule of thumb is that smaller microwaves have less wattage than larger ones. However, this is only a general rule, so double check before you buy. Ideally, look for the smallest size that can still accommodate the food or dishes that you use. Space is always a factor in any commercial kitchen. You'll also want to have roughly two inches or more of area surrounding the commercial microwave to ensure it is properly ventilated.
Controls – Commercial microwaves have either a dial to control the time and settings or push buttons. Dials are notably cheaper and simpler to use but can't be pre-programmed. Push buttons, while more expensive, might save you money in the end as they offer less room for human error with the ability to program specific recipes or dishes.
Features – As with any electronic appliance, the more features typically mean the higher the end price. Try to find a model where you are only paying for the features that you will actually use, which can include:
Programmable
digital display
USB ports
Warranty – Commercial microwaves take a beating, especially in high-traffic areas. Check to see if the microwave comes with at least a one-year warranty for any manufacturing problem. Beyond that, you'll want to have your commercial microwave included in your list of assets with your insurance provider.
Parts – Things break, and in a commercial kitchen, things often seem to break when it is the most inopportune time. Before it becomes an issue, check to see if you can replacement parts are readily available if the cost warrants replacement of the entire unit or just the individual component.
Price – Of course, the price is always a massive part of the equation. However, time often means money in a commercial kitchen, so look for the commercial microwave that is the best overall fit for your kitchen rather than at a price alone.
FAQS
What makes a microwave commercial grade?
A commercial microwave indeed does everything that a household microwave does. It is also true that commercial microwaves are a lot more expensive. So why would you choose to spend the extra bucks on a commercial-grade microwave?
Commercial microwaves are higher in wattage and built with more durable materials than those for home use. This means that food is cooked quickly, and the appliance itself is built to last, even with constant use.
Are commercial microwaves better?
Commercial microwaves have higher wattages which means that the food will heat quicker. Those additional minutes add up quickly when you have a line of food waiting to be heated and hungry customers seated in your restaurant.
What is the difference between a light, medium, and heavy-duty commercial microwave?
The most straightforward way to differentiate between a light, medium, and heavy-duty commercial microwave is the wattage.
Light-duty commercial microwaves are generally 1000 watts. This is higher than a domestic microwave but still relatively low on the power scale. They are intended for commercial use that would expect a maximum of 50 uses a day or less. This makes them ideal for offices and break rooms where the microwave needs to be durable, but running time isn't a significant factor.
Medium-duty commercial microwaves have in the range of 1200-2000 watts of power. They are meant for a business that sees higher traffic levels of up to 150 times per day. They will heat food quicker which leads to a faster turnaround.
Heavy-duty commercial microwaves come up tops in terms of power. 2000 to 3000 watts is typical for these machines that can deal with face-paced restaurants where time is integral to successful food delivery.
Conclusion
We all know that microwaves are essential for heating leftovers and midnight snacks. Commercial microwaves' speed and convenience have also ensured they are part of the necessary paraphernalia in any restaurant or catering kitchen.
In an environment where food safety standards and time are paramount, a durable, reliable microwave can make a massive difference to success, profitability, and full-bellied patrons.