The 7 Best Blower Fans for Ventilation, Cooling, & Drying
In the fan world, blower fans are unique.
Instead of aiming to cool an entire room, their fast, direct airflow is intended to give you a strong current of air – wherever you need it most.
That's not to say they don't have other uses, too. Stick a bucket of ice under them and suddenly you've got your own arctic breeze.
This article provides you with a concise run-down of the best blower fans available today.
We've chosen the best model for key purposes – overall value, size, power, and quality – so that it's clear which model will suit your needs the most.
If you're still not sure what type of blower fan you need, we've also included some quick buyer's tips and frequently asked questions after the reviews.
Best Blower Fans - Analyzed
Frequently Asked Blower Fan Questions
How do Blower Fans Work?
Blower fans work unlike normal fans – and it can be hard to tell how.
Especially since their workings are all hidden under a cover!
Here's a diagram from Atomberg which explains it well: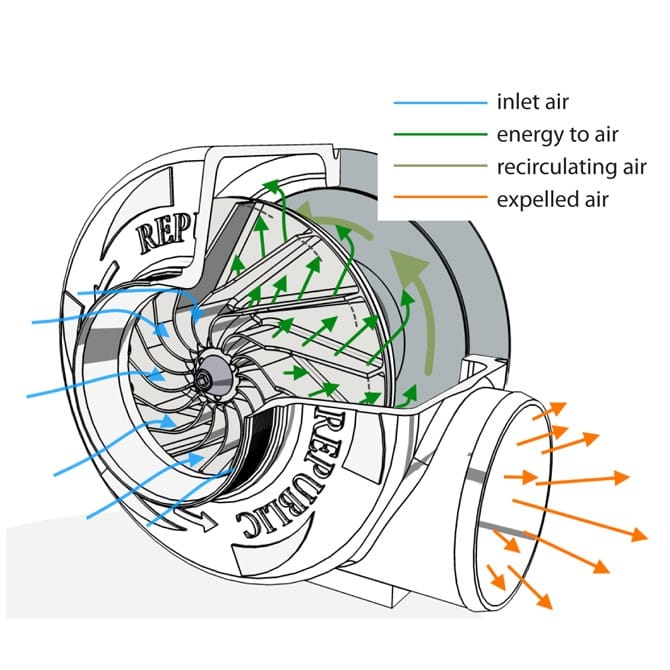 Basically, blower fans work like reverse windmills. They intake air in the side, then spin it up and around using a series of blades.
Any air which isn't shot out the exhaust is kept within the fan, recaptured by the blades to all get used eventually.
This small enclosed space makes it easier for the fan to trap air at high pressure, and shoot it out with a good level of power. Unlike a normal fan, which simply pushes open air forward.
What Are Blower Fans Used For?
Providing such powerful airflow to a concentrated area gives blower fans a ton of specialist uses to be relied on for.
You can find them used in:
Carpet/floor drying
Woodworking shops (keeping sawdust clear)
Ventilation
Combustion (oxygen into a fire)
Exhausts (i.e. in cars)
Cooling
Moving air/gases
According to Wikipedia, some of the major industries which make use of blower fans are:
Power production
Pollution control
Metal manufacturing
Cement production
Mining
Petrochemical
Food processing
Cryogenics
Remember that not all blower fans are the same size!
While Amazon sells small household fans, blower fans go up to industrial sizes. To give you an example, these fans blow up to around 500CFM.
Industrial fans can blow up to 57,000 CFM of air.
That's 114x the power of the fan in your workshop.
Blower Fans vs Regular Fans
Both blower fans and regular fans achieve the same result.
Sort of.
They both blow air infront of them, mostly in order to cool or ventilate a space.
So which is better?
The answer mostly depends on what you need the fan for.
If you're looking to cool a wide area, a blower fan is not the right choice. The air is focused over a small area and isn't suited to cooling people.
In a workshop, though? A normal fan isn't going to keep your work area dry, or well ventilated.
The best way to compare is sometimes through a simple table. Here's my take on when you should choose a blower fan vs a regular fan:
| | |
| --- | --- |
| Aspect | Best Option |
| Upfront Cost | Fans |
| Energy Efficiency | Fans |
| Wide-Area Cooling | Fans |
| Modern Features | Fans |
| Direct Airflow | Air Blowers |
| Powerful Airflow | Air Blowers |
Blower Fans - Buyer's Tips
If you're still not set on a blower fan, try considering each of the aspects below. They're the most important factors that vary from one model to another, so knowing what's important to you can help making a choice just that much clearer.
Durability
As with any appliance suited to a workshop environment, a good blower fan needs to be rugged. Able to take punches like Rocky Balboa, without looking quite so beaten up afterwards.
All of our recommendations above are highly durable, but if you're looking elsewhere, be certain that those models are, too. Don't fall for modern looks that hide weak build quality! 
These small fans often don't come with warranties beyond a year, so you want to make sure it'll stand the test of time.
Ease of Use
One of the main reasons why these fans are bought is for strategic, directed, and powerful airflow. Make sure your fan makes this easy to achieve.
Look for pivotable fans that can rotate easily, with multiple speed functions to let you get things just right.
Finally, make sure there's a comfortable carrying handle to make moving the fan around as easy as possible.
Cord Length
Similar to ease of use, prioritise choosing a model with a long power cord. You don't want to be failing to launch just due to an awkwardly placed plug socket.
Size & Power
Think about whether you want your fan to be as small as possible, providing airflow while hardly being noticeable – or a larger fan that has a wider opening and could be placed behind other objects.
While power is important, there isn't too much of a variation from one model to the next – though we've stated any differences clearly in the reviews. Every one of our top recommendations packs plenty of punch wherever they're pointed – but the OEMTOOL's 1200CFM model (Amazon Link) is also available if you need a real pocket hurricane.
Conclusion
Blower Fans can be irreplaceable tools to keep your workspace ventilated, even in the tightest of spaces.
We hope this guide has helped you find an ideal fan for your specific needs. If not, try searching for more inspiration on Amazon here.
Got any comments or feedback? We'd love to hear them in the comments below, or shoot us a message via the contact page.
Thanks for reading!