The Best Belt Sanders for Your Wood Floors Or Deck
Sandpaper is an essential for anyone with a large woodwork project. Whether you're using it by hand or hooked into a tool, it is the easiest way to achieve a smooth finish on anything you're working on.
Speaking of tools with sandpaper, one of the most important ones is the belt sander.
The belt sander, sometimes called a strip sander, is a tool that runs a loop of sandpaper over two rotating drums. Think of a treadmill, except the tread is made of sandpaper.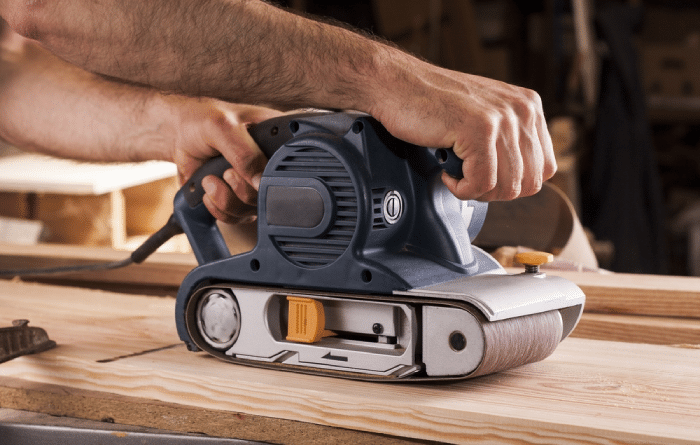 If you've never bought a belt sander before, it can be tough to know which one to go for. Trust me, I understand. We've all been there.
Well, worry not! This article is here to recommend some great belt sanders for you. Whether you're looking for something on a budget, or something heavy-duty, I'll show you one to go for.
Ready? Then let's dive in.
Detailed Reviews of the 4 Best Belt Sanders
Can you sand your own floors?
You definitely can. But just like every other job that you can hire a professional for, should you? That's the real question.
It mostly comes down to how much you'll have to pay a pro to get the job done for you. If you're already very handy with a belt sander, you'll probably be tempted to take it on yourself.
My recommendation? Do it!
It's hard to beat the feeling of undertaking a big DIY project on your own and nailing it. Sanding your floors and doing it well will instantly be noticeable to anyone who walks in. You'll get to be proud of the good job!
My one piece of advice is not to skimp on the materials. Get a quality sander, preferably a standing one, and use good lacquers. The quality stuff might be expensive, but if you already have a good sander, it'll likely be cheaper than a professional.
The Difference Between Orbital and Drum Sanders
There are two major kinds of sanders. There's the belt sander, and then there's the orbital sander.
All of the sanders on this list are drum sanders. These use sandpaper wrapped around a drum or two, which rotate in the same direction to rotate the sandpaper.
Drum sanders are cheaper and also less intense than drum sanders. Also known as jitterbug sanders, these use a sheet of sandpaper attached to a plate which oscillates randomly as you move it around a surface.
There are quite a few differences between these different kinds of sanders.
| | |
| --- | --- |
| Orbital Sander | Drum Sander |
| Generally more affordable | Tend to be more costly |
| Good choice for beginners and DIYers | Better for people with experience |
| Has a lighter sanding effect | Can be used for heavier tasks and even metal |
| Less damaging to surfaces | Can cause damage if care isn't taken |
| You can use in any direction | Must be used along the wood grain |
| Produce more dust | Produce less dust |
| Work relatively slow | Can finish a job much faster |
How to Sand Floor Edges
No matter who you ask, you'll probably here that sanding the edges of the floor is their least favorite part of the job. That's understandable. It is a real annoyance as regular belt sanders tend not to be able to get up right against the wall to tackle those edges.
Don't bother using your regular sander to get the edges. You'll just end up stressing yourself out!
There's a special kind of sander known as an edge sander, or an edger. These are built to get real close to the edges in a way that regular sanders can't.
You don't need to buy one either. There are numerous services that rent these out. You probably won't use it enough to justify buying one of your own, to be honest!
This video will teach you how to use an edge floor sander just right!
Conclusion
There are numerous reasons why you might be looking to get yourself a good belt sander.
Are you a DIYER or a contractor frequently working with wood? Is it about time that you get to refinishing your floors? These are popular reasons why you might be looking for one of these, and hopefully, one of the products above tickles your fancy.
If you're finding it hard to decide between them, I'll give you two recommendations!
My top choice here for the average person is the Tacklife model. The low cost and the many accessories it comes with allow for major savings and major performance at the same time. This will be well-suited for most people.
My second choice has to be the Metabo HPT. It costs about twice as much as the Tacklife and doesn't come with all the accessories, but with its build, it will last you a very long time. Metabo's five-year warranty shows their confidence in that.
Hopefully this article has shown you a thing or two about belt sanders. Thanks for reading!