Bench vs Floor Drill Presses – Which Will Serve You Better?
Whether you're busy with a woodworking or metalworking project, you may be looking for a drill press. And if you are, you'll probably need to choose between a benchtop and floor drill press.
Which one will serve you better?
Well the main difference between the two is of size and the position where you place your surface for drilling. In terms of functionality you'll see even bigger differences.
First we get into that, let's quickly see why a drill press is better than a handheld drill.
Benefits of a Drill Press
Thinking why you need a drill press if a handheld drill does the same thing? Here's why:
Increased precision while drilling
Less effort needed from you
Increased power allows you to drill thicker materials with ease
It's more versatile. You can use multiple types of jigs for different purposes
More control of angle and depth
Drilling with a drill press takes less time compared to a handheld drill machine
You have better control of the drilling pressure and can adjust it according to the material
Straighter holes
Longer lasting compared to a handheld drill machine
Now, on with the bench vs floor drill press conundrum…
Are there Any Power Differences Between Floor and Bench Drill Presses?
Yes, there are.
The drills' power is measured in horsepower or HP. It's often a deciding factor for a lot of people when choosing a type, brand, or model of a drill press. Benchtop drill presses have an HP ranging from ⅓-¾. Since floor drill presses work with stronger machines, they have an HP ranging from 1-5.
What About Other Differences?
Of course, there are other differences between the two. Let me take you through them…
Size and Weight
Benchtop drill presses tend to be smaller as they can be easily adjusted atop a working bench. The dimensions vary but they're usually more compact compared to the floor drill press. Floor drill presses tend to be bulkier and need more space.
As such, floor drill presses are also heavier compared than benchtop ones. They usually require machinery to be moved around. Unlike the lighter benchtop drill presses that you can easily lift and move around.
Chuck Size
The chuck size determines the size of the cutting tool a drill can accommodate. A benchtop drill press usually has a chuck size of up to ½ an inch. Floor drill presses have a larger chuck size of about ⅝ inches or more.
Swing Size
Swing size refers to the largest diameter surface a drill press can handle.
Benchtop drill presses can handle up to 18 inches diameters. Floor drill presses have a much higher capacity of up to 33 inches.
Spindle Tilt
This is an advanced feature that allows you to cut material at a 90-degree angle. It's usually available in floor drill presses only.
Spindle Speed
The spindle speed is the rotational frequency of the spindle of the drill press, measured in revolutions per minute (RPM).
Benchtop drill press has a spindle speed range of 400-4000 RPM. Floor press drill presses have a much wider range of speed of 40-5000 RPM.
Of course, speeds can vary with the material you're working with.
Voltage
Since both types of drill presses have different speeds and power, they have different operating voltages as well.
Most benchtop drill presses work at 120 volts. Floor press drills require a much higher input of up to 480 volts.
So you may need an electrical upgrade ahead of installation.
Price
Ah yes, the price! Another major difference between the two types of drill presses and can be quite the dealbreaker.
Benchtop drill presses can cost anywhere from $100 to $1000, depending on the features and size of the model.
Floor drill presses are more powerful and robust. Their prices start from $20,000, going higher based on advanced features.
Now that you've looked at their differences, let's go over their pros and cons…
Pros & Cons of Bench Top Drill Presses
Pros:
Usually more affordable compared to floor drill presses
Tends to take up less space
Can be moved around with ease
Makes a better choice for beginners or DIY hobbyists projects
Easier to work with which might be preferable for someone working on smaller projects
It operates at a voltage in-line with local sources, so you don't need additional voltage upgrade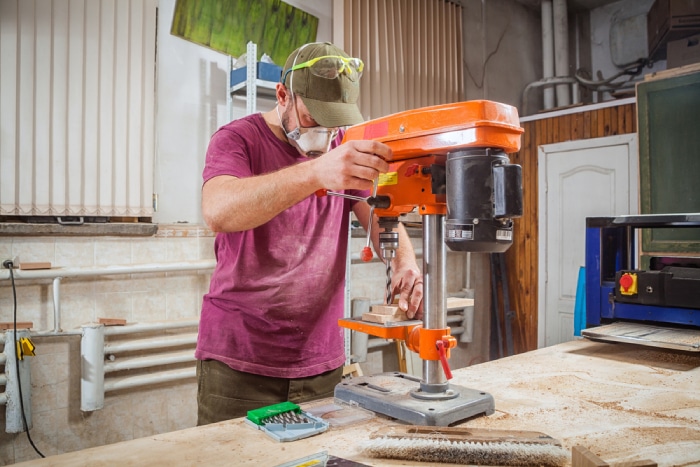 Cons:
Lower speed and power output
The work is usually less precise
Might not work with large or bulkier materials
Pros & Cons of Floor Drill Presses
Pros:
Allows for more precise and highly repetitive work
You can work with thicker diameter materials with ease
You can drill bigger holes with the bigger chuck size
Usually works at a higher speed than floor drill presses
More advanced features like spindle tilt that allow you to work on a wider variety of projects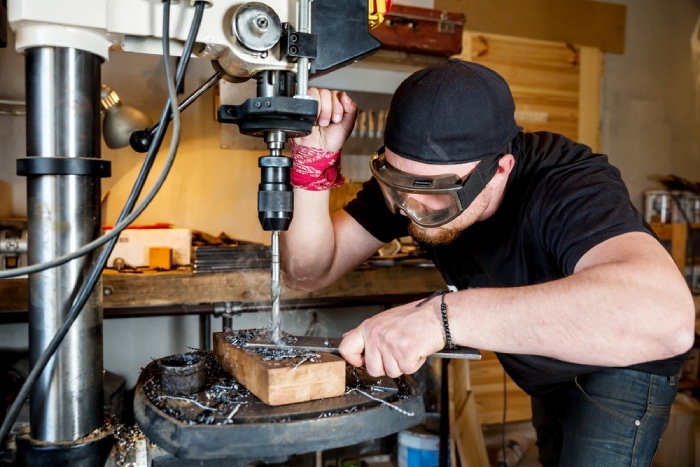 Cons:
Not affordable for everyone
Since the machine is bulkier, it takes up much more space
Requires machinery to lift and move it
More difficult to handle for beginners or occasional hobbyists
Which Is Best For…
Now that we've done an in-depth analysis of each type, the question is – which one should you choose?
It actually depends on the type of work you're doing. Overall, it boils down to two types of users/projects:
DIY-enthusiasts / Small Projects
Are you a DIY-enthusiast? Do you just need a drill press to install in your garage for the occasional small-scale project like a home décor project? Then a benchtop drill press might be the better choice for you.
It's more affordable and takes up less space. This might be better if you've never used a drill press before. There's no need to spend the extra money for features you don't need.
Pros / Larger, More Precise Projects
What if you're a professional and/or have more bigger woodworking/metalworking projects? Projects that need more precision? In that case a floor drill press would be best.
They'll be more suitable if you need a drill press every day. You'll really appreciate how time-saving they are on projects where you need to make a lot of mortises.
Also, if you've worked with a benchtop drill press before and have found yourself needing more height, it might be best to switch to a floor drill.
It also comes down to the budget. If you can afford it, especially if you're running a professional shop, a floor drill can be a solid investment.
Overall Recommendation
I'll just add to what I just said above. Think about the project(s) you'll need the drill press for.
The overall recommendation for smaller projects is a benchtop drill press. For professionals I'd recommend the floor drill press.
The floor drill will cost you a pretty penny. But it's highly recommended if you need super precision, perfect alignments and work with big, thick blocks of materials.
So, which type of drill press sounds more like your type?
I hope you found this article helpful. If yes, feel free to check out similar articles on our site.
Thanks for reading! And happy DIY-ing.
-Craig