Last updated
January 7th, 2023
You've done it. Your whole house is just as "smart" as it can be. On your way home from work, you think about all you've installed and pat yourself on the back. Then, you pull up to your garage.
Oh, yes, garage openers are smart now too! Like any smart home device, these garage openers can make your life easier with automation and real-time alerts.
In the smart garage opener sector, there are plenty of choices, but two brand names are big in the game: Aladdin and MyQ. Both are quality options, but each has different features that make them better suited for some families than others.
If you're interested in learning more about the Aladdin Connect and the MyQ, and finding out which is best for you, read on!
Aladdin Connect
Aladdin Connect is a smart garage door opener from the Genie brand. Genie, a company that calls itself "the brand you trust," has been selling garage door openers since 1954. Their Genie garage door opener was the first mass-produced radio-controlled residential garage door opener.
Genie brand garage door openers are now found in millions of garages. Now, the company's smart garage door openers are making their way into our homes.
Aladdin Connect is a retrofit kit or something you add to an existing system. Your existing garage door opener does not have to be a Genie. The smart kit works with most garage door openers produced after 1993.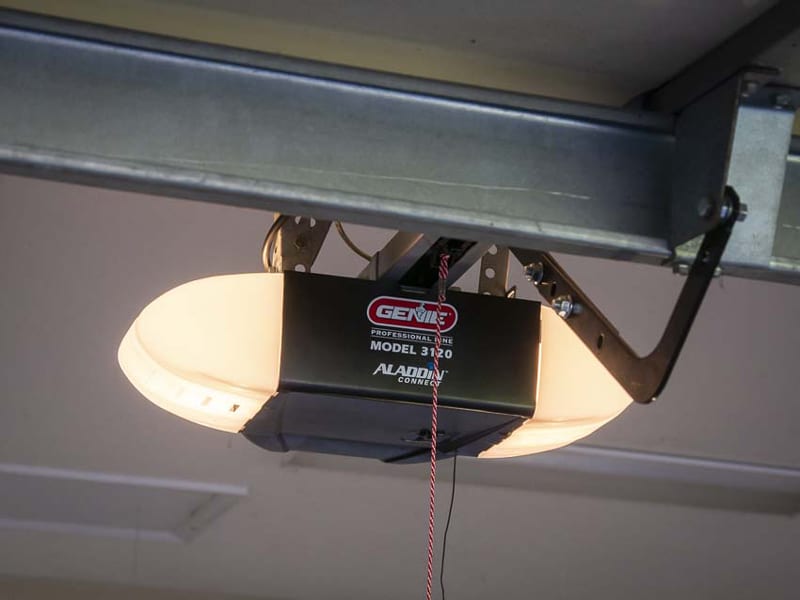 MyQ
MyQ comes from the brains of the Chamberlain Group. This company is responsible for such garage door opener brands as Liftmaster, Merlin, and Grifco.
It's likely you have one of these brands in your garage right now, but that garage door opener just isn't smart without a hub like the MyQ.
Install for the MyQ is similar to the Aladdin Connect. The MyQ smart hub's app is recommended for installation as it lays out the instructions step-by-step. The app makes installing this gadget a breeze.
Compatibility
In terms of compatibility, these devices are evenly matched. Both are compatible with most garage door openers with external entrapment protection devices, which has legally been included with every garage door opener produced since 1993.
To ensure your garage door opener will work with a MyQ, use the compatibility tool found here. The compatibility list for Aladdin Connect can be found here.
Features
Both devices do the same basic task: allow you to access and monitor your garage door remotely. With either product, you can receive real-time alerts, schedule openings and closings, and control your door from anywhere.
However, the additional features each offers sets them apart.
Aladdin Connect
Let's start with the Aladdin Connect. Many users are big fans of the virtual keys feature. With nineteen virtual keys, you can grant temporary access to your garage to visitors. You set the expiration time. This comes in handy for vacation home rentals and house sitters.
The Aladdin Connect hub can also control up to three different garage doors, if you happen to have such a need. The original retrofit kit only includes one sensor, so you will have to purchase one for each door. Still, only one kit!
MyQ
The MyQ has a feature I truly need for my house: a time alarm. You set a time that you deem acceptable for your garage door to stay open, and if the door stays open past that, you'll be alerted. Listen, I cannot tell you how many times I've completely forgotten to close my garage door so, thank you, MyQ.
It does more than just set off the alarm bells, though. You can also integrate the MyQ garage door opener with certain vehicles. What are you parking in your garage? If it's a Tesla or a newer Mitsubishi, you can connect the MyQ to your car and control your garage door with your car's touch screen instead of your phone.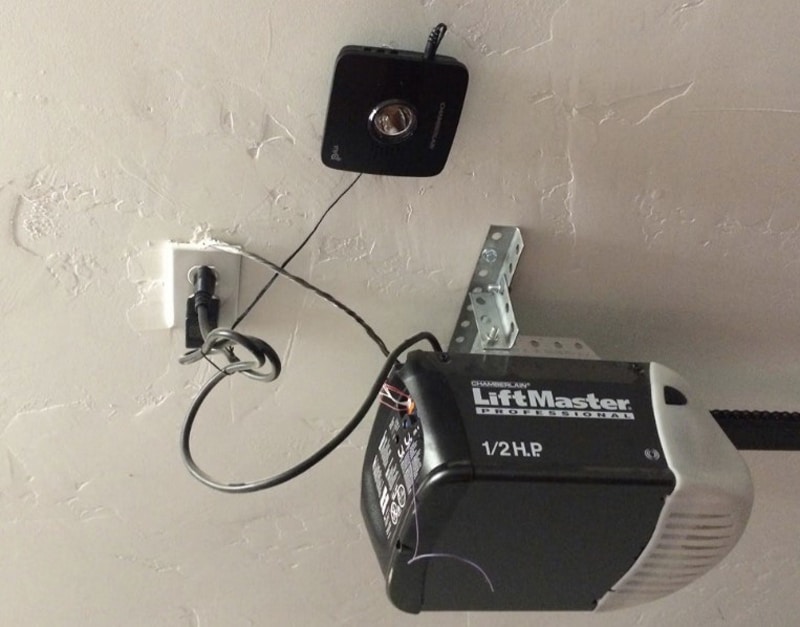 Price
As you browse, you'll probably notice that both of these smart garage door openers can be purchased from numerous retailers. The Aladdin Connect kit can be found on the company's website, at Amazon.com, or at Home Depot. Likewise, MyQ can be bought at the company site, Amazon.com, Walmart, Lowe's, Home Depot, and Menards.
You'll probably also notice the difference in the products' prices. There isn't much way around it: the MyQ garage opener is half of the price of the Aladdin Connect. At the time of writing, the MyQ smart hub is listed at $29.99, while the Aladdin Connect costs $59.99.
Of course, there are variances such as store sales, but in general, the Aladdin Connect will cost over double the price of the MyQ.
Still, that only accounts for the upfront costs. With the Aladdin Connect, there are no hidden subscription fees. Genie has partnered with smart home companies to ensure a seamless and convenient experience. Their partners include Amazon Alexa, Google Home Assistant, and Samsung SmartThings.
The MyQ smart garage hub also connects with smart home assistants. Specifically, it is compatible with Google and Apple's smart home systems. It also works with If This Then That (IFTTT, $3.33 a month) and MyQ's own add-on Clare Controls ($1.00 a month).
Depending on your setup, you may need to use IFTTT or something similar. For instance, MyQ does not have direct Amazon integration and you'd need a third-party app like those.
Pros and Cons
Aladdin Connect
| | |
| --- | --- |
| Pros | Cons |
| Virtual keys | More expensive upfront |
| Sends real-time alerts | |
| Can schedule opening and closing | |
MyQ
| | |
| --- | --- |
| Pros | Cons |
| Easy install | Extra subscription fees to connect with smart home assistants |
| Budget-friendly | Can only accommodate 3 users |
| Time alarm | |
Conclusion
Smart home devices help make our lives run just a little smoother. A smart garage door opener is another tool that can help with that. Aladdin Connect and MyQ are big names in the garage door opener game and both provide quality smart gadgets.
Now you've finished up here, head on over to read more of our guides!